Looking for a affordable Adobe Creative Cloud alternative? We've compiled the best Adobe alternatives into one post, including free Adobe CC alternatives.
As a well-known creative developer, Adobe's suite of innovative, industry-standard apps (see full Adobe software list) is often preferred by creatives and professionals across the globe. So, why do so many people look for Adobe CC alternatives? Are the applications somehow missing the mark and not performing as advertised?

Adobe has been #1 in the industry and offers a wide range of creative tools. But, it can come down to who can afford the expensive monthly subscription and who can not! That is the major reason many beginners, freelancers, small businesses, and professionals look for Adobe alternatives. Another reason is the difficult learning curve of some apps.
The good news now is that Adobe has plenty of competitors in the creative industry. Other companies are developing some powerful and user-friendly tools. Many of these tools are open-source, available for free, while others have a one-time fee or lower subscription charges, compared to Adobe's plans.
So whether you are just stepping foot in the world of digital content creation for the first time, or you have a ton of experience with Adobe and other apps, I have listed below some of the best alternatives for different Adobe tools, including free Adobe Creative Cloud alternatives. These are great apps for both beginners and professionals. Let's dive right into it.
What are the best alternatives for Adobe CC?
Feel free to explore our curated list of the finest AI-powered photo editing software options for 2023 as well!
Best Free Adobe CC Alternatives
If you're looking for free Adobe alternatives, we've compiled them here for you as well.
Pixlr — Best free Adobe Photoshop alternative OR Adobe Express (Free)
Inkscape — Best free Adobe Illustrator alternative
Raw Therapee — Best free alternative to Lightroom
Scribus — Best free Adobe InDesign alternative
PDF-XChange (Windows) and PDF expert (Mac) — Best free Adobe Acrobat Pro alternative 
HitFilm Express — Best free Adobe Premiere Pro alternative
Blender — Best free alternative to Adobe After Effects
InVision Studio — Best free Adobe XD alternative
Canva AI — Best free Adobe FireFly alternative
Canva — Best free Adobe Express alternative
Adobe Creative Cloud Discount – 40-70% Off

If you don't find an Adobe alternative, we have an exclusive discount with Adobe CC that offers up to 40-70% off Adobe's apps including Premiere Pro, Photoshop, Illustrator, InDesign, Lightroom, XD, and more.
See our guide to Adobe Creative Cloud Discounts and how to get Adobe Creative Cloud Express for free.
Best Adobe Alternatives – Our Top Picks for Adobe CC Alternatives
The best Adobe Photoshop alternative
Affinity Photo is the best alternative for Photoshop on the market. It is not free, but it doesn't have an expensive subscription plan either. With a one-time fee, you can get the application for yourself.
Though you need to pay for Windows, Mac, and iPad separately. Apart from this, you need to pay for any updated versions as well which will not cost you much. The software has a delightful and easy-to-navigate interface with a lot of basic and advanced features for creatives and graphic designers.
The app lets you edit a handful of photos together and allows you to dive in for advanced edits. With a fixed price of $50, it has a definite appeal and is the perfect Adobe Photoshop alternative for beginners and professionals.
| | |
| --- | --- |
| Pros | Cons |
| ➕ Simple interface |  ➖ No included design templates |
| ➕ Works with raster and vector images | |
| ➕ Layer editing | |
| ➕ Strong brush selection | |
Some more alternatives to Adobe Photoshop:
Adobe Express — A 100% free offering from Adobe. No CC required.
Pixlr — Best free Photoshop alternative
CorelDRAW — A Photoshop alternative for vectors
Procreate — The best alternative for digital illustration
Photopea — A browser-based option
Rebelle — A great software for replicating painting techniques
Krita — One of the most robust design and editing software
Sketch — The best professional Photoshop alternative
GIMP — The Photoshop alternative software with similar UI
The best Adobe Illustrator alternative
This long-time free and open-source software is very popular and has an impressive set of features. The user interface is pretty friendly for beginners with drag-and-drop rendering, node tool, Boolean operations, and customizable fonts. The Bezier tool equipped with Inkscape lets you create and draw accurate tracks.
Both the beginner-friendly and advanced features of this application let you create detailed and intricate artwork. Certain professionals avoid this free alternative because the processing of images is a bit slower in the Mac version. Overall though, it is a good choice for creatives and most certainly the best free Adobe Illustrator alternative.
| | |
| --- | --- |
| Pros | Cons |
| ➕ Free and open source |  ➖ All the tools and features may not be available in Inkscape. |
| ➕ Easy to use | |
| ➕ Vector-based graphics | |
| ➕ Available in all operating systems | |
Some more alternatives to Adobe Illustrator:
The best Lightroom alternative
A popular RAW photo editor for years, it now comes with digital asset management capabilities. For image editing, the AI-powered image enhancement features have taken the app to new heights. From beginners to professionals, the image editing app is great for one-click edits and advanced edits.
With over 70 great-looking presets and the Luminar libraries feature, this app is extremely easy to use, making it super flexible for designers to edit images. The standalone lifetime license of this app is available with a one-time payment, making it just around seven months' worth of Lightroom subscription.
| | |
| --- | --- |
| Pros | Cons |
| ➕ Excellent AI tools |  ➖ Heavy RAM use |
| ➕ AI powerline and dust removal | |
| ➕ Easy to use | |
| ➕ RAW editing | |
| ➕ Affordable | |
More alternatives to Lightroom:
The best Adobe InDesign alternative
Affinity Publisher is like Adobe InDesign, but it costs much less. So, without cleaning out your wallet, you can easily get on with your designing ventures using this feature-rich tool. Whether you're designing books, posters, or graphics for websites or print media, the excellent set of page layout tools simplifies the process.
With a lighter and more intuitive interface than InDesign, features like the smart color picker and preflight checker are great for publishing and editing. Some book publishers will find it lacking since Affinity Publisher does not support footnotes or endnotes. Overall, the one-time fee makes it an outstanding alternative to InDesign.
| | |
| --- | --- |
| Pros | Cons |
| ➕ Available as a one-time purchase |  ➖ You cannot read In design files. |
| ➕ Affordable | |
| ➕ Access to Affinity Photo | |
| ➕ Full of professional features | |
More alternatives to InDesign:
The best Adobe Acrobat Pro alternative
PC / Windows
PDF-XChange is a great alternative to Adobe Acrobat for the Windows platform. You will find all the basic and advanced functionalities for playing with your PDF files. Easily browse documents, use text and drawing tools, perform simple annotations, and place text smoothly wherever you want in the document.
There are more features like image recognition, OCR, and security support. You can even use this app to apply custom stamps and markups to your documents, all of it at a very reasonable price. You can try 70% of the software unrestricted for free.
MAC
On the other hand is the PDFexpert, which is a robust alternative for Mac users. You can read, edit, and comment on PDF files with ease. Change images and enter text in no time as this app runs without any lag on Mac, iPhone, and iPad.
It also provides smooth scrolling and uses search indexing to find things quickly. What's more? The tool automatically detects font size and opacity so you can edit the documents easily. All of it for free!
| | |
| --- | --- |
| Pros | Cons |
| ➕ Allows editing and filling PDF forms |  ➖ Has a water mark in the trial version. |
| ➕ Has a built-in OCR tool | |
| ➕ High-quality output delivery | |
| ➕ Batch-processing options | |
More alternatives to Adobe Acrobat:
The best Adobe Premiere Pro alternative
DaVinci Resolve has quickly made its way among the best movie studios across the globe. The interface has different workspaces for editing, audio, color, and visual effects, and all the workspaces are packed with excellent features. The color tool is pretty impressive and when combined with other functionalities, creatives are in for an incredible experience.
The unique collaboration mode makes it easier for editors, creatives, and sound designers to work on the same file in real time. Often preferred by professionals, this software also comes with a free version that offers basic and advanced features for beginners.
| | |
| --- | --- |
| Pros | Cons |
| ➕ Free version available |  ➖ Does not support pre-designed templates. |
| ➕ Easy to learn | |
| ➕ Available for Windows, Mac and Linux | |
| ➕ AI-powered tools available | |
More alternatives to Premiere Pro:
The best Adobe After Effects alternative
HitFilm Pro is an all-rounder video-editing, 3D compositing, and visual effects software for professional editors, motion artists, and filmmakers. If you are looking for out-of-the-box special effects and detailed graphics editing, this is the best alternative to After Effects.
The VFX suite is non-linear when compared to After Effects' layer-based system, although the feature set is pretty similar to create realistic effects and objects. With over 850 ready-to-use presets and visual effects, you can turn your clips into something amazing with stunning graphics and effects. All of this can be yours with a one-time payment for a lifetime license!
| | |
| --- | --- |
| Pros | Cons |
| ➕ High-performance editing |  ➖ You must change the interface. |
| ➕ 3D Animation | |
| ➕ Customizable workspace | |
More alternatives to Adobe After Effects:
The best Adobe XD alternative
Figma is a powerful design tool with an intuitive user interface. The app is so easy to use and navigate that it looks like Google Docs for design. With smooth sharing and useful features, it is the perfect alternative to Adobe XD available on the web. So, it works on all different desktop OS like Windows, Mac, Linux, etc.
The community support is good, which makes it easier for designers to learn new stuff. Also, you will find a wide range of ready-made templates for your designing ventures. There is a free version available, followed by another version offering more functionalities. This subsequent version is available with a reasonably priced subscription plan.
| | |
| --- | --- |
| Pros | Cons |
| ➕ Simple to share files |  ➖ Requires internet connection |
| ➕ A strong design tool for WordPress sites |  ➖ Requires the right amount of RAM and decent graphics cards |
| ➕ Design prototypes can be created easily | |
| ➕ Numerous plugins available | |
More alternatives to Adobe XD:
The best free Adobe Firefly alternative
Canva's AI image generator is a free Adobe Firefly alternative, and that means you can find the perfect image at any time —even if it doesn't exist yet.
With this amazing Adobe Firefly alternative you can create images that visualize a product or idea, or even sketch out a creative concept and see what happens!
All you do is type in your text prompt: "A light pink watercolor of koi fish in a pond" like above.
Then you can see your words and phrases transform into beautiful images!
More alternatives to Adobe Firefly can be found in our best AI art generators post. Also see our guide on how to make AI generated art.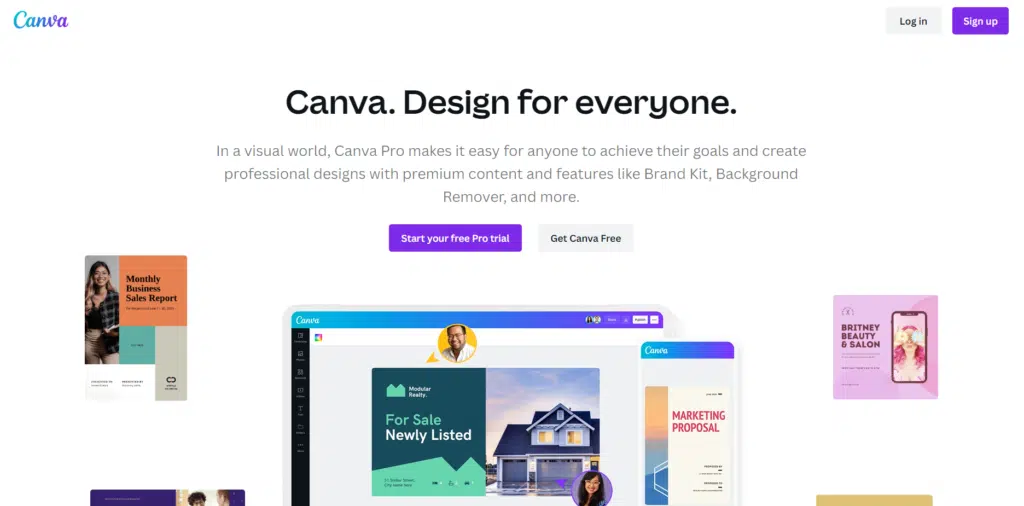 The best free Adobe Express alternative
Canva is one of the top online design tools and and the best Adobe Express alternative. It works on any browser allowing you to make designs with no problems. You don't need to download and install any software in order to use Canva. You can use Canva on any computer if it has an internet connection.
Making professional designs is very easy using the Canva browser-based platform. Also, it is very easy to use this software compared to Sketch, Affinity, or Adobe. The free version of Canva is efficient enough to meet your design requirements. There are pre-designed templates available to help you create your needed designs with ease.
Even with the free platform, you can achieve professional results. The Pro plan of Canva has additional features for better design results. One good thing about Canva is that Canva Pro is available for free for nonprofit organizations and NGOs.
To help with your decision see our post on Adobe Express VS. Canva and the best Canva alternatives here.
Frequently Asked Questions
Who are Adobe's biggest competitors?
SAP, DocuSign, Salesforce, Getty Images, Shutterstock, Apple, Dropbox, Microsoft, Autodesk, and IBM are Adobe's top competitors.
What are the best free alternatives to Adobe?
The best free Adobe alternatives are
Pixlr,
Inkscape,
Raw Therapee,
Scribus,
PDF-XChange and PDF expert,
HitFilm Express,
Blender, and
InVision Studio.
Can we use Adobe programs for free?
The Adobe program is available for free but it is for only a handful of tools and features. Subscriptions are required for access to the primary applications and advanced features.
Adobe Creative Cloud Discount – 40-70% Off
And that concludes our post on the best Alternatives to Adobe Creative Cloud. If you didn't find an appropriate Adobe alternative, we have an exclusive discount with Adobe CC that offers up to 40-70% off Adobe's apps including Premiere Pro, Photoshop, Illustrator, InDesign, Lightroom, XD, and more.
See here for our guide to Adobe Creative Cloud Discounts.
---
Related Posts
Adobe Download Guides: