If you're looking for an Adobe Illustrator alternative, you've come to the right place.
Adobe is undoubtedly the industry standard for graphic design and Adobe Illustrator stands as one of the most popular and widely used tools from the Adobe Creative Cloud however it does come at a high price point.

Though it provides impressive output, Illustrator does have its glitches and teething problems along with almost each of its version updates. Moreover, the high price that the designers have to pay for their monthly subscription often bruises their budget.
Hence, we decided to explore a few Adobe Illustrator alternatives that not only promise quality results but also offer a modest deal.
Considering the prohibitive price tags and a few quirks that it comes with, Adobe Illustrator might not be the best tool for students who have just started learning graphic design or for professionals who are not willing to invest a lump sum into buying an expensive tool but do check out the 65% discount below.
Or if you've decided you do want Adobe Illustrator, get 65% off here.
Feel free to explore our curated list of the finest AI-powered photo editing software options for 2023 as well!
You may also be interested in our guide on how to download Illustrator and the full Adobe software list,
If you're a student check out our guide on how to get Adobe student discount and our Adobe Creative Cloud pricing guide.
Adobe Illustrator Discount or Free 7-Day Trial
Did you know that Adobe offers free trials & discounts on their most popular creative software including Adobe Illustrator?
Students and teachers are also eligible for a discount on Adobe products.
If you are a current student or teacher you are eligible for up to 65% off Adobe Creative Cloud on their Students & Teachers plan.
If you're not a student or teacher, you can easily become a student and then save up to 65% off on Adobe's most popular annual plan, CC All Apps. See the instructions here.
14 Best Adobe Illustrator Alternatives in 2023
The most powerful Adobe Illustrator alternative
We had a remarkable experience exploring the best Adobe Illustrator alternatives, and among them, CorelDRAW truly stood out.
We found CorelDRAW to be not only the swiftest tool on the market but also the most potent one.

As we dealt with this all-in-one design and layout software, it became evident that CorelDRAW's compatibility spans across Windows, iOS, Mac, and even iPad, ensuring seamless accessibility from your mobile devices.
The added advantage of this alternative that we truly enjoy is its multipage view, and the ability to export multiple assets simultaneously significantly streamlines the design process.

A standout feature that left us impressed was CorelDRAW's next-generation collaboration functionality. This innovative feature facilitates seamless collaboration, allowing team members to share feedback and insert comments directly within the design file.

When it comes to graphic design prowess, CorelDRAW emerges as the premier alternative to Adobe Illustrator.

Despite its slightly higher cost compared to some other alternatives, its robust capabilities make it well worth the investment.
Price: $424.75 for annual subscription ($35/month), $1,017.24 for lifetime access and 30 days money-back guarantee. CorelDRAW offers a 15-day free trial.
| | |
| --- | --- |
| Pros | Cons |
| ➕ Files can be shared and exported in multiple formats including PSD, DXF, EPS, TIFF among others. | ➖ It is not completely offline as it requires an active internet connection to run some of the included software components and features. |
| ➕ The training videos are elaborate and very helpful. | ➖ Users find the freehand brush difficult to use |
The best beginner-friendly Adobe Illustrator alternative
What captivates us about Canva is its position as one of the most compelling Adobe Illustrator alternatives for beginners. We find Canva, a widely used graphic design software, to be exceptionally user-friendly and beginner-friendly.

For those stepping into vectorization, Canva serves as a valuable option with lots of templates, though it comes with some limitations. It boasts advanced settings and tools tailored to streamline work with vector graphics.
Whether crafting simple designs or intricate artworks for various purposes, you can learn a great deal with this web-based Illustrator alternative.
Among the options we've explored, Canva stands out as the most intuitive, offering an array of templates that cater to both novices and experts, enabling the creation of delightful designs.
Though lacking certain advanced features, it serves as an excellent platform for beginners to venture into the realm of vector design.
Price: A free version is available with limited features. The Pro version costs $119.99/year for one user. See our compilation of the best Canva templates here.
| | |
| --- | --- |
| Pros | Cons |
| ➕ Easy to use with an intuitive interface | ➖ Limited print functionalities |
| ➕ Thousands of templates | ➖Not suitable for professional and complex vector designs |
| ➕ Free version and reasonable pricing plans. | |
| ➕No design skills are required to get started | |
The best value Adobe Illustrator alternative
We've had the privilege of enjoying the exceptional offerings of Affinity Designer, which is truly one of the best Adobe Illustrator alternatives available.
This award-winning illustration tool has garnered a global following among designers.
Among the captivating features it presents is the seamless pan and zoom at an impressive 60 fps, accompanied by real-time blend mode previews. Affinity Designer also empowers you to incorporate live gradients and effects into your designs.
A unique attribute lies in its ability to provide live previews of every transformation and curve edit you execute within your creation.
What further distinguishes this tool, which we appreciate, is its optimization for documents of varying complexity, making it an ideal choice across the design spectrum.
Notably, Affinity Designer seamlessly functions on Mac, Windows, and iPad platforms, showcasing its remarkable versatility.
Price: Mac and Windows – $29.63, iPad – $12.11.
| | |
| --- | --- |
| Pros | Cons |
| ➕ Comes with a free trial | ➖ It doesn't offer a natural perspective grid, apparently, a staple for some designers. |
| ➕ Affinity Designer is a one-time pay tool. A monthly subscription is not required. | ➖ It doesn't allow you to export files in AI format. |
| ➕ As there's no legacy code bloat in the software, it is light to use and works at a superfast speed | ➖ Vector eraser is missing so editing small vector errors is a task. |
| ➕ The learning curve is not steep | |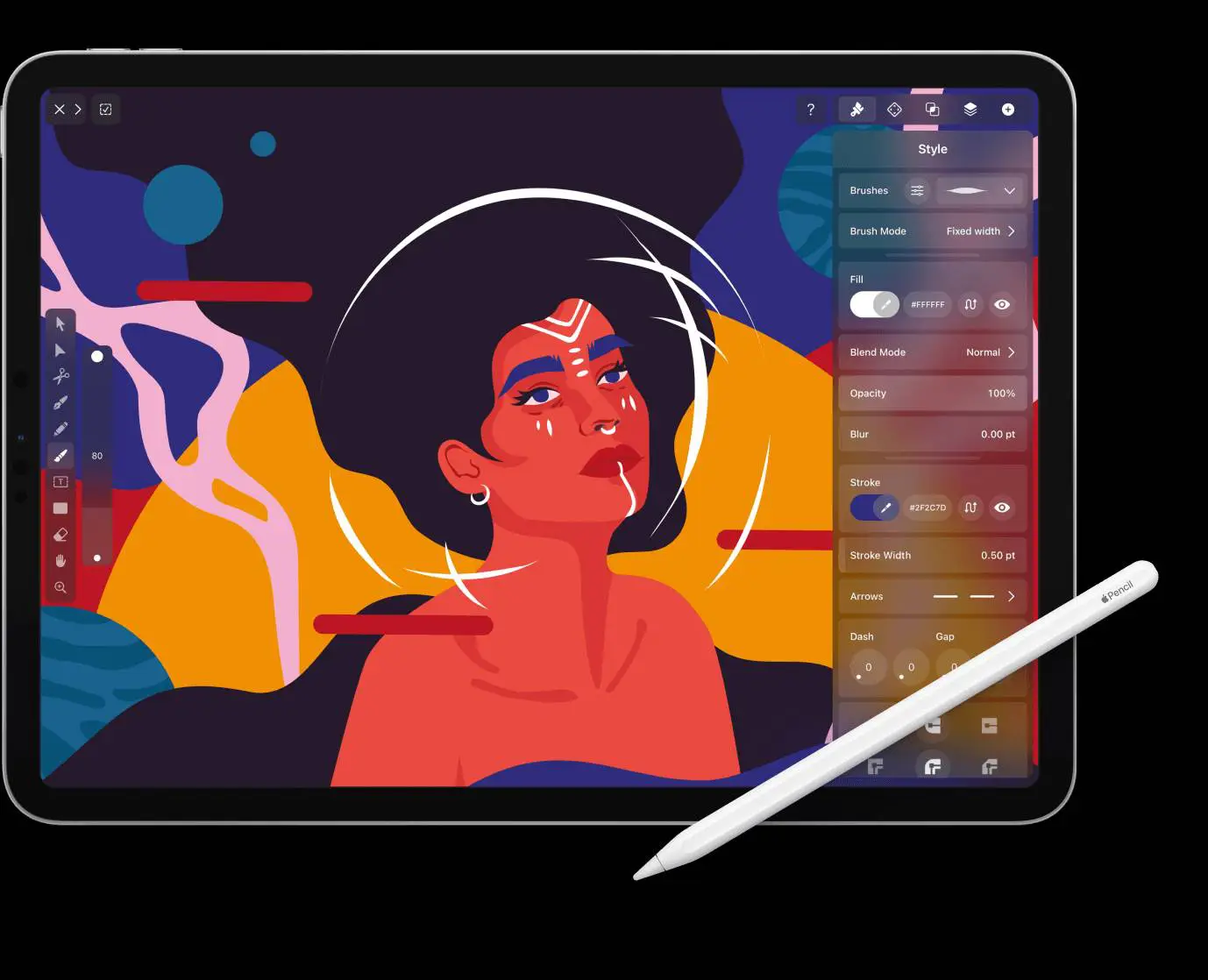 The best free Adobe Illustrator alternative
With millions of downloads, Vectornator is one of the highest-rated illustrators on the App Store. It features auto-trace technology that enables you to trace images in seconds. The unique gesture controls enable you to change node type with a single tap.
With unlimited artboards and advanced text editing tools, Vectornator has become a go-to tool for millions of designers.
Some other features of the illustrator include Kerning, Tracking, Line Height, custom tools, path guides, and so on. It is compatible with iPadOS 13 & iOS 13 and later or macOS Big Sur or later (Native M1 support).
Price: Free
| | |
| --- | --- |
| Pros | Cons |
| ➕ Free to use | ➖ It doesn't have tooltips for its quick action buttons |
| ➕ The contextual quick action menus and quick action tab make designing easy and quick | ➖ It works slowly as compared to its counterparts |
| ➕ Figma designs can be imported into the app | |
| ➕ Files can be exported in AI*, PDF*, SVG, PNG, JPG formats as well as in individual layers. | |
The best Adobe Illustrator alternative for teams
Figma is a collaborative illustrator app available to use free of cost. With its auto-layout feature, Figma lessens manual resizing and alignment. It also enables you to add plugins.
It is a cloud-based design tool that helps you access your files from anywhere through the Internet. It is compatible with both iOS and Windows.
Price: Free for starters, $12 per editor/month (Professional Level), $45 per editor/month (Organization Level)
| | |
| --- | --- |
| Pros | Cons |
| ➕ Contains all the tools needed for website designing, users don't need to invest in multiple tools. | ➖ Runs slow on heavy prototypes hence require a Graphics Card and good RAM. |
| ➕Several members can work simultaneously on the same project using Figma. | ➖ Requires an internet connection, doesn't work offline. |
| ➕ Contains all the tools used for creating a prototype design. | ➖ Global colors are absent in Figma's module. |
| ➕ Access files anywhere as it's cloud-based. | |
The best Mac Adobe Illustrator alternative
Sketch is a macOS-based illustrator that comes with a 30-day trial. Some of the amazing features that it offers include vector editing, Boolean operations, math operations, and Variable and OpenType fonts among others.
Being a collaborative app, Sketch enables users to not only work simultaneously on the same project but also create libraries with symbols, text and layer styles, and color variables and share them with collaborators.
Price: $9 per editor, monthly for individual users. It offers a 30-day free trial.
| | |
| --- | --- |
| Pros | Cons |
| ➕ Files can be exported in multiple formats and sizes. | ➖ As it is a heavy tool, it runs efficiently only on a Mac desktop |
| ➕ Vector artwork can be created and edited quickly. | ➖ It doesn't offer a repeat grid |
| ➕ Provides options for individual and team accounts with different prices allotted for both. | ➖ A plugin is required if you need responsive design tools |
The best value Adobe Illustrator alternative for beginners
A free-of-cost illustrator that helps you create stunning designs with its pencil, text, and shape tool equipped with embedded bitmaps and clones.
Apart from offering grids, object manipulation tools, and fill and stroke tools, Inkscape also helps you in node editing, boolean, and path operations.
Price: Free
| | |
| --- | --- |
| Pros | Cons |
| ➕ Files can be exported in PNG, OpenDocument Drawing, DXF, sk1, PDF, EPS, and PostScript formats. | ➖ Not compatible with AI and EPS files. |
| ➕ SVG files can be edited | ➖ Lacks premium vector graphic options. |
| ➕ Free of cost | |
The best web-based Adobe Illustrator alternative
Gravity Designer is a web-based illustration tool. Some of its noteworthy features include an SVG editing tool, a live Boolean operations tool, cloud integration, and autosave. It is compatible with Mac OS, Windows, Linux, and Chrome OS.
It can work both online and offline. It offers numerous grids, layouts, advance-vector editing tools, and a powerful aligning and distributing system among other features.
Price: While Gravity Designer is free to use, you can buy Gravity Designer Pro at $48.94.
| | |
| --- | --- |
| Pros | Cons |
| ➕ Supports multiple formats export and import of files. | ➖ No real-time collaboration |
| ➕ Offers flawless navigation through the dashboard. | ➖ Runs slow while working on complex designs |
| ➕ Offers quick and useful keyboard shortcuts. | ➖ The free version doesn't include many basic features |
The best SVG editor
Boxy SVG Editor is one of the best tools to edit SVG files both at the beginner and professional levels. The versatile editor works on any device and operating system.
It provides an intuitive user interface to keep your dialogs, palettes, and toolbars organized. It works both as an online and offline tool.
Price: Buy the standard version at 9.99 USD / year and the premium version at 99.99 USD / year
| | |
| --- | --- |
| Pros | Cons |
| ➕ SVG files can be exported in PDF format. | ➖ It does not offer a free trial. |
| ➕ Files can be saved both to your disk and in the cloud. | ➖ The software has a laggy zoom. |
Browser-based, no app needed
Vecteezy is a browser-based illustration tool that doesn't require any app download.
It offers a friendly interface, and numerous features like keyboard shortcuts, advanced transformation, and online collaboration that enable members to interact and work together on a project simultaneously.
Price: Free for the editor. The standard and pro versions can be subscribed at $19 and $29 per month respectively. It offers both vector images and videos.
| | |
| --- | --- |
| Pros | Cons |
| ➕ It offers numerous vector images and videos for download and use. | ➖ Minor glitches are seen in designed images when zoomed in. |
| ➕ The designing software is free to use; you only have to pay for vector images and videos. | |
GIMP stands for GNU Image Manipulation Program. It is free software that allows you to create high-quality images using a wide variety of tools and graphic design elements.
It is compatible with GNU/Linux, OS X, Windows, and other operating systems. Moreover, the customization options it offers help you to include 3rd party plugins to enhance your productivity.
Price: Free
| | |
| --- | --- |
| Pros | Cons |
| ➕ Though it offers numerous tools, GIMP has a small learning curve. | ➖ Tools like Crop, Selection, etc are difficult to use |
| ➕ It can be used to create GIF files using multiple layers. | ➖ Being open-source software, GIMP lacks customer support. |
| ➕ Supports files in various formats. | ➖ Has fewer features when compared to its paid counterparts. |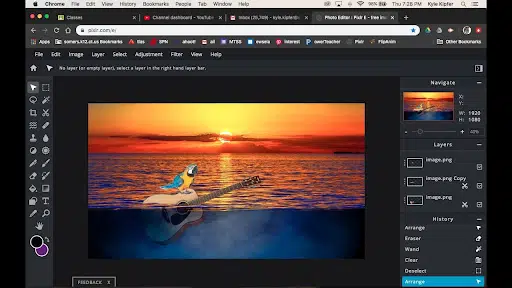 Pixlr is a cloud-based storage app, a great pick for designers who work on web browser operating systems. This means you need not worry too much about the operating systems or specs provided you have a relatively decent system.
The software runs on mobile phones and desktops, making it accessible to all users. Also, when it comes to file formats, SVG, PNG, JPG, PSD, PXD, and WebP are compatible formats with Pixlr. So if you're working on a wide variety of designs, you can render the format that best suits your creative asset.
Besides this, it's also a good replacement for Adobe Photoshop as its features are quite similar. With Pixlr, you can create collages using the collage maker online with free built-in pre-made collage templates.
So for users looking for a multi-platform software option, Pixlr is one of the best Adobe Illustrator alternatives to work with.
| | |
| --- | --- |
| Pros | Cons |
| ➕ Free and easy to use | ➖ Doesn't support BMP and Tiff format |
| ➕ Variety of image editing resources | ➖ Glitches sometimes |
| ➕ Handy selection of pre-made filters | |
Best intuitive Adobe Illustrator alternative
We all know Sketch is a smart UI tool and Figma is the fastest. If you wish to conquer the features of both tools combined in one, Lunacy is an ideal choice for you.
Lunacy is a vector graphic software, which came in handy for UI/UX and web design. Just like us, you would be amazed to know that it's absolutely free for personal and commercial use.
We are drawn towards its low system requirements because it demands minimum hardware requirements like RAM of 512MB, a 2-core CPU processor, and storage of 500 MB.
As Lunacy is a cross-platform app, designers and developers can run the same source code on different platforms. This feature brings a sigh of relief in case you want to launch any product with a tight deadline.
It was easy to wrap our heads around the features of Lunacy as we are already familiar with the functionality and features of Sketch, Figma, and Adobe XD.
Lunacy also works both online and offline, thus making it easy for you to work wherever you want.
We adore that it offers a real-time collaboration that allows people using various platforms to instantly collaborate on the same design.
We are elated to inform you that it comes packed with features like an icon library, placeholders, and custom avatars.
It's intriguing to learn that it has AI tools for image upscale, text generation, background removal, and avatar creation.
Not to forget its built-in graphics that feature icons, photos, illustrations, and what more we would wish for.
While Adobe XD and Sketch offer a text-only feature for adding comments on Canvas and prototypes, we appreciate that Lunacy paves the way for text, stickers, and audio conversations.
It was quite a disappointment that we were limited to using Sketch plugins. Lunacy does not support all the downloaded plugins from the internet.
Overall, this free design software is not just for professionals but can be a great start for novices as well to use and learn.
Price: Free
| | |
| --- | --- |
| Pros | Cons |
| ➕ Low system requirements like RAM of 512MB, a 2-core CPU processor, and storage of 500 MB | ➖ It limits the use of Sketch plugins |
| ➕ It is absolutely free for personal and commercial use | |
| ➕ Easy user interface | |
| ➕ Cross-platform app | |
The best Illustrator alternative for professionals
In our exploration of the best Adobe Illustrator alternatives, we hold a special appreciation for VectorStyler, an advanced illustration and drawing software catering to both Mac and PC users.
This remarkable tool unlocks the ability to create diverse visuals, from illustrations, logos, and icons to typography and vector art suitable for screen, print, and web applications – all without the constraints of subscriptions.
VectorStyler goes beyond the ordinary by offering a comprehensive array of drawing, design, and illustration tools, meticulously curated for modern design requirements.
Its innovative features redefine and expand the toolkit available to illustrators and designers, substantially enhancing the creation of intricate illustrations and designs.
A standout feature is the flexibility to generate and manipulate guidelines at any angle, enabling precise alignment. Objects seamlessly adhere to rotated guidelines, taking into account both the object shape and guideline orientation.
Additionally, the inclusion of real, scalable vector brushes adds a new dimension to the creative process. The shape and content of vector brushes remain fully editable, and you can even craft vector brushes from existing artwork, dynamically linking brush content to editable artwork.
The software further enriches its offerings by allowing the import of AI brush collections, ensuring a versatile and engaging design experience.
Price: $95 one-time payment
| | |
| --- | --- |
| Pros | Cons |
| ➕ Cost-effective | ➖ Steep learning |
| ➕ Innovative features | |
How to Choose the Best Adobe Illustrator Alternative?
Before we compare different options, consider the following points to make the right decision:
Design needs
Ask a few questions to yourself before picking your tool. What kind of designs are you working on? How basic or advanced is your project? What is your desired output? Evaluate and analyze all your requirements, jot them down as this will help you have a clearer picture of your design needs. Look for a suitable tool as per your needs.
Collaboration
If you have a group of designers working on the same project, using a single designing tool is recommended otherwise things get confusing. So, you must analyze your collaboration needs beforehand and choose a tool that enables you to get the required number of people together on a single design platform. This will make work and sharing files easy.
Price and value
You don't need to invest in an expensive tool to get the required output. Compare and examine the price and features of a few selected tools and pick the best one. Determine it based on the value and factors it offers against the price for your needs.
Learning Curve
Look for tutorial videos and support for the tools on its website and YouTube before investing. Pick one that is easy and quick to learn. Going for trials in advance if available is always a good idea before making a financial commitment.
Frequently Asked Questions
The 14 Best Adobe Illustrator Alternatives (Free & Paid)
There are several top-notch alternatives for Adobe Illustrator in the digital market. We tried to pick some of the best options to make the choice easier for you.
We hope this detailed list helps you pick the right Adobe Illustrator alternative based on your design needs.
---
Related Posts