Are looking to learn how to subscribe to or download the Adobe Photography Plan? This article will show you the best way to go about it.
The Adobe Photography Plan can be great value for money and if you're considering purchasing it, there are many questions you might have. But you also might want to just try it out with the free plan.

Luckily, in this article, we'll clear up everything you need to know about the Adobe Photography Plan so you make a smart choice that suits you best!
What is the Adobe Photography Plan?
To cut right to it, Adobe has a subscription plan which caters especially to photographers and photo editors known as the 'Photography Plan', which comprises Adobe's most popular app — Photoshop, and also includes Adobe Lightroom. Firstly, you'd be surprised to find this plan both affordable and a lifesaver for photographers and photo editors on the go.
The Adobe Photography Plan helps you to get 20GB of cloud storage. This is equal to around 4000 JPEGs. This plan suits most photographers. This plan consists of Adobe Photoshop, Lightroom, Lightroom Mobile, Lightroom Classic, and Photoshop for iPad.
This bundle is perfect for those doing photoshoots back-to-back but who want minor touch-ups and need minimal editing. Other than this, your image presets can be done in bulk making your photoshoot consistent with little to no effort.
The Adobe Photography plan allows you access to the versatile Adobe Photoshop but also lets you use a smaller more basic editing software – Adobe Lightroom that's perfect for organizing, and sharing your photos from various devices making it quite useful to have.
How to download and install Adobe Photography Plan
Getting the Adobe Photography plan is pretty straightforward (you can subscribe to it from the Adobe website), but it can get quite confusing with the different pricing plans available. But not to worry, we'll go over everything you need to know about that, in this article. If you're more interested in downloading the individual plans, however, you can check out our 'Download Adobe Photoshop' and 'Download Lightroom' articles
Since the photography plan technically is two applications bundled together, (Photoshop and Lightroom) for value, definitely a reasonable purchase to consider. But if you're curious about all the plans and offers available, we'd suggest you check out our full Adobe Software list to see which one is the perfect fit for you.
Other than that, let's go into the details of it a little more!
How to Download Adobe's Photography Plan Free or Subscribe with Creative Cloud
How to download Adobe's Photography Plan free
How to buy the Photography plan
The cost of the Photography plan
Adobe student discounts
How to get a Photography plan discount
How to get started with Photoshop and Lightroom
Photoshop and Lightroom IOS & Android apps
Photoshop and Lightroom alternatives
Can I Download Adobe's Photography Plan for Free?
Yes, you can! You can get the full version free of cost for a period of 7 days. Although it's for a limited time, it'll give you the chance to experience the full versions of both Adobe Photoshop and Lightroom to decide if these two applications are the right fit for you.
This method is a lot less risky and illegal when compared to downloading a pirated or crack software version of these applications
Pirated software, though it can be tempting, can cause your system irreversible damage and can be quite dangerous for any sensitive information stored on your system.
This illicit software can infect your system with viruses and malware that steal your personal information like your social security number and credit card information. In some worst-case scenarios, they can even steal your identity and address which makes it quite risky.
The illegal part of this pirated software can be bad too as it can lead to Adobe banning you for life which is terrible for any serious professional designer. So all said and done, the trial version is what we'd strongly recommend.

How to download the Photography plan for free?
Downloading the Adobe Creative Cloud photography plan on the website is fairly simple, all you have to do is visit their Photography tab and click on the 'try for free' option.
After this, you'll need to enter your credit card details (which won't be charged – during the 7-day trial period) and you'll be able to download both software free of cost.
How Much Does the Adobe Photography Plan Cost?
When it comes to Adobe Lightroom with Photoshop, the most affordable option is the 20GB Photography plan; this plan costs users around $9.99 per month. This plan comes with both Lightroom and Photoshop and 20GB of cloud storage for users who need to use the cloud to store and share their photos.
If you only want to use a light photo-editing software to do color correction of more minor filter-related edits, you could consider trying out Adobe Lightroom free of cost. Even though this wouldn't be the photography package if you choose to carry on with it, you'll get Lightroom along with 1TB of free cloud storage, for those who simply want to enhance photos.
Another consideration is the next tier photography plan that's a lot more practical for photographers and editors as it comes with a sizable 1 TB storage that makes it perfect for editing and storing high-quality photos that can be shared and worked on the go, at $19.99 a month for both Photoshop and Lightroom.
What is the Adobe 'All Apps' plan?
The plan that offers the most value by far would be the Adobe 'All Apps Plan'. Although slightly pricey, this plan from Adobe comes with over 20+ apps that are some of the most popular in the creative field. This plan would cost you around $52.99 per month.
Adobe Photography Plan Student Discount
Students and teachers are in luck: both can get this for the low cost of even as low as $15.99 per month.
Through this discount, you purchase a monthly subscription to all of Adobe's most popular applications with up to a 60-70% discount, with access to cloud storage of 100 GB and other more nuanced applications like Adobe Fonts, Spark, and Portfolio.
How do you make use of this discount for both students and teachers who want to use it for education or building portfolios? Both students and teachers must be registered to an accredited institution and must also be above the age of 13. And in order to validate this, must also have identification or an official document from an institution attesting this (it can even be a payslip/fee payment receipt).
Who actually qualifies for the student discount?
Teachers and students above the age of 13, enrolled or working with an accredited institution, are eligible for the Adobe student discount. There's a lot of flexibility with this discount, as it includes those studying and working part-time as well.
If you are eligible for this discount, and you wish to make the best of it, don't worry! Read through the instructions below and you'll be able to save up to 70% off on Adobe Creative Cloud by getting a student discount!
Become a Student And Save
Those who sign up for the Adobe certified LogoCore Logo Design Course (which would cost you around $80), can qualify as a student!
In meeting the criteria for the discount, you can then save up to $444 in a year after spending an extra $80 on the course. This amount can go down to around $385, depending on the time you purchase it. However, it's an amazing deal that can save you 60-70% in one shot.
Once you're a student, you can go ahead and click here to visit the Adobe Student Discount page.
Creative Cloud Student Discount FAQs
Is Adobe Creative Cloud free to download for students?
As a student, you won't be able to get Adobe Creative Cloud free of cost. However, with the student plan, you can get around 60-70% off the regular price, making it quite a steal!
How to get the best Adobe Photography Plan Discount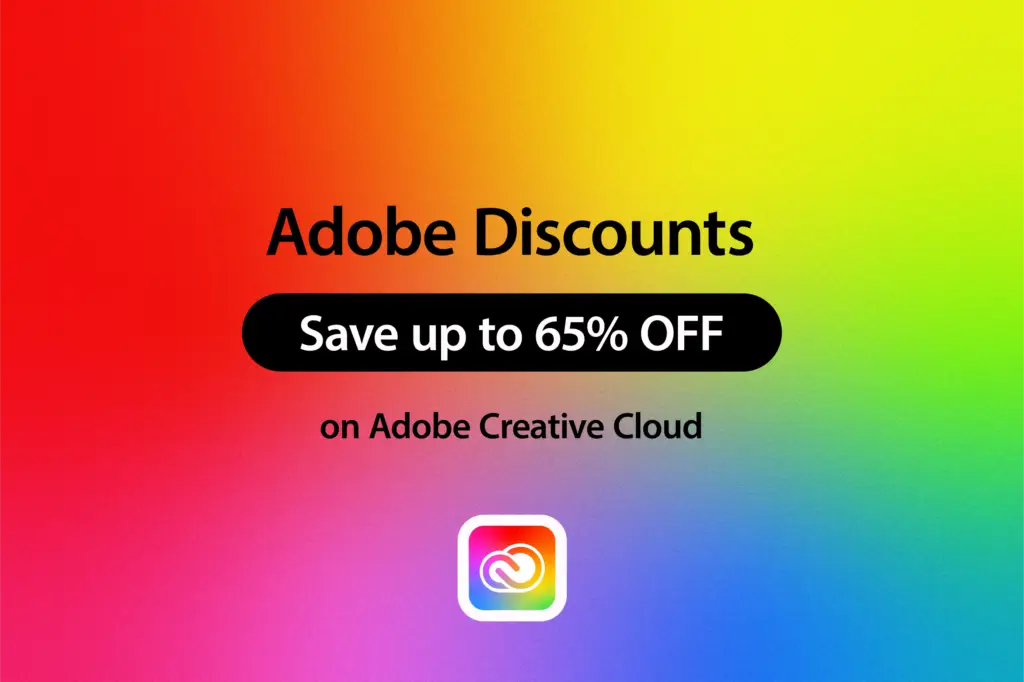 If you're wondering about the best way to get the best Adobe discount, we dive into it more below.
The best way for you to get the best Adobe discounts is for you to follow industry influencers and partners (like Just Creative), as they're always the first ones to know! Partners are the first to promote, and we're among the first to share it on our Adobe Creative Cloud sales page.
From past experience, Adobe Creative Cloud has discount sales every 3-5 months and for 3-5 days at a time.

You could also check the official Adobe coupons, promos, discounts, and special offers page.
How To Get Started With Photoshop and Lightroom?
When you download Adobe Photoshop CC and Lightroom CC via the Photography plan, one great way to get started would be to check out the both Adobe Lightroom guide and Adobe Photoshop tutorials.
Even though it may seem unnecessary, we would strongly recommend new users and intermediate designers check out the getting started pages as they can help out immensely. How so? These guides are the best way to learn all the best tricks and tips that you can only learn from professionals.
Adobe Photoshop and Lightroom Alternatives
When it comes to Adobe Photoshop and Lightroom, you might want to check out one of the many options out there. This goes especially for those working with a limited budget, as well as users that want a different user experience altogether.
Some Lightroom alternatives include Dark Table, Skylum Luminar 4, Raw Therapee, and Exposure X6.
When it comes to alternatives to Photoshop, some great options include Affinity Photo, Rebelle, Procreate, Photopea, and Pixelmator Pro. That said, while some of these are good to use instead, a lot of them don't come with the same compatibility for other Adobe applications.
Download Adobe Photoshop and Lightroom on iOS and Android
The amazing part of Adobe Lightroom is that it's accessible on both iOS and Android mobile devices, this includes iPads, Tablets and any kind of smartphone. To make use of this users need only download the lightroom application and log in with the Adobe username and password.
While the full, unadulterated version of Photoshop is not available on mobile devices, there are quite a few mobile apps offered by Adobe including Adobe Photoshop Express, Adobe Photoshop Mix, Adobe Photoshop Sketch, Adobe Creative Cloud for mobile, and Adobe Photoshop Fix.
Related Posts
Related Adobe Download Guides
Frequently Asked Questions
What is the Adobe Photography plan?
The Adobe Photography plan is one that lets you use both Adobe Photoshop and Lightroom at a fraction of the cost.
How much does the Adobe Photography plan cost?
The 20GB plan with Lightroom and Photoshop costs $9.99, while the 100GB plan costs around $19.99.
Are the apps compatible with both ios and android mobile devices?
Yes! Both Adobe Lightroom and Photoshop have mobile versions that are quite convenient to use.
What is the Adobe student and teacher discount?
The Adobe student and teacher discount is a payment plan where students and teachers can get a 60-70% discount off the regular price to enjoy 20+ Adobe apps at a fraction of the cost.
What does the basic individual plan for Lightroom and Photoshop cost?
The individual plan for Adobe lightroom costs around $9.99 (with 100GB) and the individual plan for Adobe Photoshop costs $19.99.
What specs are required to run both these apps?
Adobe Photoshop requires Windows 10 OS 1809 (64 bit) and for Mac operating systems, macOS X v10.14 or higher. When it comes down to RAM, the bare minimum requirement would be 8GB. However, we'd recommend using 16GB RAM to make sure things run smoothly. On the other hand, Lightroom is quite a light application run and works smoothly on mediocre mobile devices as well.
What is the best option to subscribe to that offers users the most value for their money?
The best way to make use of lightroom would be through the 'All Apps' Creative Cloud discount which costs $52.99.
Is Adobe Photography plan cheaper?
Yes. Adobe Photography plan is cheaper than Photoshop because Adobe wants you to purchase that plan. As you will get both Lightroom and Photoshop with a single plan at the cost od US$9.99 per month.
Where to download the Adobe Photography Plan?
If you're looking for the best place to install and download Photography Plan we would strongly recommend you check out the Adobe Creative Cloud website or go directly to the Adobe Creative Cloud Photography Plan page where you can either try a free 7-day trial or download Photoshop and Lightroom for your system.
This affordable software plan is perfect for photographers alike, and given the value it providers it can definitely be worth it. That said, you now know everything you need in order to get the most out of this Adobe plan and are well on your way to making an informed decision.