In this article, we are going to unravel the full Adobe software list so you understand what app is right for your creative needs.
Adobe is the creative giant in the digital market arena that has been catering to the design needs of professionals across the world since 1982.

Whether you are a graphic designer, a photographer, an illustrator, a student, a marketing employee, a beginner or a professional, Adobe offers plenty of tools and software to meet your creative demands.
While most of the Adobe apps require a subscription, some of them are available for a free trial. You can either buy separate plans based on your requirements or pay for the whole Adobe Creative Cloud suite at once and own all the 20+ apps altogether.
So before you dive on in and start trying out the full Adobe software list, we thought we'd take a closer look at all the graphic design software Adobe has to offer!
For the full list visit the Adobe catalog page. Their catalog can be a little overwhelming as they list all their offerings, including PDF, e-signatures, marketing commerce and all their additional services which may not be relevant for your creative needs.
The list above shows just the most popular Adobe software for your convenience.
Adobe Creative Cloud Discount – Get 65% Off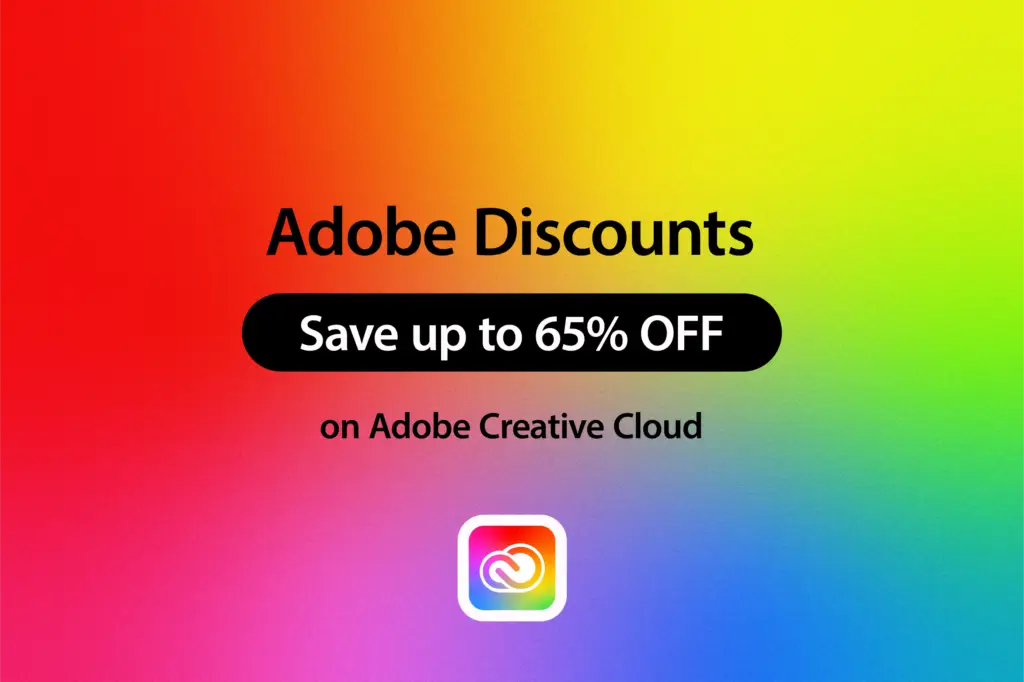 Before we dive into the full Adobe software list, we should let you know that you can get 65% off Adobe by following our Adobe Creative Cloud discount guide or jump straight to how to get an Adobe student discount.
Four Reasons to Choose Adobe software. 
1. Access to New Features Instantly 
Adobe constantly improves the existing features and adds new ones. The added or improved features can give a greater experience and save time as well. Depending on your requirements you can update the software. 
2. Storage and Collaboration 
Adobe's cloud storage allows you to access your files from anywhere with ease. Along with that, it allows you to use the software on multiple devices. 
For instance, if you want it on your personal laptop as well as on your office desktop, you can easily install it on both devices.
With the cloud collaboration features, it allows you to share your creatives with others publicly or privately. It allows you to download, sync, and allow viewers to comment on the page so that you can manage the feedback in one place. It has a variety of tools that can come in handy when you do a team collaboration for a single project. 
3. Included Libraries 
Libraries are the best offerings that Adobe gives to make a designer choose the software. They essentially provide stores like assets, vectors, images, colors, brushes, character styles, and many more. 
4. The Right Value for Your Money
If you want to get the right value for your money, then you'll never regret choosing adobe. It has two options where you can subscribe over a period of time or you can make a one-time purchase. You can choose the plan as per your needs of the software. 
Adobe Software List: The Complete Guide to Adobe Programs & Products
We've rounded up the 22 notable apps in our Adobe software list and explained simple terms.
What do all of the Adobe programs do? No doubt, Adobe has quite an extensive list of software so let's take a closer look as we explain what each Adobe software does. Here's our Adobe apps list that outlines all the Adobe software and what each app does.
Photo editing software
Photoshop is considered the industry standard for photo editing. It is used for creating image compositions, retouching, and adding effects to the image and website mockups. The popular application, however, offers a lot more than just basic to advanced image editing tools.
From creating and editing raster images, text, and vector graphics to creating VFX and 3-D graphics, Photoshop is a dynamic image editing and rendering app. Photoshop is available in several versions like Photoshop Elements, Photoshop Lightroom, Photoshop Express, and Photoshop CC. The application is compatible with MAC, Windows, and iPad.
Industry-standard vector graphics software
Adobe Illustrator is designers' first choice when it's about designing vector graphics. It's an advanced drawing program used to create logos, infographics, and icons as well as complex illustrations. In 2018, Adobe Illustrator was awarded the best vector graphics editing program by PC Magazine. Some of the salient features of Illustrator include collaborative editing, enhanced glyph snapping, cloud storage among others. Some Adobe Illustrator runs on Windows, iPad, and MAC.
Collaborative PDF creating and editing tool 
Adobe Acrobat Pro is used to create, edit, organize, share or sign PDS files at your fingertips. It enables you to edit your scanned documents, create protected PDFs, and export PDFs to Microsoft Office files. Cloud storage enables you to access your Acrobat files anywhere, anytime. It is available as both desktop software and mobile app. It runs on Windows, MAC, and iPad.
Layout and page design software
Adobe InDesign is the go-to app for millions of digital designers for layout and page designing. The application can be used to create interactive PDFs, digital magazines, books, eBooks, and posters among others with audio, video, animations, and slideshows to create more impactful files. Some of the salient features of the app include Subject-aware text wrapping, Easy color location, Adobe Fonts auto-activation, HSB support, etc,
Leading video editing software
Premiere Pro is a comprehensive video editing software by Adobe that helps you edit footage in any format – be it 8k or virtual reality. It is the most widely used video editor in the industry. Using native file support, lightweight proxy workflows, and the faster ProRes HDR that it offers, you can work hassle-free even on your mobile. Moreover, it integrates with other apps like Adobe Photoshop, After Effects, Audition, and Adobe Stock including various third-party applications to create videos for films, TV, and web series. It is compatible with both MAC and Windows.
Motion graphics and visual effects animation software
After Effects is motion graphics and visual effects software that is used to add motion to anything and everything on your desktop. Millions of video editors turn to After Effects to add special effects and animation to their videos. It can be used to cinematic titles and intros for the film credits and also add transitions to them.
The application works hand in hand with other applications like Adobe Premiere Pro, Illustrator, and Photoshop enables you to navigate and design in a 3D and 4D space as well. It works on Mac as well as Windows.
Cloud-based photo editing software
Adobe Lightroom is a photo organizing and image manipulation software. It is best suited for professionals who prefer to edit images in bulk. Though it offers fewer features as compared to Photoshop, Lightroom enables you to edit images using a variety of premium presets created by professional photographers.
From vintage to futuristic, Lightroom offers filters for every skin tone. Other important features of Lightroom include super-resolution, powered by artificial intelligence, collaborative editing, In-app tutorials, Photoshop on the iPad integration among others. You can access the images from anywhere using the creative cloud. It runs on mobile, iPad, and desktop. It is compatible with Mac, Windows, iOS, and android.
Simpler video editing app
Adobe Premiere Rush is another video editing software ideal for editing social media videos. You can add audio and motion graphics, change the pace of your videos right in the comfort of your mobile phone and share high-quality videos on social media. You can easily add transitions, customize titles and use color correction to enhance your videos on this app that is available for free. It is compatible with Mac, Windows, iOS, and Android.
All-in-one UI/UX design tool
Adobe XD is an all-in-one UI/UX designing software that enables you to create animations, build interactive prototypes and collaborate with team members. You can share your files with colleagues, get feedback in the same file and resolve the issues. It offers 3D transforms, reusable design elements, content-aware layout, auto animation, and more. It can be used to design apps and websites. It is compatible with Mac and Windows.
Social media graphics creation app
Adobe Spark has now become the Adobe Creative Cloud Express. It is an easy-to-use tool for creating graphics, collages, flyers, videos, and animations. It offers you a wide range of templates that can be used to create the most attractive posters. It has got another two apps with it Adobe Photoshop Express and Adobe Premiere Rush. It offers a wide range of free images and effects to pick from for your project, personalize your project by adding your logo, colors, and font. With its tag team edit, you can collaborate with other members of your team on the same project. It can be used on both mobile and web and works on Mac, Windows, iOS, and Android.
2D animation software
Adobe Animate is a 2D animation software used for animating cartoons, banners, toodles, avatars, and a lot more. It enables you to quickly create animated files in multiple formats with easy sharing options. The powerful illustrations and animation tool in the app help you create content for games and ads. It offers advanced rigging, asset panels, and various guides and tutorials to learn the app better. It is compatible with Windows and Mac.
Responsive website design software
Adobe Dreamweaver is a website designing software that supports HTML, CSS, JavaScript, and more. With features like flexible coding, ready-to-use templates, and free images from Stock, you can create a stunning web page within minutes using Dreamweaver. Other features of the software include seamless live view editing, multi-monitor support for Windows, re-designed, modern UI, and git support among others. It is compatible with Windows and Mac OS.
Royalty-free photos, illustrations and videos
Adobe Stock images are a collection of over 200 million creative assets. You can download 10 pictures for free from the Stock. It is very well integrated with almost all the apps on Creative Cloud. The stock includes high-resolution, royalty-free creative assets like images, vectors, videos, audios, templates, 3D graphics, and more.
As a designer, it helps you to have a smooth workflow with regard to your projects.  You can easily browse, test, edit and use stock photos in your designs. This program offers you stock photos for $0.26 and $9.99 each.
The ultimate 3D design tool to build real-time scenes
Adobe's Substance 3D stager helps you create 3D scenes. It is an intuitive staging tool that helps you in setting up light, camera, material, and assets to create 3D projects. It enables you to export files in various formats to web and AR. It works on Windows and is not available on Macs with Apple M1 chips.
All-in-on audio workstation 
Adobe Audition is an audio workstation that enables you to record, edit, mix and restore audio. The well-equipped toolset consists of a multitrack, waveform, and spectral display that helps you create amazing audio files. The application runs seamlessly with Adobe Premiere Pro, thereby, promising an incredible audio and video output altogether. It offers tools to clean audio, repair and restore sound, create podcasts, and add effects to the sound. It is compatible with Mac and Windows OS.
Unlimited fonts for personal and commercial use
Adobe Fonts is a vast library of 1000+ fonts that comes free with every Creative Cloud subscription. You can activate the font styles of your choice from Adobe Fonts and they will be automatically synced with your creative cloud. You can access them from the font section on your application. Some of the font styles include Acumin, Cortado, Sloop Script, Masqualero among others.
Augmented reality software
Adobe Aero is every video editor's one-stop solution to create immersive augmented reality experiences. It enables you to work on a wide array of formats including .obj, .glb, and .gltf files. Other features of the Adobe Aero include tools to create paths in space using your mobile, import and use audio assets in .wav and .mp4 format to create AR videos. It is compatible with iOS and is currently available in beta version for Mac and Windows OS. It works on iPhones and iPad.
Collaborative word processor for copywriters and editors
A pro-level word processor by Adobe, InCopy lets copywriters and editors write, edit, and design documents. It works in collaboration with InDesign that lets editors style text, design layout, and made basic modifications. It is an interactive software where you can track changes and collaborate with your team on the same file simultaneously. It is available in 24 languages and runs on Windows and Mac OS.
The world's leading PDF and electronic signature solutions 
Adobe Document Cloud helps you store PDFs on the creative cloud and access them whenever and wherever you want using an active internet connection. It enables you to sign documents electronically and turn your manual documents into digital ones. It assures flawless workflow with its pre-built integrations.
Personalized customer experience solutions from content to campaign management
A collection of integrated web analytics and online marketing products, Adobe Experience Cloud can be used directly on your desktop once you subscribe to the service. Some of its features include content and commerce, data insight and audiences, customer journey, digital enrollment among others. It is compatible with Windows, Linux OS.
A digital drawing & painting app for your iPhone and iPad
Adobe Fresco is the best way to go for vector and raster graphics on your iPhone and iPad. Designed to be used with an Apple device, this Adobe software is amazing for digital art and could be just what you need if you're a veteran Adobe user.
Fresco comes with a variety of built-in brushes like pixel, live, and vector that are perfect for working on illustrations and digital paintings. And with Fresco, you can easily transfer your files to Photoshop and Illustrator.
Superb software for creating photorealistic scenes
If you're looking for software that will be perfect for 3D product mockups and designs, look no further! Adobe Dimension lets you create renders of your product using 3D assets from Adobe Stock to help render products with your logo and design.
Adobe Dimension is perfect for any 3D design work and lets you create high-quality, 3D interactive content. So if you're looking to try your hand at something perfect for 3D design, Adobe Dimension would be a smart choice.
Frequently Asked Questions on Adobe Software & Programs
Adobe Creative Cloud Discount for Individuals
Adobe's student deal is the best deal however for individuals you can still save some money including 35% off their regular plan.
How to get Adobe discount for individuals? — As an individual, you can pre-pay for the full year and save 35% which nets out to a savings of a few hundred dollars.
If you pay for the full year upfront, you also get a month free on Adobe Stock which includes 10 free premium photos.
Exclusive Just Creative Adobe Creative Cloud Discount: 35% Off Adobe Creative Cloud
Get all of Adobe's apps for 35% off with our exclusive partner deal suitable for UK, USA, Canada, Australia, and Mexico, on-sale dates only.
Related Adobe Posts:
The Best Adobe Software List  for Designers & Creatives: Complete List
We hope our Adobe software list has helped you learn about the features and uses of various types of image, video, audio, and text editing software and cloud storage apps available on Creative Cloud.
Apart from this Adobe Software List, there is numerous other software offered by Adobe that helps in organizing images, documents, and marketing apps available for the users. In this Best Adobe Software list, depending on your profession, more than one of these software could be beneficial to you.
We hope that the given Adobe Software List has been helpful in your search for the right tool to make your workflow more productive.