Adobe XD is a relatively recent addition to the suite of premium apps developed by Adobe. The vector-based, user-friendly app delivers an improved and fresh experience for mobile, desktop, and web apps.
So, if Adobe XD is getting the job done for designers, why are people searching for Adobe XD alternatives?

Just as with all the other Adobe apps, the rocket-high subscription charges make Adobe XD an expensive option. The competition has come up with some really edge-cutting technologies, delivering even better designing and prototyping solutions for free, or at least reasonably priced.
And Adobe apps are bulky and require a high-performance PC for smooth running. So, looking for an optimized solution to create inch-perfect prototypes and designs is the need of the hour.
We have tried and tested many alternative apps out there and have come up with these 10+ best Adobe XD alternatives. You will find the right app for any platform including Windows, Mac, and Linux.
Some prefer other software because of the complexity of XD. Users have to pay the standalone monthly subscription fees (get an Adobe discount here) or get the entire Creative Cloud suite subscription to access this software. It can be just too expensive for freelancers and users running low on budget.
You may also be interested in Adobe Illustrator Alternatives, Photoshop Alternatives, Adobe InDesign Alternatives, or Premiere Pro Alternatives as well as the Best Monitors for Photo Editing.
If you're a student, check out our guide on How to get an Adobe student discount and our Adobe Creative Cloud pricing guide.
What is the Best Adobe XD Alternative?
InVision is the best Adobe XD alternative. But check the complete list of recommended alternatives to Adobe XD and go for the one that fits your needs the best. We've listed both free Adobe XD alternatives and paid.
Adobe XD Discount (Get 65% Off) or Free 7-Day Trial
If you don't find an Adobe XD alternative, we have an exclusive discount with Adobe CC that offers 40-70% off Adobe's apps, including Adobe XD, InDesign, Photoshop, Illustrator, and Lightroom.
Top 11 Adobe XD Alternatives 2023
Best alternative to Adobe XD
Platform: Mac/Windows/Android
Price:
Free
Starter – $15/month (3 projects)
Pro – $25/month (unlimited projects)
Team $100/ month (unlimited projects/ up to 5 team members)
We've explored various options for Adobe XD alternatives, and one that stands out to us is InVision.
What we find especially enjoyable is its user-friendly interface, which simplifies the design process. InVision allows us to effortlessly create interactive and responsive prototypes.
It offers advanced features like multi-user collaboration, vector editing for websites, transitions and animation, UI design tools, workflow synchronization, and access to robust asset libraries.
It's worth noting that InVision has garnered popularity among numerous Fortune 500 companies, and it efficiently runs on both Windows and Mac OS.
Additionally, it provides Android and iOS mirrors, allowing us to review prototypes and offer valuable feedback to our design team.
However, it's important to mention that if we desire extensive customization, there might be a slight learning curve involved. Nonetheless, the overall experience with InVision is truly rewarding.
Delivers better products faster
Platform: Mac/Windows/Linux
Price:
Free
Professional – $12/month (per editor)
Organization – $45/month (per editor)
Enterprise – $75/ month (per editor)
After considering various options, we were positively impressed by Figma.
This popular prototyping and UI design software truly stands out in the design market thanks to its collaboration-focused approach, offering a competitive edge over Adobe XD.
What we find particularly remarkable is that Figma allows users to access trending and latest design updates conveniently from their browsers, making it an incredibly versatile choice.
The collaborative features further enhance the experience, enabling seamless teamwork with other designers and providing instant feedback, which significantly speeds up the design workflow.
Upon researching different alternatives, we discovered that an added advantage of Figma is the unlimited cloud storage available in both the free and paid versions.
However, it's essential to note that while the free version is an excellent option, it does come with some limitations, restricting you to just two editors and three projects.
Code-based design tool
Platform: Mac/Windows
Price:
Free
Startup – $34.5/month (per editor)
Company – $119/month (per editor)
Enterprise – Custom
From our firsthand experience, we can confidently say that UXPin, a user-friendly design and prototyping tool, stands out as one of the best Adobe XD alternatives.
Its unique approach to designing from the code end adds an interesting dimension, making it a compelling choice. To put it simply, you have the ability to develop and customize your designs through the use of code components.
This tool excels at creating dynamic prototypes and performs seamlessly on both Windows and Mac systems.
Additionally, you can easily view the prototypes offline using mirror apps for iOS and Android devices by simply scanning a QR code.
Beyond that, there are numerous other impressive features, such as advanced prototyping capabilities and interactive elements, all of which contribute to delivering an amazing design experience.
The prototyping solution for all of your needs
Platform: Mac/Windows
Price:
Freelancer – $24/month (paid annually)
Startup – $40/month (paid annually)
Agency – $80/month (paid annually)
Corporate – $160/month (paid annually)
Proto.io is an online designing and prototyping tool, focused mainly on mobile applications. This tool offers an intuitive drag-and-drop editor, making it easy for designers to create prototypes.
It also includes a wide array of design elements, interactive functions, and components to add stars to your UI creations & prototypes. What's more? You can build realistic prototypes as well to test them on different mobile devices your clients use.
However, don't expect much on the collaboration front, you're limited to commenting only.
All-in-one design software
Platform: Mac/Windows
Price:
Solo – $9/month
Team – $15/month
Unlimited – $40/month
Moqups is another online application for building mockups, wireframes, and prototypes of UI designs. From diagrams to full-fledged and interactive prototypes, you can get it all done on this web-based app.
The strong collaboration features let your design team access and interact from anywhere to provide feedback and suggest changes. You also get a good-sized built-in icon and stencils library along with a wide range of editing tools to take design to the next level.
The app integrates easily with popular cloud storage services, making it a great pick. Keep in mind, though, that you may want to consider the paid version of this tool. The free version may not meet your expectations.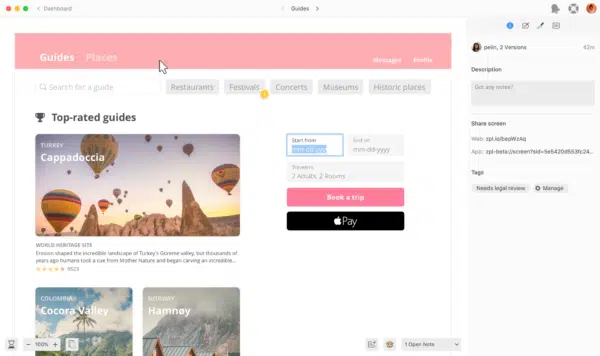 An organized workspace to publish designs
Platform: Windows/Mac
Price:
Free
Team – $6 seat/month
Organization – $12 seat/month
Enterprise – Custom
Zeplin is a smart Adobe XD alternative for code lovers. It is a code-based design app where you can source all your components from Storybook, Github, Bitbucket, SourceForge, and other repositories, so they are always code-ready.
The app also integrates seamlessly with team collaboration and project management tools like Trello, Proofhub, Monday, Jira, and Slack, offering integration with design applications like Figma, Adobe XD, etc.
You can access the code snippets to initialize them and can also check the summaries of your components in your designs.
Best free Adobe XD alternative
Platform: Windows/Mac/Linux
Price:
Monthly Plan – $12.90/month
Quarterly Plan – $29/quarter
Annual Plan – $69/year
An easy-to-use tool with comprehensive UI and UX design features makes this a great free alternative to Adobe XD. With an extensive and easy-to-manage asset library, you can design interactive prototypes.
Other features include automated code generation for Android/CSS/Swift, URL-based real-time inspection and analytics, and a huge bank of transition and gesture effects. What's more? You get multi-user collaboration features for online commenting and sharing of designs with stakeholders.
You can access the app online from any device and can send/receive feedback about your designs. The free version has a limited set of features, but you can try it and see if it works for you.
The power to build realistic, functional prototypes
Platform: Mac/Windows
Price:
Axure RP Pro – $25/month (per user)
Axure RP Team – $42/month (per user)
Axure for Enterprise – Custom
Axure RP is a popular desktop application for UX designers to create interactive HTML prototypes for mobile, desktop, and web applications. RP (Rapid Prototyping) is the core focus of the tool and lets you design prototypes from just rough ideas.
You can also use the tool to create personas, sitemaps, user workflows, customer journey maps, and wireframes. With an easy-to-use and navigate interface, the designing process gets super easy.
Even though UI designers won't find this tool as efficient as Figma or Adobe XD, web designers, and UX designers will love it. Using Axure, everyone can get their design job done with ease.
Turbo prototyping tool for websites
Platform: Mac/Windows/Linux
Price:
Free
Pro Plan – $99 /year
Agency plan – Custom
Draftium is a free, web-based alternative to Adobe XD. Equipped with many design features and functionalities and over 200 blocks and 300 prototype templates, you can easily create responsive prototypes for any device.
The free asset library also has a lot to offer. Using real-time collaboration features, developers and clients can communicate and leave comments, access comment history, and do things faster. You will find the app interface easy to use.
Just pick a template, modify the content, add preferred elements, review, collaborate, and hand it off to the dev team. As easy as you like!
Faster than ever
Platform: Mac/Windows
Price:
Free
Pro – $20Editor/month
Enterprise – Custom
Framer was initially an application used by programmers but now has been developed as a visual editor. This lightning-fast design tool lets you create interactive and responsive design elements.
You can easily set up your screens by utilizing their Stacks feature and much more. The app works great on desktops, mobile, and tablets. If you know basic programming and are looking for some fast idea validation, give this tool a try for your design ventures.
Best Adobe XD Alternative for Android and iOS
Platform: iOS/iPad/iPhone
Pricing: 
Free
Pro – $12 / month
Team – $42/ month
When it comes to designing and prototyping on mobile phones the Marvel App is a great software to work with. Through this UX design, you can create beautiful interfaces in no time using a smartphone or mobile device.
Through this software, you can make your UX designs interactive by allowing viewers to see your work. One of the better tools for wireframing and prototyping, this impressive software is convenient and versatile to use.
Besides this, the Marvel app also offers space for collaborative ideas, design feedback, and iteration. This means design teams can work and view projects and even provide feedback for the same in a quick and efficient manner.
When installed, you will receive activity notifications to see who is working on what and receive feedback about designs. You can also upload images and start creating designs by making use of the tools available on the app.
Frequently Asked Questions
What is the best Adobe XD alternative?
InVision is the best Adobe XD alternative, feature-rich and affordable. With advanced designing tools and collaboration features, you are sure to appreciate this software.
Can I use Adobe XD without Creative Cloud?
Yes, technically, you don't need to install or use Creative Cloud to use Adobe XD. But you will still need a subscription to install it.
How long is the Adobe XD free trial?
The Adobe XD free trial is for seven days and provides full user access to the software.
Is Adobe XD better than Figma?
Well, Figma is a lot better than Adobe XD in terms of more functionalities, easy collaboration features, and ease of use. From hand-off to design features and constraints/components, Figma is way better than Adobe XD.
Is Adobe XD available for free?
Adobe XD starter plan can be downloaded and used for personal use. It includes all the design and phototyping features of course at no cost. But the paid plans are the ones that have all the premium features of the software with unlimited sharing and collaboration.
Alternatives to Adobe XD
The list above covers a wide range of Adobe XD alternatives. So, whether you need free, open-source software or a premium paid tool, compare and make your pick.
If in doubt, try out these different tools, as most of them offer a free trial. Let the perfect alternative breathe life into your designs and prototypes.
With the perfect Adobe XD alternative, your design projects can flourish, breathing life into your creations and prototypes. Whichever tool you ultimately select, the focus remains on creating exceptional user experiences and leveling up your graphic design.
---
Related Posts: