The distinct appeal of Asian designs and patterns continues to dominate many segments of society today. From movie posters and restaurant logos to buildings and furniture pieces, we must acknowledge the influence of Asian aesthetics.
For instance, Chinese traditional design dates back to 5,000 years, and each symbol, mark, and color is reflective of the country's rich and diverse heritage.

Chinese visual design elements carry more weight than meets the eye. As such, modern designers must approach these aesthetics with sensitivity, purpose, and intent.
Oriental-driven visuals can convey rich stories and a universe of history and culture.  The Asian aesthetic is more than just striking and captivating. These designs possess tales of victory, defeat, and a unique set of beliefs.
If you're looking to explore Asian history with your designs and works, this resource round-up of free & premium vectors, stock photos & PSD files will be sure to satisfy.
There are abstract shapes, asian patterns, Chinese visual design elements, vector art, icons & graphics for free & paid download. Enjoy!
101+ Asian and Oriental Design Resources: Elements, Patterns, Illustrations, Paper and More
These free & paid downloadable asian resources are available for Adobe Photoshop, Adobe Illustrator, Procreate, Affinity Designer and more.
Chinese Seamless Patterns
Another set loaded with Chinese patterns and illustrations, this bundle is an equally competent choice for anything related to Chinese branding. Whether for accessories or packaging designs, there are multiple projects any designer can spearhead with this pack.
Asian Deco: Seamless Art Deco Patterns Collection
A collection of 12 Asian-inspired art deco patterns for Photoshop and Illustrator, this set is thoughtfully curated to sport accurate Asian aesthetics. Packed with vector patterns, brushes, and swatches, there are many designs a creative can complete with this bundle.
100 Asian Patterns + Bonus Elements
With over 100 Asian patterns and more than 80 plus vector elements for Photoshop and Illustrator, this bundle is a champion if what you need is a vast selection of Chinese patterns and visuals. From fabric designs and wall art to stickers and scrapbooking efforts, this pick is made to deliver.
Chinese Ceramic Patterns Collection
Inspired by pre-dynastic Chinese ceramic, this collection of patterns for Photoshop & Illustrator has been sensitively crafted to ensure its cultural accuracy. A Set of 12 Chinese Patterns, this digital product is perfect for fabric printing, banners, packaging, layouts, and other creative pursuits.
Vintage Chinese Digital Papers
We can't talk about Chinese designs without acknowledging gorgeous and beautifully textured vintage Chinese digital papers. Beautifully textured and representative of China's rich history, this digital contender is a gorgeous set designed for packaging, social media backgrounds, card making, scrapbooking, gift wrappers, and more!
Chinese New Year – Holiday Folk Set
Are you planning on whipping up marketing materials for the Chinese New year? If so, the Chinese New Year – Holiday Folk Set will serve you well. Packed with items you can use for prints, brochures, postcards, textiles, and backgrounds, these colorful offerings help capture the festivities this sparkly holiday carries.
Chinese Traditional Realistic Watercolor
Nothing beats the authenticity and connection people feel with hand-drawn illustrations. If this is the vibe you want your designs to elicit, consider this pack. Striking Chinese-inspired drawings converted into digital formats, this pick is great for invitations, packaging design, gifts, textile design, banners, prints, wall art, and a whole lot more.
Oriental Garden – Chinoiserie Set
Elements, patterns, and compositions, oh my! Loaded with Chinese watercolor visual assets, this pack is ideal for oriental-inspired designs, social media cards, marketing initiatives, and so much more.
Oriental Dreams Design Set
Another premium set packed with elements, patterns, textures, brushes, and frames are this bundle. Exuding designs and assets that spell out Asian tradition and culture, these offerings will easily help you articulate your vision. Whether for digital projects or tangible materials, creatives will love this pick.
36 Gold Leaf Patterns Super Bundle
Representative of starting over and keeping people strong and unmoved, gold leaves are symbolic of strength and grace. That said, if you want your works to warrant the same kind of energy, you're going to enjoy this bundle. Extending 36 handcrafted geometric digital patterns, creatives will find this selection both functional and appealing.
Asian Wedding Templates Suite
If you're working on creating stunning wedding invitations, you'll want to check this out. Heavily influenced by Asian patterns and assets, this contemporary set rests on stunning Chinese decals and symbols, making it easy for any designer to produce gorgeous prints. It works for both Photoshop and Illustrator too, allowing you to personalize them however and wherever you need to.
Vintage Japanese Flowers
Taking cues from botanic motifs, vintage print styles, and traditional colors, this extensive collection of coordinating floral digital graphics, illustrations, and patterns is inspired by the legacy of antique Japanese prints and sketches. Any designer looking for high-resolution Asian design elements will fall in love with this pack. It's compatible with Photoshop and Illustrator too, so anyone's sure to make the most of what this bundle has.
Japan ProBrush
If what you're looking for are brushes, this set will thrill you. This professional Illustrator brush pack contains 39 premium digital, ink, and Asian calligraphy brushes intended for professional designers, illustrators, and artists. Easily whip up oriental sketches with this pick!
Age of Aquarius – Mystic Collage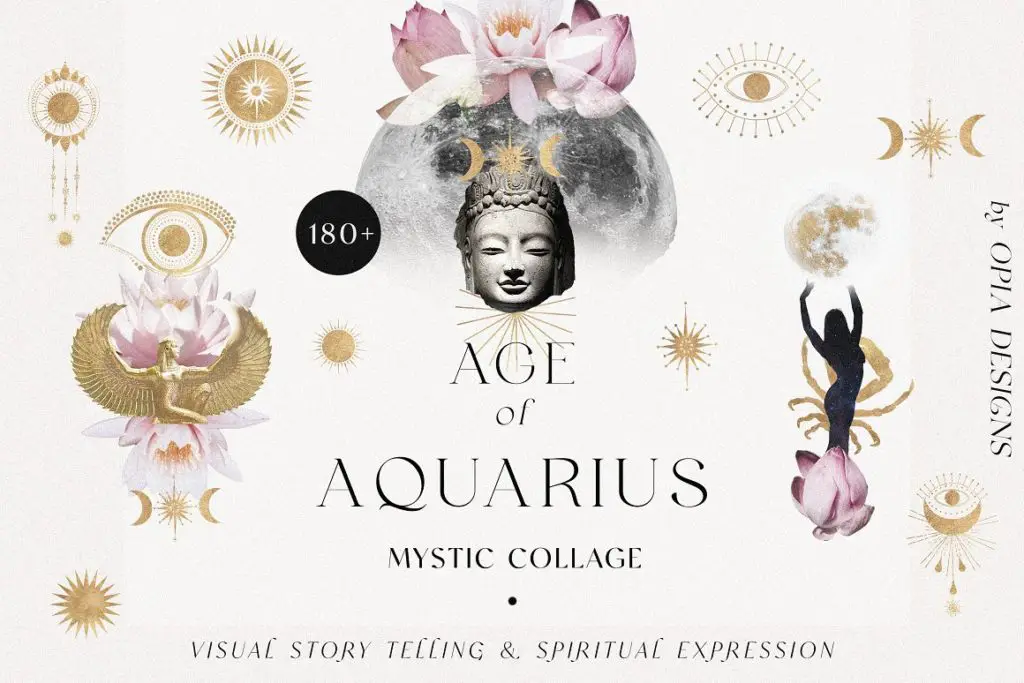 An out-of-this-world collection that's rooted in the ancient mysticism of Egyptian and Asian influences, this pack helps you create designs like no other. With assets, you can use for surrealism, astrology, and ancient themes, this set is a gem for designers looking to explore this segment.
Crimson Floral Collection
As the name of the pack hints, Crimson Floral Collection is a bundle that's bursting with red. A perfect tool for designers looking to build branding projects, this gem of a set makes it easy for anyone to capture their audience's attention. From digital tattoo designs and patterns to sketches and wedding invitations, these Asian-inspired floral offerings are too gorgeous to overlook.
Thai Patterns Collection
You don't have to go to Thailand to appreciate beautiful Thai aesthetics. This pack is a collection of 12 seamless patterns hailing from the Land of Smiles. With graphics you can use for virtually anything, the sky's the limit with this set. From gowns and suits to pillowcases and social media banners, this bundle is an experience in itself.
Indian Window Screen Patterns
India is known for many things, its architecture is definitely one of them. If you're looking to recreate Indian window screens, albeit online, this pack is what you need. Containing 20 unique patterns, this pick is suitable for image masks, print design, backgrounds for web design, and creating eye-catching images with an Asian flair.
Balinese Textile Ikat Pattern Pack
Textile patterns are always fun to play with as each theme packs its own set of culture, history, and beliefs. Take the Balinese Textile Ikat Pattern Pack, for example. Loaded with freshly made watercolor seamless patterns inspired by Balinese, Persian, Ikat, and other hand-printed and traditionally woven textiles, designers will have access to 24 watercolor seamless patterns with this pick.
Sawatdee Pattern Set
Bright, vibrant, and festive, the Sawatdee Pattern Set is a pack of organic watercolor patterns. Perfect for anything that calls for a theme, this bundle affords you 14 beautiful background visuals you can use for a multitude of projects.
Oriental Dreams Patterns
Heavily inspired by traditional Persian, Turkish and Moroccan decorations, this floral bundle affords you 10 classic vector patterns and 10 dark vector patterns. From pomegranate and clove to saffron and myrtle, this pack is—as its name implies—a lovely dream.
Dimsum Chinese Food – Illustration Elements
Anyone opening a Chinese restaurant will fall in love with how beautiful and accurate these Chinese food illustrations are. Packed with 10 dishes you can mix and match with designs, there's a lot you can create with this pick.
Hokku Watercolor Oriental Brush Set
There can never be too many brushes for designers, and that's a fact. Containing 120 watercolor brushes, the Hokku Watercolor Oriental Brush Set lets you recreate realistic-looking sketches and illustrations with Photoshop and Affinity Designer.
Oriental Backgrounds Collection
Inspired by the rich inheritance and visual culture of Islamic art, easily immerse yourself in a world of decorative oriental backgrounds and ornamental designs with this pack. Loaded with 200 patterns, these gold-colored themes are perfect for many creative ventures.
200 Islamic Ornaments Collection
Another product-filled bundle is the 200 Islamic Ornaments Collection. Containing 200 high-resolution backgrounds, these offerings make for good symbolic representations of what the beautiful Muslim culture is about.
Amazing set of food truck graphic elements set
Another pick involving Chinese cuisine, the set comes with assets designers can optimize for stickers, social media banners, shirt designs, and more, these cute little artworks help convey how festive and appetizing Asian dishes are.
Tokio Noir Font
TOKIO NOIR is a striking typeface with an Asian temper. This font uses styles to give the hieroglyphic writing, in which each character appears to be a finished piece of calligraphic art. Tokio Noir attempts to reinvent Western writing through an Oriental lens.
On the one hand, there is Asian pictorial emotionality, and on the other, there is thoughtful European pragmatism. This is the attempt to combine two concepts that are so dissimilar. This distinct typeface was created specifically for vibrant and eye-catching headers. It is ideal for catchy logo/emblem designs, package designs, and so on. 
101+ Asian Design Resources: Elements, Patterns, Illustrations, Paper and More
All these mentioned we know for a fact that you're very much likely to find a set that resonates perfectly with whatever creative and graphical projects you have. Having rounded up the top 101+ Asian and Oriental Design Resources: Elements, Patterns, Illustrations, Paper, and More, we're sure you'll find all that you need in this department.