Calligraphy is a beautiful art form whose history stretches back to Ancient China and has been used for centuries by many different types of people.
Calligraphy is a visual art that is associated with writing. It assists you to design and execute letters with a pen, ink brush or any other form of writing gadget.

While calligraphy has had a renaissance, it continues to be a beautiful style of writing used in wedding or event invitations, and using the Procreate app makes creating logos, branding, or any other project using calligraphy a dream.
That's why we are here to feature the best Procreate calligraphy brushes. So grab that Stylus, and read on!
Best Procreate Calligraphy Brushes
Ultimate Calligraphy Procreate Kit  

(Editor's Choice)
For the full list scroll on.
If you want to level up your Procreate skills, look at our consolidated list of Procreate tutorials, Procreate courses and the best iPads for Procreate.
30+ Best Calligraphy Brushes for Procreate
The Ultimate Lettering and Calligraphy Procreate Kit is a complete mixed media lettering toolkit with 150+ pens, brushes, textures, practice sheets, guides, and more, by calligrapher and lettering artist Molly Suber Thorpe.
This mixed media lettering kit is designed to give you not only professional results, but the educational tools you need to become a pro. The 150+ lettering brushes were meticulously crafted to emulate not only the look of analog tools but the feel of them as well, and the in-depth practice sheets and quick guides were included to take your lettering to the next level.
There is something for every lettering style in this collection, with all the tools you need for complete compositions at your fingertips. Fancy calligraphy flourishing? Watercolor script lettering? Sign painting styles? This is the pack for you. Make beautiful invitations, stationery, art prints, products, logo designs, and more!
This kit is for all skill levels – beginner through professional! Practice sheets and quick guides will help beginners get started, while experienced lettering artists will discover pens they can use immediately for professional results. This kit is also perfect for ink-on-paper lettering artists looking to seamlessly transition to the iPad.
This kit is an exclusive collaboration between Molly Suber Thorpe and Design Cuts. You won't find this pack anywhere else!
Included in this set.
14 lettering brush sets totaling over 200 brushes:
Pointed Calligraphy Pens
Lettering Markers
Watercolor Pens
Chalk Writers
Flat Tip Pens
Letter Inkers
Monoline Pens
3D Pens
Novelty Pens
Pencils & Erasers
Textures
Backgrounds
Letter Guides
Bonus set! Shape Frame Stamps
10 practice files and guides will teach you how to draw various lettering styles and make the most of this powerful pack:
3 Pointed Pen Calligraphy Practice Files (including a guide on how to use pointed calligraphy pens!)
2 Marker Brush Lettering Practice Files
2 Monoline Script Practice Files
1 Letter Inkers Quick Guide & Practice File
1 Watercolor Pens Quick Guide
Bonus! 1 Background Texture Preview Guide
The Calligraphy Composition Maker Procreate Brush Pack is a powerful kit containing everything you need to practice your procreate calligraphy technique and design hand-lettered layouts like a pro on your iPad.
With the 65 stamp and pattern brushes, you will be able to create endless calligraphy styles and experiment with new techniques. There are the calligraphy brushes for procreate designed to help you with Copperplate calligraphy, modern calligraphy, and experimental hand lettering, too. If you're not sure about how to do calligraphy in procreate, not to worry, this kit keeps things relatively straightforward.
You also get a layered Procreate file of calligraphy practice sheets, which includes 3 calligraphy styles and a sheet of flourish drills to get you started. You can use this however you like: trace the letters and flourishes to learn new styles, or use them for inspiration in your own work.
And for your reference, I've also made you a layered Procreate file with previews of each and every brush, so you can quickly browse the collection and quickly find the one you need.
Packed with 50 fine calligraphy brushes for procreate, the kit from Friday supply brushes gives you everything you need. An absolute must-have for any calligrapher who uses Procreate, the kit will give you the tools you need to create amazing, wonderful, authentic results. Regardless if you're a beginner or have been using calligraphy professionally for years, the 50 Procreate Calligraphy Brushes kit will help you become better with calligraphy brushes for procreate from the moment you install it.
A beautiful script font made with many swashes, the My Lovely Calligraphy brushes for procreate by garisman includes a fill set of swash heart lowercase letters, numerals, and punctuation. The font also includes OpenType Ligatures and an option for Stylistic sets until 10 which is perfect for all kinds of projects ranging from invitations and monograms to weddings, branding, label, fashion, and more.
Created by Friday supply brushes, the Bold Calligraphy for Procreate kit is bold, real and 100% authentic. A unique, artistic, and of course, bold Procreate brush set for any artist looking to create something extraordinary. The 28 calligraphy brushes found in the kit aren't like others you might find, the brushes are very real, present, and give the user an authentic feeling when being used, not like other calligraphy sets that have clean and smooth brushes. If you're looking to add something special to your work, then the Bold Calligraphy for Procreate kit is a great choice.
Containing 15 custom made brushes, The Brush Calligraphy Procreate Pack comes with textures that allow you to create a wide array of different calligraphy styles. You don't have to be a professional to use these brushes, even if you're a total beginner, the settings have been tweaked to make sure that you have a smooth experience every time. By changing the pressure of your strokes, you can create thin or thick lines with most of the brushes and if your work contains multiple words, try using two or more brushes to bring a new level of stunning to your work.
A wonderful set of Procreate brushes, paper scans, and pre-made Procreate scenes await you in the Procreate Calligraphy Toolkit by Friday Supply. The tools provided are meant to help you show off your calligraphy artwork in a natural environment. Along with 34 calligraphy brushes, you can create social media or pictures for your website to show your artwork on real paper. The pre-made scenes for Procreate are perfect so you can start immediately. They are also great for learning how to make scenes using one of the over 100 paper scans included in the toolkit. If you're looking for the perfect toolkit that has everything you need, you've just found it.
With twenty assorted brushes, the Procreate Calligraphy Queen Vol. 01 brush pack is a set of high-res Procreate brushes that are a perfect choice for anyone who creates digital calligraphy professionally. The brush pack includes watercolor brush pens, paper textured brushes, acrylic pens, plus diluted calligraphy brushes to give your work a realistic look. With the wide range of brushes that the pack includes, you can easily create professional-quality digital calligraphy work every time.
Perfect for anyone who is desperately seeking calligraphy brushes for procreate that emulates a pointed calligraphy pen realistically and makes stroke contrast and flourishes easy, you may want to check out the Calligraphy Nibs Procreate Brush Pack by Molly Suber Thorpe.
Personally used by the creator, the 7 calligraphy brushes for procreate include – Fine Point Calligraphy Pen – Smooth Stroke, Fine Point Calligraphy Pen – Scratchy Nib, Fine Point Calligraphy Pen – Paper Bleed, Thick Nib Calligraphy Pen – Smooth Stroke, Thick Nib Calligraphy Pen – Scratchy Nib, Thick Nib Calligraphy Pen – Paper Bleed, Monoline Dip Calligraphy Pen.
The kit also includes a PDF guide to help with brush installation. With brushes that the creator still uses, the Calligraphy Nibs Procreate Brush Pack is worth checking out,
Created by garisman, the Slovenia typeface is a calligraphy font that is perfect for logos, stationery, social media posts, labels, photography, invitations, wedding designs, and much more. With a full set of uppercase and lowercase letters, plus numerals, punctuation, and multilingual symbols, the Slovenia font is a great choice for any project that could use a touch of luxury.
Assembled with 14 fine lettering brushes, the Procreate Fine Calligraphy Brushes set provides you with a unique and exquisite set of tools that you can use for your next lettering project. Each brush is smooth, easy to handles, and sensitive. These calligraphy brushes for procreate have been specifically made for neat and tidy hand lettering. Two of the brushes in the set, specifically numbers 13 and 14, have reverse pressure sensitivity. This means that the more pressure you use, the thinner the line will be. This can be a great way to create an extraordinary look in your artwork.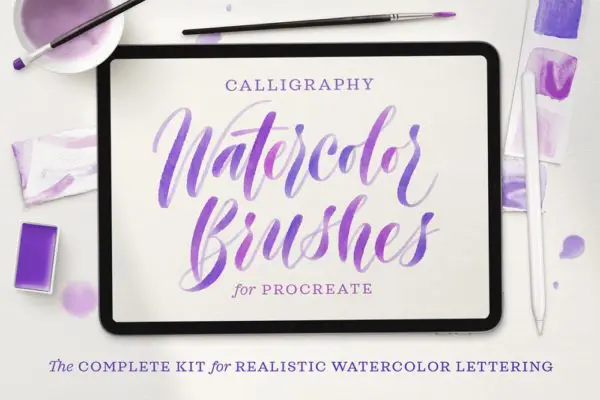 37 brushes and backgrounds help you create realistic watercolor calligraphy brushes for procreate on your iPad. The Watercolor Calligraphy Procreate Brush Pack, created by Molly Suber Thorpe, takes the guesswork out of doing watercolor lettering on Procreate. Whether you creating delicate illustrations, flourished calligraphy styles, or free-flowing brush scripts, the Watercolor brush pack has everything you need.
While the Procreate Calligraphy Brushes for procreate kit only comes with two brushes, the possibilities of what you can do with those brushes and the super affordable price make this a must-buy. The kit, created by Ale Estrada, contains a calligraphy brush as well as a thin line calligraphy brush contained in a zip file that you can add to your Procreate app and start creating beautiful calligraphy right away. The results that these brushes can produce are perfect for projects like invitations, wedding announcements, logos, branding, and much more,
The Calligraphy Procreate Brush Set from Hewitt Avenue provides anyone obsessed with calligraphy the perfect set for the Procreate app on their iPad. Each brush in the set was chosen specifically for the calligrapher who is just beginning their journey.
The four brushes include an ink bleed brush that mimics the more traditional style of calligraphy, a thin calligraphy brush, that has a smooth texture as well as fewer variations between thick and thin lines.
The set also includes a thick calligraphy brush and a Hewitt Avenue brush that is a perfect brush for modern calligraphy and lettering. All in all, if you're just starting to learn about calligraphy on procreate, you cannot do much better than this set.
25 brushes for Procreate, as well as a guide template so you can create calligrams included in the Calligraffiti Procreate Brushes kit by Jake Rainis Calligraphy also comes with 6 unique chiseled brushes, each at varied angles. as well as having a textured version, which is solid and pressurized. The set compiles six grunge brushes, four unique chiseled brushes for calligrams plus a circular calligram template and a square grid brush. While the brush kit focuses on blackletter calligraphy, if you're a calligraphy artist who is looking to add something new to your work, the Calligraffiti Procreate Brushes are ones to consider.
20 high-quality Procreate brushes provide you with professional modern calligraphy brushes with a textured feeling. Created by Liquid Amethyst, the brushes have all been optimized so that they work with the Apple Pencil so that your lettering designs look smooth and professional. With the features that each brush comes with, you don't need to be an expert, the kit is perfect for beginners. Each of the twenty brushes has been created with a smooth streamline and carefully assorted features.
A total of 58 custom calligraphy brushes for procreate can be useful for helping you create digital lettering and seeking to solve different textures and effects. The Calligraphy, Grids & more for Procreate by Daniel Hosoya's Shop comes with 9 grids, 23 texture brushes so you can decorate the composition, and also comes with 26 lettering brushes. All of these brushes have been specifically designed to provide you with realistic strokes as well as simulates numerous popular professional lettering tools..
This is a new "Lettering & Calligraphy Brush Set." for your lettering projects. This brush set draws inspiration from the experience of years of hard work in the field of lettering and calligraphy. Every creative library needs to have this set of brushes so you may equip yourself with various styles of lettering and calligraphy. You may create various kinds of artworks with blackletter, script, and chalk letters as well.
This procreate brush set has a total of 50 brushes that grants a distinctive trademark in your compositions.
This is a modern calligraphy brush set for Procreate. It has a combination of different styles of brushes such as inking, watercolor, calligraphy pens, dry brushes, and some bonus splashes that will help you have creative, enriching projects.
This is an attractive set of lettering and calligraphy brushes that works well in the Procreate app, so you can explore maximum creativity using these brushes.
The brushes of this calligraphy set are pressure sensitive and the set includes 16 lettering and calligraphy brushes for procreate with two bonus splashes stamps and three bonus paper textures.
This is a great set of calligraphy brushes for procreate to explore the innovations of your creativity. This set of brushes includes grids and textures that you can use to decorate your creations. This set features 28 brushes.
This is an attractive set of Procreate lettering brushes that you can use for attractive design needs. This set of calligraphy brushes for procreate comes handmade for iOS procreate apps, but will not work in Photoshop applications. The brush set can be used in Procreate 5 or earlier versions of the software.
The brush set includes the textured, monoline, calligraphy, and signature brushes. 
The Trendy Brush Bundle set of procreate lettering brushes features various styles of brushes that you can use for watercolor, chalk, dry brushes, calligraphy pen, and some bonus splashes that can make your creative projects stand out among the crowd.
This brush bundle set is apt for any kind of lettering style that you can use for bold and delicate letters. These calligraphy brushes can be used for hand lettering, digital calligraphy, font making, and illustrations and are 100% pressure sensitive. 
This brush set includes the ballpoint signature brush, chalky brush, watercolor pens, and splashes.
If you are on the lookout for the original Procreate brushes, then this set is perfect for your requirements. 
This set has a set of 26 pressure-sensitive comic brushes and retro-styled brushes that can work for nostalgic designs. 
With this pack, there are two additional Procreate palettes with colors that are sampled with vintage illustrations. 
This set has a set of 14 Procreate brushes. It has all the classic pens that you can use to create classic calligraphy. This will help you to create classic calligraphy, chalk lettering, brush pen lettering, and much more. 
These smooth brushes are in classic weights that are perfect to use for vector designs. The Chalk/Fine Chalk Duo is great for chalkboard art. 
These brushes work only with the Procreate App on iPad. However, they don't work with any other Adobe design software. 
This Procreate brush set is from Zen Lettering. This is our new lettering and calligraphy bundle that will meet the needs of the hand lettering style of the iPad. 
You can do classic calligraphy, chalkboard lettering, and create logos and prints. This brush set will satisfy all your design needs. 
This set has a unique set of 19 Procreate brushes. These brushes are made by professional calligraphers. 
These brushes are split into four different categories. These include rough brushes, clean brushes, watercolor brushes, and dry marker brushes. 
The rough brushes are for coarse surface textures, chalk letterings, and pop-art styles. The clean brushes are for classic lettering, print designs, and classic pointed pen calligraphy. The watercolor brush imitates a half-transparent, light, and delicate feel. The Dry Marker brushes will give you authentic dry-feeling tips and brush pens. 
Apart from this, this brush pack also comes with two extra brushes for corrections and doing monoline calligraphy. 
There are six different hand-made paper textures that give you a real background. There are four different grids that can work on a white or black background which makes the lettering experience much easier for you.
Introducing the Mighty Girl hand drawn typeface. The Mighty Girl hand drawn typeface is a font duo. What makes this typeface unique is that there are two font styles: One is handmade dancing and the other is a live trace. These font styles provide you a Grunge brush that helps in creating unique forms of calligraphy thus making the writing style very natural. The font is ideal for various purposes such as headings, logos, wedding invitations, t-shirts, letterheads, signages, labels, news, posters, badges etc. The features of this font include standard ligatures and stylistic alternates.
Introducing Butter Slices, a beautiful modern brush calligraphy script based on manual handwriting. What makes this font beautiful is the natural flow with the swashes. This type of font is perfect in wedding invitations, labels, logos, magazines, books, greeting cards, wedding cards, packaging, fashion, make up, stationery, novels, labels or any type of advertising purpose. Whatever your project may be, the Butter Slices brush font will only make your project look more stunning. 
You may make new crayon inspired lettering designs and have fun coloring digitally in Procreate with the Crayon Procreate Brush Set. What makes this an amazing brush set is that the Crayon Procreate Brush Set has real crayon textures and gives you endless options in your lettering and illustrating. You can have fun creating crayon calligraphy designs and using the coloring crayon brushes to draw textured illustrations or using them with digital coloring books. This set has twenty-three brushes, three paper textures, one color palette, and an instructional booklet that will help you clear all your doubts. 
Dans Calligraphy brush set for procreate solves the issue of a lack of lettering brushes for those who work digitally.
With this set of calligraphy brushes for Procreate, you can create the most realistic looking designs for lettering, posters, flyers, and more projects. This handmade digital brush works digitally using the iPad Pro and Apple Pencil. This set of brushes also helps you in giving your designs a vintage and retro feel. Furthermore, it includes five prodigious blackletter brushes to give you the greatest possibility for creativity.
Joyful Procreate Brush Calligraphy comes with 40 handcrafted brushes to help you in making your calligraphy and lettering on iPad more enhancing, easier and fun. This brush set is an ideal choice for projects that need fun filled unique and creative projects such as posters, invitations, banners, and media posts. 
This set of calligraphy brushes for procreate comes with 40 single brushes, one brushes file that helps you install all brushes at once. It also includes a guide on installation instructions and usage. 
This ultimate brush set is compatible only with iPad 6th Gen or iPad Pro and Apple Pencil or stylus with pressure sensitivity. When it comes to software applications, it works only in the Procreate app and not in any other software programs such as Photoshop. 
If you are searching for a calligraphy lettering brush for your project, then CalligraFUN Brushes For Procreate is a perfect choice. This set of brushes are made to deliver a wide variety of custom-made Procreate brushes for beginners and professionals. 
This set includes 30 brushes for calligraphy which comes in four different categories. This helps you in finding the brush you need while creating new styles and techniques. This set also includes a guide that helps you with understanding and usage of brushes from simple to complex aspects. 
It also includes a full set of worksheets for capital, minuscules, and numbers. It also includes a step by step video tutorial on how to create brush calligraphy layouts and compositions. In addition to these, it contains eight guideline stamps, ten paper backgrounds and 21 color palettes to make your work stand out from the crowd. 
Frequently Asked Questions
What are the best calligraphy brushes for Procreate?
The Ultimate Lettering and Calligraphy Procreate Kit is a great collection of procreate brushes for calligraphy. With practice sheets and quick guides, beginners will feel at ease while pros will immediately take to the fine assortment of brushes.
How much does Procreate cost?
For iPads, Procreate costs only $9.99.
What is the best texture calligraphy brush for Procreate?
What is the best Procreate brush for bold calligraphy?
What is the best watercolor calligraphy brush set for Procreate?
What is a procreate calligraphy brush set that works for social media?
What is a good nib brush for calligraphy on Procreate?
How to do calligraphy in procreate?
To do calligraphy on Procreate, you need to first explore the Brush settings to get a fine match. The key of using brushes here is to press lightly while drawing upwards and firmly while drawing downwards. You can even use templates as well and can play with the options available in Layers.
Best Procreate Calligraphy Brushes Summary
Calligraphy is a beautiful art form that has been used and celebrated for thousands of years. With smooth and even textured strokes on your Procreate app, you can create beautiful work each time. With our list of the best calligraphy brushes for Procreate, we fully believe that if you have not started trying calligraphy art yet, the choices on our list may just change your mind.
---
More Procreate Lettering Resources:
More Top Procreate Brushes