At their core, laptops are built to be your PC on the go but not every laptop is created equal. Some options are designed to provide users with as much processing power & speed as money can buy.
While many times, these are designed for a specific audience, many consumers simply want to have the best, most powerful laptop that they can get their hands on. This revelation led us to wonder what are the fastest & most powerful laptops for graphic designers or any creative in 2023.

We have dived deep into the laptop market to find, test, and present you with the most powerful and fastest laptops. From motion design, 3D modeling, rendering, video editing, game development, and animation to any sort of designing you can think of, you're sure to find a perfect laptop for each need.
So, without further ado, let's dive right in! 
What is the fastest laptop in the world?
The fully specced Apple 2023 MacBook Pro is the most powerful laptop in the world. As you'd expect from Apple, this MacBook Pro is fast with a supercharged processor and also has generous RAM, storage, and display– checking all the boxes for graphic design or any creative endeavour.
Our Top Pick
Apple 2023 MacBook Pro Laptop M2 Max chip 14.2-inch Display
4.9
The Apple 2023 MacBook Pro is the fastest graphic design laptop out there, offering up to 18 hours of uninterrupted productivity. Its powerful M2 Pro or M2 Max chip handles resource-intensive software, while the stunning Liquid Retina XDR display brings content to life. With a comprehensive range of ports, seamless connectivity is guaranteed.
Pros:
Up to 18 hours of battery life
Stunning Liquid Retina XDR display
Advanced 1080p FaceTime HD camera
Cons:
No facial recognition technology
Pricey upgrades of certain hardware
Buy on Amazon
Read Our Review
Our Top 3 Picks
Not an Apple user? Don't worry, we have more recommendations you might like. Check out our 3 favorites below!
10/25/2023 09:02 am GMT
Top 10+ Fastest & Most Powerful Laptops in 2023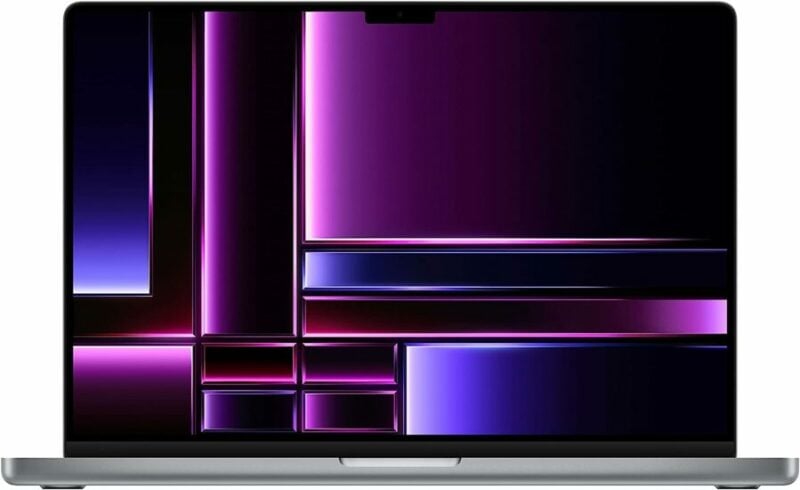 Most powerful laptop for graphic designers
CPU: M2 Max chip | GPU: Apple 30-core GPU | Hard Disk Size: 1TB SSD | RAM Memory Size: 32GB | Max Refresh Rate: 120 Hz
Speed, power, and reliable performance– if this is what you're looking for, the Apple 2023 MacBook Pro could be your next graphic design laptop. Thanks to its solid hardware, it can handle the heaviest and most intricate tasks efficiently– transforming your design challenges into seamless experiences.
For one, it is packed with the M2 Max chip and a whopping 32GB RAM– allowing it to handle 3D modeling, large format printing, and real-time collaboration with ease.
Its 30-core GPU further makes it an ideal choice for demanding tasks like high-resolution photography, video editing, and VR/AR development. Similarly, the 1TB SSD guarantees super-fast data access, making it perfect for multimedia artists and animators who need to work with large files.
In terms of image quality, the 14.2-inch Liquid Retina XDR display offers crisp, vibrant visuals for all your graphic design needs, from color-grading video footage to creating detailed vector artwork.
Adding to that, the ProMotion technology, with adaptive refresh rates up to 120Hz, ensures a smooth viewing experience, even when you're animating complex scenes.
Despite its impressive specs, some may find the MacBook Pro on the pricier side. However, the multitude of features and top-tier performance it delivers can justify the investment for professionals seeking the best.
It's also worth mentioning that macOS might not support all software used by professionals. In such cases, using a virtual machine or dual-booting can be a viable workaround.
Still, the Apple 2023 MacBook Pro is an impressive powerhouse for creative professionals seeking to tackle design tasks with speed and efficiency. Whether you're a graphic designer creating complex vector artwork or a game designer working on the next AAA title, this laptop is designed to keep up with you.
| | |
| --- | --- |
| PROS | CONS |
| ➕ Fast M2 Max chip for seamless multitasking | ➖ High price tag |
| ➕ 1TB SSD for rapid file access | ➖ Mac OS might not support all software |
| ➕ High-resolution Liquid Retina XDR display for clear, vibrant visuals | |
| ➕ Multiple connectivity options for all your peripherals | |
Latest Price on Amazon:
Fastest Laptop for Video Editing and Animation
CPU: i9-13 Gen| GPU: RTX 4070 | Hard Disk Size: 1TB PCIe SSD | RAM Memory Size: 16GB DDR5 | Refresh Rate: 240Hz
Elevate your creative horizon with the ASUS ROG Strix G16, an exemplar of top-tier performance and versatility ideal for an array of professional graphic design tasks. This design powerhouse sets a new standard in rendering motion graphics, presenting the best of Intel's 13th Gen i9 CPU and Nvidia's RTX 4070 GPU.
The ROG Strix G16 dazzles with its Intel Core i9 processor, ideal for tackling complex vector artwork, 3D modeling, and other CPU-intensive tasks, allowing you to produce art faster.
Coupled with the RTX 4070 GPU, real-time collaboration, animation, and VR/AR development become a breeze, resulting in seamless workflow execution and accelerated productivity.
Offering 16GB DDR5 RAM and a 1TB PCIe SSD, this laptop ensures smooth multitasking and quick data access. This lets you simultaneously run multiple high-demand applications without experiencing performance drops.
Thanks to such generous capacity, this laptop is especially useful for designing tasks like large format printing, video editing, animation, and other motion graphics design projects where quick response times are essential.
And then, there is the 240Hz refresh rate – which ensures smooth visuals and quick response times for animation and game development. It also guarantees the utmost precision when editing high-resolution photos or videos, ensuring each frame is displayed with meticulous detail.
Yet, with great power comes great heat, which the Strix G16 manages expertly. The ROG Intelligent Cooling system, complete with liquid metal and an additional intake fan, maintains optimal temperatures for sustained performance and longevity.
However, with this arsenal of features, the ROG Strix G16 does come with a rather heavy weight of around 10.17 pounds. While some may find this a setback for portability, it's a fair trade-off considering the immense power it packs.
A laptop stand or a sturdy backpack can alleviate the weight concern, turning it into a non-issue for stationary use or occasional travel.
Summing up, the ASUS ROG Strix G16 stands as a monumental leap for design professionals, offering uncompromised performance and versatility.
It shines brightest for motion graphics designers, delivering top-tier computational power, fast memory and storage options, and an advanced cooling system, all contributing to a smooth, high-speed creative process.
| | |
| --- | --- |
| PROS | CONS |
| ➕ Powerful i9 CPU and RTX 4070 GPU for high-demand tasks | ➖ Heavier compared to other laptops, potentially affecting portability. |
| ➕ Swift 16GB DDR5 RAM and 1TB PCIe SSD for quick data access | |
| ➕ High refresh rate for precision in visual tasks | |
| ➕ Advanced cooling for sustained performance | |
Latest Price on Amazon:
3. Acer Nitro 17 — Best Mid-Range Laptop
Best Mid-Range Powerful Laptop for Designers
CPU: Ryzen 7 7735HS | GPU: RTX 4070 | Hard Disk Size: 1TB Gen 4 SSD | RAM Memory Size: 16GB | Refresh Rate: 165Hz
If you are a designing freelancer or a beginner, we understand how you may need a reliable laptop for moderate to high workloads. With that in mind, we have found just the perfect solution– the Acer Nitro 17 – an embodiment of raw power and elegant design, perfectly tailored for our demanding design workloads.
Acer Nitro 17's heart lies an AMD Ryzen 7 7735HS Octa-Core Processor, which, combined with the NVIDIA GeForce RTX 4070 Laptop GPU, turns complex tasks like 3D rendering and high-resolution photo editing into a breeze.
The spacious 1TB Gen 4 SSD further ensures quick access to large project files, while 16GB DDR5 RAM keeps multiple applications running smoothly, even during intense multitasking sessions. This laptop really seems to be designed with professionals in mind.
Similarly, Nitro 17's 17.3″ QHD 165Hz IPS display is a sight to behold. The high resolution and color accuracy make it ideal for tasks where precision matters, such as vector artwork or photo editing.
Adding to that, the NVIDIA Advanced Optimus technology provides the flexibility to switch between integrated and discrete graphics, optimizing performance based on your needs.
While the Acer Nitro 17 performs excellently in many aspects, it's not without its shortcomings. For one, its powerful components generate a considerable amount of heat, which can cause discomfort during prolonged use.
But to counter that, Acer's next-gen cooling system, boasting dual fans and quad exhaust ports, helps mitigate this to some extent.
Also, if you are the type who prefers working untethered from a power outlet, the laptop's battery life might disappoint you. However, considering the performance it offers, it's a trade-off you might be willing to make. And you can anyway fix this issue with a reliable power bank.
Overall, the Acer Nitro 17 is an impressive beast that bridges the gap between power and portability. If you're a creative professional seeking a reliable companion that can handle your demanding workloads, this laptop certainly deserves your attention.
| | |
| --- | --- |
| PROS | CONS |
| ➕ Powerful AMD Ryzen 7 7735HS Octa-Core Processor | ➖ Can run hot during intense workloads |
| ➕ High-performance NVIDIA GeForce RTX 4070 Laptop GPU | ➖ Battery life could be better |
| ➕ Large 1TB Gen 4 SSD and 16GB DDR5 RAM | |
| ➕  Stunning 17.3″ QHD 165Hz IPS Display | |
Latest Price on Amazon:
4. MSI Stealth 17 Studio — Fastest Gaming Laptop for Graphic Design
Most Powerful Gaming Laptop for Designing and Development
CPU: i9-13900H | GPU: RTX 4090 | Hard Disk Size: 2TB NVMe SSD | RAM Memory Size: 64GB DDR5 | Refresh Rate: 240 Hz
Are you a game developer? Or perhaps, a designer who is also a gamer? In either case, the MSI Stealth 17 Studio can be just the right laptop for you. While generally famous as a gaming laptop, this high-performance machine is engineered to aid in complex design tasks and high-resolution media production.
To start with, the Stealth 17 Studio 17.3 boasts a 13th Gen. Intel Core i9 processor with 6 P-Cores and 8 E-Cores. This translates into impeccable multitasking capabilities and can support heavy applications that we regularly use. From 3D modeling to intricate vector artwork, rest assured, this beast won't break a sweat.
And with the ability of NVIDIA GeForce RTX 4090 GPU to simulate real-world light behavior (ray tracing), it can bring your visual content to life. Your animation and game development tasks can now get that extra realism.
17 Studio's QHD Display further takes your work up a notch by offering a 100% DCI-P3 color gamut– which is essential for high-resolution photography and large format printing. This ensures rich, true-to-life colors in every pixel.
Another significant feature that improves your workflow is the high-speed data transfer capability via Thunderbolt 4 and DDR5-4000 memory. This is ideal when you need to switch between multiple applications or share heavy files for real-time collaboration.
Despite these robust features, the MSI Stealth 17 Studio 17.3 does have some limitations. The battery life may be an issue for those who frequently work on the move.
But, considering the powerful specs and performance, some trade-offs are expected. Keeping a power source handy or managing power-consuming apps judiciously would help.
Simply put, the MSI Stealth 17 Studio 17.3 is an excellent asset for designers and game developers who need raw power, high-quality visuals, and speedy performance. Its limitations are minor, and the workarounds are straightforward.
| | |
| --- | --- |
| PROS | CONS |
| ➕ Powerful i9 processor for heavy multitasking | ➖ Limited storage capacity |
| ➕ High-quality RTX 4090 GPU for realistic visuals | ➖ Battery life could be better |
| ➕ QHD Display with 100% DCI-P3 for vivid colors | |
| ➕ High-speed data transfer | |
Latest Price on Amazon:
Best Battery Life Fast Laptop for Designing
CPU: M2 chip | GPU: 10-core GPU | Hard Disk Size: 512 GB | RAM Memory Size: 8GB RAM | Refresh Rate: 60Hz
As designers, you need a powerful device that can efficiently handle those heavy video editing or rendering software. But generally, such powerful laptops compromise on battery performance— leaving you hunting for power outlets. The 2023 Apple MacBook Air is here to change all that.
Before we explore why it's an excellent graphic design laptop, you'd like to know that its battery can last up to 18 hours on a single full charge. So, you can rely on its exceptional battery life to keep you powered through an intensive workday.
This MacBook Air is a flawless combination of performance and visual prowess. It's loaded with Apple's M2 chip, an 8-core CPU, and a 10-core GPU— a trio that sets the stage for high-speed 3D Modeling, Rendering, Game Development, and Animation tasks.
Real-time collaborations or simultaneous usage of multiple applications? You've got it all covered with this tech marvel.
On top of that, its 15.3-inch Liquid Retina Display supports a billion colors and P3 wide color, ensuring your designs and artwork are rendered in the finest detail. The 500 nits brightness adds that cherry on top, making it perfect for high-resolution photography.
Now, let's talk storage. With a 512GB SSD and 8GB unified memory, the MacBook Air can handle large files and complex vector artwork effortlessly.
But on the flip side, limited port availability may necessitate investing in extra adapters or docking stations. Additionally, while it's on the lighter side with its weight of 3.3 pounds, it's not as compact as we'd wished. So, carrying it around might be a bit of a hassle. Plus, post-purchase upgrades aren't an option with the Air.
Despite its minor shortcomings, the 2023 Apple MacBook Air, with its seamless blend of power and design, is the perfect workstation for creative professionals who demand the best. Its striking performance and stunning display make it an exceptional choice for design-heavy tasks.
| | |
| --- | --- |
| PROS | CONS |
| ➕ Superior performance with the M2 chip | ➖ Limited ports may necessitate external adapters |
| ➕ Crisp visuals with the 15.3-inch Liquid Retina Display | ➖ Light but not compact |
| ➕ Robust storage options for large design files | |
| ➕ Long battery life for prolonged usage | |
Latest Price on Amazon:
The best fast cheap laptop for designing
CPU: i5 13th Gen | GPU: RTX 4060 | Hard Disk Size: 512GB NVMe | RAM Memory Size: 16GB RAM | Refresh Rate: 144
Designing laptops are generally considered an expensive investment (and in fact, they are!), but we have found something that can boost your creative work without breaking the bank– the MSI Stealth 15. It's a budget laptop that ticks all the boxes for any professional in the creative field.
Harnessing the power of a 13th Gen Intel Core i5 processor and RTX 4060 GPU, this device is crafted to keep pace with demanding design tasks and to streamline workflow for Graphic Designers, Web Designers, Art Directors, UX/UI Designers, and more.
Equipped with 16GB of DDR5 RAM, it also offers the capability to handle complex tasks like vector artwork, large-format printing, and simultaneous use of multiple applications without a hiccup.
Its 512GB NVMe SSD further ensures fast boot times and quick access to your files, beneficial for those large high-resolution photography files and intricate 3D modeling projects.
Adding to it, the 15.6″ FHD display with 144Hz refresh rate delivers clear and vibrant visuals, ideal for animation, video editing, and real-time collaboration.
It also boasts the RTX 4060 GPU, powered by NVIDIA's Ada architecture, which allows for realistic rendering, making it a boon for VR/AR developers and game designers alike.
And for those undertaking machine learning or AI design tasks, the Intel i5-13420H processor's eight cores offer substantial processing power.
However, the MSI Stealth 15 is not without its drawbacks. For starters, its storage might feel limited for professionals dealing with bulky files. But you could work around it by investing in an external SSD.
And while the fan noise is minimal during regular use, it could become noticeable during intensive tasks like game development or rendering. A well-ventilated workspace or a cooling pad should mitigate this issue.
To sum up, the MSI Stealth 15 offers a blend of speed, power, visuals, and affordability that caters exceptionally well to a wide range of creative professionals. So, if you are looking for a powerful but budget laptop for your designing endavors, MSI Stealth 15 is a perfect choice.
| | |
| --- | --- |
| PROS | CONS |
| ➕ Powerful 13th Gen Intel Core i5 processor and RTX 4060 GPU | ➖ Limited storage capacity |
| ➕ Quick access to files with 512GB NVMe SSD | ➖ Noticeable fan noise during intensive tasks |
| ➕ Vibrant visuals with a 15.6″ FHD 144Hz display | |
| ➕ Can handle multiple applications simultaneously | |
Latest Price on Amazon:
7. Alienware m15 R7 — Best for 3D Rendering and Modeling
Fastest pc laptop for 3D Modeling and Rendering
CPU: i9-12th Gen | GPU: RTX 3080 | Hard Disk Size: 1TB SSD | RAM Memory Size: 32GB DDR5 | Refresh Rate: 240 Hz
The Alienware m15 R7 stands as a tour de force in the realm of graphic design laptops. Its potent combination of a 12th Gen Intel Core i9-12900H processor, NVIDIA GeForce RTX 3080 graphics, and a richly-detailed 15.6-inch 240Hz 2ms QHD display make it an ideal choice for complex 3D designing tasks.
Apart from that, the m15 R7 is equipped with a hefty 32GB DDR5 RAM and a 1TB SSD, allowing it to handle complex tasks relating to vector artwork, high-resolution photography, and simultaneous use of multiple applications effortlessly.
This sheer computational power translates into smoother workflows and greater productivity for different creative professionals, from graphic designers to architects and more.
On top of that, with NVIDIA's Deep Learning Super Sampling (DLSS), the laptop optimizes rendering for critical design moments. This AI-driven feature significantly enhances the precision of 3D modeling, VR/AR development, and game design tasks.
Additionally, the laptop's Alienware Cryo-tech cooling system ensures system stability during peak performance states, making it a reliable workhorse for all your high-intensity design tasks.
Its NVIDIA G-SYNC technology further provides smooth, life-like visuals, a boon for video game designers, multimedia artists, and animators seeking to create immersive experiences.
Despite these impressive features, there are a couple of potential drawbacks. To name a few, the Alienware Command Center, which is key to customizing the keyboard's backlighting, caused system crashes during the testing. Uninstalling this program is one solution, but then you will have to compromise on its customization features.
Some of our testers have also experienced Bluetooth connectivity issues. However, it seems that these issues can usually be resolved by tweaking settings or running a troubleshooter.
Overall, the Alienware m15 R7 offers powerful features that cater specifically to the needs of creative professionals. While it has minor software issues, its top-notch performance, exceptional graphics, and smart rendering capabilities make it a strong contender for the best laptop for design tasks.
| | |
| --- | --- |
| PROS | CONS |
| ➕ Powerful Intel Core i9 processor for handling heavy design tasks | ➖ Potential system crashes due to the Alienware Command Center |
| ➕ Advanced NVIDIA GeForce RTX 3080 graphics for detailed rendering | ➖ Possible Bluetooth connectivity issues |
| ➕ AI-driven optimization for design tasks | |
| ➕ Efficient cooling system for sustained performance | |
Latest Price on Amazon:
Most durable and strongest laptop for designing
CPU : i9-13th Gen | GPU: RTX 4090 | Hard Disk Size: 2TB SSD | RAM Memory Size: 32GB RAM | Refresh Rate: 240 Hz
For professionals in the world of graphic design, web development, animation, and beyond, the Razer Blade 16 (2023) is a powerful workhorse in a compact, sturdy aluminum chassis. Armed with top-tier NVIDIA GeForce RTX 4090 graphics and an Intel 24-core i9 HX CPU– all wrapped in a stylish and sturdy body sets this laptop apart from the rest.
Geared with an RTX 4090 GPU, this laptop offers a whopping 1.50 gPD, 35% more graphics power per inch than other 16-inch laptops. Whether you're rendering high-quality 3D models, editing complex video sequences, or developing immersive VR experiences, your workflows will be smooth and efficient.
The 13th Gen Intel Core i9 processor further ensures any resource-intensive tasks, be it game development or AI-powered design, can run flawlessly without bottlenecks.
Adding to the exceptional visuals, the Razer Blade 16 offers a dual-mode Mini LED Display. You can switch between 4K for creating pin-sharp artwork and enjoy the smoothness of high refresh rates during downtime.
On top of that, the 16-inch display is housed in a typical 15-inch body, giving you more screen real estate without sacrificing portability. This means you can work on those large projects and enjoy your work in all its glory.
But here are a few things you might want to consider. First, like any high-performance laptop, the Razer Blade 16 may get hot during intensive tasks. Ensure adequate ventilation, and perhaps consider an external cooling pad.
Also, the placement of the power button where the DELETE button usually is might cause annoyance, but it's something one can adapt to with time. Lastly, the premium specs come with a high price tag, which might be out of reach for some.
Despite being a gaming laptop, the Razer Blade 16 offers a spectrum of features that make it an excellent investment for professionals. Its exceptional power, vibrant display, substantial storage, and cooling mechanism, all bundled in a compact, sturdy aluminum chassis, make it an impressive choice for graphic designing and related tasks.
| | |
| --- | --- |
| PROS | CONS |
| ➕ Exceptional graphics performance with RTX 4090 GPU | ➖ Can get hot under load |
| ➕ Dual-mode Mini LED Display for versatility | ➖ High price point |
| ➕ Large-screen real estate | ➖ Odd power button placement |
| ➕ Compact design and robust build | |
Latest Price on Amazon:
Fastest Windows laptop for content creators
CPU: i7 – 12th Gen | GPU: RTX 3070Ti | Hard Disk Size: 1TB SSD | RAM Memory Size: 16 GB | Refresh Rate: 120 Hz
The ASUS ProArt StudioBook 16 OLED Laptop is another excellent designing powerhouse– especially catering to the unique needs of content creators. Equipped with an Intel Core i7-12700H processor and an Nvidia GeForce RTX 3080 Ti GPU, it redefines performance, allowing you to create 3D models, edit videos, and animate with superior speed and efficiency.
Its 16″ 3840×2400 OLED display, 100% Adobe RGB, and Pantone-validated color accuracy make it an indispensable tool for creating visually appealing content.
As graphic designers or animators, you'll appreciate the intricate detail and vibrant colors that this laptop can reproduce, making our designs come alive. High-resolution photography also becomes a pleasure with its exceptional color fidelity and contrast on this brilliant screen.
On top of that, its ASUS Dial is a significant feature that streamlines workflow, especially for Adobe Creative Suite users. As photographers or video editors, you can swiftly adjust settings, enhancing your productivity.
Despite its remarkable power, this laptop remains thin and portable, fitting seamlessly into our dynamic lifestyles. However, a caveat is a slightly truncated keyboard to accommodate the ASUS Dial, which might take some getting used to.
And while it has a massive 2TB storage, the storage throughput in testing has been reported as slower than expected. However, considering the overall performance, this does not necessarily impede your creative processes.
Summing up, the ASUS ProArt StudioBook 16 is a high-end device that can substantially amplify your creative abilities. Its blend of powerful hardware, an exquisite display, and innovative features like the ASUS Dial caters to the diverse needs of creative professionals.
| | |
| --- | --- |
| PROS | CONS |
| ➕ Powerful performance with Intel Core i7 and Nvidia RTX 3080 Ti | ➖ Truncated keyboard due to ASUS Dial |
| ➕ Outstanding 16″ OLED display with 100% Adobe RGB | ➖ Slower storage throughput |
| ➕ ASUS Dial for enhanced workflow | |
| ➕ Compact and portable design | |
Latest Price on Amazon:
10. Dell XPS 17 9720 — Best for Large Screen Lovers
The most powerful laptop for large screen projects
CPU: i9 – 12th Gen |  GPU: RTX 3060 | Hard Disk Size: 1TB SSD | RAM Memory Size: 32GB | Refresh Rate: 60 Hz
When dealing with intricate projects that demand a large screen real estate, you need a laptop that helps you see your work with all its details and everything. But not every large screen laptop is powerful enough to deal with your demanding design software. And this is where the Dell XPS 17 9720 shines with its robust hardware and large screen.
The XPS 17 boasts colossal power thanks to the 12th Gen Intel Core i9-12900HK processor coupled with NVIDIA GeForce RTX 3060 6GB GDDR6 Graphics. These specs provide seamless performance in 3D modeling, high-resolution photography, video editing, and even real-time collaboration on large-scale projects.
And with 32GB of DDR5 memory and 1TB of M.2 PCIe NVMe Solid State Drive, your applications load faster, allowing you to transition between tasks effortlessly.
Now, the star of the show feature– Its 17-inch UHD+ (3840 x 2400) InfinityEdge Touch Anti-Reflective display offers an immersive visual experience, perfect for designing, editing, and reviewing your work.
Additionally, the laptop's 3D soundscape with Waves Nx 3D Audio is simply a delight to the ears. This allows for an overall super immersive multimedia experience in terms of both visuals and audio.
But since this powerhouse is packed with state-of-the-art specs and a large screen, it is expectedly heavy. This may limit mobility, especially for designers who are always on the move. Also, it does not have traditional USB ports, potentially requiring adapters for certain peripherals.
Overall, the Dell XPS 17 9720 is a beast in performance and a beauty in design, making it an ideal choice for professionals looking for power and precision. Its high-resolution display, colossal processing power, and dedicated graphics are perfect for handling intensive creative tasks.
| | |
| --- | --- |
| PROS | CONS |
| ➕ Colossal power with Intel i9 12th Gen and NVIDIA RTX 3060 | ➖ Heavy form-factor limits mobility |
| ➕ Immersive visual experience with a 17-inch UHD+ display | ➖ Lacks traditional USB ports |
| ➕ Adequate storage and memory for seamless multitasking | ➖ Storage may be limited for large multimedia files |
| ➕ Excellent audio with 3D soundscape | |
Latest Price on Amazon:
How We Selected and Tested the Most Powerful Laptops for Designers in 2023
To ensure that we review and recommend nothing but the best designing laptops, we have collaborated with the designing professionals to select and test laptops. As a designing and branding company, we didn't have to go too far to find the right professionals for testing our selected laptops. Here's a breakdown of our whole process:
Part 1: Selection Process
With the collaboration of copywriters and SEOs with professionals from the designing realm, we have created a meticulous selection process to filter out the best and fastest laptops for designing in 2023.
Step 1: Identifying Potential Candidates
We started by conducting an in-depth market analysis to identify the most acclaimed and top-rated laptops in the current year. We focused on those with high-performance specifications that could potentially satisfy the rigorous demands of various designing professionals and their use cases.
Step 2: Cross-Referencing with Professional Needs
Following this, we collaborated closely with graphic designers, web designers, art directors, UX/UI designers, video game designers, multimedia artists and animators, marketing and advertising professionals, architects, interior designers, fashion designers, industrial/product designers, and photographers.
We conducted interviews, surveys, and focus groups to understand their unique needs and preferred features in a designing laptop.
Step 3: Mapping Features with Use Cases
We then mapped the needs of these professionals to specific use cases such as 3D Modeling and Rendering, Video Editing, Game Development, Animation, High-resolution Photography, VR/AR Development, Complex Vector Artwork, Large Format Printing, Simultaneous Use of Multiple Applications, Real-time Collaboration, and Machine Learning/Artificial Intelligence Design Tasks.
We cross-checked if the laptops we initially selected cater to these needs effectively.
Step 4: Narrowing Down the Selection
With this comprehensive information at our disposal, we began the process of elimination. We discarded any laptops that could not cater to the high-demand tasks of our professionals or could not align with the specific use cases.
Part 2: Testing Process
After narrowing down the potential candidates, we moved on to the rigorous testing phase. Here's how we did it:
Step 1: Real-world Testing
The shortlisted laptops were handed over to our collaborating professionals for an in-depth, hands-on experience. They used these laptops in their everyday work environment to perform tasks related to their specific use cases. This allowed us to understand how each laptop performs under genuine work conditions.
Step 2: Performance Benchmarking
While our professionals were testing the laptops, we ran various performance benchmarks that focused on factors crucial for designing tasks, such as processor speed, graphics capabilities, memory management, and display quality. The results were then compared to ascertain the fastest and most efficient laptops.
Step 3: User Feedback and Adjustments
After the hands-on testing period, we collected detailed feedback from our professionals. We focused on understanding any performance issues they faced, the features they loved, and if the laptop made their work more efficient. This feedback was crucial in further narrowing down our choices.
Step 4: Final Selection
We combined the feedback, our observations, and benchmark results to finally arrive at the list of the best fastest laptops for designing. We gave precedence to those that had the highest performance metrics, were recommended by our professionals, and catered best to the listed use cases.
Through this systematic and collaborative approach, we ensure that the laptops we recommend are not just theoretically superior but have been validated by real professionals in the designing field against real-world use cases.
Buying Guide: Fastest & Most Powerful Laptops
Finding the perfect laptop to fuel your creative journey is crucial. We understand the unique needs of designing professionals like you. With that said, we've combined our expertise as a team of SEOs and copywriters with insights from professionals in the design field to create this comprehensive buying guide.
✅ Understanding Your Needs
The first step in choosing a laptop is understanding your needs. Are you a graphic designer who needs to work on complex vector artwork? Then you should go for something like the MSI Stealth 15.
Or are you a game developer pushing the boundaries with cutting-edge VR/AR technologies? A laptop like the ASUS ROG Strix G16 would be the right choice. Your specific use case will greatly influence your choice.
✅ Performance and Power
When it comes to designing work, you need a laptop that's up to the task. This means it needs a fast processor, plenty of RAM, and a high-end graphics card.
Processor

: A high-speed processor is a must. Opt for at least an Intel i7 or AMD Ryzen 7 for optimal performance. Or you could go for i9 or M2 Max chips like in the

ASUS ROG Strix G16

or

Apple 2023 MacBook Pro

. More cores and higher clock speeds will ensure your laptop can handle heavy design tasks.

RAM

: The more RAM, the better. For most design tasks, 16GB should be your baseline, like in the

Acer Nitro 17

. But if you're into 3D modeling, animation, or

high-resolution photography

, consider going for 32GB or more, like in the

Alienware m15 R7

.

Graphics Card

: A dedicated graphics card is crucial for rendering complex visuals quickly. Consider a laptop with a high-end NVIDIA or AMD card, as is the case of

ASUS ProArt StudioBook 16

.
✅ Storage
Speedy and spacious storage is crucial for your designing files. Opt for a laptop with SSD storage, as it's faster than the traditional HDD. A laptop with 1TB SSD, like the Dell XPS 17 9720, should suffice for most designers.
But if your work revolves around high-resolution photography or video editing, consider opting for more storage or cloud-based solutions.
✅ Display Quality
Your laptop's display will have a huge impact on your work. Look for laptops with high-resolution screens (at least Full HD). If your budget allows, opt for a 4K display, like in the Razer Blade 16 (2023).
Also, consider factors like color accuracy and brightness. A laptop with a wide color gamut will reproduce colors more accurately, which is vital for graphic and fashion designers. This makes the MSI Stealth 17 Studio a good option here.
✅ Portability
If you're always on the move, consider the laptop's weight and size. Compact laptops with high performance can be quite expensive, but they might be worth the investment if it fits your lifestyle. The ASUS ProArt StudioBook 16 is an excellent powerful, yet portable laptop to consider.
✅ Battery Life
If you're frequently away from an outlet, prioritize a laptop with long battery life. However, keep in mind that high-performance laptops often consume more power. Still, the Apple 2023 MacBook Air strikes a great balance between power and battery performance.
✅ Connectivity Options
Look for laptops with multiple USB ports, HDMI output, and possibly Thunderbolt 3 ports if you use peripherals or external displays. The Apple 2023 MacBook Pro is one of the best amount fastest laptops with a good connectivity port selection.
✅ Price
Finally, determine your budget. High-performance laptops can be pricey, but it's a worthwhile investment if they can efficiently handle your design tasks. Still, if you have a limited budget, you can go for the MSI Stealth 15, which strikes an impressive balance between quality and affordability.
Remember, the perfect laptop for you will depend on your specific needs and use cases. Use this guide as a starting point to narrow down your options.
Frequently Asked Questions
Finding the Fastest Laptop for Designing & Creating in 2023: Summed Up
So, this was our top 10 picks for the fastest laptop in the world as of this point in 2023. Since there is no 'one-size-fits-all' when it comes to finding the fastest laptop for graphic design or creative endeavours. You need to consider your specific needs and preferences and compare them with the specs a laptop offers to find the right one.
Still, if we have to narrow our recommendations of the fastest laptops to one, we would select the Apple 2023 MacBook Pro. This latest tech marvel from Apple has all that a designer can ask for, from impeccable display quality to a solid chipset, generous storage, high memory, and more. It can be a game-changing addition to your designing arsenal!
Have you used any of these laptops? What was your experience like? Tell us in the comments below!
Related Posts