Photoshop is an amazing program that can help you create amazing pieces of artwork. One of the great things about the program is the support that other creators give the program with actions they've created and share with other designers.
With that in mind, we wanted to take a closer look at the Top 20 Best Premium & Free Photoshop Actions. With the variety that we have chosen to share with you, you can download them to make incredible pieces of art or add a new tool to your toolbox for future clients.

These artistic packs are perfect for weddings, portraiture, and so much more. Create your art in just one click!
Let's get started.
Top 20 Best Photoshop Actions
Before we start, let's take a quick peek at the top 10 choices on our list:
Now, back to the countdown!
Adobe Creative Cloud Discounts – 40-70% Off
As Adobe partners, we can offer you 40-70% off all of Adobe's top creative apps including Adobe Photoshop, Adobe Illustrator, Adobe InDesign, Adobe Lightroom, Adobe XD, Adobe Spark and more – wherever you are in the world.
Top 20 Best Premium & Free Photoshop Actions
The Ultimate Retouch Panel – $29
The Ultimate Retouch Panel from Pro Add-Ons provides you with a huge pack of actions that you can use on any of your photos. The panel is based on Frequency Separation and Dodge & Burn, two of the most popular methods of retouching. Including more than 200 functions, you can easily retouch photos and remove issues such as skin imperfections, wrinkles, folds, as well as getting rid of folds on clothing. With the Ultimate Retouch Panel, you can make even your amateur photos look like they were professionally taken.
Dual Lighting Gel Photoshop Action – $16
The Dual Lighting Gel Photoshop Action by Twinbrush allows you to take your everyday photos and transform them into amazing dual lighting images through the use of three incredible actions. One of the most vibrant and impressive photographic techniques, gel lighting can add a new dimension to your work. This set helps replicate those visuals in no time at all. Included as a bonus are 16 high-resolution Bokeh overlays and a Finisher action that will tie all of your work together.
Realistic Pencil Drawing Effect – $13
Using a pencil effect on your photos can give them a new level of detail and add depth as well. The Realistic Pencil Drawing Effect action from Jas Graphic Tools provides you with three different files for actions, brushes, and patterns. Recommended for use with images that are at least 1600px-4000px and they also recommend that your image mode is set to RBG and 8Bits/channel. If the Realistic Pencil Drawing Effect is used correctly, you can create amazing images in half the time.
Nightmare – Free
Sometimes, you just want to add a little more darkness to your photos to give them weight and character and with the free Nightmare action from Shutter Pulse, you can take your photos to a darker place, giving them a haunting vibe. If your project is meant to have an eerie and creepy vibe, the Nightmare action can be just what you need to give the impression of going down the wrong path.
Taboo – Dark Fantasy Actions for Photoshop – $7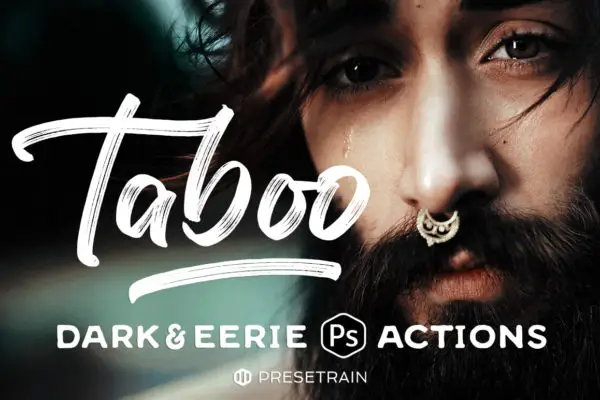 Giving your photos a dark, cinematic, and eerie feel can give them a fantasy mood and make your work stand out. The Taboo – Dark Fantasy Actions for Photoshop from Presetrain Co. gives you four fantasy Photoshop actions that you can use to manipulate color effects. These dark and moody actions were designed to take your portrait, fashion, and creative images and enhance them. This set is best for creative photo projects, fashion, fine art, and natural light projects.
Confetti Creative Toolkit For Photoshop – $15
People love confetti, Have you ever seen New Year's Eve in New York City? With the Confetti Creative Toolkit For Photoshop from Graphic Spirit, you can make colorful and joyful designs using a variety of styles including gold, multi-colored, small, large, round, rectangular, plus you can customize the confetti color. Packed with 12 confetti actions as well as 12 layer styles, you can create fun confetti designs from any text you can come up with.
Geometric Portals Photoshop Actions – $12
If you've been searching for a way to add an exciting effect to your photos, you should consider the Geometric Portals Photoshop Actions from Skybox Creative gives you a Photoshop action that lets you add an interdimensional effect to your photos, which can add depth, contrast, and most importantly, a unique look that can make your work stand out. A great choice for album covers, social media, or even cell phone cases, the things you can do with this set are limitless. Included as a bonus, Gradient Overlay Effects let you create an image that's different than anything else out there, and with their tutorial, you'll be up and running in no time.
Night to Twilight – Free
Created by SparkleStock, the Night to Twilight is a free Photoshop action that can turn your nighttime photos into twilight photos. Too many times have our great photos at night come out too dark to tell what's going on and this can help fix that annoying issue. Rendered using layers, the effect is adjustable so you can control the degree of twilight that your photo is using by reducing the opacity. This makes the effect even better as it has some flexibility to let you get the exact look you want.
33 Photoshop Lighting Actions – $10
Perfect for graphics, designers, fashion bloggers, and fashion photographers, Jas Graphics Tools has created 33 Photoshop Lighting Actions that you can use to enhance your photos in just a few clicks. You can give your images a touch of magic and streamline your editing process. Once you use the actions on your image, you can play with the settings a little bit for your desired result and adjust the hue/saturation, color balance, curves, and more.
Lomography Photoshop Action Set – $10
If you're just beginning your career as a photographer, you might not be able to afford a retro or Lomo camera to get those amazing shots that you see others creating. Thanks to the Lomography Photoshop Action Set from Twinbrush, you can use one of 12 amazing lomo effects to get that unique look. Perfect action for images of any size, you can create beautiful images that you can print out or post on social media.
Night Sky Background Overlays – $9
When you take amazing photos, sometimes you wonder what that incredible image might look like with a starry night sky as a background, and thanks to the Night Sky Background Overlays from Photo Spirit you can do just that to any photo you take. The set comes with more than 80 overlays including Milky ways, Lightning, Starry skies, and Northern lights. You can layer your image in the overlays to create unique mashups that you won't see anywhere else.
Portrait – Free
Even when you take amazing portraits of people, sometimes desaturating the color in the image can bring more detail, provide a vintage effect, and in some cases, can tell an amazing story. The Portrait Photoshop action, created by Provity is a free-to-use action that is broken into two different parts. This enables you to choose the sharpness and set the saturation levels to achieve your desired result.
Double Exposure Action – $6
When photographers use double exposure in their film, it can lead to amazing photos that can't be reproduced anywhere. Until now. The Double Exposure Action by Beto provides you with 4 Photoshop actions that can help you simulate a Double Exposure effect. Because these actions don't modify the color of the image, they can be combined with any other actions meaning that you can create even more incredible images by combining the actions with other actions from our list.
Foil Stamp Photoshop Style Actions – $15
Adding foil stamped letters can add a touch of class or style to everything from baby announcements, wedding invitations, and more. The Foil Stamp Photoshop Style Actions set from Graphic Spirit offers a package featuring styles and actions such as paper textures and vintage letters so you can add flourishes to all of your work. You can create a realistic design with colors that include gold, silver, copper, hologram, and even in custom colors. This set can help add a new level of creativity to your work.
RetroPress – Photoshop Actions – $12
The great thing about the way newspapers were printed was the use of a printing press to create papers everyone would read. You can add that authentic retro look with RetroPress from Retro Supply Co. Packed in the robust set are many useful actions including Ink Viscosity, Roughness, Ink Texture, and Halftone – all designed to give you a realistic look and feel to your artwork. Included as a bonus, Retro Supply Co. has included a Color Halftone Effect so you can create great images in color and black and white.
Dispersion Effect – Free
Using a dispersion effect can make your image look like its exploding or disintegrating right off the screen. Hollywood uses this effect a lot and now you can too with the free Dispersion Effect action from PsdDude. Using this effect leaves your laters intact and lets you easily edit and modify your image until it looks the way you want it to. The only downside to the effect is that it can only be used with images that are 72 dpi and in RGB color mode. Despite that, it can create an amazing effect for your photos.
Ultimate Painting Effect – $18
It isn't very often that painting and photography combine but with the Ultimate Painting Effect from Jas Graphic Tools you can take any of your photos and turn them into incredible looking paintings. While it works best with images that are between 1300-4000px and the image mode you use must be set to RGB and 8Bits/channel, the results speak for themself and can add a new dimension to your work.
RetroSauce Letterpress Actions – $12
Even though Photoshop is a great tool for your photos, it can also do wonders for your typography work and the RetroSauce Letterpress Actions from Retro Supply Co. is the secret sauce for your typography work. Included in the set are 13 RetroSauce actions that so easy to use that all you need to do is click play and 13 secret sauce textures that each come with their own unique design. With an easy to understand tutorial video, you'll be adding your own secret sauce in no time.
RetroLab – Retro Photo Lab – $29
Everyone loves the look that a retro photo can give you. It can be a look back into the past or remind people of a simpler time. With the RetroLab – Retro Photo Lab kit from Retro Supply Co., you can have complete control over the processing of your photos. With more than 60 actions and more than 50 seamless surface textures included in the kit, you can start creating photos with a retro look that can add more to your portfolio or help secure that next client.
Glitch Effect – Free
Back when we were kids and every movie was on VHS, any damage to the tape would create these glitched areas of the movie and with the Glitch Effect action created by Syed Faraz Ahmad, you can recreate that look over and over again. The action does a great job of recreating that look, complete with glitches and color smearing.
Top 20 Free Actions for Photoshop
Adobe Photoshop is an amazing program that can make professionals better and amateurs look like professionals. With our list of the Top 20 Photoshop Actions, you can add some tools to your toolbox to take that next step forward and toward bigger things.