The best free video editing software can help you create professional videos whether it be online or on your computer.
However, it can be cost-prohibitive if you don't have access to high-end software such as Adobe Premiere Pro or Adobe After Effects. 

If you're looking for a free video editor, plenty of options will work well for beginners and experts alike.
In this article, we'll look at 10 of the best free video editing software options—from both a budget perspective and quality standpoint—and show how they compare against each other.
Feel free to explore our selection of top-rated online video editing courses as well!
10+ Best Free Video Editing Software in 2023 – Overview
10+ Best Free Video Editing Software in 2023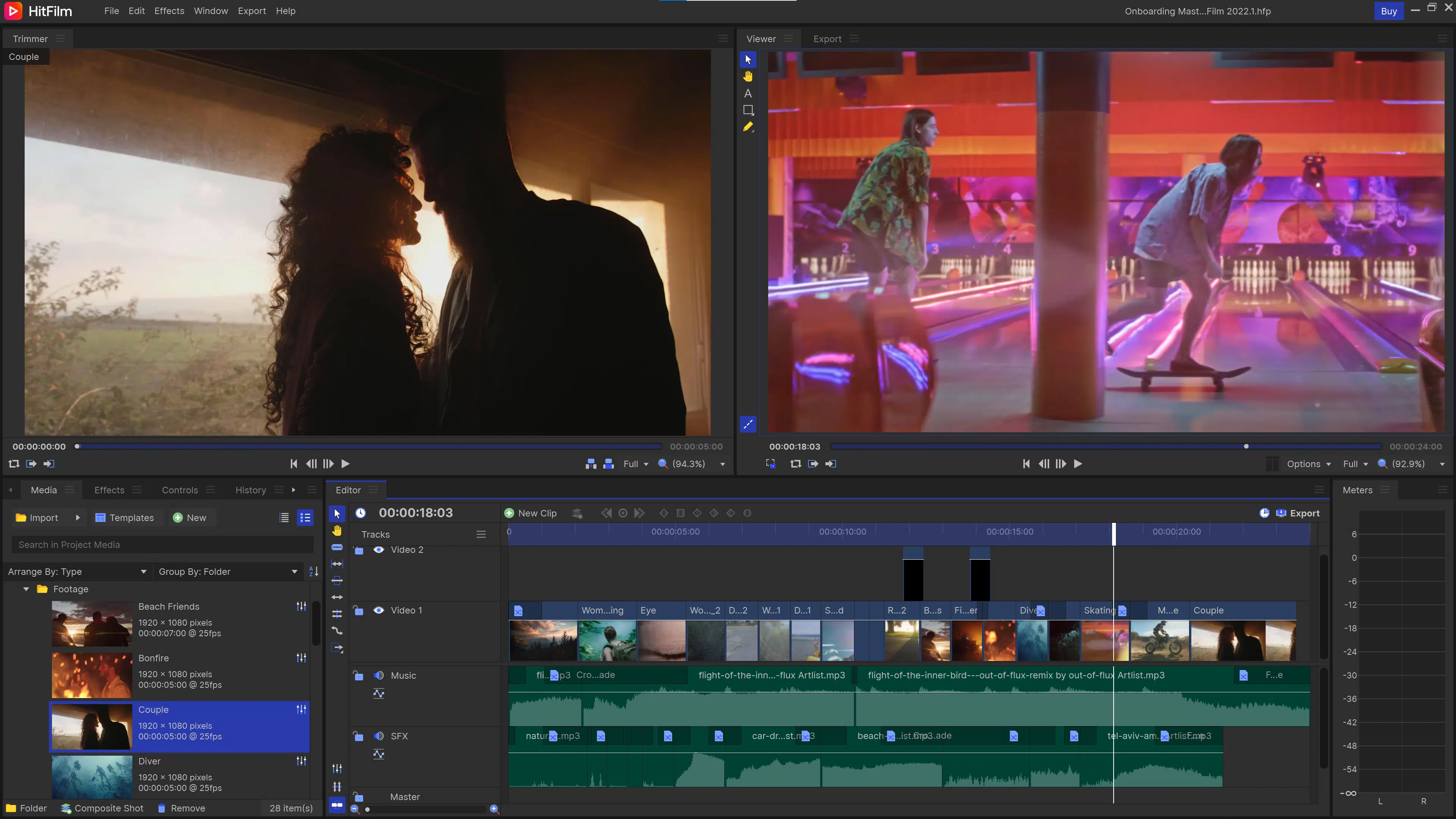 The best free video editing software overall in 2023
HitFilm Free (Formerly HitFilm Express) by FXHome / Artlist is the easiest way to create and edit high-quality video across Windows and Mac. Whether you're an amateur or a professional with more than 10 years of experience, the powerful editing tools, fast editing performance, and easy-to-use interface will make you look like a pro in no time.
Hitfilm Free offers support for everything from beginner-level editing to professional-level workflows. If you're looking to start making videos but don't have any experience yet, this app has features designed specifically for this purpose: quick tutorials for walkthroughs; prebuilt templates that make it easy to create content; and plenty of other options such as filters.
Overall, HitFilm Free is a powerful and comprehensive video editor that you can use to create your movies and videos. Without much of the hassle of learning too much and buying any additional software, you can simply use HitFilm Free straight out of the box. It is free, but you can gain access to even more features and add-on packs for a small fee.
The best free video editing software for social media
Canva Video is a free and simple video editor that lets you turn ideas into high-quality videos with minimal effort. If you're considering creating your online courses or videos for social media, Canva Video is ideal for getting started without investing in expensive software. 
You can add text, transitions, graphics, and more in addition to soundtracks, animations, and effects to polish your videos. And if you don't have your own design assets, you can select from Canva's massive content library, including watermark-free stock footage, clips, music, and graphics. For design inspiration, you can even find thousands of customizable templates to suit every industry.
There is a free version of Canva Video, but you can unlock premium features like a brand kit, premium templates, 100+ million stock photos, videos, audio, and more by paying a small subscription fee.
The best free video editing software for quick edits
We love Adobe. They're a huge name in the industry, and we all know they keep their standards high. But we also love that they make tools like the Adobe Express to appeal to the more amateur, entry-level content creators. It's an excellent choice for beginners and even those experienced in video editing, as it offers plenty of features that can help you get the job done quickly. 
You can trim videos, add visual effects and music, and resize everything for different social media platforms with multiple editing options. It also has a wealth of editing templates and effects. Plus, it directly works with the most popular social platforms such as Facebook, Instagram, and YouTube.
The free version of Adobe Express even offers a wide variety of music, stock images, and graphics that make your videos super easy to customize.
You can also upgrade to the Creative Cloud (Get 65% off here) for a monthly subscription that gives you access to the entire library of Adobe's stock design assets.
The best free video editing software for professionals
DaVinci Resolve is one of the most powerful and feature-packed editors. Its ability to color grade footage quickly and easily and its unique color style editor makes it perfect for filmmakers who need speedy results. If you're looking for a professional grade film editor, this is your go-to software, and it is already used by top Hollywood film producers and editors alike to create award-winning movies.
You can adjust color depth, brightness, and contrast using layers or change the saturation, temperature and tint on the fly with DaVinci's new hue/saturation tool. Combined with effects like vignettes and a range of ways to animate footage—including both traditional and more modern-looking type effects—this software is great for adding subtle effects to videos.
Do you need more than what the free version of DaVinci Resolve Studio offers? Check out Resolve Studio for a fee, including everything in the free version plus the DaVinci Neural Engine, dozens of additional Resolve FX and temporal and spatial noise reduction, stereoscopic 3D, film grain, optical blur, and mist effects. It also supports 10 bit video at up to 120 frames per second and resolutions beyond 4K.
The best free video editing software for beginners
If you are new to video editing, we highly recommend Lightworks. Its intuitive interface is designed for novice users and pros alike, and its massive feature set can handle every aspect of film post-production imaginable. 
The customizable pre-built graphics, in particular, are useful for creating professional-level videos in just minutes. In addition, it is compatible with a wide range of plugins, so you can easily add VFX to your videos.
The free version of Lightworks is a little more limited than the Pro version but still packs plenty of editing tools. It even has its own module for adding animatronics to your videos. For importing footage, it supports popular formats, including HEVC and ProRes. Plus, it works with Windows, Macs, and Linux platforms—no matter what system you prefer.
It is free but worth noting that you'll need to upgrade to Lightworks Pro if you plan to edit in 4K or higher resolution. If you're just getting started with videography, we recommend using the free version first and then moving up to the Pro version when you've got a few projects under your belt.
The best free video editing software for filters and effects
Shotcut is the best free video editing software for filters and effects. It's easy to use, but it also has a lot of features that make it exceptional. For example, Shotcut allows you to create your own custom transitions by importing images from other programs or creating them on-the-fly (using the drag and drop function). 
You can even add text on top of your videos! It can handle 4K and non-4K videos, which is a nice bonus. It supports an extensive range of formats and includes robust filters and effects, so you can perfectly edit your videos.
The best thing about Shotcut is that it's completely free. It has features that rival those in much more expensive programs, and its interface is flexible enough to allow you to do pretty much anything from your editing window.
Shotcut also features a professional-grade timeline, support for markers, time remapping and plenty more. Since it is open-source, there are plenty of features planned for this app in the future, which means it can keep up with the industry-standard apps regarding functionality.
The best free video editing software for Mac users
If you have never edited a video before, iMovie is a great place to start, especially if you own an Apple device. It's designed so that anyone can make movies without an extensive background in film production or video editing.
iMovie has great features and works well with both your phone and computer. The app allows you to import videos from your phone or upload them directly from the camera without buying additional storage space. You can also trim clips using a provided tool that lets you select what part of each clip should be shown, which makes it perfect for making movie trailers!
It even features Magic Movie, which makes it easy to create simple, awesome videos of your personal adventures or even promotions and ads. It's like having a video editor on call—in your pocket! Choose from 20 styles or select an existing album, and Magic Movie identifies the best parts of the footage. 
Then it automatically creates an edit. You can experiment with different looks using tools for clip trimming, splitting, etc. You can also add a music track or choose one of our pre-recorded tracks—there's no limit to the magic you can create!
The best free video editing software for basic use
OpenShot is a great, simple drag-and-drop video editor that's as much about playfulness as it is about function. It has all the basics you need to make basic edits, such as trimming and cropping. You can also add titles, effects, and music to your videos. The minimalism makes this software easy to use on Mac and Windows without any confusing bloat that can bog down fully fledged competitors.
The latest version lets you add video effects and render beautiful 3D animated titles and effects to add more flair to your projects. Not to mention the unlimited tracks, animations, and support for emojis, which is a handy addition if you want to create social media content. For simple tasks, Openshot is good enough to do the trick.
The best free video editing software online
If you are looking for a quick solution that lets you edit videos online, check out Movie Maker Online. It lets you create and share your movies on the web without experience or high-end hardware. You can upload your movies or clips taken from the internet and transform them into beautiful films with title cards, background music, and effects to complement your videos.
You'll also have access to a built-in text editor (so you can add subtitles) and other tools like transitions and filters. If you're looking for a simple tool that lets you easily create basic edits without any costs or a watermark, Movie Maker Online might be perfect for your needs!
The best free video editing software for mobile
Adobe Premiere Rush is an all-in-one video editor designed to work across multiple platforms, from iPhone to iPad and Mac to Windows. It gives you great flexibility, mixing multiple clips and effects, working with different formats, and sharing via cloud storage. 
The best part? It gives you everything you need in one package—so you don't have to install each tool separately if you want to use them together on one device. A major advantage of using Adobe Rush is its simplicity: there are no unnecessary features or complicated menus; just open up your project file in the app and start working!
You can start free with unlimited exports and access to the free music library. Still, upgrading to a premium account gives you access to all Premiere Rush premium features and content, including Photoshop Express. You can sync all projects across mobile and desktop with over 100GB of cloud storage.
Related posts
10+ Best FREE Video Editing Software in 2023 Summary
We hope this list of the best free video editing software has been helpful. There are many other options, but these are among our favorite choices because they provide a good balance between ease of use and a feature set.
If you're looking for something with more advanced features, check out our list of the best video editing software!
Which software do you like working with the most? Let us know in the comments below!