Looking for the best label makers? This article will have you printing labels in no time.
From eCommerce businesses and brick and mortar stores, to the office and home, everyone needs an efficient label maker to make the shipping process easier because they help to label files and keep things organized.

Label makers come with specific functions and capabilities to print shipping labels that carry information such as name, product weight, address, mobile number, tracking barcode, and so on.
Label makers don't require ink or toner and are equipped with heat technology that works with thermal paper, so you don't have to worry about refilling ink cartridges.
The real problem is how to choose the best label maker for your business. There are several options out there with different features and pricing, but this blog has you covered.
Top 10 Best Label Makers for 2023
What is the Best Label Maker?
Rollo label maker is the best label maker with a rate of one label per second. Have a look at the comparison table below to see which printer fits best to your needs.
You can also have a look at the consolidated list of Best Budget 3D Printers, Best Printers for Heat Transfers & Sublimation, Best Printers for Printing on Card Stock, and Best Printers for Art Prints.
How to Choose the Best Label Maker?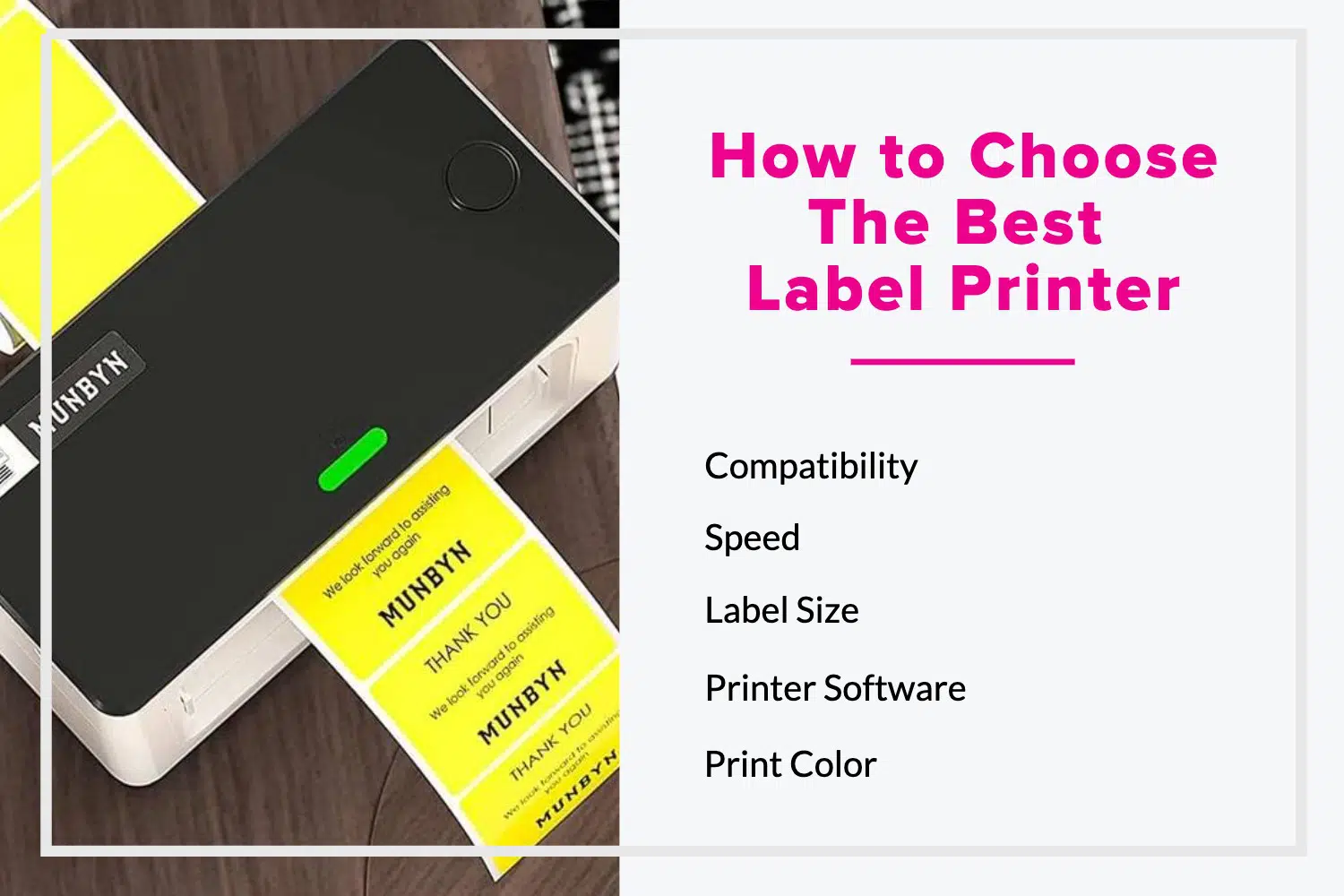 A label maker has many variables that you should consider before taking your pick. The following are some things to consider for the best label maker.
Compatibility
First, the printer should be compatible with the device you are using and it should easily connect to your device. Next, the label maker should support the platform you are using such as Amazon, Etsy, Shopify, UPS, etc. Some printers come with this functionality, and it's best to pick what works for you.
Connection
The connection depends on whether you like to keep things on the go or have a fixed setup to print labels. If you move around in your warehouse to check your labels, you should consider a Wi-Fi label maker. For a cost-effective solution, you should look for a printer with a USB connection.
Speed
Printing speed matters if you get many orders that you must process quickly. If you own a small business and have a decent workload, then you can select a printer with average speed but you should consider holiday seasons where the number of orders might be more than usual. A printer that prints 60+ labels per minute is a good choice for most businesses.
Label Size
If you are just looking to print 4×6 shipping labels and barcodes, then you may pick a one-size printer but if you want to print barcode labels for other business activities or want to label your files, then choose a printer that offers multiple sizes and templates while checking the functionalities related to switching sizes.
Print Color
Most shipping labels are all black and white strips but, if you want to print more for the labels such as custom tags, banners, logo stickers, etc., you should check out a color label maker. This way, you won't have to purchase two separate devices.
Printer Software
One last thing to check out is the software the printer provides. Make sure that it is user-friendly and has all the basic plus advanced features you need to print shipping labels efficiently.
Top 10 Best Label Makers You Can Buy in 2023
Best label maker overall
The ROLLO label maker is a high-speed commercial-grade direct thermal printer. It is compatible with any Thermal Direct Label, including free UPS labels. Place a stack or roll of labels behind the Rollo label maker, and it produces ready-to-roll labels at a rate of one per second.
The ROLLO has built-in sensors that can automatically detect the type of label it's printing on. This saves time and money by allowing it to keep everything in the correct place without requiring a user to change its settings.
As the best label maker, it works with USPS, UPS, and FedEx. It is also heavy-duty and portable, so you can take it with you if you must work somewhere else.
| | |
| --- | --- |
| Pros | Cons |
| ➕ Compact and durable | ➖ Label holder is not included |
| ➕ Needs little maintenance | ➖ Labels may print at better resolution (300 dpi) at the cost of speed |
| ➕ Easy set-up | |
| ➕ Supports both fanfold and roll labels | |
Latest Price on Amazon:
Best thermal label maker for customizing labels from any application
The MUNBYN Thermal label maker is compatible with Windows and Mac operating systems. It is an ideal solution for warehouse, shipping, food nutrition, Amazon FBA, UPS, and other labels.
The MUNBYN Thermal label maker features an automatic label identification, which performs automatic catching and feeds labels to the printer. It also allows you to generate customized labels directly from any application.
The MUNBYN address label maker can print 700 sheets per minute and automatically pauses for five minutes to prevent overheating.
You may learn more about the MUNBYN Thermal label maker at this link.
| | |
| --- | --- |
| Pros | Cons |
| ➕ Fast | ➖ Not suitable for large labels |
| ➕ Automatically detects the size of the label | |
| ➕ Easy to set-up | |
| ➕ Compatible with most shipping platforms (Shopify, Amazon, Etsy, eBay, ShipStation, ShippingEasy, Stamps.com, FedEx, etc.) | |
Latest Price on Amazon:
Best shipping label maker for small business
This printer is the only DYMO LabelWriter that can print on 4.16"x-6.275" shipping labels, making it ideal for a small business that sells products on eBay or other ecommerce platforms.
In addition to stamp labels and 4-by-6 labels, DYMO claims 50 other label options that vary in size, color, and number of rolls per box.
Unlike the others on this list, it lacks an automatic cutter. This would be a problem with wide labels, but with the 4.16" wide shipping labels, the roll tears with no issues.
| | |
| --- | --- |
| Pros | Cons |
| ➕ Excellent print quality | ➖ Doesn't integrate with Word smoothly |
| ➕ Easy to use | |
| ➕ Simple set-up | |
Latest Price on Amazon:
High-speed professional label maker
The Brother QL-800 is a fast professional label maker. It supports mobile printing via the iPrint & Label app which is a free app that assists you in designing labels from your iPhone device.
It is a plug-and-play printer, so no extra software for your device is required. The Brother QL-800 can print labels from Microsoft Word, Excel, Outlook, and other software. It can print the labels you've created on your PC or Mac as well. Changing the rolls of the printer is also simple.
| | |
| --- | --- |
| Pros | Cons |
| ➕ Simple installation | ➖ Inconvenient Mac setup |
| ➕ Good quality of labels | |
| ➕ Prints up to 93 labels per minute (standard address labels) | |
Latest Price on Amazon:
Easy to use label maker
BESTEASY shipping label maker is simple to use and comes with a video guide to help you through installation and setup. This thermal printer is one of the fastest ones available and lets you create labels from 1.57" to 4.1" wide.
The print quality is superb and you can use the device to print barcodes, ID labels, shipping labels, and keep your files and products organized at the warehouse, office, or other places of storage.
As the printer is compatible with Windows and Mac systems, you may use it with different devices and it also supports major platforms like Amazon, Etsy, and eBay.
| | |
| --- | --- |
| Pros | Cons |
| ➕ Easy to use | – |
| ➕ Print quality is good | |
| ➕ Supports major shipping platforms (Amazon, Etsy, eBay, etc) | |
Latest Price on Amazon: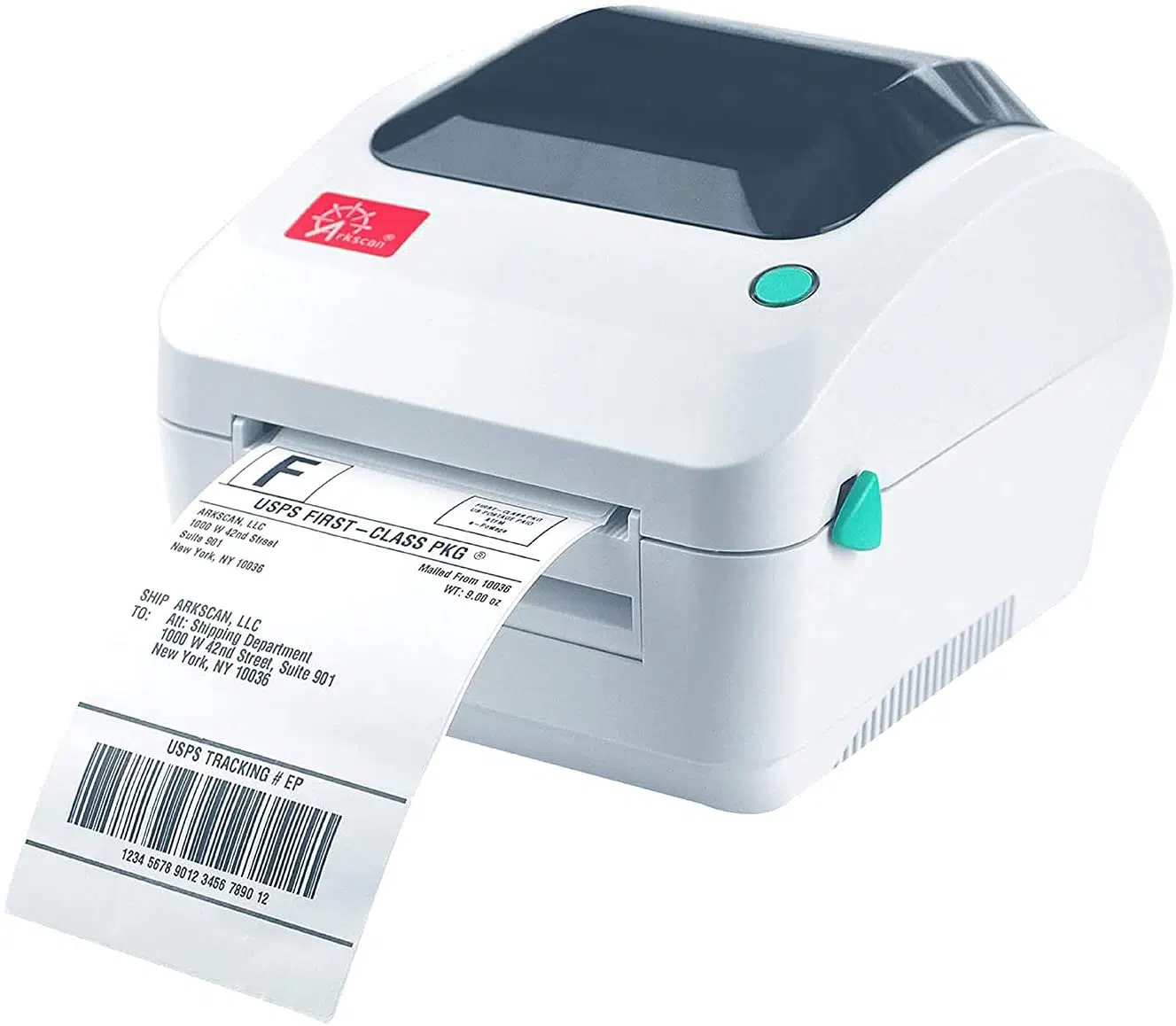 Multi-functional label maker
The Arkscan 2054A shipping label maker is another multi-functional device that can print product labels, barcode labels, shipping labels, and more. The printer works well with multiple platforms such as Amazon, FedEx, and Etsy.
The printer clocks in at five inches per second, which is ideal for most businesses. In case of any issues, real-time tech support through call, remote access, and chat is available.
| | |
| --- | --- |
| Pros | Cons |
| ➕ Supports multiple shipping and sales platforms (eBay, PayPal, Shopify ShipStation, etc.) | ➖ Not compatible with iOS and Android |
| ➕ Supports UP & FedEx free shipping labels | |
| ➕ Real-time technical support is available | |
Latest Price on Amazon:
Best budget label maker
Leoity Thermal label maker is a cost-effective printer for small businesses while boasting a print speed of 150 mm per second.
The printer is compatible with popular shippers such as USPS, FedEx, and USP. As for the features and functionalities, you can print labels up to 4.7" wide without worrying about maintenance. The software may be hard to learn for some users, however, with proper configuration, that won't be a problem.
| | |
| --- | --- |
| Pros | Cons |
| ➕ Compatible with wide labels | ➖ Difficult to learn software |
| ➕ Fast | |
| ➕ Cost-effective | |
Latest Price on Amazon:
Best label maker with great quality of labels
The Brother VC-500W is a redesigned version of the ZINK Happy Smart App Label Maker.
This label maker is ideal for printing labels, photos, stickers, and other items. It is appropriate for a wide range of personal and business applications, including home décor.
The label maker works with PC and Mac systems and can print from over 10,000 apps. It connects to Wi-Fi wirelessly, allowing for wireless printing and network sharing via smartphone or tablet.
| | |
| --- | --- |
| Pros | Cons |
| ➕ Color printing without ink | ➖ Pricey page refills |
| ➕ Compact | |
| ➕ Can print labels up to 17-inches | |
| ➕ Provide wireless connectivity | |
Latest Price on Amazon:
Best Label Maker for Home and Office use 
If you are looking for the best-valued label maker for your home and office use, Brother PTD450
is a perfect choice. It is best for users who want to create a variety of labels quickly and easily for homes, offices, or businesses.
This label maker is compact, with a QWERTY-style keyboard and a backlit graphical display. It comes with a USB cable and P-touch Editor Label Design software to use on Windows or Mac computers.
Additionally, it offers one-touch formatting keys that enable you to add frames, change formatting options, and customize the appearance. It also features flexible powering options that allow you to use it anywhere you want and is powered by either 6 AA batteries. It is also equipped with a backlit display which helps to work in low light conditions.
| | |
| --- | --- |
| Pros | Cons |
| ➕ It works with both USB or rechargeable batteries. | ➖ Very expensive |
| ➕ Backlit graphical display to work in low light conditions. | |
| ➕ It comes with an automatic cutter. | |
Latest Price on Amazon:
Best portable label maker
Are you looking for a label printer that does not require ink, toner, or ribbon? If so, Phomemo is a perfect match. This Bluetooth label printer is one of the best label printers, uses BPA-free direct thermal technology that matches your expectations and is also budget-friendly.
You may enjoy printing with high-quality and smooth effects. These mini-sized printers can fit your pocket and compact design for reliable performance. This label printer works with label sizes from 0.24 – 0.47 inches and prints labels in multiple label templates.
The built-in rechargeable battery for a long working time will help you print as many labels as possible.
| | |
| --- | --- |
| Pros | Cons |
| ➕Multiple font sizes and styles | ➖Inconvenience in alignment |
| ➕Easy to use | |
Latest Price on Amazon:
Frequently Asked Questions for Best label makers
Best Label Maker
These are the best label makers, and you can rely on any of these label makers to smoothly print shipping labels. Have a look at your requirements and then make the pick according to your budget.
---
Related Posts: