Sometimes, having the right tools can help make the process of designing a logo or even a brand much easier and with this list of the top Logo & Branding Kits for designers, you can have the tools you need to produce high-quality work every time.
With so many different choices available, we wanted to narrow down the different options and feature our top 30 professional logo & branding design kits to help make it easier for you to get started. There are also some fonts in here to get you inspired!

Also, see our posts on the best logo & branding mockups for designers and the best style guide templates plus our free branding mockups compilation.
---
BEST LOGO CREATOR KITS – UNLIMITED DOWNLOADS: 50 Million+ Fonts & Design Assets
Download all the logo creator kits you need and many other design elements, available for a monthly subscription by subscribing to Envato Elements. The subscription costs $16.50 per month and gives you unlimited access to a massive and growing library of over 50 million items that can be downloaded as often as you need (stock effect & element packs too)!
---
30+ Professional Logo Kits & Branding Templates for Graphic Designers (Free & Premium)
Here are the best logo design creation kits, brand identity packages, and bundles for both Photoshop and Illustrator.
Logo Creator Kits
Arguably the best logo creator kit online today is the Extensive Logo Creator. Complete with shapes and icons, pre-made logos, badges, and fonts, there are a ton of projects you can complete here. 
What's not to like?
You can quickly create a distinctive logo for any kind of business using the All in One Logo Creation Kit. This logo creation kit is ideal for all graphic designers or people with some design skills—from small businesses like bakeries, restaurants, and barbershops to large, and more established brands.
Packed with more than 1200 graphic elements, 70 fonts, and a whole lot more, you can create stunning professional logos in no time. Editing one of the 300 logo templates already included will save you time, too!
Contrary to the first two picks on this list, this Logo Template Creation Kit comes with a theme. 
If you're looking to work on design projects in the camping niche, then you definitely can't go wrong with this one! Loaded with over 400 assets to choose from and edit, the sky is the limit here!
Part of what makes Illustrator and Photoshop so appealing for designers is the ability to create stunning, beautiful, high-quality logos and with the Logo Creation Kit from Zeppelin Graphics, you can do just that. With elements and textures that allow you to create standard or typography logos.
The kit provides you with full editable files for Illustrator and if you use Photoshop, files are included for both shapes and textures.
The kit comes packed full of 300 vector elements including banners, wreaths, sunburst, and more. Also included are 30 pre-made logos, and 20 pre-made typography logos that come with 30 suggested fonts you can use. With new updates to add new elements, frames, and sunbursts, this kit can help you create incredible logos.
Knowing where to begin when you start creating a brand for a company can be the hardest thing to do. There can be many different wrinkles in the process from client to budget issues. The Essential Branding & Identity Kit For Photoshop and Illustrator is like having a guidebook to help you design everything you need.
Included in the kit from Lisa Glanz is an array of content that you can use including logo templates, branding boards, decorative elements, and additional color themes for both Photoshop and Illustrator.
Built for Photoshop CS3 and Illustrator CS4 or newer, recent updates including new illustrations make this a great choice at an affordable price.
If you've ever seen a camping gear logo or forest animal logo, you know how powerful, majestic, and enticing they can be to start your camping adventure they can be. The Mountain Outdoor Vintage Logo Kit from Lovepower, helps you to make thousands of different logos for any Mountain related business from camping, photography, and hunting clubs.
With 325 vector elements and 21 ready-to-use logo labels, this kit gives you everything you need to hit the ground running. Compatible with Adobe CS4 or newer, the files come in EPS format which works on various programs including Photoshop or Illustrator, Affinity, Corel Draw, and InkScape.
Created by Emma Make, the Tortoise and Deer Design kit features illustrations, logos, and a font procured from traditional woodland motifs that are then created with ink and pen.
This set is great for branding, design, and craft projects. Its unique application and layout give the kit a more contemporary minimalistic look plus the hand-made pack has been digitized so you can scale and edit the files without losing flexibility or smoothness.
Included in the set are 24 pre-made logo templates, a font in all caps with 2 weights (regular & bold), 45 individual woodland motifs, and much more. Compatible with Adobe Photoshop and Illustrator CS6 and higher, the look and feel of the Tortoise and Deer Kit can add something new to your toolbox.
Do you know what the appeal of a logo with a vintage look is? The clean lines and classic imagery help stay inside a consumer's mind. With the Vintage Logo Kit Pro, you can create classic logos for your clients in no time. The kit includes hundreds of vector elements that you can use in any of your designs.
Along with those vector elements, the Anaheim Gothic Font has included as well as 4 Photoshop brushes and a text file that links to all free font downloads. A PDF help file is included to help you get the most out of the kit and its compatibility with Illustrator and Photoshop makes this a great kit to consider.
With more than 180 elements, 35 pre-made logos, as well as a lot of different styles, swatches, and even gold textures the Arabian Edition of the Geometric Logo Creation Kit from Zeppelin Graphics, uses Arabian geometry as their inspiration for this kit when they created the amazing vector elements and logos.
Within the set are over 180 pre-made vector elements, 15 typography logo templates, 50 high-resolution glitter and foil textures, video tutorials to help you get the most from the kit, and download links for the fonts used in the kit.
Compatible with Photoshop and Illustrator, the Arabian design that comes with this kit can help you add something new to your designs.
Another great kit from Zeppelin Graphics, the Monogram Edition of the Logo Creation Kit combines 20 basic elements, 20 pre-made logos, and 80 pre-made decorative elements to help you create logos or anything else you can come up with. To help get those creative juices flowing, the kit includes six backgrounds that have been made using elements in the kit.
The elements and logos included in the kit are available in three different outline weights, giving you even more options to choose from. Free font links allow you to use the fonts on your other projects, whether they are professional or personal.
Compatible with Photoshop and Illustrator CS1 and newer, the Monogram Edition of the Logo Creation Kit can help you add a touch of class to your otherwise plain designs.
The Vintage Logo Creator Kit from Nomad Visuals Co. helps you create unique and beautiful branding for any client that you work with. The blend of logo templates, illustrations, original fonts, and even extra elements is inspired by the company's private antique book collection.
Through the careful scanning and vectoring of these long-lost drawings, the Vintage Logo Creator Kit gives you the tools you need to create amazing works.
Included in the kit are 20 dark and 20 light logo templates, 20 decorative vector elements, plus three original fonts – Alchemion, Laurel, and Moses Aged – that you can use in all your creations.
Compatible with Photoshop CS6 and Illustrator CS6 and newer, you can create branding for clients that have a timeless appeal and classic design.
When you create logos using words, using the same variations over and over again can get stale quickly which is why Logo kits such as The Voyage Culture Font Duo from the Vintage Voyage Design Co.
Suitable for any project you might have from t-shirts, music posters, or a logo for a friend's cafe – the possibilities are endless.
The two fonts included in the kit can be easily combined for a wonderful look. Deriving inspiration from early 20th-century travel posters, the fonts have an art-deco style to them.
The kit includes uppercase, lowercase, punctuations, numerals & symbols as well as stylistic alternatives. Ending, ligatures and script swashes also come in the kit which is compatible with many of the design programs you already use letting you add a classic feel to your next logo project.
We all remember the lullabies that our parents sang to us as children to help us go to sleep and as we got older, we started counting sheep to drift off to slumberland.
With the Dear Moon kit from EuoniaMeraki, those loving memories are recreated in soft illustrations that cover you like a warm blanket and remind you of a simpler time.
Perfect for branding, logos, nursery rooms, or even baby announcements, the Dear Moon set comes with 90 different elements, 9 backgrounds, 9 cards, 14 seamless patterns, and download information for the fonts that are used.
Compatible with Adobe Illustrator CS3 and newer, the Dear Moon set will take you back to that warm place where slumberland was the best in the world.
When people think of the 1980s they think of the music, the clothes, and the tv shows. With the 1980s Retro Logos Design Kit from Wing's Art and Design, you can channel your inner Miami Vice with a collection of 10 fully customizable logos that have gotten their inspiration from themes found in the 1980s.
It can be great to put on Instagram or Facebook to send some good feelings or start a retro trend with t-shirts, notebooks, cards, and prints.
The radical set includes 10 fully editable 1980s logo designs along with various selections of seamless patterns, textures, and illustrations. The kit even includes a help file with links to download the fonts used in the kit. Compatible with Adobe Photoshop and Illustrator so you can take your most tubular ideas and make them a reality.
Created by Go Faster Labs, the first volume of Essential Icons provides you with a handy set of icons that you can access quickly and still use to obtain an amazing look for your project. Developed to fill the creators' need for topic-specific visuals to provide anyone with a quick-fix solution with its mix of skulls, robots, gears, factories, and more.
Included in the set are 24 scaleable vector icons, two different versions of the icons in clean and rough variations, and as a bonus, six editable sample design lock-ups.
Compatible with Adobe Photoshop and Illustrator CS, the Essential Icons Vol 1 kit can provide you with many different options to make amazing logos.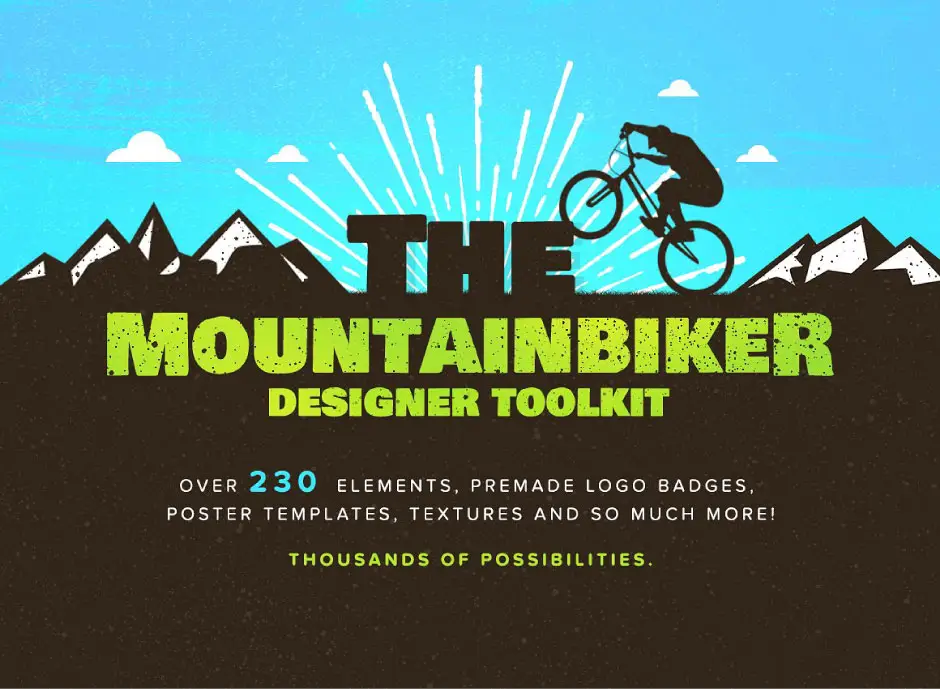 A unique logo kit, The Designer Mountain Bike Logos Kit from Lovepower helps you create amazing detailed elements for logos and posters that can be a very time-consuming process.
While you can create almost unlimited combinations with the pieces contained in this kit, you can easily create a consistent look and feel for the logos, blog graphics, stationery, and everything else you create.
Included in the kit are unique mountain bike elements including chainrings, mountain biker silhouettes, wheels, bike wheel tracks, and more. With extras that include fabric and grain textures, grunge frames plus a logo-making video tutorial, the Mountain Bike Logos Kit is a good choice for hobbyists and professionals alike.
Branding Mockup PSDs, AI, Templates, Free & Premium Downloads
Looking for premium & free branding mockup templates? We have you covered with all the essentials & best bundles, available for free to download or at 30-50% off.
Part of creating a brand is creating a story for your client and with the Magical Scene Creator from Lisa Glanz, you can build your very own creative world from start to finish. The creations you come up with can be used for anything from branding, greeting cards, books, posters, and even personalized gifts and items.
The pack is Photoshop and Illustrator compatible and comes loaded with over 450 individual elements such as bears, birds, buildings, and more. Included in the kit are 41 seamless patterns as a bonus along with seven vintage textures and the Sugar Cookie handwritten sans serif font.
When a consumer sees a product on the shelf at a store, the first thing they see is the label.
If you've been creating bland typographic logos, then the Fineliner Type Decorators Tool Kit from The Artifex Forge can help give your work the boost that it needs.
Using their Fineliners Brushes and Patterns Pack as a starting point, the kit was carefully created to suit the needs of those who do hand-lettering projects.
The set includes 30 patterns and effects that you can use to transform your text easily and instantly along with 40 decorative brushes designed to work in harmony with the text effects. Also included are fine liner patterns that can be used both with the other features and separately.
With all of the amazing parts of this kit, a handy quick reference guide can help you find the brush you need.
With isolated elements, frames, and patterns, the Scandinavian Summer Set is inspired by a graphic tradition of minimalistic geometric style in that part of the world.
Created by The Darumo Shop, the set is perfect for any poster design or print advertising. It's even an amazing option for badge & logo designs as well as web headers and banners.
The kit comes packed with everything you would need to get started including more than 50 isolated elements, pre-made illustrations, borders & frames, as well as a text file with a list of the fonts that are used.
Compatible with Adobe Illustrator CS3 and newer, the Summer Vector Set offers you a multitude of options to make everything you do look amazing.
Containing pre-made elements such as stars and symbols, highlights for Instagram, postcards, isolated creative abstract shapes, and more, the Gradient Vector Kit of Symbols from NassyArt provides you with a unique kit that you can use for your branding design.
Simply select an element, combine it with another provided item, and then choose a background. Voila! You're ready to go.
Ideal for printer products, notebooks, wallpaper, and wrapping paper, or you can use them in the design of your website or Instagram account.
The set includes 70 elements, 10 postcards, 10 highlights, 8 Photoshop seamless patterns, and 8 backgrounds. Compatible with Adobe Photoshop and Illustrator, you can create beautiful vector graphics and patterns in no time.
Created by The Artifex Forge, the Hand-drawn Pencil Type Tool Kit helps transform your normal type into a scribbly, loose, hand-drawn type instantly.
It is made from genuine pencil-drawn material that provides an authentic look with scribbled edges and fills to make text look genuinely hand-made. One-click effects transform the type allowing you to add extra details with the brushes.
Bundles in the kit are 35 one-click graphic styles along with two types of pencil scribble, geometric shapes, outline brushes, and more. You can quickly find the right pattern, brush, and text effect with the kits' quick reference guide.
Compatible with Adobe Illustrator, you can use the Hand-drawn Pencil Type Tool Kit to add a new level of creativity to your work.
Everyone loves the Fourth of July. The fireworks, the food, and time with the family and you can capture those feelings all year long with the Fourth of July Creative Brush Bundle from Creators Couture
Providing you with all of the materials you need to design amazing-looking branding materials to celebrate the Fourth of July, Memorial Day, Veterans Day, or any other holiday, this kit has got everything you need.
The bundle comes complete with "Celebration" illustrative Photoshop brushes that include star and explosion and dazzling color blending brushes. Two different palettes – Impressionist and Wet Paint – are included with the bundle as sampler packs that can be purchased separately.
Compatible with Adobe Photoshop CS6 and newer, the Fourth of July bundle can make any branding project a celebration.
Depending on the business, an animal logo can convey a feeling of strength, security, and power. With the Untamed Graphic Design Kit from Creative Veila, you can bring the feeling of brutal power to your logos, apparel prints, invitation cards, and much more.
Packed with animal vectors and vibrant seamless watercolor patterns along with high-resolution paper textures provide you with the creative freedom that will not hold you back.
Included in this ferocious kit are 60 Hand-Drawn Vector Illustrations, a free demo logo template, vibrant watercolor styles for overlay, and seamless paper background textures.
Compatible with many of the program's designers already use, including Photoshop, the Untamed kit can bring a piece of the animal kingdom to any of your designs.
Developed to be a fun and versatile kit, the Magnificent Mix & Match Badges Kit from Go Faster Labs was created for those who need a quick logo or badge for those impatient clients that need results.
If you've been doing this long enough, you know exactly what we mean. Perfect for use on stickers, pins, patches, labels, invitations, and much more.
Included in this set are 24 amazing icons that you can easily add to your badge creations, 12 editable retro-styled badge frames, a selection of texture backgrounds for your icons, ornamental embellishments, and as a bonus, 9 web headers taken directly from the creator's website.
Compatible with both Photoshop and Illustrator, if you're looking for a quick and easy way to create logos, this kit can get you going.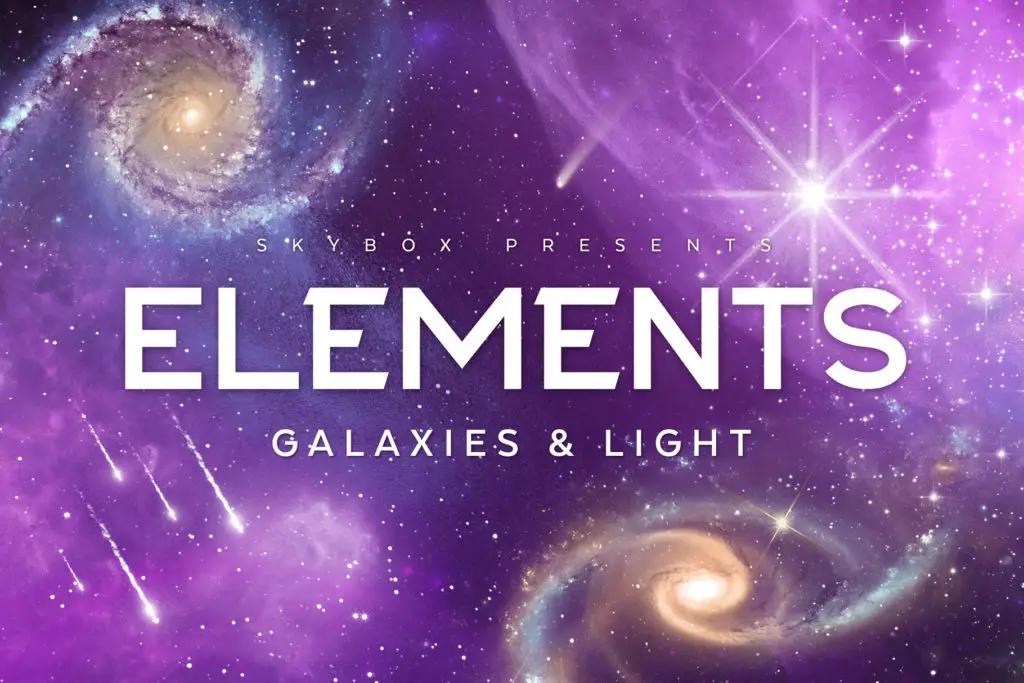 Every single night, no matter where you are in the world, you can look up and see the stars and the majesty that's above us.
With the Space Elements – Galaxies & Light kit from Skybox Creative, you can drag and drop elements to create your very own galaxies. This can help you add a dash of cosmic magic to branding projects, design projects, and even products you sell.
The kit comes jam-packed with over 30 Hi-Res Space Elements, 10 Shooting Stars, Meteors, and Asteroids. With other elements such as clouds & dust, light flares, cosmic bursts, star clusters, and colorful galaxies you can create worlds where no one has gone before with ease.
Compatible with Adobe Photoshop CS6 and newer, the Space Elements pack can help you add a cosmic feel to your projects.
The sun is a powerful and beautiful source of energy that casts rays of light and creates effects and illusions which can add natural charm and grace to any branding project that you work on.
The Shadow Play Photo Overlays kit from Pixel Buddha. Created with the help of real photos which gives the overlays the genuine look that they come with.
Made up of 16 shadow overlays that imitate sunset or sunrise, tree leaves, grass, and other objects that can create a unique shadow. An eye for detail and high-resolution images help make this a great kit for anyone who is looking to use realistic shadows in their work.
Compatible with Adobe Photoshop CC and newer, at such an affordable price, it's worth trying to see if the kit can become an important part of your work.
Not too many people are familiar with the term Neo Deco that's found in The Neo Deco Designers Bundle from Wing's Art & Design. Neo Deco is an adaptable and modern design that combines the clean line of modernism, the neon colors of the 1980s with the flourishes that are found in Art Deco.
Paying tribute to the past and staying entrenched with modern trends, the kit is a great choice for a branding project looking for some extra flair.
The bundle is bursting at the seams with content including backgrounds and frames, a Neo Deco Branding Kit that includes 12 fully editable logos, Seamless Patterns along with a special bonus – Wing's Color Wheel – which helps you create working color palettes that are based on solid color theory in both Photoshop and Illustrator.
The Neo Deco Designers Bundle is great for everything from festive invitations to corporate presentations.
An incredibly easy-to-use, customizable branding presentation kit, the Parts Mockup Collection from the L Store is a great kit full of packaging mockups. Featuring high-quality images, realistic mockups, and separated shadows helps you craft the perfect branding package for your client.
The kit comes with mockups for bags, boxes, tin boxes, and canned goods. It also includes 700 other items that you can add to your packaging to customize your designs even further.
Compatible with Adobe Photoshop, if you have a client with any kind of packaging, you owe it to yourself to get this kit.
Top Fonts for your Logo Design & Branding Projects
Make your next project pop with these unique fonts!
Consisting of elegant Script and classy Serif, Modern Symphony from Calamar is a popular and classy font pair that is a great choice for wedding invitations, cards, and feminine branding. The unique style can help bring a luxury look to any project.
Created with three full sets of beautiful uppercase and lowercase letters, numerals, and punctuation as well as a large range of ligatures that help you recreate natural calligraphy.
If you're looking to add that extra flair to a branding project that will help it stand out from the competition, the Modern Symphony kit deserves a look.
Inspired by old whiskey labels, if you're looking for an addition to your type collection, Hochstadt is it. The Hochstadt Typeface, created by Hustle Supply Co. is a multi-lingual typeface with an industrial feel with different styles of serif and sans serif that is a great option for branding, web typography, apparel design, and advertising.
The Hochstadt Typeface set comes with four different font styles – Hochstadt Rounded, Rounded Oblique, Serif, and Serif Oblique. To use the typeface, you would need to have access to Adobe Illustrator, Photoshop, InDesign, or InkScape.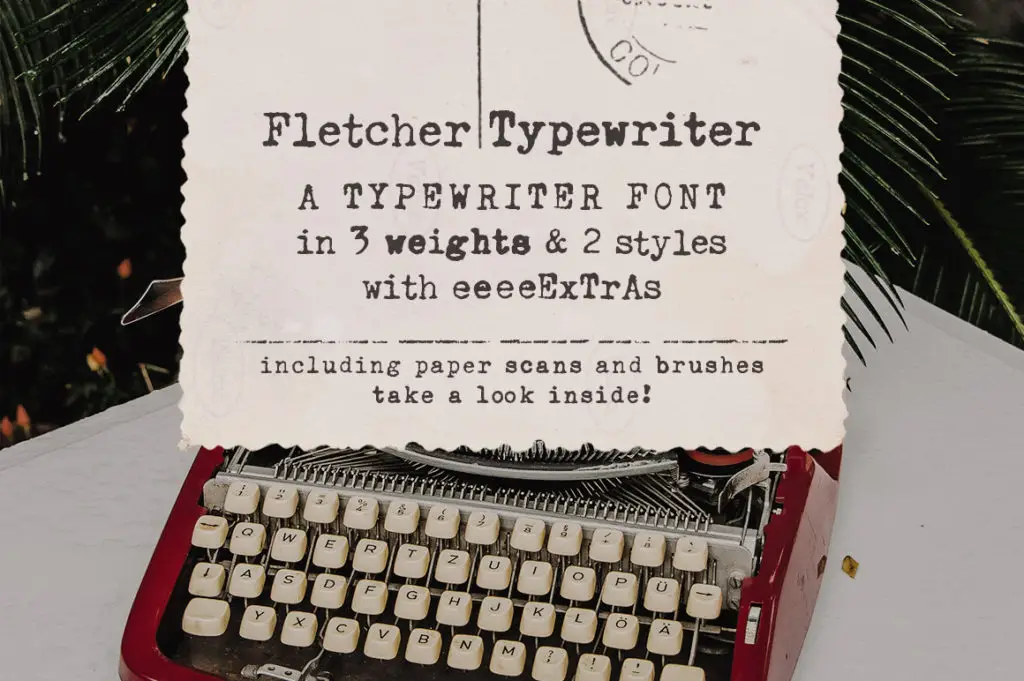 The look of the print created by a typewriter is timeless. Part of a bygone era, typewriters were akin to smartphones of their day.
The Fletcher Typewriter Font and Extras from Ana's Fonts is a mini vintage design kit that you can use n digital collages, branding, packaging, logotypes, social media posts, and more.
Compatible with Adobe Photoshop CS3 and newer, the Typewriter Font Kit comes with the font family in three different weights – regular, bold, and black, plus 2 different styles – regular and jumpy. 10 paper scans on transparent backgrounds along with 15 stamps and 6 stains and splatters to help you create original, vintage-looking designs every time.
When you first see the Bordemile script, it presents itself with an air of luxury with its beautiful and classy script. Created by Letterhead is crafted with swashes that give you the ability to create gorgeous lettering instantly. This can be a perfect option for headlines, logotypes, apparel, packaging, advertising, and especially branding.
The font kit comes with the Bordemile script and also includes a vintage frame in vector format that you can use in your projects. Requiring Adobe Illustrator, Photoshop, InDesign, or Inkscape to use, you can make any branding project feel like class and luxury.
If you've been using the same old fonts for your branding projects, it sounds like you might need a new option.
The Amberlight Script from Get Studio is a fresh and modern script that has a unique calligraphy style. It is a perfect choice for invitations, greeting cards, business cards, and any other branding material you can think of.
The script comes with 335 glyphs and the alternative characters have been divided into several OpenType styles including Stylistic Sets, Contextual Alternates, as well as Ligatures.
These types of OpenType styles can be accessed using either Adobe Illustrator or InDesign. With the Amberlight Script, you can add a new level to your design work.
Related Posts
30+ Best Logo Design Kits & Branding Templates (Free & Premium)
The options that Design Cuts offers designers can add a new tool to your toolbox and open you up to helping new clients whether it's with a new logo or a complete rebrand of the company, the Top 30 Logo & Branding Kits we've featured here today can help you take the next step forward.
We hope our roundup of the best logo creator kits empowers you even more to lead stunning creative projects!