If you're in the market for the Best Number Fonts, this feature is for you!
It shouldn't come as a surprise why the presentation of digits is such an integral aspect of graphic design. In a world so driven by numbers, each of our many steps is calculated based on how statistics turn out. As a result, the need to effectively communicate numbers, regardless of the kind of visual project, is elemental in articulating a point.
Generally speaking, font packs contain digits, along with the most commonly used characters. Naturally, these packs have numbers 0 to 9, each designed to support whatever design theme the font is about. Still, it's worth mentioning how numbers are sometimes overlooked in the context of visual consistency.
As such, digits can sport an aesthetic disconnect from a typeface's letters. Whether it's unnecessary decorative edges or unintentional design slants, factoring in how numbers look in an overall design helps keep your projects professional and neat.
All that mentioned, we looked around the internet to round up the most spectacular fonts with great-looking numerals.
40+ Best Number Fonts for Stylish Design Overview
40+ Best Number Fonts for Stylish Graphic Design, Branding & Logo Design
The spiral swirls of Clement Numbers make for a distinct visual attraction. As such, this font pack is a terrific tool of choice for anyone wanting to leave an elegant impact on their design projects. Packing just the right amount of sass and charm, this pick is both familiar and catchy at the same time.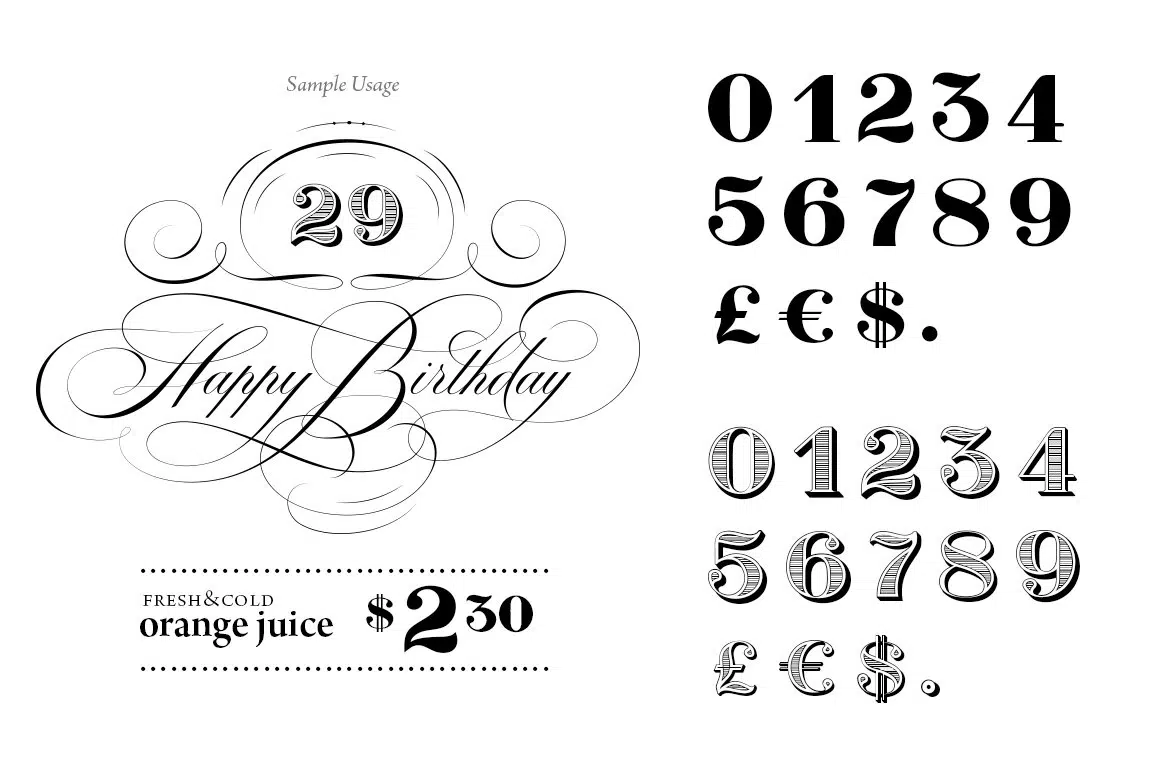 BoldPrice is an OpenType font that consists only of numbers, punctuation marks, and common currency symbols. With a decent number of numerical character theme options available in this set, this font pack is one of the more straightforward design tools you'll find on the internet today.
Are you looking to add funk to your designs? Then perhaps 0261 – Numbers Font is what your project needs. Unique-looking and made up of layers of lines, consider this font pack a journey and experience in itself. Suitable for a whole lot of projects, this set is loud, novel, and a natural sight to behold.
Futuristic, neon-inspired, and legible, Envato's Retrofuturism is the perfect blend of modern and conservative. Sporting a rich mixture of multiple colors, this numerical font packs just enough novelty for it to look fresh and novel. it's sharp, feels calculated, and easily communicates a message.
As the name of the font pack implies, Rose Petals Font Duo o is a flower-themed set with flower elements in each character. That means every digit sports bits of roses around its lines.
Perfect for wedding invitations, dainty quote cards, and branding materials, this font set comes in incredibly handy when you're looking to let your project exude Rosey energy.
Stamp fonts are perfect visual solutions when looking to add depth and character to designs. As such, the Stamp & Co is a fantastic choice for anyone going for retro vibes. This contender will beautify any design, but it's best suited for invitations, newspaper-themed projects, and other similar materials.
Both odd and elegant, Design Cuts' Marigold is a beautiful mesh of novel and classy. Each number sports slim lines and unexaggerated curves. While the characters for this set are evidently sans serif, numbers 5 & 6 have a distinct look to them.
Inspired by Egyptian history, Moses is a grotesque style font that pays tribute to heavy stone slabs found in pyramids. Available in 3 styles—regular, rough, & aged—this pack is one of the more nuanced sets available on the internet. It's cultural, legible, and catchy. What isn't to like?
Available on Design Cuts, Wrangler is a vintage-looking font pack that sports emboldened and circular edges. Its alphabetical characters are all uppercase letters and it comes with an ample inclusion of punctuation marks too. Perfect for a lot of design projects, this pick is best suited for headlines and elegant branding initiatives.
If you're looking for a font pack that comes with a ton of choices, look no further than Handpack Font Collections.
Featuring numerical characters that sports script, sans, and serif styles, designers will have a lot of choices in communicating their ideas with this set. What's more, the inclusion of other great-looking elements and assets in this set make for fantastic visual solutions too.
Tate is a playful & rounded all-caps typeface that naturally exudes warm and welcoming energy. Suitable for invitations, marketing materials, social media cards, and even t-shirt projects, this pick is a versatile font pack with numerical characters creatives will enjoy making the most of.
Related Font Posts
40+ Best Number Fonts for Stylish Graphic Design, Branding & Logo Design Summary
All in all, the 40+ best number fonts are each designed to help you easily communicate your project message. Whether corporate or creative endeavors, we hope that our list helps you streamline your search for the top numerical fonts. Did you find what you were looking for here?
Let us know what your favorite font is in the comment section!