While there are many illustration apps available for the iPad, the Procreate App stands alone as one of the most popular for professional and hobbyist illustrators.
Companies such as Pixar and Disney use Procreate. Turning the iPad into a drawing table, it is truly a game-changer by providing the same outcome without having to get an expensive desktop or tablet dedicated to digital illustration.
To help you navigate all of the amazing options out there, we have brought together the top 70+ best Procreate brushes for illustration to help you choose.
Also check out our list of the best procreate illustration tutorials. You may also be interested in our best tablets for drawing and the best Apple pencil alternatives.
Top 10 Best Procreate Brushes
Even more below…
More Top Procreate Brushes & Resources Sorted by Category
And if you want to dive even deeper check out the best Procreate color palettes, the best Procreate fonts and the best iPad for Procreate.
This is the ultimate beginner's course for creating beautiful Procreate 5X artwork and the best part is that you can get free access to this course for 4 weeks with Skillshare Premium as well as thousands more classes. Also see our compilation of the best Procreate courses.
Top 70+ Best Procreate Brushes (Free & Premium) – Ultimate Collection
The Ultimate Brush Toolkit (300+ Brushes for Procreate, Photoshop, Illustrator, Affinity) – $39

(Editor's Choice)
Looking for the ultimate deal on brushes? With the Ultimate Brush Toolbox you get 300 brushes which are compatible for Procreate, Photoshop, Illustrator, Affinity Photo & Affinity Designer (so 1500 brushes total). And it's just $39. Damn!
300 Real Media Brushes for Procreate, Photoshop, Illustrator and Affinity.
38 Acrylic Brushes – Sampled from real acrylic paint.
16 Airbrushes – Sampled from actual airbrush sprays and splatters.
16 Charcoal Brushes – Made from real charcoal marks and strokes.
22 Crayon Brushes – Created from old waxy crayons.
30 Gouache Brushes – Made from real gouache paint strokes and washes.
24 Ink Brushes – Sampled from a variety of tech, ballpoints and brush pens.
18 Marker Brushes – Created from real broad and brush tip alcohol markers.
40 Oil Brushes – Made from real oil paint smears, strokes and textures.
30 Pastel Brushes – Crafted from real pastel dry strokes, dust and all.
20 Pencil Brushes – Created from various types of pencils and graphite sticks.
34 Watercolor Brushes – Made from real watercolor strokes, washes and stains.
12 Texture Brushes – Created from actual canvases, papers and wood panels.
12 Surface Texture .JPG – Includes even more papers, canvas, ink washes and more!
File Types Included: .ABR, .EPS, .AI, .PDF, .BRUSHSET, .AFBRUSHES
If you're in to illustration especially retro illustration, you must get your hands on this bundle from RetroSupply.
You can get every set of brushes RetroSupply has ever made for Procreate and save hundreds.
You'll enjoy hundreds of custom-made Procreate retro brushes including:
Pencils, pens & ink brushes
Chalk brushes
Watercolor brushes
Halftone brushes
Engraving brushes
Cross-country cross hatchers
Gouache shader brushes
Drunk sailor stippling brushes
Retrograin shading brushes
Lo-fi subtle grain & noise brushes
Edge & fold distressed brushes
The dry brushes
Shade, depth & texture brushes
Hundreds more professional-grade brushes
View all the products you'll get here.
Each brush kit has been optimized for iPad Pro and takes advantage of Apple Pencil's pressure sensitivity.
This retro Procreate bundle includes $467 worth of premium brushes & resources for just $197.
Get nine of RetroSupply's best-selling Procreate brush packs in one killer bundle! Get their famous Gouache Shader Brushes, Black Magic Halftones, Revelation Halftones, Cross-Country Crosshatchers, IndustryPress, Drunk Sailor, and TransferTone.
9 best-selling Procreate brush packs as below
420+ professional brushes including gouache, clean halftones, gritty halftones, hatchers, stippling, engravers, and more.
Includes quick and easy instructions and brush reference sheet.
Works on Procreate 5.0+
Get everything below for $50 (instead of $133)
Gouache Shader Brushes for Procreate ($15)
Black Magic Halftones | Halftone Brushes for Procreate ($15)
Revelation Halftones | Distressed Halftone Brushes for Procreate ($15)
Cross-Country Cross Hatchers for Procreate ($15)
Drunk Sailor Stippling Brushes for Procreate ($15)
IndustryPress ($12)
TransferTone | Dry Transfer Brushes for Procreate ($19)
Broken Inkers Brush Set for Procreate ($12)
The Dead Pen | A Wicked Cool Hand Drawn Tool Kit for Procreate ($15)
Manga Procreate Brushes & Anime
Create by Delightful Design, the Manga Procreate Brushes & Anime kit collects all the tools you'll need to create manga or even create anime characters of your own. With more than 15 brushes including custom brushes designed to create the exact manga style, you can be on your way to creating the next big manga hit. The kit also includes detailed instructions and unlimited one-on-one support if you ever have an issue. Includes:
8 custom brushes, designed to create the exact manga style
4 half-tone brushes and 4 G-pen brushes
4 anime color palettes
Detailed installation instructions
Delicious Texture Brushes & Stamps for Procreate – $15
Made up of 33 wonderful brushes and stamps that you can use to create beautiful art in Procreate, the Delicious Texture Brushes & Stamps for Procreate kit from Lisa Glanz gives you the ability to add texture with each brushstroke or create eye-pleasing backgrounds by using stamps with simple movements of your pencil. Designed to let you add texture without the headache that comes with trying to figure out how to use them. Made from the real source material, each brush has been tweaked to provide you with great results every time.
Manga Comic Maker Toolkit
The Manga Comic Toolkit (also available in Japanese) is everything you need to create dynamic, awe-inspiring comic art and stories! The Manga Maker Toolkit will increase your productivity, improve your work and you'll have a blast creating the most spectacular comic book art and stories imaginable! It includes:
7 Caption Boxes
100 Word Balloons & Bursts
30 Photoshop Brushes
30 Clip Studio Paint Brushes
4 Character Design Templates
10 Original Fonts
25 Screen Tones
10 Page Templates (American, Manga & Magazine Sizes)
20 American Panel Templates
20 Manga Panel Templates
2 Script Templates
32 Sound Effects
20 Speedline Effects
5 Storytelling Guides
Design2Last Shop Complete Collection & Lifetime Updates
Get your hands on over 100 Procreate Brush from Design2Last, plus lifetime updates – new brushes and updates for free, forever, without a subscription.
Pencil – Inking – Painting Brush Set – Free
Sometimes even though Procreate has an incredible assortment of brushes covering just about any style you can think of, they don't always work for everyone. That's the case with the Pencil – Inking – Painting Brush Set from Ram Studios Comics.
Designed to help give artists the best setup for comic book work, these brushes are essentially the standard Procreate brushes with tweaks set to the creators' settings. The best part of these brushes is their price. Available for free, you can start your comic book today.
Everything Watercolour for Procreate – $20
If you're serious about creating amazing artwork using watercolors, then the Everything Watercolor for Procreate from Uproot Brushes is the kit for you. With 68 custom procreate brushes, it is the most comprehensive Procreate watercolor bundle you'll find. Filled to the brim with extremely versatile and useful watercolor brushes that will become an irreplaceable part of your toolbox. The best part is that whether you're a watercolor painter or just dabble in it, this kit will help you create the look and feel of real paint on paper effortlessly.
Splash Wet Media Brushes – Free
Collecting 48 wet media brushes, the Splash Wet Media Brushes Set is great for anyone looking to use the feel of watercolor and wet effects to a new level, beyond what Procreate can already do. Packed into a single zip file and available free or with a donation. In no time, you can make your images look like they need to be wiped up with a towel.
Master Watercolor Procreate Brushes – $20
Packed with more than 100 realistic watercolor brushes, the Master Watercolor Procreate Brushes from The Trailhead Design Co help you create incredible watercolor artwork without the mess that can come from painting with the physical medium. Although the results are digital, the look and feel or your designs will be as natural as possible. Learn each brush and how to use them is easy as well with a handy brush guide included in the kit.
Hatch Effect Procreate Brush Pack – Free
With the brushes fine-tuned so they work well with a stylus, the Hatch Effect Pack comes with enough lines, scribbles, and marks that can improve any drawing with the 35 brushes that are included in an easy to download zip file.
Dry Texture Brushes for Procreate – $18
Combining 30 brushes including brushes for penciling, inking, and shading with dry, rough textures, the Dry Texture Brushes from Trailhead Design Co. can help you render illustrations with a unique style. Designed to work together, the brushes include pencils, inkers, texture builders, charcoal, and more. Working in unison, the dry brush effects created with this set are often found in classic retro 1950s illustrations and children's books.
Procreate Texture Brush Set
Twenty-four custom texture brushes give you a new sense of realism with the Procreate Texture Brush Set from Artwork by Gabrielle. Included in the set as 20 textured surfaces and 24 custom Procreate Texture brushes. Each one is designed to help you create incredible artwork simply and easily every time on your iPad and Procreate app.
Galactic Lens Flare Brushes Kit – Free
Built specifically for the Procreate app, the Galactic Lens Flare brushes can take images of unique alien creatures and worlds and bring them to life. The effects that these brushes can produce will quickly turn it into one of your irreplaceable brushes. While many of them are stamp brushes, others are used like regular brushes including the starfield brushes. With all of these different options free of charge, the combination possibilities are endless
Chalk Dust Brush Kit For Procreate – $19
Created by Ian Barnard, the Chalk Dust Brush Kit comes with everything that you could need in order to create amazing chalkboard artwork without the hassle of getting white chalk dust all over yourself. The inspiration behind the creation of the kit was found in the creative capacity that chalk can provide and the kit is made using actual chalk textures in order for you to have the more realistic set of brushes on Procreate. The set even includes a tip and tricks tip sheet to help teach you things like shadows and shading plus banners and floral elements.
Procreate Grain Brushes – Free
Packed with twelve beautiful brushes for the Procreate app, the Procreate Grain Brushes set helps to complement any image you create with amazing shades and textures that may have been seen on some high art posters. If you use the Procreate app to create amazing-looking art, you owe it to yourself to download these brushes and with its incredible price – free makes them even more valuable.
Drawing Box – Procreate Brushes – $10
Packed with 29 custom brushes, the Drawing Box from Sadie Lew features a variety of mostly dry brushes including charcoals, colored pencils, crayons, and even markers. Many of the brushes take full advantage of the tilt capability found in the Apple Pencil to provide realistic side shading. Each texture is seamless so you get the perfect brush stroke every single time.
Cheap Fine-Liner Brush – Free
When you use the Procreate app, the amount of different brush types and add ons that are out there can be staggering. While some are brand new creations, others, like the Cheap Fine-Liner Brush are great emulations of already-established tools. With this brush, the Cheap Fine-Liner is a simple emulation of a 0.6 Technical Pen that is already available on the Procreate app and with its optimization to work with the Apple Pencil, you can draw amazing pictures on your iPad Pro.
Sargent's Oils – Procreate Brushes – $6
From the era of Impressionism, John Singer Sargent is a master Realist painter that has inspired countless artists around the world. The Sargent's Oils set from Sadie Lew features 12 custom brushes with realistic brush shapes as well as a seamless fabris canvass texture. Created using actual paintbrushes, the kit helps you create incredibly realistic artwork. If you've ever been inspired by greats like John Singer Sargent, picking up this set could help you create a masterpiece of your own.
Comic Ink Brush Set – Free
Dedicated to Will Elder, an American comic book artist who is best known for his zany cartoon style that helped launch MAD comics book in 1952, the Comic Ink Brush Set provides artists with great brushes that can make any illustration pop off the screen and with recent updates, artists can even create art reminiscent of the great comic book artist Jack Kirby. Available for free, if you have an appreciation for classic comic book artwork, this could be a great choice for you to download.
Shimmer Set – Procreate Brushes – $8
Loaded with 19 custom brushes, including a variety of glitters and foils, the Shimmer Set from Sadie Lew can give your artwork that extra something to make it stand out. Regardless of whether you prefer to add a subtle touch of brilliant effects or add a whole bunch of sparkle, you can build up to your level of shimmer with layering and pen pressure. Designed to be seamless with every stroke, the brushes have had blend modes used on every brush. If you need a little pizzazz in your artwork, you can go wrong here.
Procreate App Brushes for Hand Lettering – Free
Lettering can be one of the hardest things for a graphic designer to master. Whether you're just beginning your career or are coming up on your 10th anniversary, the brushes packed into the Procreate App Brushes for Hand Lettering set can turn you from a novice to a master in no time.
Procreate Vintage Comic Ink Brushes – $6
A lot of what makes vintage comic book art stand out is the inking and with the Procreate Vintage Comic Ink Brushes from Ink Gang Boss, you can add that vintage look with this easy to use kit. Delivering a subtle textured like that imitates the look of ink-bleed on old newsprint comic books. While the modern versions, which are included, bring the same feel, they don't have the same effect. The kit is a perfect option if you're looking to give your work a more traditional feel or adding some natural touches to your linework.
Wood Cutter Lettering Brush – Free
Woodworkers use a variety of tools to turn blocks of wood into beautiful works of art or amazing signs for local businesses. With the Wood Cutter Lettering Brush, you can use it for everyday lettering work or even general-purpose work because the brush is that versatile. The kit also includes a Spring lettering brush which can be a lot of fun, the Ben-Day Dot and Lettering brush are inspired by comic book printing. Others include the Shrub brush and Worm brush but what this package offers in options is only matched by its affordable price.
28 Realistic FUR 4 Procreate – $14
Created by Ldarro's Artist Goods, the 28 Realistic FUR 4 Procreate kit packs 28 brushes into an all-encompassing kit that will help you learn how to quickly draw realistic fur for your artwork. While they were created for Photoshop, to simplify and speed up the process of creating realistic fur for Procreate. Every brush in the kit gives you a way to create high-quality fur every time.
The KickOff Lettering Toolbox – $28
The KickOff Lettering Toolbox by shoutbam is a great choice for beginners with over 75 lettering and ornamental brushes to help you craft the perfect lettering artwork every time. While the 12 color palettes are certainly a bonus, where this toolbox earns your money is with the Procreate Lettering Workbook that is a whopping 130 pages to help you learn the basics along with a PDF version that you can print out to use anywhere you want.
Procreate VIP Brushes – $12
Created by ergojosh, the Procreate VIP brushes bundles all of the designer's brushes into one kit of 24 brushes for Procreate. The set includes 8 skin brushes, 4 hairbrushes, and 12 sketching brushes. With the Procreate VIP Brushes set, you can have all of the best brushes in one place without having to search site after site for the perfect brush.
Lights Procreate Brushes
This pack comes with 27 Procreate brushes that are ideal for creating digital light paintings. It includes 3 categories- light pens (for lettering or painting), flames, and effects, making it a perfect choice for light paintings. With this pack, you can easily create glowing lettering, neon signs, or even add special effects such as flames or blooms to your illustrations.
This pack also comes with 4 color palettes/swatches (neon colors, cool & warm whites, retro wave, and fire) that can be imported and used on your projects. Furthermore, you get a PDF tips sheet and a .jpg swatch sheet for a quick preview of all the brushes.
Gouache Brushes for Procreate – $12
Create by Maria Summer, the Gouache Brushes for Procreate kit features 10 realistic gouache brushes that can help you create a wide variety of pictures. The kit includes many different brush types including a flat brush, wash brush, as well as cross brush strokes, and many more. If you're looking to create floral plant motifs or children's illustrations with your work, this is the kit for you.
Procreate Brushes by Missy Meyer – Free
One of the best things about the Procreate app is the ability to create your own brushes and using custom shapes and/or textures. Many artists who do this also share their creations online as Missy Meyer has. Her page has numerous brush options you can download including Crusty Old Brush, Filmstrip, and Cartooning Monoweight. Each creation feels new and original and the best part is that they are all free to download for your Procreate app.
Nitty Gritty Procreate Brushes – $4
Designed by Jamie Bartlett, the Nitty Gritty Brushes Kit is a great tool to add some fine-grit texture to your artwork. Easily scalable and adjustable, the brushes come with four different variations – two nitty brushes, and two gritty brushes. If you're looking to add an instant ageing effect to your designs, then look no further.
Vintage Engraving Procreate Brushes – $7
Designed by MilksKS, the Vintage Engraving set gives you the ability to capture the beautiful look of black and white engraving. This can allow you to add that extra something to your project. The set of twelve brushes – 8 engraving brushes, 4 engraving pattern brushes give you everything you need to create works of art or add to your work already. You can even combine the horizontal and vertical brushes to create brand new patterns
The Brush Brushpack from Studio FabianFischer provides you with four different brushes for Procreate – Brush Tiger, Brush Lion, Brush Jaguar, and Brush Leopard, all of which are pressure sensitive and can provide you with a great stying choice for hand-lettering projects. With each brush having its own texture, the kit can give your artwork a great realistic look.
Designed by DizzyTara, the Sketch & Ink kit is a great kit complete with inky brushes that you can use while sketching. With a wide variety of nine brushes, the kit should be able to provide you with any brush you need to create your best designs.
The brushes in the Gouache Shader Brush kit work incredibly well with either a mouse or tablet and can create rich gouache effects in no time at all. Packed with everything that Retro Supply Co. could anticipate so that you have the brushes and the resources you need to create incredible works of at in Procreate. From textures to layering, this kit has it all!
If you are looking for one complete package with all the necessary brush-varieties you need to create the most popular contemporary styles, it is the pack you should pick. You can cover the entire variety, from the traditionally elegant scripts to the bouncy casuals. You can perfect scripts with clean edges as well as scripts with textures. 
If you are looking for options that help you achieve consistency in size and slant, you can leverage the nine guideline brushes that come with this pack. Moreover, the guideline brushes come with angular varieties of 45, 55, and 60 degrees. You can also have a variety of horizontal lines and dot grid guidelines with this brush. The file comes in the extensions of .pdf and .brushset with a file size of nearly 9 megabytes. 
This is the brush pack to go for if you are looking to recreate the perfect watercolor effect in your calligraphy. It comprises 37 brushes and backgrounds to help you draw the most realistic watercolor calligraphy possible on an iPad. Varieties included in the set offer a wide range of options for script brushes and wash brushes. The pack helps to achieve a high level of realistic watery effect. Artists looking for realism in their free-flowing brush script or delicate illustrations must opt for this pack. The brush kit also equips the artist with tools to exploit plenty of paint characteristics, including varying amounts of bleeding, translucency, and pigmentation. 
The pack comes with twenty watercolor script brushes, eight watercolor wash brushes, four watercolor wash background brushes, and one splatter stamp to embellish the output with texture, depth, and realistic details. The file comes in filetype extensions of .pdf, .brushset, and .procreate with a size of nearly 432 megabytes. 
If you are attempting to achieve perfection in fine calligraphy, it is the ultimate collection that you should opt for. It offers you the chance to recreate the perfect dip pen copperplate calligraphy on your screen. The collection comprises an assortment of smooth and rough brushes, thick and textured brushes, and a bonus watercolor brush. 
To help beginners operate this set more effectively, the pack comes with the option of streamline function. Turning on this function help designers create more stable and normalized designs. The files come in the type extension of .brush with a file size of 22 megabytes.
It is one of those calligraphy brush packs that help you to create the most exquisite calligraphic designs. It comprises 14 brushes. Out of these 14 brushes, 4 are flat with dirty canvas structure, and 4 are flat brushes with splashes. The rest six are brushes with ruling pen imitation. 
The pack offers you the closest possible match to real calligraphic designs that you can achieve through real ruling pens or flat brushes. The file comes in the type extensions of .brush and .brushset with a file size of nearly 2 megabytes. 
If you are looking for pattern brushes that would work the best for texture, this is the pack you need to pick. The set comprises a total of 28 seamless pattern brushes. Each brush, with its distinct feature, come together to form the most complete set for texturing and shading. 
What makes the pack even more interesting, is its expressive fabric and paper pattern features. It has become one of the most popular ones in its category by giving designers freedom from default brushes and boring noise effects. The product comes in .brushes file type extensions and is compatible with the Procreate app for iPad only.
DevBrush for Procreate bundle is one of the best-selling sets for lettering and calligraphy and comes with more than 150 brushes. It is one of the most comprehensive sets for the letterers, calligraphers, and type designers who use the procreate app. Apart from DevBrush for Procreate, the set also consists of all the other versions starting from DevBrush 2.0 to DevBrush 5.0. 
To run this set, the minimum requirement for the device is either iPad 6th Gen or iPad Pro 1st Gen. For beginners, this pack provides the perfect toolset to explore everything that one can do with colors, blending modes, erasers, and the smudge tool. 
Made for Procreate, this set comprises more than 30 glow brushes. The set includes swatches and color palettes and can be used for a wide range of application areas. It includes lettering, digital painting, photo editing, etc. 
Some of the most useful varieties available in this set include a neon brush, a pixel brush, a flow brush, a glitters brush, a grid brush, a background brush, and more. With the help of this set, you can conveniently create effects of 3D Neons, lightning, or retro designs.
It is the perfect set of Procreate brushes to opt for if you are a beginner and have started to explore the specialties of lettering, calligraphy, and typography. The set includes more than 20 Firstype lettering brushes and 6 lettering guides. It covers the widest range of lettering brush types, including watercolor brushes, lettering texture brushes, blackletter brushes, cartoon brushes, sketch brushes, and more. You can use the brush kit even on the earlier versions of Procreate 5X.
It is one of the most highly regarded Procreate brush sets that help you to achieve the best hand-drawn effect within very little time. From rough and organic strokes to a crispy clean effect, these brushes cover the widest possible range of hand-drawn style effects. Each brush in the set has been designed meticulously, so that it can capture the minutest possible details of outlines, linework, shading, filling, sketching, writing, and more. 
The entire set includes clean and rough monoline and brush pens in subsets of eight each. Other than that, it includes three stippling brushes. The product comes in file types of .png, .psd, .pdf, and .brushset with a file size of more than 596 megabytes.
It is one of the most sought after brush calligraphy packs that include a set of 15 different custom made brushes. These brushes equip you with a wide variety of unique textures that provide each calligraphic design with a unique look. This set has been designed, keeping in mind a wide range of user-profiles. Even the beginners who have just started with their journey in iPad lettering can leverage these brushes. 
Calligraphies are largely about creating a distinct mix of thick and thin letters. This brush pack allows you to achieve that nuanced variety just by changing the pressure of the strokes. It is perfect for creating calligraphic representations of quotes and lyrics that include compositions of multiple words. The light strokes brush has the feature of automatically moving from light to dark, creating a shading effect in the process. The files come in '.brush' or '.brush set' extension with a file size of 1.4 megabytes. 
Calligraffiti Procreate Brushes is a set of 27 brushes. It is best for creating calligrams on screen. The set includes a total of six unique chiseled brushes, with angular varieties of 0, 10, 45, 90, 135, and 175-degrees. Moreover, each angular variety can be further customized for a solid, pressurized, and texture version. Six grunge brushes help to bring in a muddled texture effect. The four unique chiseled brushes included in the pack have a solid as well as a textured version. The file comes in the type extension of .brushset and size of nearly 5 megabytes. 
It is a set of 30 hand-crafted procreate brushes that have been designed carefully to carry out some of the most crucial tasks in lettering, calligraphy, and drawing. Each brush has been designed based on the grades of marks and textures that different types of pencils, pens, and markers create physically on paper. The set comes with 12 high-resolution texture photos that are highly useful for background use. 
Created from real China ink samples, each of the 36 brushes in the Procreate Ink brushes kit from MiksKS have been designed to provide as realistic a result as possible. With any of the included brushes, you can add depth or fine detail to any of your manga art. Broken down into three categories – regular brushes for ink sketches, ink washes, and ink stains stamps. Also included in the set are 5 paper textures that you can use as a background. While not traditionally designed for manga art, the amount of detail that has been put into each brush can help any creation you work on.
From Studio FabianFischer, The Outline and Shadow Studio for Procreate gives you the tools you need to create 3D shadows or outlines in no time flat. The set includes 10 brushes as well as a. PDF installation guide to help you get started. Anyone working on a lettering project in Procreate owes it to themselves to pick up this set.
Created by Sadie Lew, the Painterly Pack is a collection of painting brushes for Procreate that bring a new level of realism to your work. With 17 custom-made brushes, there is something for everyone in this pack. The brushes come with a realistic canvas, linen, and other textures to make them, feel real and natural. Also included as a bonus, are two specialty brushes that emulate the style of Jackson Pollock and other Impressionist painters.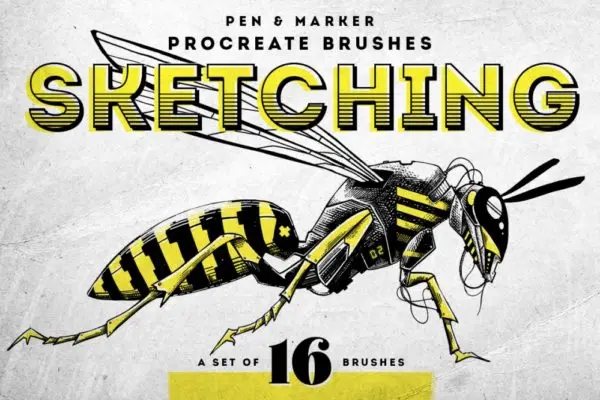 Created by MiksKS, the set of 16 handmade brushes for sketching in the Procreate app is the focus of the Sketching Procreate Brushes kit. The kit includes two different categories of brushes – 8 ink pen brushes and 8 marker brushes. The ink pen brushes are great for sketching or creating outlines for your drawings while the marker brushes are perfect for shading. While the brushes work great for doing quick sketches or even concept art, they are versatile enough to be an excellent choice to do some lettering.
Touted as the coolest brushes on Procreate, the Outline Brush Set for Procreate by PinkPaperPlane is a mixture of a wide variety of design styles and work just as well with elegant designs as they do with crazy sketches. Packed with 32 high-resolution brushes, each has been prepared to provide you with different properties and appearances. Perfect for posters, leaflets, invitations, and more, the thickness of each brush can be adjusted to different works.
Designed by The Ink Affair, the Metallic Brush Collection for Procreate provides you with more than 35 Procreate brushes, all designed to help you add a touch of metal and holographic to your designs. Perfect for lettering and line art, the brushes come with built-in textures and glow. If you're looking to create some metallic lettering, this collection will help add a realistic shimmer and they will work best on dark backgrounds.
Artists love alcohol markers because of how they blend, build up in their opacity, to their texture as well as bold intensity. Now instead of getting your hands messy, the Awesome Alcohol Markers for Procreate kit from Bardot Brush provides you with more than 25 brushes to emulate real alcohol-based markers to make your art look so realistic, people won't believe you created them in Procreate. Used by professionals and hobbyists alike, alcohol markers can create beautiful works of art and with this set, unlike the real thing, these won't bleed through the paper.
Extreme Brushes presents the Procreate Fun Characters Kit packed with 90 stamp brushes that help you create cute characters whether they are for a children's book or another project. Each shape help foster your imagination for as many characters as you can imagine. With parts such as noses, feet, wings, eyes, and more, you can create characters forever and as a bonus, the kit includes a line art pen so you can sketch ideas before you turn it into a new creation.
Packed with 40 pattern brushes, this set will transport you back to the 80s' with its retro vibes. You can try them out in either mono color or layer them to create a more intriguing aesthetic. Whatever your style is, seamlessly build your ideas with this pick.
Pencil sketches have always felt personal and intimate, so when a digital artist like you is allowed to make great use of a set with 21 pencil brushes, consider it a blessing! Loaded with diverse pencil types and kinds, replicate your sketchpad glory days with this wide-ranging offering.
With 28 brushes you can use for a selection of projects, this set allows you to be your most creative self yet. From screentone and static to cross and stipple, this pack packs a punch. Perfect for illustrations of buildings, cars, parks, and all things concrete, there's a lot you can play with here.
50 Geometric Pattern Brushes for Procreate
Here's a pack that dials the selection up a notch. Available with 50 brushes, you can enjoy a wide range of geometric patterns that automatically warrant a second look. Design anything from animals to mountains and oceans to skies. The only limit here is your imagination.
Vintage Comic Procreate Brushes

Vintage compositions are incredibly distinct and immediately relay a story on their own. If this is the energy you want your designs to possess, Design Cuts' Vintage Comic Procreate Brushes is the one for you. From lines and dots to tiny squares and inky scratсhes, these brushes will add color and spunk to your creations.
Compo Booster 1.0 Procreate Retro Brushes

Are you a fan of retro-lettering? If you are, consider Compo Booster 1.0 Procreate Retro Brushes. Packed with 70 Procreate brushes and 10 ready-to-use retro layouts, this set is a dream to calligraphers who have an affinity with vintage designs.
Glitter and Foil Kit for Procreate
This pack comes with a wide range of beautifully colored metallic foils and sparkling glitter high-resolution textures perfect for creating authentic glitter and foil designs. It comes with 9 shimmering glitter textures, 16 shiny foil textures, 8 handy background textures, 21 confetti brushes, and much more. This kit a perfect fit for iPad lettering artists as it is packed to the brim with versatile resources to make your designs shimmer & shine.
The effects brushes that come with this template work both on their own or paired with the textures. Another stand-out feature of this pack is the confetti brushes included in this pack that can be used with ease to paint random confetti and to spruce up any design by quickly combining it with textures. In addition to this, the pack offers bonus floral brushes which match perfectly with the other resources in the kit, helping you to add more meaning to your designs and to take your projects to the next level.
Ultimate Portrait Bundle For Procreate
If you're looking for a high-quality brush set with more variety, try this pick. Packed with 81 facial feature brushes, 20 texture brushes, 4 template files, and 4 bonus color palettes, there's absolutely no reason for you to turn a blind eye on this set.
Skin Brushes for Procreate
Add natural freckles, subtle textures, or shiny sparkles to your digital portraits and easily create realistic-looking skin with this pick! Packed with 16 skin brushes, you can add that final touch of realism to any of your portraits.
Character Drawing Toolkit
Packed with 88 Procreate brushes, each thoughtfully created to help kick start your drawing process, this set is perfect for those still exploring digital illustration. Nonetheless, it's a terrific pick for professionals too. This set allows you to easily pick from the many shapes, heads, eyes, ears, and noses as a guide, and allows you to add a new layer and start drawing! If you've reached this part of the list, and you're still unsure which pack to start with, try this one.
Sprays, splashes, and drips, what more could you want in a graffiti set? Complete with 44 brushes and 9 stellar Montana color swatches, this pack will keep you busy. Unleash your best creative juices with a kit as comprehensive as this.
Check out Creative Market's Splatter & Speckle Procreate Brushes. Packed with 15 brushes designed to provide the splatter and speckle aesthetic you're looking for, this find is arguably the best and most straightforward pick from all the bunch. Also featuring a watercolor palette, this find is perfect for creatives looking to explore new hues and themes. 
The Procreate Realistic Tie Dye Brushes set will help you replicate the aesthetic of tie-dye shirts. Featuring 35 tie-dye brushes, this set lets you design apparel projects, book efforts, and other similar marketing materials. Bundled with a fantastic palette consisting of your favorite basic colors, you're surely in for a treat with this pick.
As the product name implies, this pick by Creative Market extends 111 color palettes for creatives of all kinds! From seasoned Procreate fanatics to the app's excited newbies, this find will help you design and create all that your mind desires. This may be the last product on the list, but don't let its placement fool you into thinking it doesn't pack a punch. From fiery reds to soothing blues, this set has it all too!
Design Cuts' Shimmer and Shine is a metallic watercolor kit that's exclusive for Procreate. Packed with over 140 elements, this pick is perfect if you're looking for golds, rose golds, and stunning silvers. From texture brushes to watercolor stamps, this set has it all!
The Storm Brushpack for Procreate by Disyukov has all the correct elements that you need to simulate a storm. The 25 brushes in the massive pack will help you draw rain, storm clouds, lightning, and more in your projects.
This storm set includes four thundercloud brushes, three cloud brushes, two thundercloud + lightning brushes, one lightning brush, six lightning stamps, six rain brushes, one rain on the ground brush, and two puddle brushes.
If you are still undecided on which set of weather brushes will suit you best, or if you are simply looking for more choices and flexibility, the 2500+ Procreate Brushes will provide you with everything that you need to create amazing artwork on Procreate.
The bundle features an incredible 2500 brushes, with each brush being more unique than the other. The brushes cover various categories such as nature, technology, photo manipulation effect, and abstract brushes, including weather brushes such as dust, smoke, fire, lightning, etc.
For those digital artists that love working with a wide variety of design resources, you cannot go wrong with this massive bundle.
Whether you are an old soul or simply an artist in love with the vintage persona, the Standard Procreate Ink Pen Brush is for you. It includes 11 pressure-sensitive brushes inspired by vintage comic books that will deliver the perfect retro look in your projects. Each brush has been custom-made to get expressive lines with a gritty texture full of personality to emulate the look of ink on vintage prints.
Also included in the Standard Procreate Ink Pen Brushes pack is six ink spray stamp brushes and reference guides so that you can start creating fantastic vintage art right away.
Designed by Ink Gang Boss, The Procreate Office Brush Pack was inspired by the creator's long sketching sessions with office supplies, sparking the creativity to craft an authentic brush pack to replicate that experience.
The result is a set of 17 fun and easy-to-use pen, marker, smudger, pencil brushes, and other elements that you can use for various uses such as doodling, sketching, and so much more!
Bonus: The Procreate Office Brush Pack includes a spilled coffee smudge tool and a greasy lunch smudge tool that you can use to create fun and vibrant designs.
If what you're looking for is a pack that comes with textures, this one has 85 of them! Aptly called Graffiti Textures and Procreate Brushes, this Design Cuts find brings a lot to the table. Also packed with 35 brushes and a secret bonus, this kit should easily excite any creative looking to create stunning artwork and impressive designs.
The Top 70+ Best Procreate brushes for Illustration
The Procreate app is an amazing tool for any illustrator and with all of the brush options available, it's tough to decide on which brushes are better than any other. We hope our list of the top 70+ best Procreate brushes for illustration has given you a look at some of the options you have out there.
Do you have a favorite brush kit that you can't stop recommending? Let us know about it in the comments.