In art, the term outline refers to lines that are real or apparent by which a figure is defined in or bounded by the plane of vision. Essentially, an outline is used to create a border around an image or lettering.
Outlines can add a level of detail that other brushes cannot and make your project look more pronounced. With our selection of the Best Procreate Brushes for Outlining, you can start adding detail to your work right away.

10+ Best Free & Premium Procreate Brushes for Outlining
For the complete list, scroll on!
Also see Best Sponge Brushes for Procreate, Best Spray Paint Brushes for Procreate, and Top Sparkle, Glitter, Neon, Glow, Light Procreate Brushes
Special Offer
17+ Best Outlining Procreate Brushes
In our opinion, the right outline makes everything look better. Utilizing the new features found in Procreate 5, the Outline Brushes for Procreate – Outline Pack by Snooze One makes it possible to have quality outline brushes to work with.
Furthermore, the brush pack has been created to focus solely on outline brushes and provides you with a wide range of styles you can choose from.
Featuring a collection of over 70 brushes, 8 alphabet worksheets, and a helpful tips and tricks sheet, we're certain that you'll have countless hours of creative possibilities to craft the perfect outline for your project.
From Studio Fabian Fischer, The Outline and Shadow Studio for Procreate gives you the tools you need to create 3D shadows or outlines in no time flat.
From our experience, the set includes 10 brushes as well as a .PDF installation guide to help you get started. We think anyone working on a lettering project in Procreate owes it to themselves to pick up this set. You can use it for a variety of projects that require 3D shadows or outlines.
Containing handmade brushes for the Procreate app, the Outline Procreate Lettering Brush set from Blue Strawberry Studio is a simple outline brush. We find it to be a delightful and versatile tool suitable for individuals of all skill levels to experiment with.
In our opinion, it's especially good for beginners with its incredibly easy-to-use design. Included in the file are instructions on how to open the file so you can start lettering right away.
Featuring over 100 brushes, the Outline Procreate Brushes kit from Veila is a perfect option for urban typography design, abstract or even geometric art, and even 3D lettering effects.
We found more than 100 outline brushes for Procreate, 7 halftone brushes, and 5 stamp brushes in the kit. Using this means that you don't have to add volume manually any longer.
You simply need to pick the right brush, adjust the radius, and bring an air of graffiti and street art to all of your work.
In our opinion, 18 brushes with one-of-a-kind textures and each with its name can add a touch of magic to any project that you work on.
This is the case with the Shine Like a Unicorn | Procreate Brushes set from Oxana-Milka, which will work its magic on any shape or material you draw, turning it into a tangible one.
Within the kit, we discovered 4 line brushes that serve as valuable tools for organizing existing edges or crafting entirely new outlines.
Able to handle any texture that you throw at it, the set has some of the best procreate brushes for outlining. With the various options available, it encourages you to try out your bravest ideas.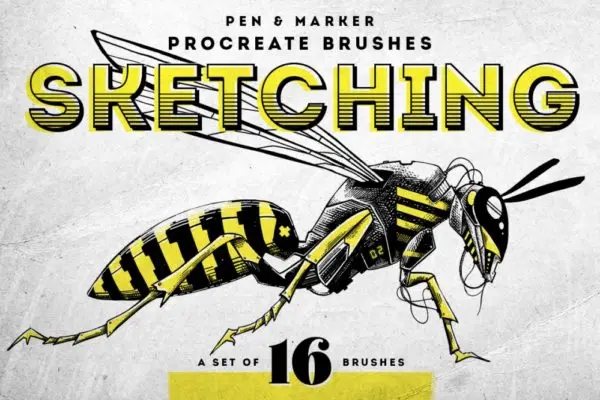 Created by MiksKS, the set of 16 handmade brushes for sketching in the Procreate app is the focus of the Sketching Procreate Brushes kit. The kit includes two different categories of brushes – 8 ink pen brushes and 8 marker brushes.
The ink pen brushes are great for sketching or creating outlines for your drawings while the marker brushes are perfect for shading.
While the brushes work great for doing quick sketches or even concept art, they are versatile enough to be an excellent choice to do some lettering.
Touted as the coolest brushes on Procreate, the Outline Brush Set for Procreate by PinkPaperPlane is a mixture of a wide variety of design styles and works just as well with elegant designs as they do with crazy sketches.
Packed with 32 high-resolution brushes, each has been prepared to provide you with different properties and appearances. Perfect for posters, leaflets, invitations, and more, the thickness of each brush can be adjusted to different works.
Another great set from Snooze One, the Dirty Outlines – Procreate Brushes set is the perfect combination of outlines and texture.
An update to a previously-released outline pack, the designer worked to add a variety of textures to the outline brushes to provide you with a set of brushes that give everything they got.
Included in the set are 30 procreate brushes along with 26 worksheets regarding the alphabet in 5 different styles.
Designed by lovetistrue, the Monoline Outline Procreate Brush is a great brush that you can use for any of your outlining needs.
From letters to numbers, the brush provides you with a unique creation every time. The best way to use the brush is to hand letters without picking up the stylus from your iPad and connect the letters or words without overlapping.
Collected to provide you with a mix of inking, sketching, shaping, and texture brushes that you can use with your iPad app.
Dead Head Procreate Brush Set is designed by Idle Letters, the set comes with 32 brushes including an inking brush which is a great choice for outlining, and halftone brushes that come with different densities and are completely scalable.
From Bardot Brush, the Texturrific Liners for Procreate is an amazing set of texture-y brushes that are great for outlining in your illustrations, sketches, lettering, and more.
With a wide variety of differently-textured brushes, you can add a bold touch of realism to any aspect of your work. Optimized for use with the Apple Pencil, the different effects can be utilized when the brushes are used at different sizes.
Providing you with the tools to create multiple styles of lettering with ease, the Freestyler – Brushes for Procreate brush pack from Ian Barnard brings together a mixture of brushes including outline, 3D, flat, monoline, texture, and pattern brushes.
These unique styles are easy to use but also make a powerful impact. Many of these brushes will create a brand new look right away while others will require a little bit more work.
Containing 25 brushes for contours, shadows, and splatters, the Outline Shadow Lettering Brushes from Loysa can help you create unique lettering every time.
Within the settings, you can change the fill and outline colors for the brushes.
The brushes will create a single outline and not overlap when you write with a gap. Plus, the brush pack receives updates that are always free!
Another amazing set from Blue Strawberry Studio, the Thick Outline Procreate Brush is a simple outline brush for Procreate that is a joy to use. When you increase the size of the brush, the outside of the brush gets thicker.
With its simple, easy-to-understand installation instructions and extremely budget-friendly price, you can go wrong in choosing the brush for your toolbox.
Endete Brushes presents a set of 46 Outline Brushes for Procreate that you can use on your next project. Being able to add an outline to your image or your lettering can make it stand out and add a uniqueness that no other brush can match.
With its affordable price, you can't help but take a chance on the 46 Outline brushes procreate from Endete Brushes.
The Contour Procreate brush set is created by a super powerful brush studio. With this brush set, you can combine two brushes and create designs that give you exceptional designs.
This huge pack of Procreate brush sets contains 100 Procreate contour brushes. With its wide variety of brushes, this brush set is an ideal one for your creative designs.
If you are searching for the Best Procreate Brushes for Outlining, Midcentury Brush Kit for Procreate is an ideal choice for you. This is the premium as it allows you to create bold, thick graphic artwork and illustrations like those from the 1950s and 1960s with this brush set for Procreate.
These brushes have been designed especially for professionals. These are also optimized for use with the Apple Pencil.
The brush set contains bleeding edge, square bleed, ziggy, crayon, brush liner, Scratchy Mini, Dotty, Inker, fat inker, Square Fat Inker, Texture Fillers, and speckle brushes for dappled, freckle-like, sparkly goodness in your artwork.
This brush set is perfect for shading and texturing your art to give a mid-century style and feel to your illustrations.
Frequently Asked Questions
Which are the best procreate brushes for 3D outlining?
Freestyler Brushes for Procreate are the best procreate brushes for outlining with a 3D effect.
Is the Thick Outline Procreate Lettering brush set affordable?
The Thick Outline Procreate Lettering Brush app is more afforable than other outline procreate brush apps.
What are the best procreate brushes for outlining overall?
The Monoline Procreate brush is the best procreate brush for outlining that works for any of your outlining needs.
Which set of procreate brushes for outlining can I use for inking?
Dead Head Procreate provides you with a mix of inking, sketching, shaping, and texture brushes that you can use with your iPad app.
17+ Best Procreate Brushes for Outlining
Adding an outline to your work can make it stand out, look unique, or add a new level of style to your project. In our experience, it may even add more depth to it. Art always had the power to compel an audience and outlines are just one way to do it.
It may be an old practice to put outlines on your work, but it's a timeless technique that has enhanced several art pieces.
We hope that our choices for the Best Procreate Brushes for Outlining can add something new and unexpected to your artwork.
---
Related Posts