For many designers, when it comes to designing a clean and elegant logo for a company, using a Serif font in their designs helps to add a little bit of flair, class & sophistication to the brand.
A serif font is easily identified by the "little feet" that appear at the ends of the letters being used. Doing a search for Serif fonts can lead you down the proverbial rabbit hole with all of the options there are to choose from.

To offer a bit of help, we wanted to focus on ten of our favorite Serif fonts you can use when branding or designing a logo with a clean and elegant look.
Now, you may have your own favorite Serif font and it may or may not appear on our list, but we recommend taking a closer look at the options presented here, some of which are revivals of the classics, ensuring your logo has a unique character to it.
Who knows, you may find a new font that you end up using for years to come.
See here for the best sans-serif fonts for clean & minimal logo design as well as the top fonts professionals use.
Each font listed below has a brief description & font preview.
If you're ready, let's get started, here are the best 10 classy & elegant serif fonts for graphic design, logo design & branding.
---
BEST SERIF FONTS: UNLIMITED DOWNLOADS: 50 Million+ Fonts & Design Assets
Download all the Serif Fonts you need and many other design elements, available for a monthly subscription by subscribing to Envato Elements. The subscription costs $16.50 per month and gives you unlimited access to a massive and growing library of over 50 million items that can be downloaded as often as you need (stock photos too)!


---
10+ Best Clean, Classic, Classy, Elegant & Modern Serif Fonts
Designed in 2018 by Diego Aravena and Salvador Rodriguez, the Hermann font family is one of the design teams most readable fonts available so far. Looking at the works of Herman Hesse and Aldous Huxley for inspiration, the team found the concepts of duality, surrealism, and wildness frequently appeared, fueling the design process.
Designed to not only be an accurate font when it comes to legibility but can also present a feeling of being wild and bold. Available in ten different variations including italic and bold, the Hermann font is inspired by the novels of the 20th century and their worlds, taking its name from one of the most prolific authors of that era.
---
Like a melting pot, Recoleta combines many different aspects from fonts of the past to create something new, fresh, and with a modern flavor. By taking the soft and gentle shapes found in the Cooper font and the fluid angled strokes in Windsor, designer Jorge Cisterna has blended together a beautiful and familiar font that looks amazing in a logo or on a business card, giving them a look that's unique
Available in a variety of weights, this font gives you the options you need to choose the best typographic color for whatever project you're working on. While body text works well with a lighter weight, if you're writing headlines, heavier weights are ideal.
The Recoleta font can make any design stand out like in the Waves to Wilderness logo.
---
A wedge serif type font, Blacker was designed to be a take on the "evil serif" typeface genre. The high contrast, sharp wedge serif design was created by Cosimo Lorenzo Pancini and Andrea Tartarelli who were looking to evoke the proportions of fonts used in the 1970s.
Using the Latin alphabet, Blacker features an extended character set which covers more than seventy languages, including Russian Cyrillic. Small caps, fraction, alternate forms, four sets of figures, as well as superior and inferior figures and discretionary ligatures are all features of the Blacker font family.
---
While it is technically a slab-serif font, the ITC Lubalin Graph font helps convey a no-nonsense look, that while strong, can be perfect for a modern design, especially with the lighter weights.
ITC Lubalin Graph is a 1974 design which is based on an earlier sans serif font that was designed by Herb Lubalin, ITC Avant Garde. The character shapes may be identical between the two designs although Lubalin Graph adds a slab serif feature.
Designed to look good in applications from headlines to packaging, this is an extremely versatile font family.
---
Designed by Adrian Frutiger, the Linotype Didot font pays respect and tribute to one of the most important print shop and font foundries in France during the 18th and 19th centuries. The Didot family were active designers as well as printers, typeface designers, inventors, intellectuals as well as publishers during this era.
Frutiger's Linotype Didot design is a sensitive interpretation of the French Modern Face Didot font and gives any text you use it for, a classic and elegant feel and at the same time paying respect to the original Didot family.
---

A Latin display serif typeface with contrast, the Begum font family has an ultra-contemporary appearance and shares DNA with other Anglo-Dutch font types such as Caslon, Fleischmann or Times, with a slightly exotic feel.
Designed by Manushi Parikh, the Begum font truly shines when used with texts of a shorter length, article introductions that are multiple lines and even on packaging.
---
Designed in 1983 for the International Typeface Corporation by Ed Benguiat, ITC Caslon 224 was designed to be a modern-day interpretation of the Caslon typeface.
With eight font weights ranging from Standard to Standard Black Italic, ITC Caslon 224 has a large x-height, a very high contrast between think and thick strokes and also provides transitions between the different weights smoothly.
---
In the 1960s, a new typeface was requested by the German Master Printers' Association to be designed and produced identically on both Linotype and Monotype machines in order for both the text and technical composition would match. Jan Tschichold was commissioned to use Claude Garamond's classical and serene Roman font and design a new version.
Sabon succeeds although its bold and italic styles are limited by Linotype casting machine requirements. This forces the character widths to match between different styles and also gives the italic typeface its characteristic narrow f.
---
With 10 styles, 658 swashes and a multitude of expert features, Bookmania is a font that any logo design can benefit from.
Designed by Mark Simonson in 2011, the Bookmania font type has all of the features that you may expect to appear when using a modern digital font family. As a revival of Bookman Oldstyle, designed in 1901 and the Bookmans font family from the 1960s, the Bookmania font family has the features that you need to make your logo design excel.
---
10. Gabriela Stencil
Designed by Antonio Mejia in 2016, Gabriela Stencil has a unique character while being part of a classic font family. Well-suited for headlines & fancy logos, the font emphasizes the modern and elegant personality that the font features and has been inspired by the style found with the Didone typefaces from the 19th-century.
Also ideal for branding, short text, and publishing projects, Gabriela Stencil is a highly readable font with the x-height sized at 50% of the cap height, along with short ascenders and descenders. Available in six styles, the font family contains a 433-character set which supports over 200 different languages.
Bridesmaid font is a new product and is also named Britain Rough Serif Font. This font is suitable for fun-themed, and classic vintage-themed projects. This font is also suitable for posters, apparel, badge, labels, and emblems. 
📌 Don't forget to save the blog for later, pin the image below!
---
UNLIMITED DOWNLOADS: 400,000+ Fonts & Design Assets
All the Fonts you need and many other design elements, are available for a monthly subscription by subscribing to Envato Elements. The subscription costs $29 per month and gives you unlimited access to a massive and growing library of 400,000+ items that can be downloaded as often as you need (stock photos too)!


---
---
---
The Montage Serif font works best with Cricut, Silhouette, Photoshops, Illustrator, Procreate, InDesign and Canva Pro. This font looks subtle and elegant, so it works for clean and classy logos, titles, and headlines.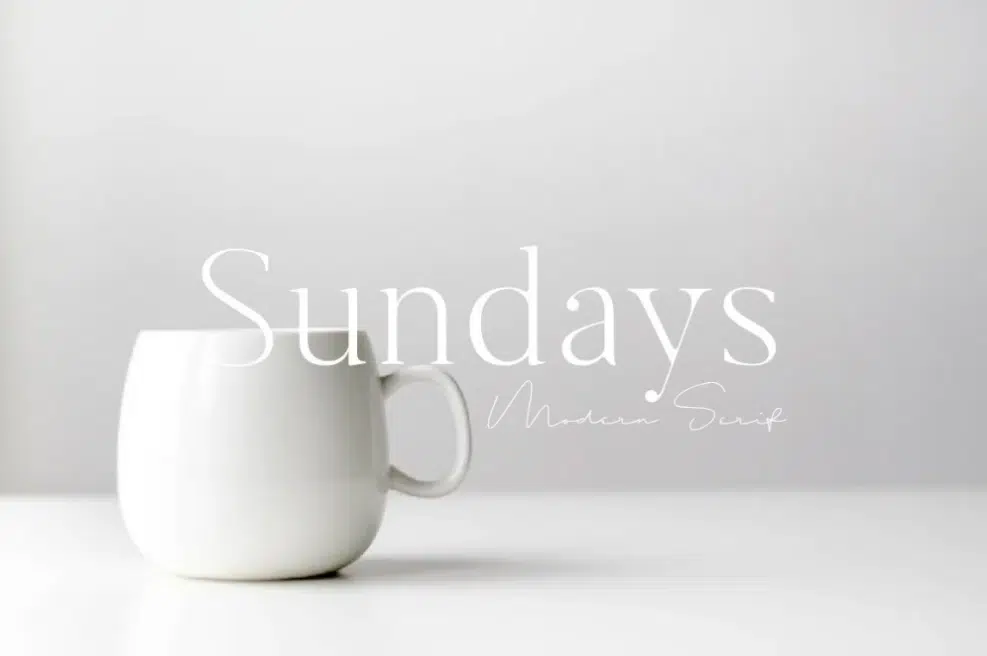 The Sundays Modern Serif Font draws inspiration from fonts like Baskerville. This font has a modern and a classic touch that you can use for magazines, catalogs, matheads, logos, and headers. This font features subtle curves and minimal serifs, which gives the font an elegant look. 
Bloomsbury is a handwritten Serif font. You can use this script, sans, and serif font as a combination to make unique designs, logos, posters, album covers, instagram posts and more. This font contains three sizes of end letter flourishes of small, medium, and large. It also supports languages such as English, French, German, and Hungarian. 
Le Tarot is a celestial modern serif font that includes unique alternates and ligatures. It features decorations such as the moon and stars. You can use this font on themes like astrology, witchcraft, spiritualism, mysticism, esotericism. The Le Tarot font also supports the English, French, German, Italian, Spanish, and Turkish languages.
Frequently Asked Questions

Best Serif Fonts for Clean & Minimalist Logo Design
Using a clean and elegant Serif font in your logo design not only makes it sophisticated, but can also add a bit of exciting flair to your design.
There are so many different, well-designed Serif fonts that are available for any graphic designer to use. We hope that our list of the 'best professional serif fonts for logo design' can provide you with some options you might not have considered before and inspires you.
More Top Font Compilations
Do you have a favorite clean and elegant font that you use in your logo designs?
Let us know in the comments below.
Infographic: What your Logo's Font Says About Your Brand
Thanks to Brand Marketing Blog for the below infographic.