As a designer or content creator, your choice of video editing software can make or break your career, so it's crucial you find the best video editing software for your creative needs.
This is especially true in the face of the increasing demand for video in the marketing world. More content creators and internet marketers, in general, are creating more video content because it is one of the best ways to promote any product or service.
With high-quality video, you can make your video content viral and take your marketing results to new heights especially when it comes to Youtube marketing. Whether you are creating new explainer videos for YouTube or polishing customer success stories for Twitter and Instagram, you need excellent video editing software. This is the best way to achieve the double win of projecting a professional image and capturing the attention of your target audience.
Fortunately, there are lots of video editing software options available today. You don't need to have a massive budget to come up with a quality video. In this piece, we have done the legwork for you by putting 10 of the best video editing software you can find in one place, in no particular order.
10 Best Video Editing Software for Designers & Content Creators (Free & Paid)
More Video Editing Resources
10 Best Video Editing Software for Motion Graphics, Animation, VFX and More
The best video editing software for designers
For many, Adobe Premiere Pro CC is the best video editing software and it is not hard to see why. Adobe is one of the biggest names in the editing software niche, and Premiere Pro is their flagship offering. Many content creators around the globe trust it.
Adobe Premiere Pro CC can handle pretty much anything you can throw at it. You can load an unlimited number of video tracks from any source you have, including cameras, media files, tapes and even Virtual Reality hardware. If you take a lot of multiple-angle shots, you will appreciate the automatic sync function. If you love to make unique videos, you can work with the healthy range of fine-tuning tools and get your creative juices flowing.
Adobe Premiere Rush is a variant of this software. It is the perfect way to edit videos shot on a mobile, and it is available on Windows, macOS and iOS.
You can pay for Premiere Pro and indeed any Adobe software alone, but if you rely on more than one of them, consider adding a Creative Cloud subscription into the mix for better management of your content. Better yet, find out how to get 40 to 70% off Adobe CC. Or check out the Best Adobe Premiere Pro Alternatives.
The best drag-and-drop video editing software
Pinnacle Studio 23 is an excellent video editing tool that does a great job in its primary function. However, it does more than just simple video editing. The software has an intuitive user interface as it is one of the few on this list that allows effective drag-and-drop editing. This software's capacity and the wide range of features make it truly professional.
Pinnacle supports capturing and importing material from a wide range of sources. The 360-degree editing and stop-motion support certainly make this software one of the most sophisticated video editing programs for new video content creators. It is not free, but the price is justified.
The best free video editing software for designers
VSDC is a favourite for many because it is free of charge but still packs in many features you'd ordinarily expect from premium software. Some of these advanced features include blend overlays, as well as mask and key options. The software also allows you to add filters transitions as well as control the speed of clips.
The software is also a great option if you are looking to create social media videos as it allows you to unleash your inner cinematic genius with its compatibility with green screen footage. The overall UX design of the software may not appeal to everyone, but if you are looking for video editing software that works for free, this is a fantastic option.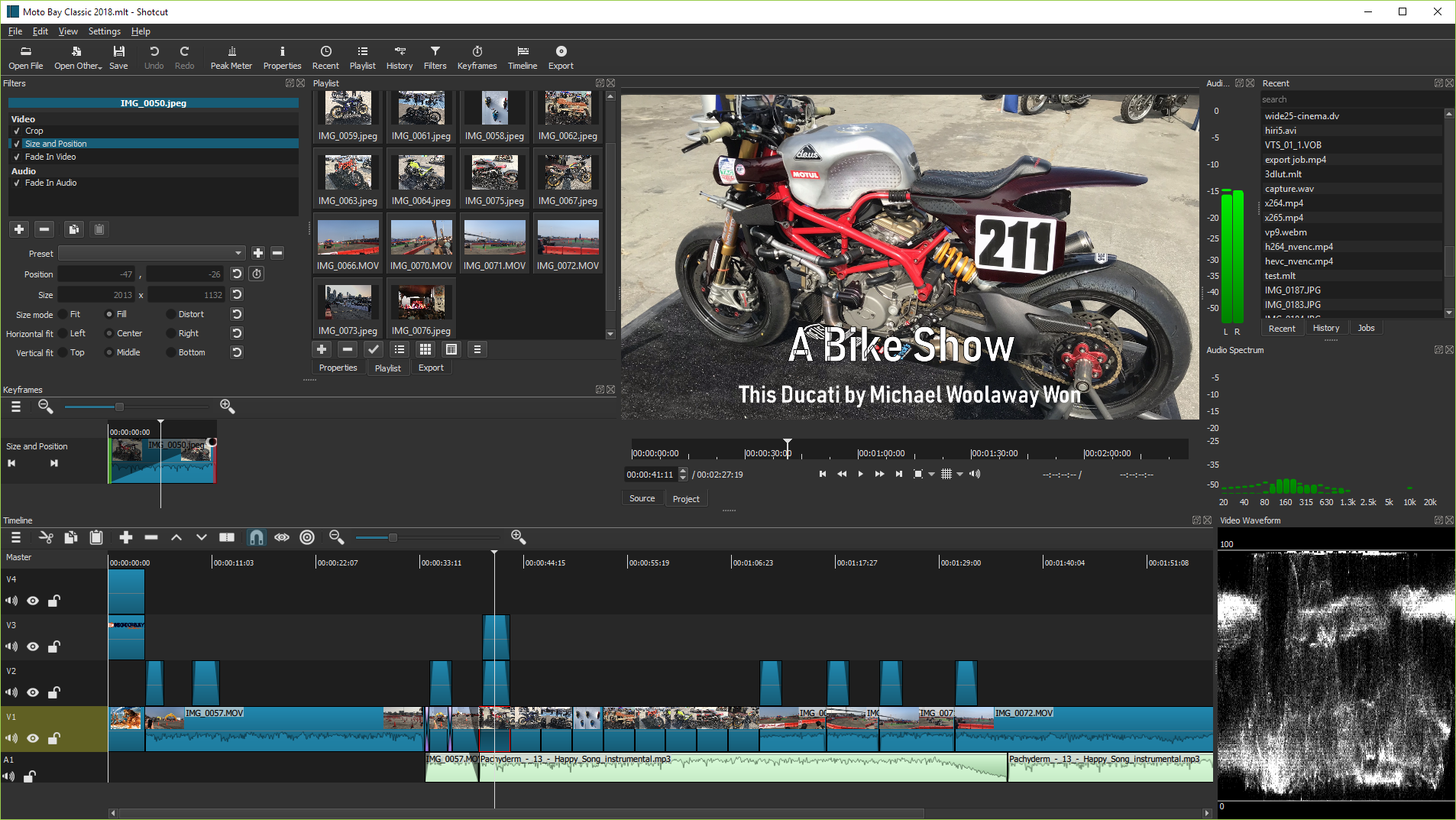 The best social media video editing software
Shotcut is another interesting free video editing software for content creators. You may need to spend time on getting the hang of the interface, but once you have that sorted, you can achieve fantastic results with it. The video and audio filters are some of the best you will find. However, the preset export formats available can be limiting.
Shotcut is heavily tilted towards social media video editing. However, your final results will be determined by the platform you are targeting with your video. The results for Facebook and YouTube will not be the same. Spend as much time as possible on getting familiar with what to expect from each editing option you choose before using the software for a real project.
The best professional video editing software
Are you an advanced video content creator? This software should be high on your list of options. Lightworks is a comprehensive video editing tool that can only be genuinely unleashed by professionals with a level of technical knowledge. If you'd like to try your hand at the software first, you can download the free version to get a feel of things. For the full range of features and more export options, however, you will need Lightworks Pro.
The Lightworks user interface is easy to grasp. Straight from registration, the software introduces you to a minimalistic project window featuring tabs to edit video, manage audio and video files, edit audio files, and add effects. There is a toolbar for capturing video and audio stream, and you can quickly import and export video, sound and images.
If you are putting together an in-house video team, Lightworks will be an excellent addition to their software library.
The best video editing software for Mac users
If you are new to video editing, you will love iMovie. The software is only available on Mac. It comes with numerous templates, animated titles and transitions. You can also use it to cut clips. The combination of these features means that it is the software of choice for anyone that wants to complete an editing job quickly and still achieve stunning results.
If you are creating video content that has only basic cuts and fades, you can trust this software to deliver. Many social media video creators trust it for quick-turnaround projects. The software is free, so you can expect some quirks that may be too much for some people to ignore.
For example, you cannot transfer project files from this editor, and it may be hard to find templates that fit for more professional video content.  Additionally, the peculiarities around the software make it easy for people to know that your video was edited with iMovie. This may cause some of your target audience to see your brand as unprofessional.
The most seamless video editing software for Mac users
If you are looking for the best video editing software for Mac OS, you are unlikely to find any better than Final Cut Pro X. It comes with a steep price tag but the features baked into the software and the ease-of-use makes this easy to ignore.
The effect options, the grouping tools and the simplified audio loading and editing process are some features you will love. Final Cut Pro X seamlessly blends into your iTunes and photo collections, which makes it a must-have if you are a fan of the Apple ecosystem already.
The best post-production video editing software
If you spend a lot of time in post-production, this video editing software is one you should consider. The free version can deliver the goods for beginners. However, the paid version is what you need if you are looking for a comprehensive video editing software that combines editing, calibration and audio post-production features.
Colourimetry experts will also appreciate the advanced features on Davinci Resolve that simplifies editing and mixing. Perhaps a strong selling point is the fact that the software has project collaboration features baked in. You can also seamlessly store your project data.
The best video editing software for marketing and branding
Vegas Pro is another full-featured video editing tool. Sony first owned it, but Magix now controls the software. Many professionals use this to create in-depth marketing content, brand videos and more. It is also heavily used in the film industry. The easy-to-use interface makes the editing process straightforward.
You can use Vegas Pro to create 3D titles, edit and process media and create the highest quality video montages for your brand. Other features include good presets for colour correction, video stabilization, speed control, masking, 360 footage support, HDR support and motion tracking. Its developers strongly support the software, so it is never behind when it comes to new industry advancements. As you would expect, the software is expensive, so it is one of those you should only purchase if you are a professional that can use its best features.
The best video editing software in the film niche
The first thing you need to know about Avid Media Composer is that it is popular with many professionals in the film niche. It is undoubtedly one of the best you can find today, but it is expensive. If you are only looking for a video editor for some quick social media video editing, choosing Avid Media Composer might be overkill.
The software offers a genuinely intuitive experience. It is also one of the video editing software options with a deep emphasis on audio editing. If you want thoroughly professional results, this software should be high on your list.
Frequently Asked Questions
What do YouTubers use to edit their videos?
Adobe Premiere Pro CC, Final Cut Pro X, and iMovie are the two most widely used editing software among YouTube creators. As a matter of fact, both the Adobe Premiere Pro CC and Final Cut Pro X are used in complex editing assignments in professional filmmaking.
Is Adobe Premiere Pro free?
No, Adobe Premiere Pro is not a free video editing software. However, you can try a one-week free trial of the Adobe Premiere Pro on the Adobe site and explore the powerful features the software has on offer.
Does Windows 10 have a free video editor?
Yes, Windows 10 has its own pre-built Windows 10 Video Editor for video creation and editing. It is the successor of Windows 10 Movie Maker with an emphasis on creative story-telling.
Is Final Cut Pro available for Windows?
Final Cut Pro, an Apple Mac OS exclusive application, is unfortunately not available for Windows. You can, however, give Adobe Premiere CC a shot as it is the closest alternative for FCP on Windows.
10 Best Video Editing Software for Designers Conclusion
Whether you are a beginner video content creator or an experienced professional, you are sure to find the software to meet your needs from this list. As you create your videos, keep in mind that your target audience is savvier than ever. If you use a poor edit where only a professional video will suffice, it will backfire quickly.
If you feel that you are not ready to handle the rigours of creating content for an increasingly video-hungry audience, it may be best to outsource the video creation and editing process.
Related Posts: