Welcome to our massive compilation of the best 2023 Black Friday Deals and Cyber Monday Sales for graphic designers, web designers, photographers, freelancers and creative professionals.
We will be updating this page all November until all sales are over.

If you have your own Black Friday deal, email us and we'll update the post with your deal.
**Keep in mind, many of these deals are only live between November 24-27 2023.**
Best Black Friday Deals for Designers 2023 (& Cyber Monday)
For full details, valid dates & coupon codes for these Black Friday deals you must scroll on further.
Courses
Marketplaces
Stock
Fonts
Icons
Web
Services
2023 Black Friday & Cyber Monday FAQ
What is Black Friday?
Black Friday is the day after Thanksgiving, when many retailers make special offers, both offline and online. It has long been touted as one of the best times of the year for buying just about anything.
When is Black Friday 2023?
Black Friday is on Friday November 24, 2023 but sales generally run from November 24 to November 28, although many vendors post their sales days or weeks before.
What is Cyber Monday?
Cyber Monday is the day when nearly every online store has a heavily reduced sale of their goods & services.
When is Cyber Monday 2023?
Cyber Monday is on Monday, November 27, 2023.
---
100+ Best Black Friday Deals for Graphic Designers & Cyber Monday Sales
Here are all the best deals for graphic designers this Black Friday! Enjoy.
The 2023 Adobe Cyber Monday Sale allows you to save up to 70%! These sales are valid from November 24 to December 3, 2023!
Even existing subscribers can get this 50% off offer, simply go to your Account tab to see your special offer. If you have no offer showing, contact support.
Envato Elements – Get Unlimited Downloads of 50+ Million Design Assets (50% off)
Get unlimited downloads of 53+ million creative assets: graphics, web and video templates, audio, photos & more! All for one low cost, cancel anytime.
Plus, with this sale you get an extra 50% off.
On Sale: 24th-28th and possibly to December 1 for Cyber Monday.
You can download our typeface, JUST Sans, as a subscriber to Envato Elements.
Amazon have an awesome Black Friday & Cyber Monday deals week page that lists everything from electronics, toys, kitchen tools, pet supplies, and more.
Best Black Friday Amazon Deals 2023 (Updating soon)
We are yet to get the official 2023 sales but these were the top items on sale in 2022.
See our dedicated post on the best Black Friday Amazon deals.
There are also sales on thousands of items so browse through our top gear articles below to get inspiration.
Top Gear for Designers:
Save out your client's logos with just one click with Logo Package Express. Get $40 off from Nov 24 to Nov 27. Click here and use coupon 'BFCM2023'.
Click 'Buy Now' now then choose your operating system 'Mac' or 'PC' and click 'Buy This'.
Logo Package Express
Export Logos 10x faster
Save $40 on the regular price of $119 and get Logo Package Express for just $79
Logo Package Portal
Store and share logos with your clients
Save $40 on our bundles which include Express and Portal
Logo Package Swatch
Color info at your fingertips
Save 20% on the regular price of $25 and get Logo Package Swatch for just $20
Valid Nov 24-27.
It's finally here! The Black Friday Mockups Sale from MrMockups!
You can get all of their products in one massive Mockup Bundle.
The total of this is $1447, but you can get it for just $223!
Get it now before its gone!
Poster Mockups – Studio Scene
Floral Mockups + Stationery Pack
Stationery Mockups – Corporate Pack
Logo Pin Enamel Mockup
Business Card Mockups
Poster Frame Mockups – Generator
Book Cover Mockups
Folded Paper Mockups
Patch Mockups + Embroidery Generator
iPhone 11 Mockups Pack
Glued Poster Mockups
Magazine Mockups
Moodboard Mockups Scene Creator
MacBook Mockups – Workspace Mockups
Canvas Mockups – Studio Scenes
Sign Mockups and Storefront Mockups
Vehicle Mockups – Car Mockups
Logo Mockup Bundle – Paper Print
Business Card Mockups Vol.1
Box Mockup Bundle – Mailing Box
Magazine Mockups Vol.1
Sticker Mockups – Shape Generator
Billboard Mockups + Banners & Signs
Can Mockups – Nature Scenes
Burger Mockups – Scene Creator
Stationery Mockups – Studio Scenes
Bottle Mockups – Beer, Soda, Yerba
Coffee Mockups – Scene Creator
iPhone 13 Pro Mockups + Case Mockups
Hardcover Book Mockups
Billboard Mockup – Scenes Creator
Macbook Pro 16 Mockups + Clay Style
Apparel Mockups – Scene Creator
Outline Device Mockups – Vector Pack
Badge Mockups – Packaging Creator
Sunlight Branding Mockups
City Billboard Mockups
Front View Branding Mockups
Outdoor Branding Mockups
Studio Branding Mockups
Branding Mockups Kit
Wine Mockups – Scene Creator
Device Mockups – iPhone and MacBook
Outdoor Apparel Mockups
Discount: 50% off just about all digital products in the shop.
Save 50% off on just about all RetrosSupply digital products including brushes, textures, fonts, and even bundles.
Plus, get FREE digital downloads and merch with each purchase. The more you spend the more free gifts you get.
They will have asale during Black Friday and Cyber Monday (and the days after) but it will not exceed what we offer now and the rewards will not be as big as the pre-BlackFriday deal.
The Futur have 25% off their whole catalog. Use coupon code 'THANKYOU' at checkout.
Download their LookBook as there are over 100+ pages of digital products, sample curriculums, exclusive insights, testimonials and more.
Attend their live events for 70% Flash Sales!
See our review of the best Futur courses and their official Black Friday sale here. M
Get 4 FREE weeks of Unlimited Classes from Skillshare. Learn a new skill today, enroll in a class from Skillshare.
If you want to level up your branding game, become in-demand brand strategist, and earn specialist fees, then now's the time to back yourself. I've reviewed this course in detail here, and it's my #1 recommended course on the topic of brand strategy.
You can also grab their Black Friday Super Bundle which combines Brand Master Secrets & Brand Master Workshops, featured below.
View all Brand Master Black Friday Deals.
The only program you need to run effective brand strategy workshops with your clients to develop strategies and brands they understand, feel connected to and believe in.
Exclusive 20% coupon discount available only to JUST Creative Insider subscribers.
An email will be sent out around Nov 23-25. Limited availability!
You can also grab their Black Friday Super Bundle which combines Brand Master Secrets & Brand Master Workshops.
View all Brand Master Black Friday Deals.
Save $501 on Michael Janda's Ultimate Freelance Course Bundle. And $150 off the Web Design Business Bootcamp.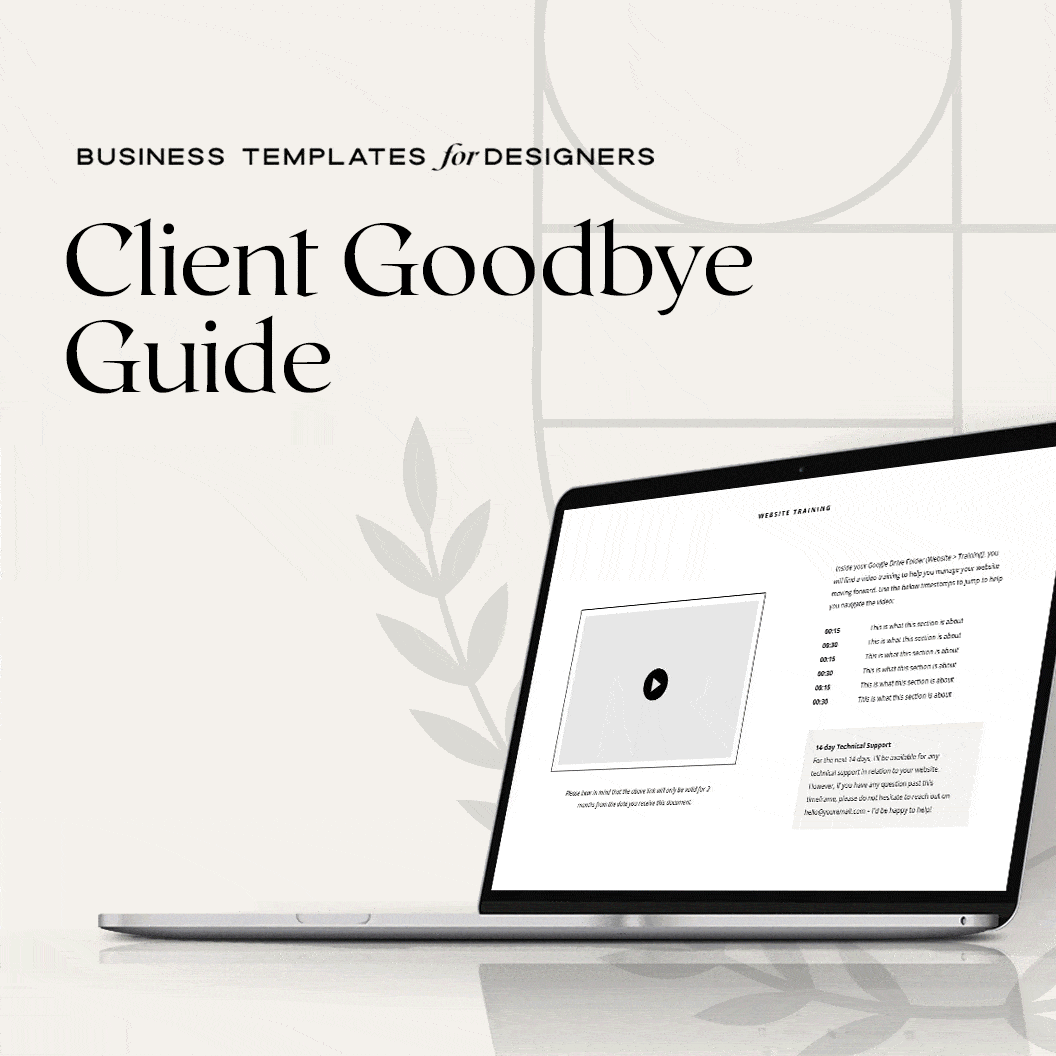 Looking for high-end business templates for your design business?
If so, you must check out the Designer's Business Bundle which saves $379 + a further 40% discount.
Use the code JUSTBF40 to get 40% off between November 23-27th.
The Designer Business Bundle
Discover the community's top-rated courses and choose 5 of your favorites to hone your skills alongside inspiring professionals and like-minded creatives.
This deal can get you 5 courses for around $49!

Use code BF40 at checkout. Ends Nov 27.
Notion Freelance Hub: A comprehensive tool for freelancers to manage projects, clients, and workflows.
Logo Presentation Deck: A template for presenting logos professionally to clients.
Stylescape & Moodboard Template: A resource for creating effective stylescapes and moodboards.
Brand Discovery Workshop Deck: A deck designed to facilitate brand discovery workshops.
Instagram Carousel Templates: Templates for creating engaging Instagram carousel posts.
Turbo Badge Logo Builder: A tool for designing and constructing badge logos.
Type Blaster Graphic Styles: A collection of graphic styles focused on typography.
Chalk & Charcoal Brushes: A set of brushes for digital artwork mimicking chalk and charcoal.
200 Grunge Textures: A vast collection of grunge textures for various design uses.
Adventure Logo Backpack: A resource pack for creating adventure-themed logos.
Client Welcome and Offboard Guide: Guides for onboarding and offboarding clients effectively.
Freelance Mastery: Skyrocket Your Design Biz: A course aimed at enhancing freelance design business skills.
AI Magic: Unlock Your Creativity with Midjourney, ChatGPT, and Adobe Firefly: A guide to leveraging AI tools in creative processes.
Brand Guideline Sheet: A template for creating concise and clear brand guidelines.
Capabilities Deck: A resource for showcasing a freelancer's skills and capabilities.
Brand Identity Design for Beginners: An introductory course on brand identity design.
Photoshop MasterClass for Graphic Designers: An advanced course for graphic designers to master Photoshop.
These resources span a range of topics relevant to branding, design, and freelancing, offering tools, templates, and educational content to enhance your skills and business processes.

Black Friday, a pivotal event in the retail calendar, offers an unparalleled opportunity for XPPen, a leader in digital graphics tablets and accessories.
So, creative professionals, digital artists, and hobbyists! Listen up, you can grab up to 25% off their range! Check out the graphic above for what you can save.
Valid Nov 11 to Nov 27 2023.
Dubsado – Business Management Solution
Dubsado is a business management solution designed to cut out the busywork. Build relationships, schedule appointments, and create workflows to streamline your projects from start to finish.
During this time, Dubsado's monthly rate will be $30 (reg. $35) and their yearly rate will be $300 (reg. $350). You must sign up for a paid plan during the sale time to lock in that rate. But guess what? Once you're signed up for a plan, you're locked into that rate forever, it will not go up!
Save 20% on Photos, Illustrations, and Video. Use promo code SAVE20.
15% off annual subscriptions for all customers with promo code ANNUAL15.
12% off everything for new customers with promo code 12NEWIS.
Blinkist is an app that summarises the key ideas from a bestselling nonfiction book in just 15 minutes.
You can get books in bitesize text form as well as audio which makes it easier than ever to find time to read.
You literally get the golden nuggets from each book, without all the reading.
It's genius and I've been loving it and wanted to share it with you!
I've outlined the best Blinkist book summaries for designers & creatives below, so you can listen to 20 top-selling books in a variety of categories in a fraction of the time.
And the best news is that you can get a Free 7 Day Trial! After that, it is $9.99/month. Also see our best Blinkist books for designers.
Click here for Blinkist's 60% off sale for Black Friday.
Get over 60 million stock photos, vectors, videos and music tracks from Shutterstock.
Get 25% off 750 image subscription plans or get 25% off any order with code 'SHARE25'.
NordVPN is the easiest to use VPN provider out there. You can watched previously banned TV from other parts of the world, while increasing your online privacy.
Get an exclusive 68% discount on a 3 Year Plan making it just $3 a month. Use code '3ydeal' to claim.
Cloudways is our recommended choice for SMBs managed hosting. It is a managed cloud hosting that enhances productivity and provides peace of mind. Just Creative readers save up to 40% off for 4 months of their hosting with a BFCM4030 code + 30 Free Migrations + an EXTRA $25 Hosting credit.
The discount is available between the 21st and the 28th of November.
Browse the MyFonts best sellers and special offers page and grab some great Black Friday deals.
BlueHost is our recommended web host for small to mid-sized businesses. Easy to use, great value, great support and our first choice for clients. Just Creative readers save up to 66% off their hosting and 50% off domain names. See our tutorial on how to set up your own website. See here for other top web hosts.
The Ultimate Logo Design eBook by Kyle Courtright is the "definitive guide to logo design". This eBook would go for $29 however you can get $10 (35% off) the book, making it just $19. This is your chance to up your logo & branding game – there really is no other resource like this. Use coupon code 'JUST10OFF' at checkout.
IconFinder – 5 Million Icons 70% Off
Get 70% off the first month or year on all Pro subscription plans, including access to millions of icons and thousands of illustrations.
Get 20% off Supercharge Design Courses, Tools & Resources
Check out their The Ultimate UI Design Mastery Bundle is one of the most comprehensive UI courses online with 30+ hours of video content, countless assignments, resources, cheat sheets, and even more upcoming materials that will be added. Plus their Advanced Figma Video Course and their Typography and Colors Masterclasses.
Get 50% off all marketplace items at FontBundles.net. Browse items.
Get Up to 60% off all TopazLabs products including Video AI, Photo AI, Gigapixel, Dense AI, Sharpen AI and more. Browse items.
November 15 – November 27
Master a new skill with an online course from Udemy for just $10-$15 which gives you up to 85% off any particular course!
Use BLACKFRIDAY22PP from 18 to 25 November 2023. And code CYBERMONDAY22PP from 27 – 28.
Get 30% off stock resources from CreativeMarket from Nov 17 until Dec 1.
Get 35% OFF your entire OptinMonster cart between November 21-30. Use code: BF2023.
Freshbooks online invoicing and accounting. FreshBooks plans will be 50% off for the first 3 months when new users skip the 30 day free trial period and opt to buy now.
Between November 13th to December 18th.
In a shopping mood? Check our feature on the best 101+ gifts for graphic designers and the best Christmas gift ideas for designers. Or the best gifts for writers and the best gifts for photographers.
More 2023 Black Friday & Cyber Monday Deals
I will update the deals below as they come in. If you have your own, please contact me.
Courses
Graphic Design Assets / Marketplaces
Mock Ups
PlaceIt – 40% Off – 25th Nov – 3rd Dec
Mockup – All-in-one online design platform – 70% OFF
MockPlus – Up to 70% off
Stock Photography
Design
Fonts
Icons
Hosting / Domains
Web Apps / Software / Services
BuddyBoss – Online Communities – 30% Off  Nov 25-30. Code: BLACKFRIDAY2023
HoneyBook all-in-one business management tool – 50% off first year. Coupon 'justcreative'
WPEngine – 5 months FREE on any annual shared plan at WP Engine. Coupon Code: cyberwknd30
NordVPN – VPN service – 75% off
Freshbooks online invoicing and accounting
BlogVault – WordPress backup, staging, migration & security. 40% Off. Nov 25-Nov 30
GravityForms – WordPress form plugin – 50% Off
WPManageNinja – Up to 50% off all plugins
AAWP – Amazon Affiliate Plugin – 30% Off – Code 'BLACKWEEK2023'
PDFLiner – Document management – 50% off Nov 26-29.
Rawsie – 20% Off with code BF22 – Reduce RAW file sizes by up to 80%
Writecream – AI content generator. Offer: $59. Nov 19-Dec 31
Linkz.ai – 50% off for 6 months. Code: BLACKCYBER2023
UXPressia – 30% Off – Visualize customer journeys, creating personas, and impact maps. Use code JUSTCREATIVE (Nov 10- 29).
SocialBee.io – 70% discount for 3 months. Social media management.
WP Hacked Help –  40% off – WordPress Cleanup & Security Deal. Coupon code: WPHH10 (Nov 25-Dec 31)
ReadyMag – 10-30% off – Website Design Tool (Nov 21-25)
Tidio – 16-20% off Customer Service Software / Chat bot (Nov 17-Dec 4)
Brand Style Guide Builder – Get 30% off until November 29 with code BF22 – Create an expert-level brand style guide with little effort.
Tagbox.io – 80% off BF deal for creatives – A Creative Asset Management platform – The deal will be up for 48- hours only, This Fri-Sat.
StatusGator – Monitoring – 20% Off. Use coupon BLACKFRIDAY2023. Valid 11 to 12 12.
Web Site Builders, Themes & Templates
Marketing
SmarterQueue – Social media scheduling tool – 30% Off – Nov 25-28
Lead Gen
Aweber – Email Marketing – 25% off for 1 year. 29th Nov to 2nd Dec.
OptinMonster – 35% Off. Use code: BF2023.
Other
Submit your own sale and I'll add it above.
Best Black Friday Laptop Deals for Designers in 2023
Looking to grab a laptop deal on Black Friday? Check out these posts:
Also check out the retailers below.
Black Friday & Cyber Monday Retail Links
The big boys will have some great deals too, see their quick links below.
Black Friday Deal Compilations
More 2023 Black Friday Deal Compilations coming soon.
You may be interested in Black Friday deals from 2021, 2020, 2019, 2018, 2017.
Frequently Asked Questions
Please share the love with your fellow designers!
Copy and paste the below to share:
2023 Black Friday & Cyber Monday deals for designers & web professionals! https://bit.ly/justbf2023 #BlackFriday2023 #CyberMonday via @justcreative
If you enjoyed this post, a share on your favorite platform would be appreciated!
Thanks!