If you're creating comic books or cartoons,  a natural choice with their bold designs are Comic Book & Cartoons Fonts, which are also a great choice for just about any design project.
For some time, Comic Sans was one of the few fonts you could choose for a project that needed a comic book look. Thanks to the internet, those limitations are a thing of the past. There are so many different options out there for any graphic designer looking for high-quality fonts that choosing the right one can get tough.

We've built our list of the Top Fonts for Comic Books and Cartoons to make this process easy so you can get back to exactly what you want to be doing: creating incredible artwork.
Cartoons and comic books can have very fond memories for many people. With our list of Comic Book Fonts and Cartoons Fonts, you can draw ahead!
30+ Best Comic Book & Cartoons Fonts (Free & Paid)
---
BEST COMIC BOOK AND CARTOON FONTS – UNLIMITED DOWNLOADS: 50 Million+ Fonts & Design Assets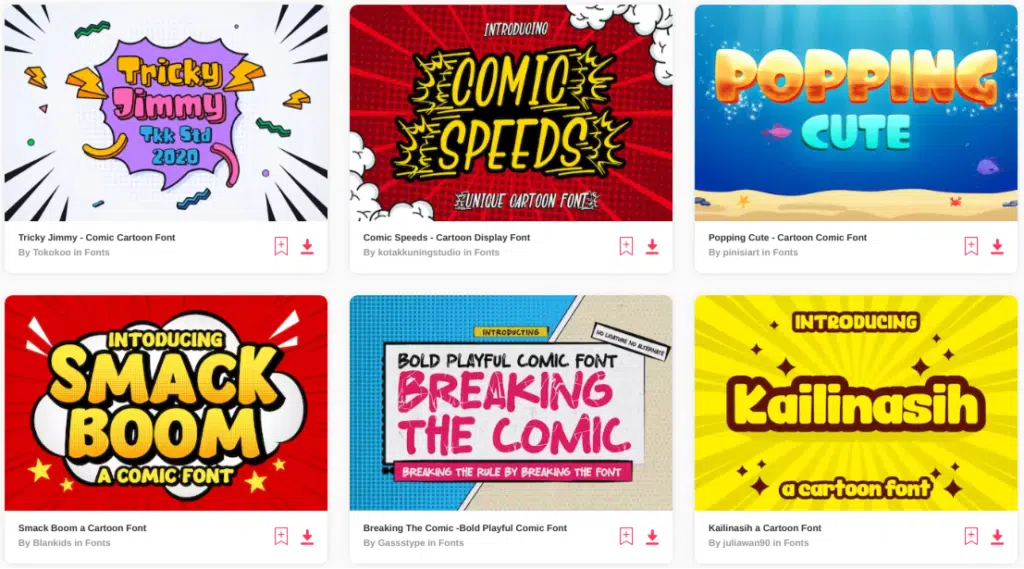 Download all the Comic Book and Cartoon Fonts you need and many other design elements, available for a monthly subscription by subscribing to Envato Elements. The subscription costs $16.50 per month and gives you unlimited access to a massive and growing library of over 50 million items that can be downloaded as often as you need (stock effect & element packs too)!
---
30+ Best Free Fonts for Comic Books & Cartoons
Bruteforce is a comic display font that looks straightforward in a comic way. This gives strength to your designs with its heavy-looking letters. It works well with movie titles, posters, youtube covers, and media posts.
If you are searching for a display font for your comic and cartoon designs, then Crushy Blacky display fonts are for you. These fonts come with fun and playful looks comes with cartoon illustrations as a bonus. 
These are ideal for cartoon books, cartoons, story books, and children-themed projects. These are also ideal for magazines, books, greetings, wedding cards, packaging, fashion, stationery, novels, labels, or any type of advertising purpose. To access this font which includes ligatures, stylish alternates, and illustrations it requires a software program such as Adobe apps and Corel Draw. 
If you are searching for handwritten cartoon font to add a more realistic effect to your designs, Dirty Cartoon Font is a perfect choice. This hand-drawn typeface comes in four different variations to make it easy to use and recolor. It also includes a vector illustration of a baseball player girl as a bonus along with fonts. 
It is an ideal choice for cartoons, kids' magazines, greeting cards, event posters, and kids fun themed projects. While considering the compatibility for alternates, ligatures, and more it requires InDesign, Inkscape, Adobe Photoshop CS3, Adobe Illustrator Version CS3, and higher versions of the same. 
For a funny and playful look in your designs Coral Candy the bold and playful display font helps you. This is especially designed for cartoon or child-themed projects. It is versatile enough to use on projects such as invitations, labels, logos, magazines, books, greetings, wedding cards, and even labels. 
Along with upper, and lowercase letters, it also includes numbers, punctuations, and ligatures. It also has OpenType features and glyph panels. It is compatible with only AdobeShop to access all OpenType features and glyphs. 
Kelpo is a groovy retro font that gives a cartoonish and groovy feel to your designs. It was designed out of explorations inspired by 70's retro style and pop culture visual design. With a strong bold character and groovy style, it helps in taking back to the 70s feel in designs. 
It comes with 59 beautiful alternates in four stylistic sets. It is perfect when used for headings, logotypes, quotes, apparel designs, posters, flyers, packaging, book cover, and more. While talking about uppercase and lowercase letters, in addition to these it also includes numbers, ligatures, and alternatives. It also supports multiple languages of Central/Eastern Europe, English, and Western Europe. 
---
Top  30 Best Fonts for Comic Books and Cartoons (Free & Paid)
Growing up, many of us fell in love with the action, the art, and the stories that we ate up from every comic book we read or cartoon we watched. With our list of the Top Fonts for Comic Books and Cartoons, the only limit to how you can use these fonts is your own imagination!
---
Best Fonts for Graphic Design