Settling on the best way to download Adobe Animate can be a challenge. There are so many options available but so many malicious, pirated sites.
And knowing the best price of Animate, and whether it's the right software for you, can be equally tough. Luckily, we're here to cover everything you need to know about Adobe Animate.

If you don't know how to get discounts have a look at our Adobe Creative Cloud discount guide.
How to download Animate CC?
So how do you download Animate CC? Downloading Animate may seem straightforward, but with the wide range of subscriptions available on Adobe CC (see the complete Adobe software list here), it is easy to feel overwhelmed or confused.
Also, the many pricing options available can make you miss some of the best deals out there. But not to worry, we'll help make things easy for you.
If you're looking for a laptop to use with Adobe Animate, the Asus Zenbook Pro Duo is one of the best choices to work with. We'd highly recommend this laptop for its impressive rendering capability.
What is Adobe Animate CC used for?
Adobe Animate is a 2D and 3D animation and multimedia authoring software. This software is great for working on animation and vector graphics for TV shows, websites, and commercials, and it even has great animation tools to build game environments.
This app can also help you design interactive animation, assets design for coding, and with the new update, it's great for quick publishing to multiple platforms. Animate is perfect for creating interactive web content and implementing motion graphics as well.
Even though there's still some confusion about how it differs from its predecessor, Adobe Flash, Animate makes use of web-standard animation and offers several Adobe Flash features. Other than this, the Animate script allows users to create animations with playback control and complex interactivity.
Much like most Adobe software, you'll find it has a bit of a learning curve. But when compared to more complex apps like Adobe After Effects, it is less of a consideration.
If interested, you can also have a look at our articles on how to download Premiere Pro and how to download After Effects. Or other animation software here.
Adobe has also released its AI art generator, Adobe Firefly which will allow you to edit videos and animations with everyday language. See our Adobe Firefly review here.
How to Download Adobe Animate CC or Subscribe with Creative Cloud Overview
How to download Adobe Animate free
How to buy Animate CC
Price of Animate CC
Adobe Animate student discounts
How to get an Adobe Animate discount
How to get started with Animate
What you need to know about Animate
Adobe Animate alternatives
Can I Download Adobe Animate for Free?
Surprisingly, despite what you might have read — you CAN, in fact, download Adobe Animate CC for free!
How do you go about this? Well, Adobe offers a 7-day trial version for Adobe Animate. This fully updated Animate download is free for the given trial period and is the best way to find out if the software works for you.
However, there are also several pirated versions of this software on the internet. We strongly recommend against these versions as they are illegal to use and can cause your system serious harm.
When downloaded, a lot of this software, hosted by illicit websites, gives way to malware and viruses. This malware infects your system, destroying important programs and stored data.
And some malware can enable hackers to steal your identity and payment details. And to top it all off, the legal consequences can lead to being banned from Adobe for life — disastrous for any designer.
How to download Adobe Animate free of cost
To download Animate free, you can visit the Adobe CC website and click on the "Try for free" option available on the Animate page to get a free download.
Next, enter your payment (credit card) details. Now, you're ready to download the free trial version.
So, as long as you cancel the subscription before the trial period ends, you won't spend a cent. But if you choose to continue the subscription, you can allow the payment to go through for your new plan.
How Do I Buy Animate CC?
One way to gain access to Animate after the 7-day free trial period is to purchase a monthly or annual subscription plan.
You can choose from three pricing plans, the first one being the most affordable plan, while the 2nd and 3rd options have added value and cost more.
Read through the plans listed below and choose the plan that best suits your needs.
How Much Does Animate Cost?
How much is Adobe Animate? For Adobe Animate, your most affordable option would be the Individual Plan that costs $20.99 per month. This plan is the best basic option and the best choice for those with a limited budget.
The second plan comes along with Adobe Stock; an excellent source for royalty-free images, videos, and vectors. This may be more significant than it sounds!
Stock CC is a great way to enhance your overall design and animation with brilliant image and video sources and costs $29.99 per month.
What is the Adobe All Apps Plan?
The third and most expensive plan is the All Apps plan, which comes with over 20+ applications. Priced at $52.99 per month, this plan offers the most value by far. You'll gain access to popular Adobe desktop and mobile apps that include Photoshop, InDesign, and Illustrator, among others.
With the All Apps plan, you'll be able to make use of more niche software like Adobe After Effects, Dreamweaver, and Animate. And, you also get 100GB of cloud storage and access to helpful software like Adobe Fonts and Portfolio, which can be useful for various design projects.
Adobe Animate CC Student Discount
If you're a student or teacher, you're in luck! You can purchase Animate as part of a discounted "All Apps Student Plan" at a much lower price.
Using this plan, you will get the entire Creative Cloud All Apps plan, plus 100GB cloud storage, Adobe Portfolio, Adobe Spark, and Adobe Fonts for just $19.99 per month for the first year.
To meet the criteria for the student discount, a student must be at least 13 years of age and enrolled in an accredited institution or homeschool program. The student must also have valid proof of ID for verification.
Eligible teachers must be employed by an accredited institution or meet the criteria for homeschool teachers and have valid ID proof of employment.
Adobe Creative Cloud Student Discount FAQs
How do you qualify for an Adobe student discount? 
To qualify for the student discount, you need to be a student, full-time or part-time, over the age of 13, and enrolled in an accredited institution or homeschool. Again, the student will need proof of ID as verification of attendance at an accredited academic institution.
Who can get the Adobe Students and Teachers discount?
If you're a student or teacher, you can get up to 60-70% off the actual price! To get this discount, you'll need to apply for it on the Adobe CC website and provide proof of your enrollment or employment.
That said, if you don't fall under either category, you can easily become a student to take advantage of this offer. How can you do this? Just follow the steps below.
Become a Student And Save
Sign up for the Adobe Certified LogoCore Logo Design Course (around $80) to meet the criteria for the student discount.
After registration, you will be eligible for the Creative Cloud discount of 60-70% off for one year, saving you over $400.
Just go to the Adobe student discount page to make use of the offer.
Can students download Adobe CC for free?
Unfortunately, students cannot download Adobe CC for free. However, they can get up to 60-70% off the original price — saving a few hundred dollars.
Adobe Animate Discount for Individuals
Adobe's student discount is most likely your best option; however, individuals can still save around 35% off the regular plan.
How do you get an Adobe discount for individuals? Individuals can prepay for an entire year in advance and save up to 35%, amounting to a few hundred dollars.
And, with the pre-payment, you will get Adobe Stock free for one month plus ten premium photos.
How to get the Best Creative Cloud Discounts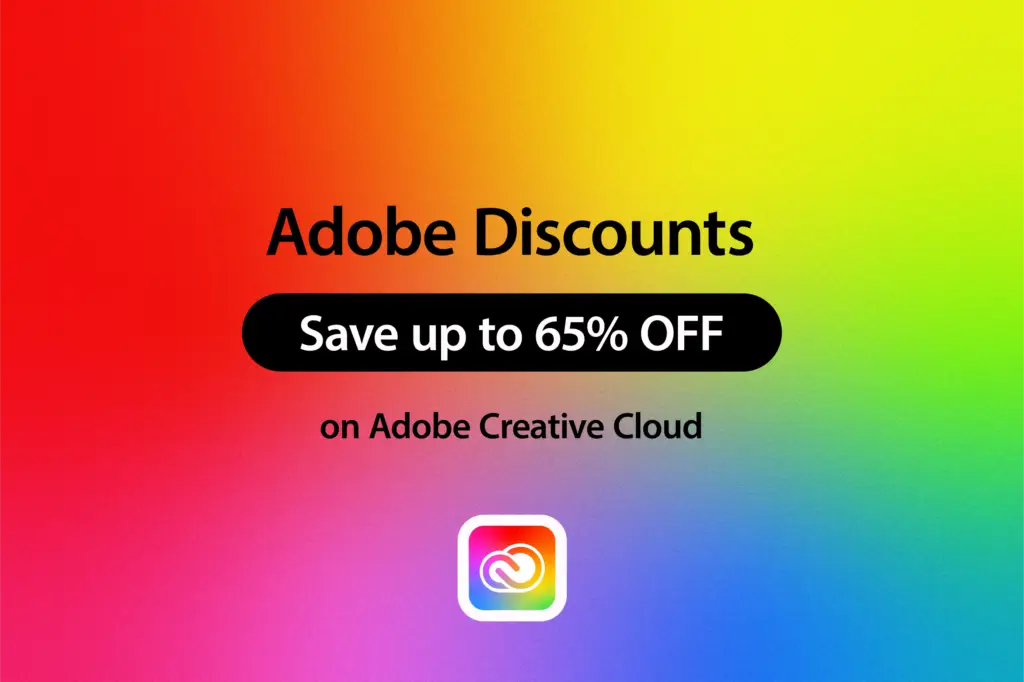 Want to learn more about how you can get the best Creative Cloud discount?
To get the best discounts on Adobe CC, be sure to follow partners and industry experts (like Just Creative). They are usually the first to know about Adobe's latest offers and promote them on their sales pages.
From experience, Adobe Creative Cloud has discount sales every 3-5 months and for 3-5 days at a time.
If you want to know more about these offers, check the official Adobe coupons, promos, discounts, and special offers page.
About Adobe Animate: What You Should Know
Adobe Animate CC, originally developed as FutureSplash Animator by Futurewave Software, was only acquired by Adobe in 2005. Even though initially released as Adobe Flash in 2016, Adobe discontinued Flash and released Adobe Animate CC to move toward more web-standard animation and multimedia authoring content solutions. This animation software is great for 2D and 3D animation and creates interactive content, much like Flash.
You can export many of your working files in Animate in a variety of file formats like SVG, HTML5, SWF, WebGL, and Adobe Air formats, It also comes with unique features like an Animate camera, advanced rigging for animation, and you can even customize the brush texture and size.
that said, unlike After Effects, Animate is easier to pick up and allows you to export any of your work to After Effects for post-production. Other than vector graphics, this program also supports rich text, raster graphics, and even ActionScript 3.0.
How To Get Started With Animate?
After you download Adobe Animate, we recommend you go through the Animate starting guide by Adobe. Working with animation software can be intimidating if you aren't aware of all its features. Things like Animate script are a great way to have more complex interactivity and playback control to your animations and the guide can help you with this.
The Animate starting guide is accessible to everyone and is one of the best ways to learn all the tricks and features of the software. If you are an experienced user, you can improve your animation skills and enhance your overall creativity.
Adobe Animate Features
Adobe Animate CC comes with the integration of Typekit, where you have access to countless premium web fonts. These web fonts are present for any HTML5 canvas documents in the tool. Users may pick from several of high-quality fonts through an Adobe Creative Cloud or Adobe Fonts subscription plan.
With Adobe Animate users, you may effortlessly execute panning, zooming, and rotating to your animations. Using the virtual camera in Animate CC, you may add more dramatic effects while creating an animation.
Pan the Timeline via the hand tool from the toolbar and sync audio
The timeline feature tool allows users to sync audios in their animation, making creating and producing animation videos easier. This is another feature on Adobe Animate that allows users efficiently to select sections on the timeline and sync them with audio.
Adobe Animate gives the opportunity to create vector brushes. With this feature, vector brush tools now have pressure and tilt functionality when drawing lines and strokes with the help of a pen or a stylus.
In order to export the animated projects, Animate has adapted web standards. This feature will allow people to view the project easily from mobiles and desktops. It allows exporting files in HTML5 Canva, WebGL, etc. easily.
Animate Alternatives
When purchasing new software, it's important to know what you're paying for. Knowing the Adobe Animate price, and the cost of its alternatives can help you decide whether you feel it's the right product for you.
Some great alternatives to Adobe include Toon Boom Harmony, Krita, Synfig Studio, Blender, and Wick Editor.
While the software mentioned above can be great alternatives to Animate, they don't offer the same level of integration as other Adobe applications. is Adobe animate a good software? Yes! But deciding whether it's the best depends entirely on what you're looking for.
Adobe Animate — Pros and Cons
For those of you curious about what Adobe Animate has to offer as software, we've gone ahead and listed a couple of pros and cons.
| | |
| --- | --- |
| Pros | Cons |
| ➕ Audio Syncing allows users to easily sync their animated videos to audio files | ➖ Due to the heavy nature of animation and Battery utilization |
| ➕ Ability to make animated elements | ➖ Limited capabilities |
| ➕ Modern Timeline | |
| ➕ Integration with other Adobe programs | |
| ➕ Using Vector Brushes users can create and customize characters directly Adobe Animate and animate the directly from the application | |
System Requirements for Adobe Animate
System Requirements – Windows

Minimum
Recommended
RAM: 16 GB
RAM: 32 GB
Processor: AMD Quad-Core or Intel Processor
Processor: Any 8 Core Processor or Above
Hard Disk Space: 15GB
Hard Disk Space: 64GB for cache
GPU: 2 GB VRAM
GPU: 4GB or more
Operating system: At least Microsoft Windows 10 (64 bit)

System Requirements – mac OS

Minimum
Recommended
RAM: 16 GB
RAM: 32 GB
Processor: AMD Quad-Core or Intel Processor
Processor: Any 8 Core Processor or Above
Hard Disk Space:
Hard Disk Space:
GPU: 2 GB VRAM
GPU: 4GB or more
Operating system:  macOS versions 10.15 or later
Frequently Asked Questions
How do I get a free Animate download?
You can get a free download by visiting the Adobe CC website and downloading the 7-day free trial.
What is the difference between Adobe After Effects and Animate?
While both After Effects and Animate are creative apps, Animate can frame animation, design interactive content for games, and design animations for websites, games, television, and even movies. But After Effects is a VFX post-production tool, used to integrate animation elements with existing videos, and to layer and implement visual effects.
Is Adobe Animate free for students?
No, but students can get a 60-70% discount on the software.
What is Adobe Animate Crack?
It is an illegally pirated version of the software that can lead to viruses and malware, not to mention legal consequences for the user.
How much does Adobe Animate cost?
Depending on the plan you opt for, Adobe Animate costs $19.99, $29.99, and $52.99 per month.
Is Adobe Animate good for 3D animation?
Yes! Animate CC works great for both 2D and 3D animation.
What are the required specs to run Adobe Animate?
For Windows OS, the system requirements include Windows 10 v1809 (64 bit) or for Mac operating systems, macOS X v10.14 or higher.
When it comes to RAM, the bare minimum requirement is 8GB. However, to ensure the software runs smoothly, we recommend using 16GB RAM. Other than this, internet and GPU drivers from after 2014 are the bare minimum.
Is Adobe Animate CC difficult to learn?
Even though Animate CC has a slight learning curve, the tutorials from Adobe will give you the help you need.
Where to download Animate?
Adobe Animate is one of the best apps for animation 2D and 3D animation, as well as, any animation effects that your website, film, or videogame might require. If interested, you can download Animate free for 7 days by clicking on the button below.
That said, you now know everything you need to know about how to download Animate. You're well on your way to making the right decision for you!
---
Related Posts