When you're ready to release your next big hit, consider Adobe Audition, one of the best professional audio editors.
But what is it? How do you download Adobe Audition free? You can find it all here in our comprehensive Adobe Audition guide.

How to Download Audition Free 2023
To cut to the chase, Adobe Audition can be downloaded for free from Adobe's website.
You will be excited to know that Adobe Audition is available for free for a full seven days using their trial.
Once the trial period is over, you need to go in for the subscription plan that is available, with the pricing outlined below.
Or follow our guide on how to cancel your Adobe subscription.
What is Adobe Audition?
Adobe Audition software is a self-sufficient audio editing software that allows you to edit and add mixing effects to the Audio. It is an excellent multi-track audio recorder available for Windows. When used with the Windows sound card the audio produced through this gives a complete vibrating digital experience to you.
Not only a digital experience you can also design and edit your audio according to your requirements. If you are a person who has an addiction to music and creating your remixes of the songs that are available you need Adobe Audition.
This powerful tool helps you to design to speed up the video production workflow with fine-tuned audio thereby delivering a mix of good video and sound.
Why do you need an Adobe Audition? Because if you want to edit and mix effects on the audio which is already there. At the same time, you can also use it to create your version of the audio. In short, it is your original music that can be created.
It is designed in such a way that works in a video production house is completed in a fast-paced manner. It is suitable for Musicians, Podcasters, and people who are interested in mixing various forms of music.
It also helps to mix the video with perfect audio finishing to deliver a polished mix with pristine sound.
Adobe Audition is a Digital Audio Workstation that is used to record and edit audio. It is audio editing software that provides you with a non-destructive form of editing.
What that means is that no matter how many edits you make to the file, the original content will not be modified. So, if you don't like the end product of your editing, you can always revert back to the original file. 
It also has specialized tools for cleaning and restoring audio. These can be very useful when you want to create high-quality audio for your projects.
How to Download Adobe Audition Free and Subscribe With Creative Cloud
Here is an overview of what you will find in this article.
How to download Adobe Audition for Free
How to buy Adobe Audition
Price of Adobe Audition
Adobe Audition Student Discounts
How to get Adobe Audition Discount
How to Get Started with Adobe Audition
What you need to know about Adobe Audition
Features of Adobe Audition
Pros and Cons of Adobe Audition
Adobe Audition Alternatives
Can I Download Adobe Audition for Free?
Absolutely, you can download Adobe Audition free for a trial period of seven days. You will be happy to know that the free trial consists of all the features and updates of the latest version.
The trial version has the latest features of Adobe Audition. You can check out the software beforehand during this time and make a decision as to whether to buy the software for free or not.
How Much Does Adobe Audition Cost?
You can buy the Adobe Audition as a single software package for US$20.99 per month, in case if you are going in for the yearly subscription. And it sums to around US$251.88 per annum.
If you want to avail of the Audition software upfront for a whole year, you can also go in for a much cheaper plan of  US$239.88 per annum. In that case, you need to pay the whole amount at a stretch.
But in case if you just want the Audition software only for fun or for your personal use, you can also avail of the software only for a few months, for that you need to pay US$31.49 per month.
Whichever plan you have decided to take from the above, you will be happy to know that you can avail yourself of free cloud storage of 100GB. The software is available for Desktop use alone.
What is the Adobe 'All Apps' Plan?
The Adobe All Apps plan is available for US$52.99 per month in case if you are planning to take the subscription for one whole year. You can also avail of the yearly subscription by directly paying US$599.88.
If you want to take the subscription only for a few months, Adobe also provides you with the flexibility of availing of the subscription for one month alone by paying US$79.49 per month.
The full version of Adobe Audition is a paid service with which you can create branded stories with your designs, fonts, and colors. It is included with every Adobe Creative Cloud plan. You can see the full Adobe software list here.
We'd recommend you to go in for the yearly subscription as you can avail yourself of the advantage of the entire Adobe applications available. At the same time, it also provides you the flexibility to pay every month.
Adobe Audition Discount for Individuals
If you are not a student or a teacher. Neither you want to go in for the LogoCore course, then in that case you have the option of going in for a subscription plan given.
Adobe Audition is available as a single application for US$20.99 per month. You can also buy it as a part of the Creative Cloud applications for US$52.99 per month.
Adobe Audition Student Discount
Students and Teachers can avail discount on this software. You can purchase the Student and Teacher's editions directly from Adobe.com or Adobe resellers.
Adobe also provides discounts based on the Creative Cloud plan. The discount is mainly for students and university staff who were enrolled. After a student gets graduated from school, he or she does have one more year as a grace period to avail of the discount.
They also receive a notification mail about the price increase thirty days before the contract renewal. The notification includes the upgraded date and price. It also lists the education status link to confirm the student status and the link to account management where the subscription is managed.
But to avail of these discounts, there is a certain criterion that needs to be fulfilled.
Adobe Creative Cloud Student Discount FAQ
Is Adobe free for students?
Students don't get Adobe for free but they can save up to 65% on Adobe's plans which is their best deal right now.
Is there is an Adobe student discount after graduation?
After you graduate you can keep Adobe Creative Cloud for a "year grace period" as specified by Adobe:
"Graduated students will receive an email notification about the upcoming price increase thirty days before the contract renewal date. If the education status is not verified after the grace year, the subscription is upgraded to a higher non-education price on the contract renewal date."
If you are a student in your school or college, Adobe gives you the advantage of availing of certain discounts. You will be delighted to know that the students are charged at around US$19.99 per month or US$239.88 per annum.
Become a Student and Save
Given all the options above, if you do not fall under any of the categories, you can still become a student by making use of the offer mentioned below.
You need to sign for the Adobe Certified LogoCore Logo Design Course that comes to $80 and the course lasts for 13 hours. You can avail a flat 65% discount on Adobe's Creative Cloud that comes to around $385 per annum.
How to get the best Adobe Creative Cloud Discount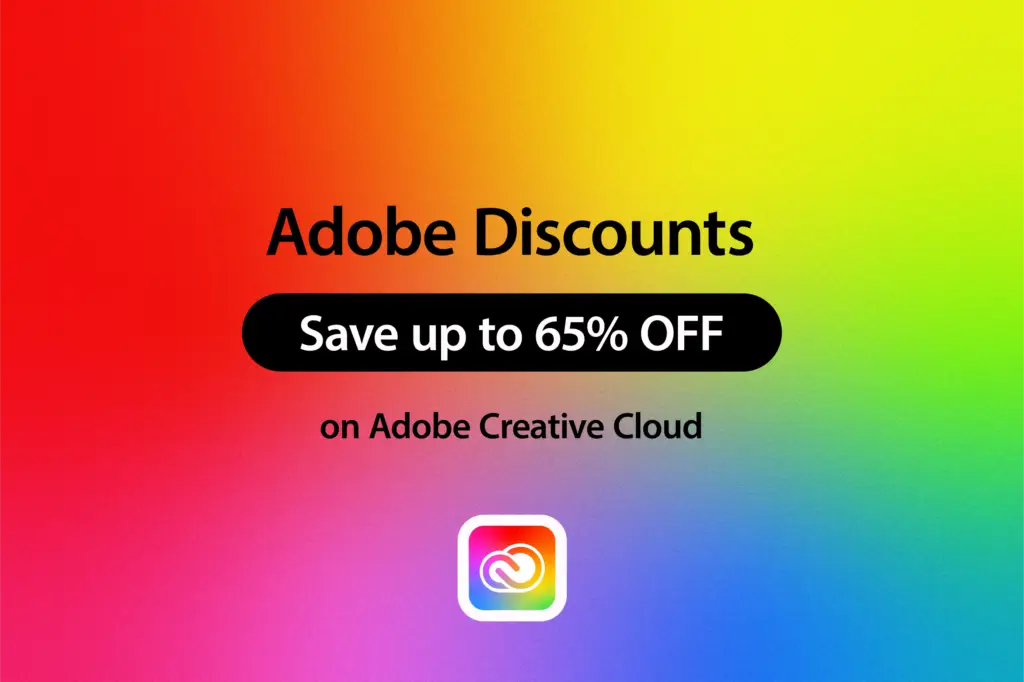 Are you wondering how to get a discount on the full Adobe Creative Cloud?
The best way to get discounts on Adobe CC subscriptions is to follow industry influencers & partners (such as Just Creative) as they will promote the sales as soon as they are available and share them on our Adobe Creative Cloud sales page.
From past experience, Adobe Creative Cloud have discount sales every 3-5 months and for 3-5 days at a time.
You could also check the official Adobe coupons, promos, discounts and special offers page.
Getting Started with Adobe Audition
Adobe has a guide to help you to get started. Adobe Audition has its own nuances which have been summarized in a manual by Adobe. This manual will be helpful for you to get started with various tips and tricks to start with Audition.
You need to set up your microphone and it needs to be plugged in to work with Adobe Audition. Configure the microphone properly by clicking the Audio Hardware option under the Preference sub-menu. Hit the red record button to record basic audio. This recording will help you decide the optimal level of the microphone. Increase or decrease the input gain level based on your requirements. Adjust the voice level in such a way that is neither quiet nor loud.
To stop a recording, click the stop button on press the spacebar on your keyboard. Wow! Now, you have a recording with you.
Editing Environments in Audition
Adobe Audition has two types of editing environments. They are Multitrack and Waveform.
Multitrack offers a non-destructive workspace, where you can arrange new or imported files on a timeline. This particular option does not make any changes to the original file. The changes you make to the file appear as a new one. The good part of it is the original form is been retained.
Multitrack editor changes the pieces, modifies the timing, and also adjusts the loudness levels for each audio until they are perfect. Finally, the audio file is given in the form of WAV or MP3. The workflow makes changes to the existing media file and recreates a new file. The original file remains the same.
Waveform view on the contrary is a destructive form of editing. The changes to the file you make in the Waveform view get saved automatically. In other words, you are usually overwriting the content you have edited. This kind of editing environment is useful whenever you want to edit any part of the audio that has got certain disturbances in it.
When you make changes to the audio file, you will be making changes to the original content of the file. This form of editing is useful for simple editing or converting sound files from Stereo to Mono.
Minimum System Requirements for Adobe Audition
The minimum system requirements for the software for Windows
| | |
| --- | --- |
| Operating System | Windows 10 v1903 or higher |
| RAM | 4 GB |
| Hard Disk Space | 4 GB of hard disk space for installation and additional disk space is also required (The software cannot be installed on removable flash storage devices) |
| Monitor Resolution | 1920×1080 or larger display |
| Processor | Multicore processor with 64-bit support |
FAQs
Is Adobe Audition available for free?
Adobe Audition is available for free only for a 7-day trial version. After that, you need to go in for the available subscription packages.
How to download Adobe Audition?
What is Destructive and Non-Destructive Waveform editing?
Destructive editing is when you edit the original form of the audio completely and you cannot alter the audio at a later time. Simply speaking you cannot undo whatever has been done. On the contrary Non-destructive form of editing does not alter the original form of the audio. It recreates it in another file altogether with the changes that have been done.
Does Adobe provide any software like the Garageband?
Yes, of course. Adobe Audition is more professional software that is used with a wide range of effects and tools.
Can you create a new form of music with Adobe Audition?
Yes. you can create new music with complex compositions from various forms of musical instruments. Before that, you need to get to know about the two types of Audition modes that are available: Waveform and Multitrack.
Who is a Melomaniac?
A Melomaniac is a person who has an abnormal fondness for music.
Is Adobe Audition worth it?
Yes, they are. Audition works excellently in post-production. It also works as a Digital Audio Workstation (DAW), but it is limited in feature due to its lack of composition tools.
Can I Download Adobe Audition for free?
Adobe Audition is available for free for a trial period of seven days.
Adobe Audition: What You Should Know
Adobe Audition is an exemplary software created by Adobe. If you are a music geek or a person who is a melomaniac or a person who loves to experiment with various forms of mixing music, then Adobe Audition is the perfect choice for you. It is a full fledges Digital Workstation that can be used by both Audio professionals and music lovers.
Features of Adobe Audition
Adobe Audition is a unique audio-editing program that helps you edit and apply effects to your audio. The unique features that this software has are listed below:
Unified Version Numbers
All the Adobe video and audio applications are aligned to version number 22.0. When you have consistent version numbering, you will simplify updating and collaboration.
Audition on Apple M1
Audition now runs on Apple M1 systems. This provides improved performance for recording and mixing audio content. Notable features include faster mixdowns and also audio effects rendering. You can even do real-time updates using the Spectral Display editor. 
It's also noteworthy that Audio Effects can be faster used on multiple platforms. This becomes very convenient if you're working with a team that uses different operating systems.
Strip Silence Feature
Strip Silence feature helps you remove inactive regions in recorded clips without losing the original synchronization. This feature is useful in cleaning voice recording, interviews, and also in preparing multi-track audio. 
Multitrack Recording
Multitrack recording helps to record multiple tracks with separate microphones. This can give you a lot of flexibility and control especially if you're conducting an interview with multiple people.
Pros and Cons of Adobe Audition
| | |
| --- | --- |
| Pros | Cons |
| ➕ Complete audio editing solution | ➖ Expensive monthly subscription |
| ➕ Easy to use | ➖ Lack of features compared to other solutions |
| ➕ Customer support is available | |
| ➕ Leader in podcast recording software | |
Adobe Audition Alternatives
Whether you are a professional are an amateur in the field of music and recording, Adobe Audition can take you to greater heights.
Although Audition is a digital toolset that includes multitrack, waveform, and spectacular display to create, mix and edit audio content. There are various software that can be used as an alternate to Adobe Audition. You might want to try out some of the other software if they suit you better. If curious, some of them are Audacity, GarageBand, and Sound Forge.
Audacity: Audacity is a digital audio editor and application software available for Windows and other Operating Systems. Audacity is an amazing free audio recording and editing software.
GarageBand: It is one of the most popular names when it comes to 'Digital Audio Workstations' DAWs. It is designed for macintosh platforms. It has a complete sound library that also includes the use of certain instruments.
Sound Forge: Sound Forge is an audio editing platform for recording and editing audio. This software enables hi-resolution audio recording. You can also convert audio files and customize user interfaces.
Related Posts
Related Adobe Download Guides

Where to Download Adobe Audition?
Whether you're a professional music lover or a hobbyist looking to try some new tools, Adobe Audition can offer a wide range of features that will help take any creation to new heights.
We hope you have enjoyed our guide on How to download Adobe Audition free or Subscribe with Creative Cloud.