When it comes to software for photorealistic images, most people choose to download Adobe Dimension.
Despite being one of Adobe's first 3D software, Dimension is one of the most popular tools for designing photorealistic images and products. But before we take a deeper look, is it the right fit for you?
If you're just getting into 3D design, you might not be aware of how much Adobe Dimension costs, its system requirements, and what the best deals are right now.
With the several options available and the various payment plans, you should know what you're getting into. We can help bring you up to speed.
What is Adobe Dimension?
Adobe Dimension is photorealistic design software that designers can use to render 3D images and scenes. This 3D software is most suitable for advertising and product design. It is also good for mock-ups or any other 3D creative projects you're working on.
For 3D software tools, Adobe Dimension is one of the most straightforward to use, as it hinges most on 3D models and images. With Dimension, you can select your surface, material, and even set the lighting and reflection on your 3D model based on the background image you import. Unlike Adobe Substance 3D, Dimension is part of the All Apps package and not an additional purchase.
So for well-rounded 3D design software, Dimension is one of the best ones out there. To learn more about some of Adobe's best software, you can review our complete Adobe software list.
What is the difference between Adobe Dimension and Adobe Substance 3D?
Adobe Substance 3D is a group of applications with niche functions, whereas Adobe Dimension is a straightforward 3D rendering tool.
And with Dimension, you can render 3D product mock-ups as well as fulfill other 3D requirements—provided you have 3D models and images for developing into realistic renderings.
Adobe Substance 3D is a collection of more nuanced 3D applications like 3D Painter, Designer, Sampler, and Stager. These applications are used to create, develop, stage, and paint 3D objects and scenes.
One convenient feature is that files from Substance 3D can also be imported to Dimension CC and other Adobe applications.  And after this, they can be implemented or reworked to create a finished design, as suited to your design requirements.
if you're interested in 3D design, we'd recommend you read our article on how to download Adobe Substance 3D. And read How to Download Adobe Animate for 3D animation.
How do you download Adobe Dimension?
Downloading Adobe Dimension, although straightforward, will require you to choose from a wide range of subscription plans. If you're unaware of the many offers out there, you might end up either overpaying for more than you need or stinting yourself with a plan that is insufficient for your creative needs.
There are a couple of other details you'll need to keep in mind, but worry not! We'll get to those in detail below.
How to Download Adobe Dimension Free or Subscribe with Creative Cloud
Here's an overview of what you will find in this article:
How to download Adobe Dimension free
How to buy Dimension CC
Price of Dimension CC
Adobe Dimension student discounts
How to get an Adobe Dimension discount
How to get started with Dimension CC
What you need to know about Dimension
Dimension CC alternatives
Can I Download Adobe Dimension for Free?
Believe it or not, you actually can get Adobe Dimension for free. How?
Well, Adobe lets users use the full version of Dimension free for a 7-day trial period. You can try out the software and see whether you want to use it regularly.
Also, pirated denotes illegal but I left it because I like the emphasis – up to you.
This route is the safe and legal way for you to test out the software. That said, you'll find other websites offering free versions, but they are pirated, illegal, and we strongly advise against using them. Why?
Even if pirated software seems a good idea to you, we encourage you to think again. Once downloaded to your system, it can infect it with malware and viruses that can permanently damage and corrupt valuable files. Not only that, malware can steal your sensitive information like your credit card details, social security number, and even your identity. For a host of reasons, we recommend staying away from those sites.
What is a Dimension Crack Version? 
A crack version is an illegal version of the software found on pirated sites. As noted, it is illegal to install this kind of software, and it opens users to legal repercussions, including being banned from Adobe for life, disastrous for any serious designer.
Said and done, the 7-day free trial version is the only way to try out the software legally and free of charge.
How to download Dimension CC for free
The only way to download a free version of Dimension CC is to visit the Adobe CC website and click on the 'Try for free' option on the Dimension page.
You will then see a prompt to enter your payment details (credit card). After you enter your payment info, you can download Dimension for free.
Will Adobe charge your card? No, provided you cancel your subscription before the trial period ends, you won't pay a cent.
However, should you choose not to cancel your subscription before the last day of the trial period, you will receive a charge for the regular subscription fees. If you still want to cancel, you can ask Adobe for a refund, but it will need to be within 14 days of the date your subscription started.
How Do I Buy Dimension CC?
If you're interested in Dimension CC but aren't sure where to buy it, we'll explain where and what to do below.
Other than allowing your membership to resume after the 7-day free trial period, the most only way to buy Dimension CC is through the Creative Cloud website.
Unlike the other Adobe Applications, Dimension CC can only be purchased through the 'All Apps' plan, which means you get to enjoy over +20 apps alongside the Adobe application.
The 'All Apps' plan can be purchased from the Creative Cloud website for the price of $52.99. This plan comes with over 20+ creative applications and tools like Photoshop, Illustrator, After Effects, and many more.
Besides the main Adobe Applications, you will also have access to Adobe Fonts, Spark, Dream Weaver, and over +100GB of cloud storage, which can be a lifesaver when collaborating or working on projects.
Adobe Dimension CC Student Discount
Students and teachers are in luck! Both teachers and students can get the entire Creative Cloud All Apps Student & Teachers plan, plus 100GB cloud storage, Adobe Fonts, Adobe Portfolio, and Adobe Spark, for just $19.99 per month for the first year.
To be eligible for this discount, a student must be 13 years or older and enrolled part-time or full-time in an accredited institution or homeschool program. Also, the student must have valid proof of ID.
For teachers to be eligible for this discount, they must have proof of part-time or full-time employment at an accredited institution or meet the criteria for homeschool teachers.
Who can get the Adobe Students and Teachers discount?
If you are currently a student or teacher, you can get up to 60-70% off the original price! However, to get this discount, you'll have to apply for it on the Adobe CC website and provide proof of your employment or enrollment.
Become a Student And Save
That said, if you don't fall under either category, you can easily become a student to make use of this offer. How? Just follow the steps given below.
Sign up for the Adobe Certified LogoCore Logo Design Course (around $80), to meet the criteria for the student discount.
Once you're done with this, you can get the Creative Cloud for 60-70% off for one year, saving you over $400.
Once enrolled, you can go to the Adobe student discount page to make use of the offer.
Creative Cloud Student Discount FAQs
Can students get Adobe CC for free?

Unfortunately not; however, students can get up to 60-70% off the original price—saving a few hundred dollars.
Can students use the student discount on Creative Cloud after graduation?
Students can use the discount for a grace period of one year after graduation. However, one month before the year expires, they'll receive a notice and will need to either cancel their plan or expect a charge at the regular rate
How to get an Adobe Dimension teacher discount?
Teachers can take advantage of the Students & Teachers discount by applying on the Creative Cloud website, along with ID verification of part-time or full-time employment at an accredited institution. Homeschool teachers are also eligible for this course provided they meet the criteria for homeschool teachers put forward by their state.
How to get the Best Creative Cloud Discounts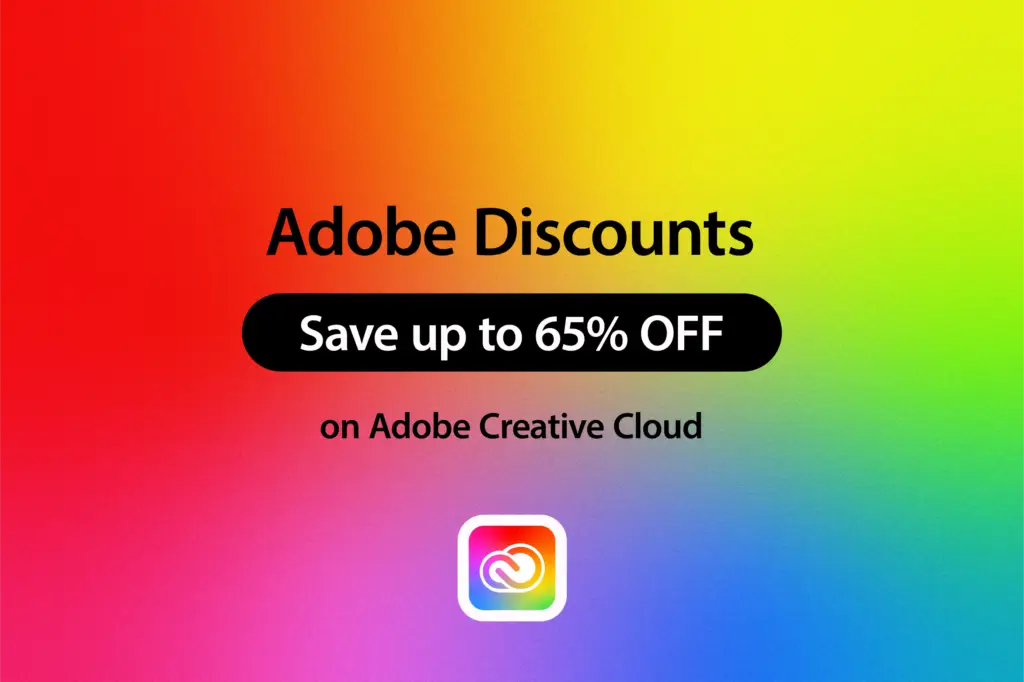 Want to learn more about how you can get the best Creative Cloud discount?
To get the best discounts on Adobe CC, be sure to follow partners and industry experts (like Just Creative). They are usually the first to know about Adobe's latest offers and promote them on their sales pages.
From experience, Adobe Creative Cloud has discount sales every 3-5 months and for 3-5 days at a time.
If you want to know more about these offers, check the official Adobe coupons, promos, discounts, and special offers page.
How To Get Started With Dimension?
When you buy Adobe Dimension and decide to get started with it, we strongly recommend you first check Adobe's Dimension tutorials. Getting started working on a 3D software like dimensions can be intimidating, but with the easy-to-follow videos and instructions on the site, picking up on all the tips and tricks will be a total walk in the park.
The Dimension starting guide is free and is one of the best ways to learn everything you should from experts. For those experienced, these videos can certainly help you take your design to the next level.
About Dimension: What You Should Know
Dimension was launched in October 2017 and is a 3D rendering and design software that is used for product design and other 3D creative requirements. This design software is very similar to the software dimension in 1993, which was discontinued due to 3D design being a very niche field at the time.
Unlike most of the 3D Design software today, Dimension is a photo-based design software that lets you render 3D designs and scenes based on models and images that are imported from the Adobe Stock library or from third-party applications.
If you need more help working with Dimension, ie wanting to create your own custom models, textures, or even designs, we'd strongly recommend looking at one or several of the applications that are a part of the Substance 3D collection by Adobe. However, Substance 3D needs to be purchased separately, if interested check out our guide to download Substance 3D.
Adobe Dimension Alternatives
Buying something can be intimidating if you aren't aware of what your options are. No matter what you choose to opt for, it's important that you're aware of the alternatives to your app!
Some pretty solid alternatives for Dimension are Substance 3D, ZBrush, Mudbox, 3D Coat, and Mari.
These are a couple of good alternatives, but users agree some of them aren't as compatible with Adobe apps like Dimension.
Frequently Asked Questions
How do I download Dimension CC?
You can download Dimension by visiting the Adobe Creative Cloud website and downloading their 'All Apps' plan.
Can I get an Adobe Dimension Individual plan?
Unfortunately, Dimension is no longer available as an Individual plan.
Is Adobe Dimension still available?
Yes, it is! Adobe Dimension is still available under the 'All Apps' plan by Adobe which comes with over 20+ other applications.
What is the difference between Adobe Dimension and Substance 3D?
Adobe Dimension is a singular app that requires you to import photos and 3D models. Substance 3D, on the other hand, is a collection of 3D tools that allow you to create models, lighting, materials, and create a 3D scene or rendition.
What is some good Adobe 3D rendering software?
Dimension CC and Substance 3D are two good 3D rendering software by Adobe.
What is Adobe Dimension used for?
Adobe Dimension is used for 3D renditions and designs that are used for product mock-ups and models for several creative projects.
Where can I find 3D models for Dimension?
You can find 3D models on the app, on Adobe Stock, by creating them on Adobe Substance or through 3rd party applications.
What are the system requirements for Dimension?
For Windows OS, the system requirements include Windows 10 v1809 (64 bit) or for Mac operating systems, macOS X v10.14 or higher. When it comes down to RAM, the bare minimum requirement would be 8GB. However, we'd recommend using 16GB RAM to make sure things run smoothly. Other than this, internet and GPU drivers from after 2014 are the bare minimum.
Related Posts
Related Adobe Download Guides
Where to download Dimension?
Adobe Dimension is one of the most straightforward and practical applications out there when it comes to 3D design. And you're interested in getting it for yourself alongside 20+ Adobe applications, you should click the button below.
That said, you now know everything you need to know about how to download Dimension. So you know everything you need to make the best choice for yourself!