When it comes to a smooth and efficient way to work on web design and building UI, it could be a smart move to download Adobe Dreamweaver.
Although Adobe has become a firm that is synonymous with the word creative design, you'd be impressed to know that it is efficient when it comes to web design as well.

And you're probably wondering whether it's even worth it or even what makes it a good tool for developers to use. But before we get to that, for those unaware, let's first explain in detail what Adobe Dreamweaver is.
What is Adobe Dreamweaver?
Dreamweaver is a web design tool that lets you develop and create creative websites and apps and is often used for editing and writing development code.
The technical term for this type of program is an Integrated Development Environment (IDE). This software can help users who want to edit their code and it allows you to see how specific elements would look once integrated in the website code.
Adobe Dreamweaver is perfect for web developers and anyone who works with websites since it's great for working with HTML, CSS, Python, Javascript, and other languages, as you can publish your website with software directly making it convenient and easy to use.
This software is especially convenient for rendering responsive websites and viewing live preview displays of the apps and websites designed.
That said, if you're more interested in UI/UX design we'd strongly recommend you look into Adobe XD, we have a full guide about How to Download Adobe XD that explains everything you need to know about it.
Is Adobe Dreamweaver Easy to Use?
Like most software from Adobe, Dreamweaver does have a bit of a learning curve for newbie developers and those just starting out.
That said, over the past few years, Adobe has made a conscious effort to improve its overall interface to make it a lot more accessible for users who may want to try out new things.
Dreamweaver now includes a larger variety of development languages and also includes hints that guide users with the right commands and tags.
How to download Adobe Dreamweaver?
Much like all the other Adobe products, downloading Adobe Dreamweaver is fairly straightforward. What can make it seem slightly difficult however is the pricing and how it can differ on various websites.
Not to worry, in this guide, we will show you that everything you need to know about Adobe is simple and easy to understand, and we'll guide you through that journey. Dreamweaver is great to use alongside other software like Photoshop and Illustrator.
If you want to get better acquainted with the best Adobe software out there, we'd recommend you check out our full Adobe software list.
How to Download Adobe Dreamweaver Free or Subscribe with Creative Cloud
Here's an overview of what you will find in this article:
Can I Download Adobe Dreamweaver for Free?
Yes, you can download Adobe Dreamweaver for free.
Much like most Adobe Software out there you can try out the full version of the software for a full 7-days as a free trial version. This version allows you to download the full software and see if it's the best fit for you. Doing this is a great way to try this software out for free and see if it's the best fit for you.
It would be a smart idea to stay away from sites that offer pirated or cracked versions of the Dreamweaver software as there's a good chance they will infect your laptop or computer with malware or viruses.
Most malware and viruses can destroy or corrupt existing files on your computer or laptop. The more severe malware can steal your sensitive information like your identity, social security numbers, and even credit card information. For those reasons, we'd strongly recommend against it.
So if you're looking for a way to get the full experience of the software but not have to pay, a free trial version is the best way to go.
How to download Dreamweaver for free (4 easy steps)
For some users, navigating how to download Adobe Dreamweaver free can be complex. To make things simple, we've compiled a clear step-by-step process to make things easier for you.
That said, Adobe Dreamweaver is available for purchase only through the Adobe All App plan. We'll guide you through you can download Adobe Dreamweaver for free along with 20+ other creative applications. Using this free trial, you can try out Dreamweaver (with all its features) and 20 other software without needing to pay.
Step 1: Click on 'Free trial' on the All Apps Page.
For those who want to try it out, stop by the official Adobe website, and click on the "Try for free" button to get started with the download process.
Step 2: Click on any plan (you won't be charged provided you cancel).
Follow the steps after 'Free trial' and select any plan. But not to worry! you won't be charged a penny provided you cancel it before the trial period ends (we'll show you how).
Step 3: Enter your email ID and your payment (credit card) details.
Regardless of whether you have an Adobe account or not, you're required to enter your email ID. If you already have an Adobe account you can go ahead and try out the trial version in the Creative Cloud application or on the site.
After this, you'll be prompted to either enter your credit card or PayPal details (As mentioned earlier, you will not be charged before the trial period ends). But once you're done, you can go ahead and download Adobe Dreamweaver on your Mac or Windows device.
Step 4: Cancel the plan before the subscription ends.
Just before the 7-day trial period ends, visit the 'Privacy' section of your Adobe account and follow the steps to delete your adobe account. When doing this, there is the option to cancel your subscriptions and not delete your account but this is the best way to go about it.
If you'd like a more thorough guide for this, you should check out our 'How to delete your Adobe account' article.
How Much Does Adobe Dreamweaver Cost?
With Adobe Dreamweaver, there are a couple of price segments that you can purchase monthly, annually, or annually paid monthly based on what you feel is the best fit for you. But, the most budget-friendly plan (the Individual plan) costs around $20.99 per month.
The Adobe Dreamweaver price can shift slightly based on which package you choose but they're the same Individual plan. View our Adobe discounts guide here
That said, if you want to opt for a better deal that comes with a whole lot more, you should consider the Adobe All Apps plan.
What is the Adobe All Apps Plan?
The Adobe All Apps Plan costs around $52.99 per month but comes with over 20+ applications that are perfect for fulfilling a large range of creative tasks. This plan comes with over 100GB of free cloud storage and includes some of Adobe's most popular software like Photoshop, Illustrator, and even XD (which can come in very handy when designing interactive mock-ups).
This plan can be slightly pricey but offers the most value overall. If you choose to opt for a plan you can use applications that would normally cost a lot more for a reasonable price. And if you want to take advantage of this plan but feel the price is too steep, we'll dive into some of the discounts that can help you get it at a much more affordable price.
But other than this, we'd strongly suggest you opt for the plan that suits your budget best.
Adobe Dreamweaver CC Student Discount
Students and teachers are in luck! Both teachers and students can get the entire Creative Cloud All Apps plan, plus 100GB cloud storage, Adobe Portfolio, Adobe Fonts, and Adobe Spark, for just $19.99 per month for the first year.
To be eligible for this discount, a student must be 13 years or older and enrolled part-time or full-time in an accredited institution or homeschool program. Also, the student must have valid proof of ID.
For teachers to be eligible for this discount, they must have proof of part-time or full-time employment at an accredited institution or meet the criteria for homeschool teachers.
Who can get the Adobe Students and Teachers discount?
If you are currently a student or teacher, you can get up to 60-70% off the original price! However, to get this discount, you'll have to apply for it on the Adobe CC website and provide proof of your employment or enrollment. See our Adobe student discount guide.
Become a Student And Save
You'd be surprised to know you can easily become a student to make use of this offer. How do you do this? Just follow the steps given below. Sign up for the Adobe Certified LogoCore Logo Design Course (around $80), to meet the criteria for the student discount.
Once you've signed up, you can get the Creative Cloud for 60-70% off for one year, saving you over $400.
Once enrolled, you can go to the Adobe student discount page to make use of the offer.
Creative Cloud Student Discount FAQs
Can students get Adobe CC for free?

No, however, students can get up to 60-70% off the original price — saving themselves a few hundred dollars.
Can students use the student discount on Creative Cloud after graduation?
Students can use the discount for a grace period of one year after graduation. However, one month before the year is up, a notice goes out advising the student they'll need to either cancel their plan or expect a charge at the regular rate.
You may also be interested in How to Become Adobe Certified.
How to get the Best Creative Cloud Discounts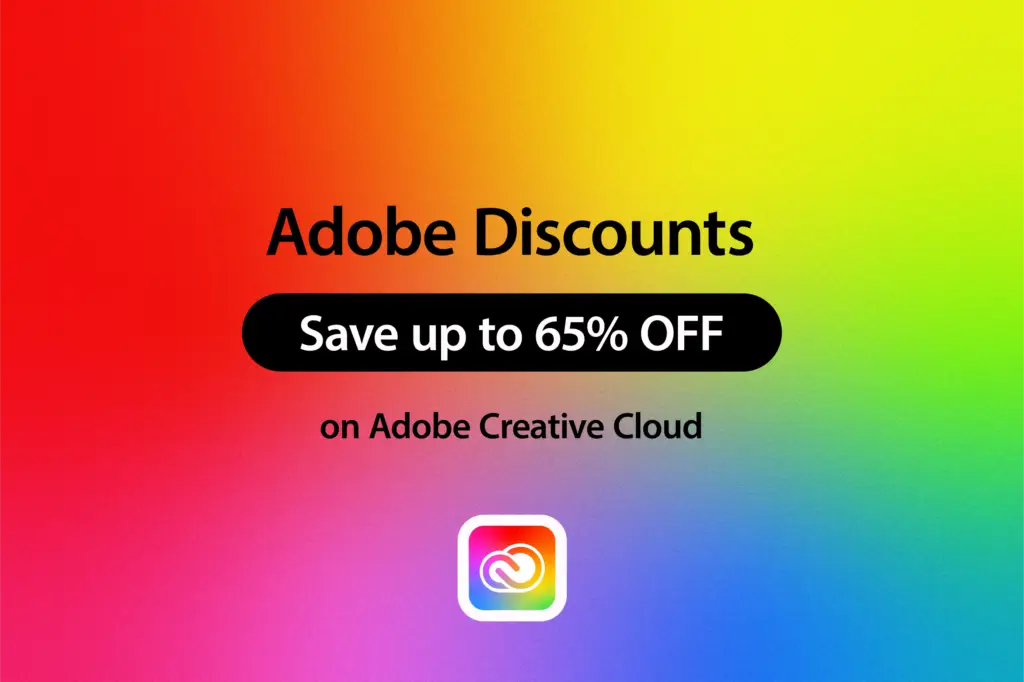 Want to learn more about how you can get the best Creative Cloud discount?
To get the best discounts on Adobe CC, be sure to follow partners and industry experts (like Just Creative). They are usually the first to know about Adobe's latest offers and promote them on their sales pages.
From experience, Adobe Creative Cloud usually has discount sales every 3-5 months and for 3-5 days at a time.
If you want to know more about these offers, check the official Adobe coupons, promos, discounts, and special offers page.
Adobe Dreamweaver: What You Should Know
Adobe Dreamweaver was created by Macromedia in 1997 and was later acquired by Adobe in 2005. The latest version of Dreamweaver allows you to work with newer technologies like Javascript, CSS, and many framework and server-side scripting languages which make it quite a versatile scripting tool.
What really makes this software unique, however, is the fact that it comes with a code editor that has a syntax checker, code completion, and even provides users with hints that can help them write code more efficiently.
Other than this, Dreamweaver is a great software for developing well-designed, responsive websites and even allows for seamless live view editing, making editing websites and apps a whole lot easier. It also lets you view how websites would look through various different devices and see how well they render, so most issues that arise can be fixed early on.
Adobe Dreamweaver Features
Chromium Embedded Framework or CEF is an open-source software framework for embedding a Chromium web browser within another application. Adobe Dreamweaver comes with CEF integration, so you may integrate Dreamweaver and the pages developed through it more efficiently with Google Chrome.
Programmers use Git to track changes in any set of files and coordinate work among programmers. It is used for collaboratively developing source code during software development, with GIT, Dreamweaver has speed, data integrity, and support for distributed, non-linear workflows.
Java refactoring allows users to make system-wide code changes without affecting the behavior and function of the program. Through Dreamweaver, developers make use of several methods to modify the code without ruining the functionality of the program.
The developers of Dreamweaver updated it to allow the use of Javascript ES6 to allow for more efficient programming with minimal issues that may occur.
The workspace of the software can be extended by displaying web pages on multiple monitors.
The workspace can be customized and streamlined to a clutter-free interface. It also displays the necessary tools that needs to be coded.
Adobe Dreamweaver — Pros and Cons
For those of you curious about what Dreamweaver has to offer as software, we've gone ahead and listed a couple of pros and cons.
Pros:
➕ Adobe Dreamweaver does an excellent job helping beginners to understand the coding for a website. For many new developers, understanding which languages suit certain sections and websites best. So when developing their skill set they can focus on a particular language or niche based on the type of development work they're more inclined to.
➕ Adobe Dreamweaver comes with convenient code suggestions for users, which makes using it convenient and practical for coders. Other than this, it also is able to detect syntax errors, which makes your coding process a whole lot easier.
➕ The user is allowed to switch screens for a more convenient and versatile development experience.
Cons:
➖ Due to Dreamweaver's unique design and layout, for most users, it takes time to learn the interface and get used to the program.
➖ While some development programs come with an autofill function, Dreamweaver has no specific automatic coding option.
System Requirements for Dreamweaver
System Requirements – Windows

Minimum
Recommended
RAM: 8 GB
RAM: 16 GB
Processor: AMD Quad-Core or Intel Processor with 64-bit support
Hard Disk Space: 8 GB
Hard Disk Space: 16 GB for cache
GPU: 2 GB VRAM
GPU: 4GB or more, GPU that has DirectX Support
Operating system: At least Microsoft Windows 10 (64 bit)

System Requirements – mac OS

Minimum
Recommended
RAM: 8 GB
RAM: 16 GB
Processor: AMD Quad-Core or Intel Processor with 64-bit support
Hard Disk Space: 8 GB
Hard Disk Space: 16 GB for cache
GPU: 2 GB VRAM
GPU: 4GB or more, GPU that has DirectX Support
Operating system: macOS versions 10.15 or later
Getting Started on Adobe Dreamweaver
Getting started on any professional software can be daunting at first, and when it comes to more technical software like Dreamweaver we'd strongly recommend you get started with Adobe's tutorials or guides.
Despite where you are in your career or how well acquainted you are with developing websites, going through several of the guides and tutorials will help all users get up to speed with all the tricks and tips you'll need to know when working on new software.
Adobe Free Dreamweaver Alternatives
Making sure you know what works best for you is quite important, that's why, when considering Adobe Dreamweaver as a potential purchase, it's important to cover all bases and see what else is out there.
And granted, even though Dreamweaver makes for excellent software when it comes to integration with other creative cloud software, it's vital that you check out alternatives. For Dreamweaver, some good alternatives include — Webflow and Google Web Designer.
This software is also a great option when it comes to web development, and although it may lack when it comes to integration with other Adobe software, it would be a smart move to try them out and see if they're a good fit.
Frequently Asked Questions
What is Adobe Dreamweaver?
Dreamweaver is web development software and tool acquired by Adobe in 2005 that allows users to create responsive and efficient websites through various languages like CSS, Javascript, HTML and so on. Through this software, users can even edit pages in live view making things a whole lot more simple.
How much does Adobe Dreamweaver cost?
The individual plan for Dreamweaver costs around $20.99 per month which is the most affordable plan. However, you can also purchase Dreamweaver with the All Apps that costs $52.99 and comes with over +20 applications.
Can you download Adobe Dreamweaver for free?
Yes you can! You download the free trial version of Dreamweaver for a period of 7-days. Granted you cancel the subscription before the trial period ends, you won't be charged a penny.
What is the difference between Dreamweaver and Adobe XD?
While Adobe Dreamweaver is used for web development, Adobe XD is centered around UI and UX design that allows users to design interactive websites and apps which can later go into development.
Is Dreamweaver included in the Adobe All Apps plan?
Yes it is! You can get Adobe Dreamweaver along with 20+ apps along with Adobe CC All Apps plan.
What are the specs required to run Adobe Dreamweaver?
To install Adobe Dreamweaver you'll require Microsoft Windows 10 with minimum OS version 1903 (64-bit). And other than this you'll need 2 GB of RAM (4 GB recommended) and 2GB of hard disk space (plus an additional 2GB for installation.
Related Adobe Posts
Related Adobe Download Guides
Where to download Dreamweaver?
Adobe Dreamweaver is one of the most efficient web development software. If you're interested in getting it for yourself alongside 20+ Adobe applications, click the button below.
That said, you now know everything you need to know about how to download Dreamweaver.