Figuring out the best way to download Adobe InDesign can be challenging.
There are so many pricing options out there, not to mention the sketchy websites that offer Adobe InDesign illegally!

But not to worry, we'll clear things up for you. Here's our guide on how to download Adobe Indesign.

What is Adobe InDesign used for?
Adobe InDesign is one of the industry's best publishing software. Even though it is not as popular as Photoshop or Illustrator, most designers use InDesign to design books, posters, documents, and flyers, among many other products. Adobe InDesign is your one-stop-shop for any publishing requirement. And for designers, this can be a convenient tool to have under your belt.
Adobe InDesign is the perfect software to use when it comes to designing page layouts and has several features that allow for professional print and media designs. This software works best alongside other Creative Cloud apps like Photoshop or Illustrator. Also, image sourcing software like Adobe stock can come in quite handy when needed.
So if you're looking for the best way to download Photoshop or any other Creative Cloud apps, be sure to check out our Adobe software list! (see the complete Adobe software list here).
How to download Adobe InDesign?
With Adobe, there are several subscription plans and offers. Selecting the best one can be a daunting decision, so we'll take it step by step. One of the best ways to download Creative Cloud software is through the Adobe website or the Creative Cloud application.
However, trying to download InDesign can be confusing when unfamiliar, but don't worry! By the end of this article, you'll know everything you need to know about how to download InDesign.
If you want more information on desktop publishing, you can view our article on desktop publishing software.
How to Download Adobe InDesign Free or Subscribe with Creative Cloud
Can I Get Adobe InDesign for Free?
Yes, you can get Adobe InDesign as a free trial version for seven days.
This version of InDesign comes with all the features and updates to give you the proper user experience. It's one of the best ways to install Adobe InDesign for free. And as this version does not have any restricted features, you'll have plenty of time to see if it's the best fit for you.
When it comes to Adobe software, there are several pirated versions available online, but they can be quite harmful! Downloading and installing these versions can put your system at risk of malware and viruses that can steal personal information.
Using pirated software is illegal! Even though it may seem a great method in the short run, illegal software allows hackers to steal your data, identity, money, and cause even more security issues. Using them can lead to legal repercussions and Adobe can ban you permanently — which is disastrous for any designer. We recommend you avoid pirated software at all costs.
How to download InDesign for free (4 Easy Steps)
Here's how you can download Adobe Indesign free to see if it suits your creative needs:
Step 1: Click on the 'Free trial' option on the Adobe Website
To do this, first, visit the Adobe website and look at the Adobe Indesign page. On the Indesign page, you'll have to select 'Free trial'.
Step 2: Select any plan (you won't be charged provided you cancel)
Follow the steps after 'Free trial' and select any plan. But don't worry! you won't be charged a penny provided you cancel it before the trial period ends (we'll show you how).
Step 3:  Enter your email  ID and your payment (credit card) details.
Regardless of whether you have an Adobe account or not, you're required to enter your email ID. If you already have an Adobe account you can go ahead and try out the trial version in the Creative Cloud application or on the site. After this, you'll be prompted to either enter your credit card or PayPal details (As mentioned earlier, you will not be charged before the trial period ends). But once you're done, you can go ahead and downlaoad Adobe Indesign on your Mac or Windows device.
Step 4: Cancel your account before the free trial period ends
Just before the 7-day trial period ends, visit the 'Privacy' section of your Adobe account and follow the steps to delete your adobe account. When doing this, there is the option to cancel your subscriptions and not delete your account but this is the best way to go about it. If you'd like a more thorough guide for this, you should check out our 'How to delete your Adobe account' article.
However, if you choose to continue with your InDesign subscription, the payment will be automatically deducted.
How Do I Buy InDesign?
One effective way to get InDesign is through a Creative Cloud membership.
To take the route, you have to subscribe for a monthly or yearly subscription after picking from the various plans available. Adobe has three broad options for you to choose from. The first one is the most affordable, while the second is a bit more expensive. The second price plan gives you access to Adobe Stock and boosts your design on the whole.
That said, the third option Adobe provides is the most pricey but offers you the best value by far. This one gives you access to 20+ apps on the Adobe Creative Cloud and can be quite worthwhile for designers.
This pack includes the popular ones like Photoshop and Illustrator but also lets you take advantage of more niche apps like Adobe InCopy and Adobe Fonts. So, depending on the features you need, you can buy the best one that suits you.
How Much Does InDesign CC Cost?
The most affordable option for InDesign is the Individual plan, which costs $20.99 per month and is your best choice if you're working on a limited budget.
The next step up is the 2nd option, costing $29.99 per month. It comes with Adobe Stock, which can help a ton with royalty-free images, vectors, and videos. Even though it's a little more expensive, it can be quite valuable if you want your designs to stand out from the crowd.
The third option you can pick is the All Apps package, the most valuable by far. This payment plan costs around $52.99 per month and gives you access to 20+ apps on Adobe Creative Cloud, suitable for a variety of creative projects that you might take on. The apps are accessible to both mobile and desktops devices, so design work on the go can be that much easier.
Even though it may seem expensive upfront, the All Apps plan is a good choice if you want to be a more versatile designer. That said, all three plans offer great value for your money, and you're bound to be happy with your choice.
Adobe InDesign Student Discount
If you're a teacher or student, you're in luck! You can go ahead and purchase Adobe Indesign at a much lower price.
Through this offer, you can get the full Creative Cloud All Apps Plan along with 100GB cloud storage Adobe Spark, Adobe Portfolio, and Adobe Fonts for only $15.99 for one year.
To be eligible for the student discount, you need to be at least 13 years old and enrolled in a college, university, middle or high school, or homeschool. Be sure you have proof of ID to prove your enrollment at an accredited institution.
Who qualifies for the Adobe student discount?
Teachers and students above the age of 13 are eligible for the Adobe student discount. Provided they are enrolled in or working for an accredited institution or are homeschooled, they can save up to 65% off on a Creative Cloud Membership. Both part-time and full-time teachers are eligible for this discount as well!
How do you get the Adobe student discount?
You can get the Adobe student discount through a Creative Cloud membership via the website or through the app. When signing up for this discount, you're required to provide proof of ID from the institution you're attending.
If you are currently ineligible for this discount, you can easily become a student to get up to 65% off on Adobe's most popular plan. How do you do this? Just follow our instructions below!
Become a Student And Save
Sign up for the Adobe certified LogoCore Logo Design course (just $80) and you'll meet the criteria to qualify as a student.
.After this, you should get the Creative Cloud student discount which would save you over $400.
After enrolling in the course, you can go to Adobe's student discount page to make use of the discount.
Creative Cloud Student Discount FAQs
Is InDesign free for students?
Unfortunately, Adobe is not free for students, that said students and teachers can get an impressive 60-70% discount on the All Apps plan to give you access to over 20+ Creative Cloud apps.
Can students still use the Adobe Student discount after graduation?
Yes! But only for a grace period of one year. Adobe allows you to continue to use the student discount up to one year after graduation. However, one month before the grace period ends, you will need to close your subscription or choose to continue with the Adobe CC on a regular price plan.
How to get an Adobe Teachers Discount?
With Adobe, teachers are also eligible for the Students and Teachers discount plan. So regardless of whether you're employed part-time or full-time, work at an institution, or are a homeschool teacher, we'd recommend you opt for the Student & Teachers plan.
Adobe Discount for Individuals

Even though Adobe's student discount is probably your best option, individuals can still save around 35% off the regular plan.
How to get the Adobe discount for individuals?  Individuals can pre-pay for a full year in advance and save up to 35%, which can amount to a few hundred dollars.
Also, if you pay for the full year in advance, you'll get Adobe Stock free for a period of one month and 10 free premium photos.
Exclusive Just Creative Adobe Creative Cloud Discount: 35% Off Adobe Creative Cloud
Get all of Adobe's apps for 35% off with our exclusive partner deal suitable for the UK, USA, Canada, Australia, and Mexico, on sale dates only.

How to get the best Creative Cloud Discount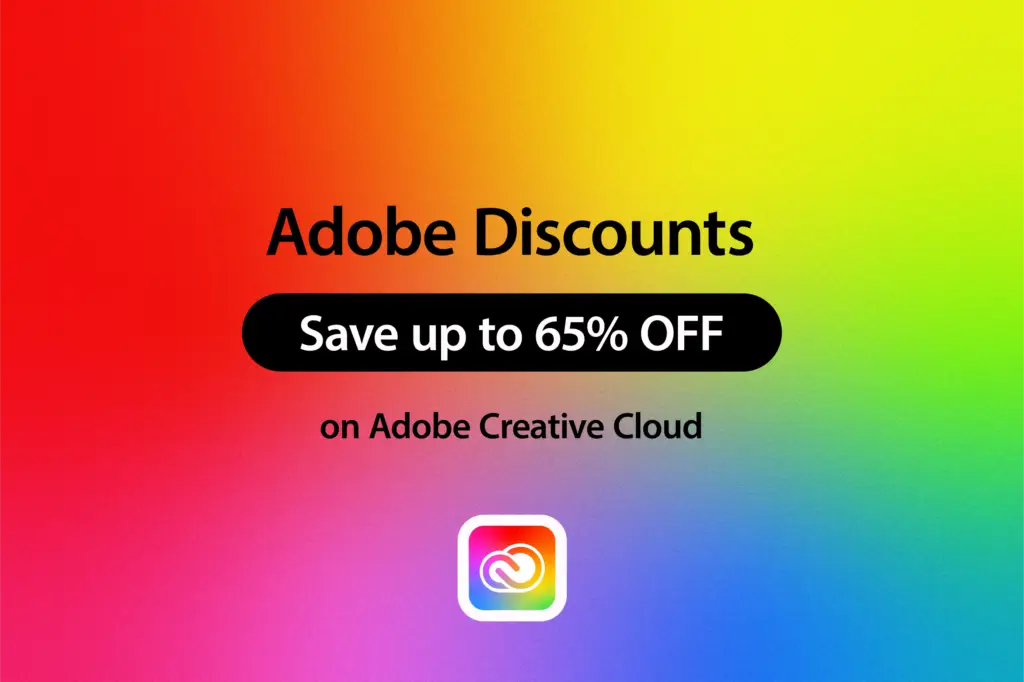 Curious about how you can get the best discount on the full Adobe Creative Cloud?
The way to get the best discounts on Adobe CC would be to follow industry experts and partners (like Just Creative) as they're usually the first ones to know about Adobe's latest offers and promote them on their sales pages.
From experience, Adobe Creative Cloud has discount sales every 3-5 months and for 3-5 days at a time.
If you want to know more about these offers, you should check the official Adobe coupons, promos, discounts, and special offers page.

How To Get Started With InDesign?
When you finish downloading the InDesign program, you should check out this guide published by Adobe to know the many tips and tricks to use InDesign more quickly and effectively.
Regardless of where you are in your design career — a complete novice or experienced designer, you'll find these instructions to be of great benefit. To be productive and creative, you need to be comfortable with the software you're working with–it will make all the difference.
About InDesign CC: What You Should Know
Adobe InDesign is used to design the page layout and design software for print and digital media. You can create attractive graphic designs with typography from the stock images of Adobe. You can share all your content in PDF. InDesign can be used to create and publish books, digital magazines, posters as well as interactive PDFs.
Created as a successor to Adobe PageMaker, Adobe InDesign wore several hats until the company finally settled on InDesign in 1999. InDesign is publishing software that works great for brochures, flyers, books, and essentially any form of print and digital media.
This tool works well when used with any other type of Adobe software, so it can be pretty convenient if you already have Photoshop, Illustrator, or any other Adobe application. This tool is perfect for drafting layouts, including vector graphics from Illustrator, using professional typesetting tools, and even help create interactive digital content for ebooks or websites.
Generally speaking, InDesign is one of the best publishing tools out there when it comes to publishing high-quality prints and content, so it can come in quite handy when working on several different designs projects.
Adobe Indesign — System Requirements
System Requirements – Windows

Minimum
Recommended
RAM:

4 GB 

RAM:

16 GB 

Processor:

AMD Quad-Core or Intel Processor with 64-bit support

Hard Disk Space:

3.6 GB 

Hard Disk Space:

3.6 GB and additional for cache

GPU:

2 GB VRAM

GPU:

4GB or more, GPU that has DirectX Support

Operating system:

At least Microsoft Windows 10 (64 bit)

System Requirements – mac OS

Minimum
Recommended
RAM:

4 GB 

RAM:

16 GB 

Processor:

AMD Quad-Core or Intel Processor with 64-bit support

Hard Disk Space:

3.6 GB 

Hard Disk Space:

3.6 GB and additional for cache

GPU:

2 GB VRAM

GPU:

4GB or more, GPU that has DirectX Support

Operating system:

macOS versions 10.15 or later
Adobe Indesign — Pros and Cons
| | |
| --- | --- |
| Pros | Cons |
| ➕ Arguably the best for software print media and digital forms of print media   | ➖ This software requires heavy use of memory |
| ➕ Compatible with other Adobe Creative Cloud applications | ➖ Layering can get complex to work with |
| ➕ Capable of producing a large variety of print assets like books, brochures, contracts and so much more | |
| ➕ Comes with 20+ other applications if purchased with the All Apps plan | |
| ➕ Has a wide range of professional tools to make the design process easier and quick | |

Adobe InDesign Alternatives
If you're more cautious of nature or just want to know what your other options are, we've got you covered!
InDesign has several alternative software that might be better suited for you — Some of these include Affinity Publisher, Canva, Scribus, and QuarkXPress.
These other applications are worth looking into as they are some of the best, These other applications are worth looking into as they are some of the best, and integrate well with other Adobe applications like Illustrator or Photoshop. That said, if you want to see all your options to know what suits you best, be sure to check out our article 8 Best Adobe InDesign Alternatives.
Frequently Asked Questions
How do I get InDesign for free?
You can experience and get Adobe InDesign free for a 7 day period. The free trial version of InDesign is the best way for designers to download InDesign free of cost using a creative cloud membership.
What does Adobe InDesign cost?
Adobe InDesign comes in three pricing plans, costing $20.99, $29.99, or $52.99 per month based on which plan you pick. That said, students can take advantage of a 60-70% discount on the All Apps plan.
Is the All Apps plan on Creative Cloud worth it?
Yes, this package offers great value and comes with over 20+ apps in the creative cloud.
What kind of print and digital media is InDesign good for?
Adobe InDesign is good for most static print and digital media, not as much for editing images. You can use InDesign to publish different marketing materials, documents, books, newspapers, and magazines. With digital media, InDesign is great for PDFs, e-brochures, and interactive content like eBooks.
Is an InDesign app available for Android and iOS?
Unfortunately, no. Unlike some Adobe Apps, like Photoshop Express and Adobe CC, InDesign is not one of the mobile apps on the Creative Cloud.
Related Posts

Where to download InDesign?
Regardless of whether you're an amateur or experienced designer looking to add more tools to your skillset, Adobe ID will take your publication design to another level. When it comes to documents, layouts, and any digital or print media you can never go wrong with InDesign.
Now that you know everything you should about how to download InDesign and how much InDesign costs with different plans, you're well on your way to making the right decision.