This article has been contributed by Val Razo.
Back in 2010, when Instagram was released as a simple photo-sharing app, no one could have predicted this social media platform would evolve into a great marketing tool.

Today, when over 1 billion people use Instagram each month and 90% of them follow at least one business profile in-app, it's no wonder that brands of all sizes and niches seek out Instagram marketing tips for business.
Over 25 million businesses now use Instagram for promotion. But if you want to differentiate your business from your competitors and turn your Instagram followers into customers, having an Instagram presence isn't enough; you need to know your target audience from A to Z.
To genuinely satisfy your potential clients' needs and wants, walk a mile in your customers' shoes and map the customer journey on Instagram.
Why Bother About the Customer Journey Map on Instagram?
It's no secret that Instagram shopping is growing in popularity and there are two main reasons to map the Instagram customer journey.
People love shopping on Instagram. As specified in one report, 87% of users take action after seeing product information on Instagram, 83% of Instagrammers discover new products or services in-app, and 54% of people say they made a purchase either in the moment or after seeing a product or service on Instagram.
Customer journey mapping works well. According to GetVoIP, 79% of consumers buy from brands that care about their customers, 87% believe that companies need to put time and effort into good customer experience, and 55% are ready to pay more for positive CX.
Whether you use Instagram for selling eCommerce or graphic design services, your customers walk through five major stages of the customer journey map. In this post, we're going to share 16 Instagram marketing tips for every stage of the customer journey. Let's dive in!
Customer Journey Stage 1: Awareness
For all buyers, the awareness phase is the first stage in the customer lifecycle when they discover your product or service. It's the most important stage that helps you grab the attention of your target audience and tell your potential customers about your product or service. Here are several Instagram marketing tips for the awareness stage.
1.   Optimize Your Instagram Bio
Practically every Instagrammer checks out a business profile before following it. Since people have a short attention span of eight seconds, an Instagram bio serves as a visit card that tells your visitors everything about your business and products so that they can decide whether they want to follow you or not.
Before scrolling your feed, Instagrammers are more likely to read your bio section, so it's important to write a good Instagram bio that hooks your target audience's attention and helps to increase brand awareness.
Check out how Lulus uses its bio section to provide the most important info about its products and services.
Image source: instagram.com
Not only does Lulus provide information about the company and its perks like worldwide shipping, it also directs visitors to its other Instagram account dedicated to weddings and helps them learn more about its photo contest.
Here are several tips on how to build brand awareness with an Instagram bio:
Provide information about your business in 140 characters
Link to another brand-related profile
Use brand hashtags
Add a website link
2.   Team Up with Niche Influencers
If you're not a world-known brand like Nike or GAP, it can be daunting to reach your target audience on the platform. The competition is high on Instagram, so spreading the word about your brand takes time, effort and money. But if you want to speed up the process, you can team up with niche influencers.
The idea of working with Instagram influencers isn't new. Since modern people trust influencers as much as their friends and family, opinion leaders help your brand reach your target audience fast.
When you choose relevant niche Instagram influencers, you can make the most out of their following and increase brand awareness. Here's how Remington teamed up with beauty and lifestyle influencer Prudence Richardson to promote its new styler.
Image source: instagram.com
Instagram influencer marketing works well as people are more likely to learn more about your brand when their favorite bloggers recommend it to them. To find the best Instagram influencers for partnership, reach out to niche opinion leaders in-app or analyze the variety of influencer marketing platforms and amplify your campaign.
3.   Sponsor a Giveaway
Want to build brand awareness on Instagram fast? Sponsor a giveaway! People love free stuff, so Instagram giveaways help to increase user engagement. One research study shows that Instagram giveaways get 3.5x more likes and 64x more comments than regular posts.
When you team up with an already-established brand, you can spread the word about your business within their followers and therefore increase brand awareness fast. Here's how Sand&SkyAUS partnered with Milani Cosmetics to sponsor a giveaway.
Image source: instagram.com
To become a giveaway sponsor, not only can you team up with other brands that share your target audience, but you can also consider working with Instagram influencers who want to increase user engagement and therefore seek out giveaway co-sponsors.
4.   Run Instagram Ad Campaigns
The easiest and the fastest way to stand out from your competitors and build brand awareness is to target your audience with Instagram ad campaigns. Today, over 2 million advertisers use the power of paid ads on Instagram to get business results.
To raise brand awareness, you can choose from a variety of advertising objectives: reach, reach and frequency, brand awareness, or local awareness. Moreover, you can find an ad type that suits your needs and wants best: photo or video ads, carousel ads and even Stories ads. As a result, you can create a perfect Instagram ad campaign that helps to promote your brand on the platform.
For example, an up-and-coming South Korean beauty brand, Surepi, teamed up with local creators to make stunning Instagram ads that helped to promote the company. The campaign has a 35% lower cost for reaching 1,000 people in comparison with product-focused ads.
Image source: business.instagram.com
Want to know the best part? To create dynamic ads for your brand, there's no need to hire expensive videographers as you can find an Instagram video editor and create eye-catching videos with ease.
Customer Journey Stage 2: Consideration
If your potential customers are already aware of your company, that's great. However, you need to encourage them to consider your product as an option when it comes to the consideration stage. Although most customers are not ready to buy products during this phase, they compare various options to make the right purchase decision soon.
Check out the following Instagram marketing tips that help to hook your customers when they do research on the platform.
5.   Showcase Your Products
When customers compare and contrast offers on Instagram, they can't try out or touch products, so they perceive visual information when making a decision. Despite its marketing potential, Instagram is still a visual platform and sharing photos or videos is a must for businesses. This means you need to showcase your products on your profile.
Let's take a look at J.Crew. The company uses different product photos to show its collections from different sides.
When you use product photos, it's easy to create a cohesive Instagram feed that showcases your products. However, here are some other ideas on how to show off your products on Instagram and satisfy your potential customers' needs.
If you're an established brand, publish user-generated content and product photos/videos as it helps to provide social proof.
If you're just starting on Instagram, combine product photos and stock images as it helps to optimize your budget.
Plus, don't forget to publish multiple photo posts as Instagram allows you to add up to 10 photos/videos and therefore provide your followers with product details without clogging the main feed with content.
6.   Use Product Tags
When considering a product, 58% of people want to learn about pricing as they seek out products that can satisfy their needs and budget. Thus, it's important to provide prices when people search for product information. The solution? Use product tags!
The introduction of product tags has helped both businesses and customers improve the shopping experience. In fact, around 130 million users tap on shopping posts each month to learn more about products.
When users scroll your feed, they see a small shopping bag icon in the bottom-left corner. If Instagrammers are interested in learning more about the featured products, they can tap on this icon and read about the product description or prices without leaving the app, just like in the example below.
Image source: instagram.com
7.   Set Up a Referral Program
Word-of-mouth marketing is one of the most effective techniques for acquiring clients. Why? People pay attention to peer recommendations, so they are more likely to consider your product when their friends or family members spread the word about your brand.
The best way to encourage positive word-of-mouth is to create a referral program that motivates your loyal customers to tell their friends about your business. What's more, good referral rewards can stimulate new clients to choose your company over competitors.
To get more referrals, it's a good idea to promote your referral program, like JamesAllen does it on its profile.
Image source: instagram.com
When you tap on this Instagram Stories Highlight album, you can learn the benefits of referring a friend and find out how to do it.
By promoting your referral program via Instagram Stories, you keep your Instagram feed cohesive. However, it's important to remember that over 500 million people create or watch Stories daily, so your content must be creative and eye-catching. The best way to do it? Choose from a variety of free templates and customize them to suit your brand identity. This strategy helps to stand out from the crowd and grab the attention of your target audience.
8.   Provide Social Proof
Customers are savvy and they understand that you're interested in telling the benefits of your product.
No matter how hard you try to show your brand in a positive light, customers want to hear from other people who have tested your products.
Thus, it's no wonder that 82% of people read customer reviews before choosing a business.
When people find positive customer feedback, they are more likely to trust your business. It's a good idea to provide followers with social proof. Moreover, it comes in different forms, like reviews, quotes and testimonials.
Here's an example of posting customer testimonials on Instagram from WHOOP.
Image source: instagram.com
Want to provide social proof? Consider posting the following types of social proof:
User-generated content
Consumer reviews
Customer testimonials
Brand mentions
Case studies
Influencer endorsements
Customer Journey Stage 3: Acquisition
When people know about your brand and they find your products a good option, they are more likely to buy from you. During the acquisition stage, you can acquire new customers and get repeat customers, sell products on Instagram and therefore grow your revenue with this social media platform.
To improve customer journey for the acquisition stage, use the following strategies.
9.   Share Time-Limited Offers
Time-limited offers create a sense of urgency that stimulates customers to make the purchase decision. It's all about impulse buying which is a powerful customer tendency that results in more sales. When people do shopping without planning, they tend to spend more.
To acquire more new customers and increase customer retention, it's a good idea to share time-limited offers. Here's an example of this strategy from Beach Body.
Image source: instagram.com
10.        Promote a Sale
Did you know that 38% of users follow businesses on social media to learn about promotions and discounts? If you want to attract more clients and boost sales, promote a sale on your Instagram account.
To draw inspiration, let's take a look at the post from Levi's Indonesia that got 4x more Instagram video views in comparison with regular posts.
Image source: instagram.com
Obviously, not every company can afford to offer a 50% discount to its customers without hurting your brand. However, you can always turn to a market research analyst to do research and calculate the optimal discount rate for your brand. Once you've planned your sale campaign, use the power of Instagram to spread the word about it online.
11.        Use Instagram Stories
If you use Instagram for business promotion, it's more likely you know about Instagram Stories. But, do you use Instagram Stories tactics in your strategy? If not, chances are that you can fall behind your competitors.
Why? Instagram Stories are extremely popular among users: 500 million people use Stories daily and one third of the most-viewed Stories come from brands. Moreover, Instagram offers various business-friendly features for IG Stories that help to turn your followers into customers.
For example:
Shoppable Stickers that allow you to provide viewers with product info in-app.
Clickable Story link that lets you add one link to your website once you're verified on Instagram or get 10k Instagram followers.
Here's how Calvin Klein promotes its products with Instagram Stories and encourages interested viewers to learn more on their website.
Image source: instagram.com
Whether you want to link back to your product page or add shoppable QR codes, Instagram Story clickable links can help to improve online shopping experience. What's more, Stories help to encourage impulse buying. Since Instagram Stories disappear within 24 hours, customers spend time watching this content format. This means you could acquire more customers if you give IG Stories a try.
Customer Journey Stage 4: Service
No matter how great your product is, your newly acquired customers may need assistance in choosing the best fit. These days, customers are more likely to reach out to your customer support team on the platform where they have discovered your product. In other words, get ready to provide customer support on Instagram to close more deals.
Here are several proven ways on how to use Instagram during the service stage.
12.        Turn on Notifications
If you don't pay attention to customer requests on Instagram, we have bad news for you. According to one research study, 42% of customers expect to get a response on social media within 60 minutes and 71% of people say that 24/7 customer care on social media is a must.
Missing out on customer comments, concerns or requests can negatively affect your brand reputation. And when it takes days or weeks to get a reply from your customer support team, people are more likely to switch to your competitors.
To provide customer service on Instagram, turn on notifications first. This helps to keep track of all comments, direct messages and brand mentions. Otherwise, you can get dozens of negative comments, just like Made.com.
Image source: instagram.com
13.        Handle Negative Comments
Modern customers are not shy to express their thoughts on your product or service. They often publish negative comments on your profile if they want to get an immediate resolution or response. To show other customers that you put your clients first, you need to handle negative comments.
For instance, you can learn from WholeFoods and see how this company replies to negative comments.
Image source: instagram.com
At first blush, it can be tempting to delete negative comments. However, you should remember that dissatisfied customers want to hear from you, so you need to understand their pain points if you want to increase brand loyalty and therefore encourage customers to tell other potential customers about your brand in a positive light.
14.        Monitor Brand Mentions
Not all customers share their customer experience on your profile. In fact, 96% of those who discuss your brand on social media don't follow your business profile. This means businesses should track brand mentions.
When you know what your customers think about your brand, you understand them better. When your customers are satisfied, this allows you to bring your business to the next level. For example, more often than not, HydroFlask gets user-generated content when the company monitors brand mentions.
Image source: instagram.com
The good news is that there are multiple cost-effective social media tools, so companies of any size can afford to track brand mentions and therefore deal with negative comments. After all, understanding your customers is key to customer satisfaction.
Customer Journey Stage 5: Loyalty
If you can acquire new customers, that's great. But if you can turn these people into loyal customers, that's even better. Customer retention matters. The odds of selling to an existing customer are between 60-70% while that figure drops to 5-20% for new customers.
Thus, it's important to take care of your customers during the loyalty stage and here are several ways on how to do it.
15.        Promote Loyalty Programs
Who else loves perks and bonuses? All people want to feel valued; it's in our nature. When your customers buy from you, it's important to give them a reason to come back for more. One of the proven ways to do it is to set up a loyalty program.
If you have a loyalty program for returning customers, it's a good idea to promote it on your Instagram profile. Not only can you motivate people to buy from you over and over again, but you can also give new customers a solid reason to choose your company.
Here's how APC uses Instagram to promote a loyalty program.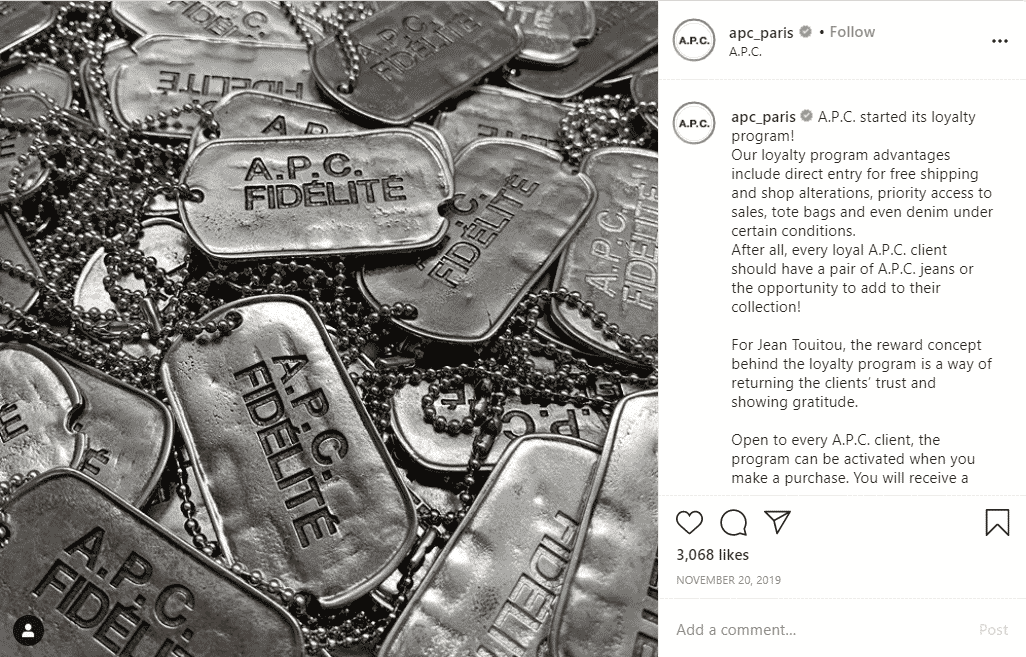 Image source: instagram.com
16.        Offer Branded Bonuses
People tend to share positive recommendations when they are satisfied with your products and services. One of the great ways to encourage them to do so is to allow your Instagram followers to get early access to brand offers or bonuses. Not only does it keep customers coming back, but it also increases customer engagement.
Case in point: When Victoria's Secret posted a photo of its new satin PJ set, the company informed its followers that they can customize their choice with three different pant lengths and it saw wonderful results. The post got over 120k likes and 261 comments.
Image source: Image Source
It's you who decides which brand bonuses to offer, so you can stay creative and choose from the following options.
Free shipping and returns
Discounts or promo codes
Gift wrapping
Gift cards
Conclusion
Whether you're a big or small brand, Instagram offers great sales potential these days. Not only can you spread the word about your company, but you can also boost sales in-app if you pay attention to the customer journey map.
To turn your Instagram followers into customers and make the most out of your Instagram presence, you need to know Instagram marketing tips for every stage of the customer journey map – awareness, consideration, acquisition, service and loyalty. Our tips will help your business understand your customers better and therefore bring your business to the next level.
Have you used any of these tips? Let us know which ones work best for your company in the comments section below!
_
About the author: Val Razo is an expert on Instagram Marketing. She is a freelance Social Media Marketing consultant with 6+ years of experience helping small and medium-sized businesses.