This article was contributed by Jay M.
One of the most common buzzwords in the world of mobile app development right now is IoT, the Internet of Things.

From the simplest consumer-based applications like smart homes and wearables to complicated, industry-grade solutions like driverless forklifts, IoT is everywhere and gradually changing the way how consumers live, work and interact with their Internet-enabled devices.
According to a recent report from Statista, there will be almost 31 billion connected smartphones, wearables, smart watches, cars, and other devices by the end of 2020. Currently, this number is around 23 billion worldwide. This demonstrates how exponentially the IoT is growing.
While the concept of the IoT has been around for quite a long time, most of the people are still not familiar to it. If you're also one of them, this comprehensive guide is for you. Covering everything essential you need to know about the Internet of Things, this detailed guide is fabricated to help you learn what IoT actually is, how it works, its use cases and advantages, with appropriate real-life examples.
Let's get started!
What is the Internet of Things (IoT)?
The Internet of Things, or IoT, is essentially an ecosystem of physical devices, vehicles, appliances, and other things that have the ability to connect, collect and exchange data over a wired and wireless network, with little or no human-to-human or human-to-computer intervention. Allowing integration and data exchange between physical devices and the computer, this new wave of technology focuses on making human life more simplified and comfortable with the right mix of efficiency and productivity.
To be more specific, taking advantage of cutting-edge technologies like Machine Learning, Machine-to-Machine (M2M) Communication and Artificial Intelligence (AI), IoT aims at extending connectivity beyond standard Internet supported physical devices (smartphones, tablets, desktops, and laptops) to a wide spectrum of non-internet-enabled physical devices and everyday objects, such as coffee makers, washing machines, door locks, etc., so you can remotely monitor and control them with the help of a mobile or tablet device.
How Does IoT Work?
Since the mechanism of IoT devices is highly technical, so for many it's quite confusing how an IoT system actually works. Well, just like any other system has predefined steps and components to make it work, so the Internet of Things has its own. A complete IoT system is made up of four distinct components that work together to deliver the desired output. Let's look at each component and understand what it does.
1. Sensors/Devices
First of all, sensors or devices collect very minute data from the surrounding environment. The collected data could be as simple as a geographical location or as complex as health essentials of a patient.
To pick up the most sensitive changes in data, one can bundle multiple sensors together to be a part of a device that is capable of doing more than just sense things. For instance, the mobile phone is a device with several built-in sensors such as GPS, Camera, Accelerometer, without which the phone is not able to sense things.
Thus, be it a standalone sensor or a device having multiple sensors, the first step involves the collection of all the minute details from the surrounding environment.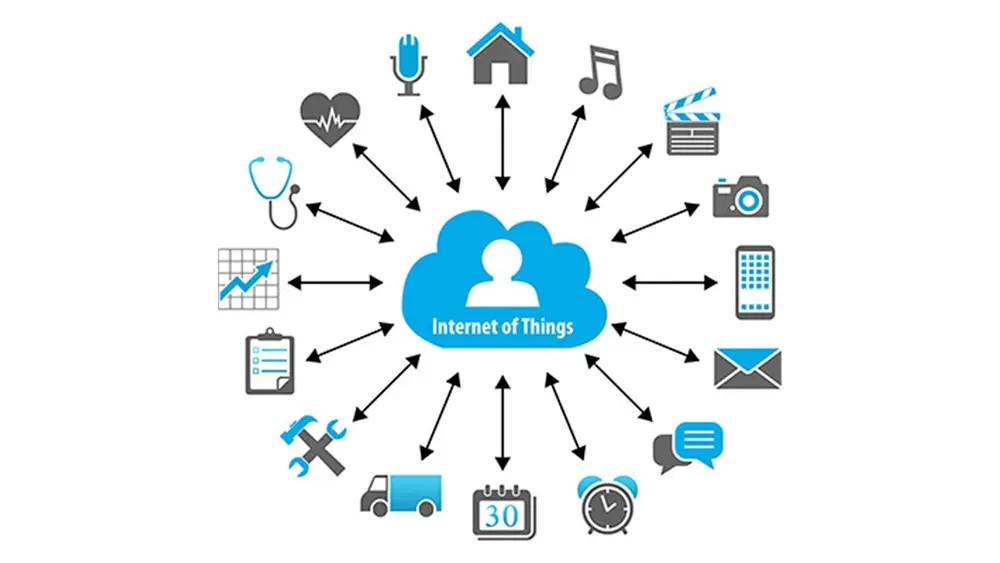 2. Connectivity
Once the data is collected, it is sent to a cloud infrastructure aka an IoT platform with the help of a medium. That's where several wireless and wired networking technologies, such as Bluetooth, Wi-Fi, Cellular Networks, LPWAN, Ethernet, etc come into handy. While each of these connectivity options represents a tradeoff between power consumption, connection range, and bandwidth, choosing the best one to transmit data to the cloud solely depends on the complexity level and specific requirements of an IoT application.
3. Data Processing
Once the data gets to the cloud infrastructure, it is stored, analyzed, and processed securely using a Big Data Analytics Engine for better decision making. This analysis can be as simple as checking whether or not the temperature reading on an AC or heater is within an acceptable range, or as complex as identifying intruders in your house with the help of surveillance cameras. The processed data is then used to perform immediate, intelligent actions that turn our ordinary physical devices into exceptionally smart devices.
4. User Interface
The last step involves notifying the end user about the action through an email, text, notification, or alert sound triggered on their IoT application. Depending on the complexity of the IoT system, the user can then either leave the automatically performed action intact, proactively check in on their IOT system, or manually perform an action to backfire or affect the system. For instance, if the user detects some changes in a particular room, he can remotely adjust that room temperature via an IoT app installed on his phone.
6 Benefits of IoT
While the ultimate goal of the Internet of Things is to automate human life to make it more insanely efficient and productive, there are countless benefits of IoT for both businesses and consumers. Mentioned below are just a few of them:
1. Access to High-quality Data
Everyone, especially marketers and entrepreneurs, loves data and with the invention of IoT devices, companies now have greater access to data related their customers and products than ever before. They can take advantage of these real-time operational insights to monitor consumer behavior, deliver better customer experiences and make smarter business decisions. Technically, the more information you have, the easier it is for you to take the right decision.
2. Better Tracking and Management
Whatever the industry is, IoT makes tracking and management a breeze for organizations. From keeping track of inventory item by item to monitoring road traffic and weather conditions to notifying the concerned authorities about any suspicious behavior, IoT revolutionizes the way how we currently track and manage our business assets. In fact, IoT is not just about the smart homes anymore, but it is now also about smart offices, smart warehouse, and smart anything else.
3. Efficient Resource Utilization
Be it home, office, hotel or car, IoT facilitates an efficient utilization of assets for improved productivity. Leveraging the power of machine-to-machine interaction, an IoT system collects real-time data with the help of sensors and actuators so you can further use it to improve process efficiency and minimize human intervention. As a basic example, if any of your Home Appliances notifies you about the task completion, you need not worrying about the inefficient consumption of the electricity.
4. Automation and Control
Automation is the need of the hour and IoT is renowned for the same. Since most of the IoT devices are connected with each other through a wireless infrastructure, they are able to operate on their own with little or no manual intervention. For instance, home appliances such as air conditioner, washing machines, ovens, and refrigerators can be automatically get operated and you can even monitor and control them remotely.
5. Comfort and Convenience
We live in a fast-paced world where busy people don't even care about small things like switching on/off lights and reading energy meters, and this is where the Internet of Things comes in. The interconnectivity of devices and aggregation of data provides you full control over your all devices that are connected with each other through the IoT system. Since you're able to control all your devices just through one centralized device like your phone, this leads to greater convenience and comfort.
6. Saves Time and Money
The concept of IoT revolves around getting more done in less time by automating tasks and requiring little to no human intervention. Allowing you to accomplish cumbersome tasks faster and with optimum utilization of energy, IoT not only saves your precious time but also your hard-earned money. For example, if your kitchen electronic appliance has the ability to turn off itself after the task is done, this saves your time and efforts required to manually switch off the appliance as well as extra expenditure caused by the unnecessary use of electricity.
6 Use Cases of Internet of Things (IoT)
If you look around, you'll find an ever-growing number of devices is getting smarter day after day and there is no industry that has remained untouched by the Internet of Things. Some real-world applications of IoT presently in use are:
Smart Home
Smart Home, which is also the most searched IoT associated feature on Google, is definitely the best example of IoT use case. With a focus on providing you optimum security and convenience, smart home systems and devices are designed to save your precious time and energy. You can control everything from lighting to temperature of your house with just a few taps on your smartphone. Isn't this really a cool thing?
2. Wearables
While wearables like Smart Watches and Fitness Tracking Bands have already flooded the market, many giant companies like Samsung and Intel are now investing heavily in building IoT-powered wearable devices. With the help of sensors and software installed, such devices can track and monitor crucial metrics like heart rate, blood pressure, sleeping and eating habits, caloric intake, etc, and share them with a third-party app or a healthcare service provider.
3. Transportation and Logistics:
Get information in real-time from the warehouse, distribution center, and production center all at once. Find packages in the most convenient location and make the most of the space. Optimize stocking levels and, as a result, storage space management. Improve predictive maintenance and lower the cost of inventory. Inventory management errors can be reduced. Keep an eye on the condition of the equipment in the warehouse to figure out when it will need to be fixed or replaced before it costs too much. This aids in cost reduction.
4. Smart Cities
Many countries like South Korea, Japan, Spain, and the UK are trying to colonize smart cities in order to provide their citizens with a better, safer and healthier living environment. Collecting the data from citizens, devices, and assets, a smart city promises to solve major problems of people living in a usual city, like water distribution, pollution, crime, traffic congestion, waste management, etc.  
Also used in Electricity pole monitoring by keeping an eye out for major tilting caused by strong winds, traffic accidents, the movement of the earth, etc., to be able to perform routine upkeep. This aids in cost reduction and reduces environmental risk. To better understand how Smart Cities actually work, check out this amazing video.
5. Automotive and Transportation
With the Internet of Things, automotive companies like BMW, Ford, Tesla, and Volvo are looking forward to enhancing the in-car experience. Being equipped with technologies like sensors, maps, computer vision, sonar, and the Internet, these cars are driverless and can run with little or no human assistance. And, if combined with Machine Learning, the IoT also assists in various aspects of transportation systems like logistics and fleet management, smart traffic control and smart parking.
6. Medical and Healthcare
The Medical industry is also taking advantage of IoT-powered devices for remote health monitoring and emergency alerts. With the help of smart healthcare devices, the doctors can remotely monitor the health of patients outside of conventional clinical environments and give medicines on the basis of collected data. Likewise, in an emergency, doctors can keep themselves ready for the operation as they are already aware of the medical condition of the patient.
Used in  Drug control to Reduce readmission rates and improve health outcomes by controlling drug dosage. The patient experience is enhanced, costs are reduced, business risk is reduced, and revenue is raised. Also used in Remote Surgery to make surgical services more readily available, and perform surgery on a patient even though they are not physically in the same location as the doctor. This contributes to revenue growth and cost reduction.
7. Industrial IoT
The Industrial Internet of Things (IIoT) is the industrial subset of the IoT which leverages this innovative technology to solve industrial concerns, automate processes and eliminate inefficiencies. While the term IIoT often denotes the use of IoT in manufacturing industries, other common applications of IIoT include futuristic farming, aerospace and defense, and energy management.
Improve operational performance and speed up the identification of issues by connecting machines and equipment to disparate operational data centers and unifying them. Make it possible to view data in real time across a variety of manufacturing systems. Make operational intelligence connected possible. This for the most part lessens cost.
8. Retail :
Use smart store and shelf sensors, connected cameras, and artificial intelligence to integrate the checkout process into the shopping experience or provide staff members working in physical stores with portable POS terminals. saves labor, prevents theft, converts more customers in crowded situations, and enhances the shopping experience for customers and staff. Costs are reduced, revenue is raised, and the customer experience is enhanced as a result. Also Automate packaging services, SKU accounting, and inventory monitoring to reduce shrinkage, navigate the inventory easier, and generally improve store efficiency.
Internet of Things Examples
Amazon Go is one of its kind retail store that facilitates customers shopping with no checkout required. All you need to sign in the Amazon Go app to enter the store, then shop as you normally would and leave the store. No lines, no checkout, just walk out! Can't believe it? Watch this interesting video.
Nest Learning Thermostat self-learning Wi-Fi-enabled smart thermostat that leverages Machine Learning to automatically optimize the heating and cooling of your home to conserve energy. You can also manually control your home's temperature with just a few taps on your smartphone or tablet.
With Philips Hue, you can control your lights from your living room to the backyard. You can turn them off with a single tap and even change their hue to match your ambiance. Even, your lights even give you a warm welcome when you arrive home and switch off automatically as soon as you leave your home.
Hero Health is a smart medication dispenser that is widely used for home treatment and elderly care. This smart appliance not only allows your loved one to dispense doses at the push of a button but also sends alerts to your smartphone if they miss a dose.
Blossom is a smart watering system that utilizes real-time weather data and forecasts for optimal water use in your yard and allows you to control your sprinklers from remotely from your Android or iOS device.
Internet of Things Platforms
Cloud IoT Core by Google: A fully managed service that allows you to securely connect and manage IoT devices, globally.
Microsoft Azure IoT Hub: An open-cloud platform that makes it easy for anyone to connect, monitor and manage billions of IoT devices.
AWS IoT Core: A managed cloud service from Amazon to provide a secure, bi-directional communication between the Internet of Things and the AWS Cloud.
IBM Watson IoT: The AI-powered IBM Watson IoT platform allows you to collect connected device data and perform real-time analytics on it to maximize the potential of your IoT devices.
MindSphere: Developed by Siemens, MindSphere is an open cloud platform that empowers you to unleash the full potential of data generated by the IoT devices with a leading-edge analytics.
—
About the author: Jay M, an app developer cum blogger working with iPraxa – a mobile app development company, who has proven expertise in resolving all the technical complexities involved in the development of innovative, unique websites and apps.