This article has been contributed by Jenn Pereira and is focused on showcasing the best prototyping tools for designers.
Web designers are often confronted with numerous challenges, many of which can involve miscommunication with clients. Designers and clients often don't 'speak the same language' in a professional sense, so conveying design ideas and progress can be tricky.
This is just one way that prototyping tools can be helpful, by making web designs more tangible for clients before final signoff.
But what are the other benefits of prototyping – and what exactly is it anyway?
What is Prototyping and Why Is It Important?
Basically, prototyping is the process of creating a simulation of a product. A prototype is a sample version of a product that can be tested before final manufacture or implementation.
A successful product will always have had a prototype created and tested, so that all its features can be tried out and any flaws can be identified. Prototyping is by far the best way for designers to test the usability of their designs.
Identifying the errors of an initial design may be the most significant purpose of prototypes, but they also play a crucial role during the actual product development process that occurs within a team and between the team and the client.
Discussing a design over a series of meetings, phone conversations, and countless emails can cause delays and unnecessary costs. With a prototype, a visual overview of the actual product makes it easier to understand how it works, explore options when barriers appear upon testing the prototype.
All in all, prototyping is an effective method of validating the product and improving it if there is a need to. It minimizes the risk of failure since it reveals problems at the soonest possible time.
11 Best Prototyping Tools for UX/UI Designers in 2022 Overview
With the abundance of prototyping tools on the market, it can be pretty challenging to choose which one to use as part of your design process. There is such a large range, and some have benefits over others whilst simultaneously having weaknesses that you want to avoid.
Here are 10 of the best prototyping tools for UX/UI designers that offer both basic and advanced functionalities.
11 Best Prototyping Tools Designers in 2022
As a free tool, Adobe XD is another of the most popular apps that UI/UX designers use. Many designers favor it for its all-round functionality. The program can be used to draw, reuse, and even remix vector images to create wireframes, make screen layouts, and build interactive prototypes.
The app is shareable so the whole team and stakeholders can test the design. Because it can be integrated with other Adobe products, like Photoshop and After Effects, importing files into the tool is no problem.
Related:  The Best Adobe Deals & Creative Cloud Discounts: Get 40 to 70% Off
Adobe XD can run on OS X, Windows, Android, and iOS, so designers can easily create prototypes regardless of the platform that they prefer working with.
Adobe XD Pricing
Individual
XD Starter (FREE): For personal use
XD Single App ($9.99/mo.): For small teams and professionals
All Apps ($52.99/mo.): Includes all Adobe applications
Business
XD for Teams ($22.99/mo.): For small to medium-sized teams
All Apps for Teams ($79.77/mo.): Includes all Adobe applications
2. InVision
As one of the most popular prototyping tools today, InVision continuously introduces new features to enable designers to create innovative prototypes. The design workflow is simplified so that every aspect is kept organized. This makes the design process better and faster, especially with the in-browser design collaboration and presentation features.
With InVision Freehand, individuals and teams have access to various templates built for brainstorming, planning, strategizing, and more. It can also be integrated with other powerful tools such as Slack, Microsoft Teams, Photoshop, and Sketch that can help keep everyone aligned with the team's goals resulting in productive collaborations.
InVision Pricing
Free
For small teams with up to 10 active users
Full access to InVision's platforms
Limited access to collaboration and design system management tools
Does not support advanced team management and security
Pro ($7.95/mo.)
For teams with up to 15 active users
Full access to InVision's platforms
Limited access to collaboration and design system management tools
Does not support advanced team management and security
Enterprise
Per seat pricing with no limit to the number of users
Full access to InVision platforms and tools
Supports advanced team management and security.
3. Axure RP
Axure RP is a powerful prototyping tool that is highly regarded by professional designers. The dynamic content and functions are all that you need to create perfect simulations. It comes with over 20 Triggers and more than 30 Actions that open up possibilities for data-driven prototypes.
Prototypes that are built with Axure XP seem particularly real because they respond and act just like the product even without the actual codes. A private workspace can also be created where you can invite users to collaborate and gather comments.
Its most useful feature is that you can integrate third-party testing services in order to generate real feedback, which is useful for taking action on proposed solutions to any errors.
Pricing
Axure RP 9 Pro ($25.00/mo)
Unlimited prototypes and reviewers
Advanced prototyping
Create wireframes, various diagrams, and documentation
Axure RP 9 Team ($42.00/mo.)
Unlimited prototypes and reviewers
Advanced prototyping
Create wireframes, various diagrams, and documentation
Allows co-authoring and access to the team's revision history
Team project hosting on cloud
Axure for Enterprise
Everything that's included in RP 9 Pro
Unlimited projects
Use of company domain for members' use
User management
Supports private/on-premise security
4.  Marvel
Creating design demos is simple with the Marvel app. This user-friendly tool utilizes the cloud in building interactive mockups. It is easy to navigate and has an uncluttered library of templates and icons.
Marvel has the right balance of simplicity and utility with an almost zero learning curve. Designers and their clients can also collaborate easier with its centralized workspace.
Pricing
Free
For 1 project of up to 6 users
1 user test result
Pro ($12/mo.)
Unlimited projects up to 6 users
2 user test results
Allows users to download prototypes and designs
Teams ($42.00/mo.)
Unlimited active projects up to 6 users
5 user test results per project
Allows users to download prototypes and designs
Invite-only projects
Enterprise
Unlimited active projects and users
Unlimited user test results per project
Allows users to download prototypes and designs
Advanced security
5. Framer
Framer is one of the easiest tools to use to help express ideas through prototypes. It provides you with a seamless workflow that is paired with device previewing, version control, and hassle-free sharing.
With Framer's Insert Menu feature, you can access a library of components and tools and apply them with ease by just dragging and dropping them onto your screen. Framer's smart components require no code at all thus they are easy to integrate. For developers and designers with skills in coding, this feature will never be a limit for them as they can always add their own custom functions and components.
For beginners, you can always, get comprehensive tutorials about how to use Framer and find ways to maximize the use of its functions and features.
Pricing
Free
Allows an unlimited number of viewers
Up to 2 editors and 3 projects
Pro ($20/month)
Perfect for teams
Unlimited, shared projects
Custom fonts
Desktop app with local file access
Enterprise (Custom Price)
For organizations with 20+ users/members
Includes everything included in Pro plan
Dedicated support
Centralized billing
Multi-team management
6. Justinmind

Justinmind makes it easy to transform clickable wireframes into interactive prototypes. There is a full range of interactions and gestures available to ensure a delightful user experience.
Justinmind has features that can create both simple and advanced interactions easily. Collaborating with the design team, clients, and business analysts is so efficient with the centralized management system that synchronizes all of the design components.
Pricing
Professional ($19/mo.)
Unlimited prototypes, reviewers, and developers
Access to UI kits, animations and effects, rich web interactions, and mobile gestures/ transitions
Dedicated ticketing support
Collaboration storage
Enterprise
All Pro features
Requirements management
JIRA, TFS, and Doors integration
User testing integration
Priority Support
Server On-Premise
All Enterprise features
Collaboration between own servers
LDAP integration
Multiple admin accounts
Repositories, roles, and permissions
7. Figma
Figma is great in bringing to life animated prototypes. Static designs can be transformed into interactive models without any code required. You simply need to connect the UI elements and select the preset animations and interactions to create advanced transitions.
Figma is a handy tool when you want to have a faster design process because it is an all-in-one platform. Since the prototype created is shareable and has an embedded commenting feature, it is easy to collaborate and put creative inputs without losing anything from the design file.
Pricing
Free
Up to 2 editors and 3 projects
Access to 30-day version history
Unlimited cloud storage and free viewers
Professional ($12/editor/mo.)
Unlimited projects and version history
Custom file and user permissions
Shareable libraries for the team
Invite-only private projects
Organization ($45/editor/mo.)
All Pro features
Centralized teams
Private plugins and plugin administration
Shared fonts
SSO + advanced security
Design system analytics
8. Origami Studio
Origami is very prominent among designers because it was initially created by Facebook. Although it can be a bit of a challenge because of the lack of collaboration features, Origami has powerful tools that freelancers and newbie designers can make use of.
The latest version introduced Canvas which can be used to make visual layouts of your prototype using freeform drawing tools and visual components. Origami Live is also integrated where you can preview the mockup live in real time.
Pricing
Origami Studio is completely free to use.
9. Sketch
Sketch is somewhat like Photoshop in that it allows the designer to manipulate photos. More than giving you room for creating high-quality artworks, Sketch makes it look simple to complete a UX design with its fully vector-based workflow.
What makes it genius is that it has taken into consideration the reusable elements that are present in the UI design. Elements like buttons, bars, and bubbles are automatically copied and pasted which can definitely save time during the design process.
Pricing
For Individuals ($99 one-time payment)
Allows prototype design through a native Mac app
One year Mac App updates
One year cloud saving
Personal cloud workspace
For Teams ($9/contributor/mo.)
Access to Mac app for all contributors
Shared cloud workspace
Free cloud access, unlimited viewers
A robust functionality is what makes Webflow such an esteemed prototyping tool. Its features are meant to create professional mockups without the need to use and coding methods. It is great for creating web animations, interactions, and highly responsive web designs.
After building, designing, and publishing a site with its visual-based UI, you can make further improvements as Webflow transforms your prototype into a production-ready site at a click of a button. This is very appealing to designers who can actually export their prototypes without help from a developer.
Pricing
Free
Up to 2 projects
Access to 100+ tutorials
Full design control
Allows you to publish to webflow.io
Site Plans (Starts at $12/mo.)
Categorized to Basic, CMS, Business, and Enterprise Plans
Includes site backups and versioning
SSL and built-in security
Advanced SEO controls for websites
Account Plans (Pain plan starts at $16/mo.)
Categorized to Starter, Lite, and Pro Plans
Includes unlimited-hosted projects
Access to 100+ templates
Allows upload of custom fonts and creation of interactions and animations
Client billing
3D transforms, flexbox and reusable symbols
Design, test, and collaborate faster and more efficiently with the tools you love and the prototyping abilities you need with Canva Prototypes.
Desktop prototypes – From online stores to sign-up pages and ads—build something for every device.
Mobile prototypes – Design apps and websites with ready-made mobile UI prototyping kits.
Tablet prototypes – Sculpt responsive apps that impress on tablet devices.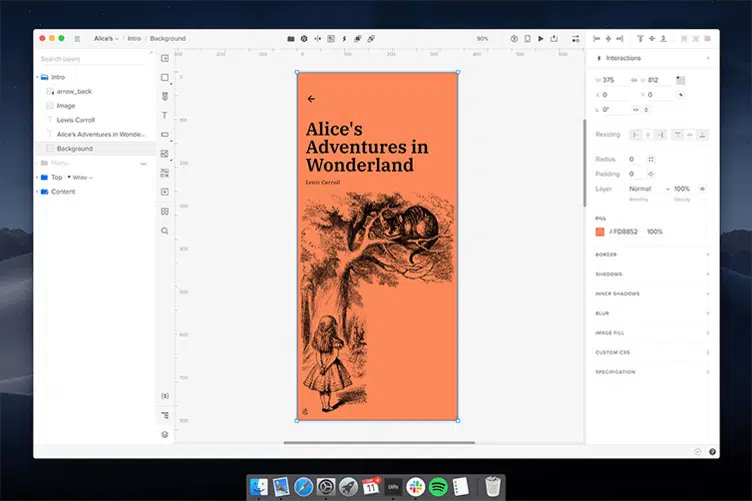 UXPin is a code-based design tool. Unlike the rest of the tools presented here, the tool goes beyond static design. UX and UI designers can prototype websites and apps that act like a final product with interactions, states, and variables. And with UXPin Merge technology, you can design with React components to achieve full consistency.
Best Prototyping Tools for UX/UI Designers Summary
Your choice of prototyping tool is crucial to your web design success. Conceptualizing a design is already challenging, but the process of producing a concrete and visual example is in a league of its own.
For every UI/UX designer looking for a good prototyping tool that will fit their needs and organization, it's best to try a few different tools first as most of them are free to use. It doesn't matter what other organizations use as their development tool, you should be able to find the right one that will help you communicate and collaborate well with your team and clients.
_
About the author: Jenn Pereira is a design, technology and digital marketing writer. She works as a Marketing Head of Removal.AI, a platform that offers an AI technology used to remove image backgrounds automatically for eCommerce and all other media publications and industries.