Signature fonts are growing in popularity because of the intimate touch they supplement to the overall brand experience.
Because these aesthetics help curate an emotion-based affinity with products and services, it comes as no surprise why business leaders and marketing experts are putting a premium in incorporating signature fonts, not only in their logos but with advertising collateral, as well.

Take a look at Barbie and Disney, for example. Each brand's respective signature fonts allow seamless brand retention without breaking a sweat; one look at these fonts and immediately, you're able to tell what they're associated with and what they stand for.
 If you're looking for the best signature fonts the web has to offer, we've got you covered!
Also see our post on the best autograph fonts.
---
BEST SIGNATURE FONTS – UNLIMITED DOWNLOADS: 50 Million+ Fonts & Design Assets
Download all the Signature Fonts you need and many other design elements, available for a monthly subscription by subscribing to Envato Elements. The subscription costs $16.50 per month and gives you unlimited access to a massive and growing library of over 50 million items that can be downloaded as often as you need (stock effect & element packs too)!
---
Top 27+ Signature Fonts for Graphic Design, Branding & Logo Design
Starting the list is one of Envato's most popular finds. Routerand is a signature font with an organic handwritten look. Packed with washes, ligatures, and multiple styles to make it a versatile font, this offering will thrive anywhere you let it—book covers, poster headlines, baby brands, you name it!
Aptly called a luxury font, Envato's Angello sports an elegant, graceful, and cursive appeal. Bundled with multilingual options, standard characters, and ligatures and swashes, this contender can do it all. It's pleasantly legible, too, so you don't have to worry about distracting your viewers. 
One of the more classy picks on the list, Envato's Sigustil boasts of exaggerated curves and slender lines. Complete with the entire alphabet, this set also comes with numbers and symbols and is compatible with leading editing software programs. Choose this if you're looking for conventionally female-driven aesthetics. 
Optimizing a dainty calligraphy-inspired aesthetic, Envato's Maissiel is one of the more personal-feeling finds on the list. Perfect for branding initiatives, Pinterest quote designs, and business cards, this font won't disappoint. It comes with a ton of glyphs, alternates, and ligatures, too!
Another striking handwritten signature font is this contender. Dubbed as a stylish homage to classic calligraphy, this Biograph signature font is beautifully intimate and stunning. From postcards to social media art materials, this font will succeed everywhere!
Midnight Signature is a handwritten signature script with a natural flow. One of the cleaner picks on the list, this font is perfect for anyone who wants to optimize a calligraphy aesthetic that's both dainty and professional. 
Another intimate contender in the signature fonts space is Grahamo. Sporting a modern touch with beautiful ligatures and alternates, this font feels classy and reminiscent of wedding invitations. Also suitable for an array of branding efforts and publication projects, Grahamo is a flexible font any creative will enjoy using anywhere.
Loaded with a vast selection of natural-looking ligatures in its OpenType features, Envato's Malliya sports a familiar font aesthetic we've all come to love. Also perfect for a wide array of design assignments, this pick will thrive best in bake sales, menus, and other food design-related initiatives. 
Uniquely cursive and novel is Envato's Berastagi. Completely hand-drawn and containing 179 ligatures, this contender is equally gorgeous as it is functional. Clean, elongated, and thick, there's a ton of things you can do with a font as convenient as this. 
Anchored on elegant curves and slender borders, Envato's Arabasta is one of the prettier picks of the bunch. Reminiscent of stationery projects and coffee shop signages, this font also feels familiar and homey. Use this for wedding invitations, marketing collaterals, and even logo efforts! 
If you're looking for a font that's both professional and cursive, you might want to try Design Cuts' Slender. One of the more overtly digital-inspired signature fonts, this contender is legible, thick, and sports a coherent appeal, making it perfect for corporate design projects and formal invitations.  
There aren't that many signature fonts that inherently exude the worn-out aesthetic, so if that's the route you're taking, consider Design Cuts' Outbound Signature Font. Connotative of murals and calligraphy, this offering feels organic, intimate, and personal. Go for this pick if what you're looking for is a novel signature font design. 
Not every signature font is made to look edgy. Except for Checkpoint, though. Sporting a smooth-edged signature style, this pick feels fresh and inventive. Bundled with 26 swatches, 20 ligatures, and a complete set of alternate letters, this find is made to deliver.  
Communicate all of your best ideas with Design Cuts' Gravity. Packed with 2 stylistic sets, 4 variants, and gorgeous ligatures, this handwritten offering provides a personal touch to whatever design project you're working on. 
Design Cuts' Bigtime is both playful and fresh while still retaining the distinct font signature familiarity. Bundled with stylistic alternates and a complete set of the alphabet, this font is reminiscent of 90s cartoons and vintage advertising. That said, this is the perfect find for all kinds of marketing materials and more. 
Starlit Drive is a fast-paced, stylish signature font with a dynamic retro touch. Sporting swift strokes and authentic dry textures, this find is perfect for anyone looking for a fresh take on signature fonts. Complete with ligatures, swashes, and standard characters, this font is one of the more flexible contenders from the list. 
Montpellier Font is a handwritten signature font that has sincerity written all over it. Sporting uneven lines and an organic aesthetic, this Design Cuts pick looks like one of the homier choices. Seamlessly curate a feeling of nostalgia and warmth with this offering. 
Are you looking for a textured signature font? If you are, Design Cuts' Unika Signature Font and Texture Pack might be what you need. Bundled with a bonus serif font, enjoy this pick with the Farewell Angelina Display, too. Suitable for postcards and a whole lot of design projects, this pick packs a punch in the selection department. 
Another textured signature font from the bunch is Rollanda. Confidently sporting a modern stylish touch, this Design Cuts pick packs fast strokes and organic-looking dry textures. Featuring bonus swashes and complete standard characters, this contender will fit in wherever you want it to!
Another stunning handwritten signature font is this find from Design Cuts. Suitable for motivational posts and art cards, Miguella Charlotte optimizes elongated strokes and semi-thick borders allowing it to evoke a carefree aesthetic. 
Anyone who's a huge fan of calligraphy and lettering arts will enjoy Jefinian Script Signature Font. Thick, refined, and elegant, this pick is the perfect font for business cards and other corporate detailers. Complete with a full set of lower & uppercase letters, a large range of punctuation marks, numerals, and multilingual support, this find is equally functional as it is pretty. 
One of the "curvier" picks from the bunch, Design Cuts' Panopticon Signature Font boasts clean lines and thick borders. Very much like actual personal signatures, this find is suitable for anything and everything that demands a touch of sweet and quirky aesthetics. Use this for art cards, posters, headlines, and even branding efforts! 
Reminiscent of conventional masculine penmanships, Design Cuts' Piedmont sports minimal curves and shortened lines. Equipped with swashes, alternates, and additional ligatures for lowercase letters, this contender best augments branding initiatives featuring male products. 
Inspired by cursive letters and clean lines, Design Cuts' Mondeline Signature Font is the perfect visual offering for interior design projects. As if written using real-life markers, this pick is clean, intimate, and cozy. Use this font for all things fresh, dainty, and creative. 
Perfect for modern graphic design projects, Design Cuts' Karmila Script offers an inventive take on the familiar signature font look. Albeit less articulated and precise, each letter feels classy and intentional. Suitable for creative pitches and unique visual directions, Karmila is a font that's made to communicate fierceness and reach. 
Are you looking for a stunning and elegant signature font that helps you with Graphic Design, Branding & Logo Design? It is good that you came across this Paradise signature font that serves your purpose.
This professional and unique font has characters suitable for magazines, logos, name cards, invitations, headers, layouts, and even large-scale artwork.
The Holimount signature font gives a classy and modern handwritten look. This font set contains typographic variants such as ligatures, characters, and punctuation. The Holimount signature font supports multilingual letters.
The Marquette signature font works well for branding, signature logos, book titles, ads, and packaging. The Marquette signature font set contains Marquette regular, Marquette Alternate, and Marquette Swashes. Punctuation, special characters, and numbers are all in this font set. This font also supports multilingual letters.
Jherlitha positions itself to be the ideal signature font you're searching for because of its elegance and traditional style. This font is appropriate for a variety of tasks, such as branding, logo creation, wedding invitations, product packaging, and photography. This font template has a modern, elegant, unique, artistic, and expert idea.
Raymond is the ideal option if you're seeking a font that was made with a dry brush pen. An informal display typeface was designed as The Raymond Signature Font. For all of your branding, do-it-yourself endeavors, social media posts, and logo development, this typeface is perfect.
This font is suitable for use in handwriting-inspired logotypes for products, watermarks, social media posts, apparel, invitations, signboards, sports groups, special events, and other items.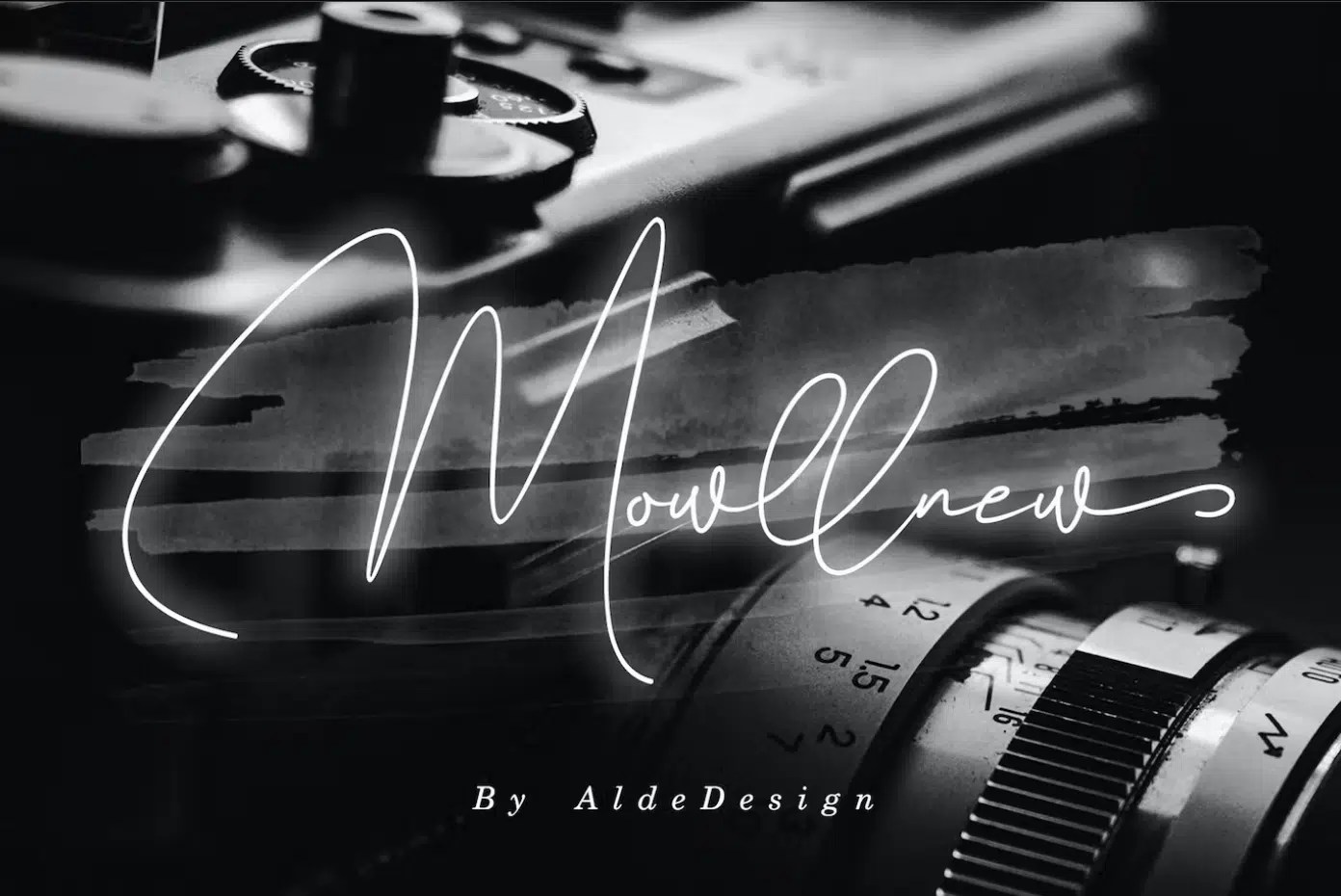 With its numerous ligatures and substitute characters, natural touch, outstanding, and sophisticated design, the Mowllnew Signature Font is an excellent option for any project.
This typeface has the appearance of being elegant, readable, chic, catchy, and incredibly simple to use. This font is a great choice for weddings, photographs, signatures, logo designs, album covers, and many other artistic endeavors.
Frequently Asked Questions
Top 27+ Signature Fonts for Graphic Design
All in all, the top 27+ signature fonts are fantastic choices for your many design projects and branding initiatives. From short and conservative strokes to elaborate and exaggerated lines, there's bound to be a pick that will best articulate the kind of experience you want to create for your market. That said, we hope our roundup of these fonts can help streamline your decision-making process!
Good luck and stay creative!
---
Related Top Font Compilations