One of the great things about using Photoshop and Illustrator (get 40% off here) is the number of different add-ons that you can download. Made by other designers all over the world, you can easily find that one piece that can take your work to the next level.
These addons can include overlays, effects, and styles that can help you get the most out of your artwork. We thought that taking a closer look at the Top Overlays, Effects & Styles for Photoshop and Illustrator would give you some ideas

Before we jump right in though, with so many options being featured, we wanted to share our Top 10 choices and here they are:
---
Get an Adobe Creative Cloud Discount (40-70% Off)
As Adobe partners, we can also offer you 40-70% off all of Adobe's top creative apps including Adobe Premier Pro, After Effects, Illustrator, Photoshop, InDesign, Lightroom and more.
---
33+ Top Overlays, Effects & Styles for Photoshop and Illustrator
Sometimes, even though you love how watercolor looks and think it will add something amazing to your project, you just do not have the time to learn how to do it, and that's where the Watercolor Creator from Vintage Voyage Design Co comes in. It's easy to get the watercolor look you're going for – no actions or brushes, just open the PSD file, add your image and you're good to go!
During the summer months, there is nothing more mesmerizing than a lightning storm that lights up the night sky. Taking pictures though could be dangerous. Thankfully, the Lightning Photo Overlays from MixPixBox helps save time and your safety with their pack of 11 lightning strike overlays and 44 stormy sky textures so you can take any photo and put it in the middle of a stormy day.
Created by Pixel Buddha, the Worn Press Photoshop Effects Kit has been created so that you can discover the plot of an image, find its heart and idea by leaving behind the noise and vibrancy that come from it. Packed with 15 different effects for Photoshop, the effects can be easily applied and customized to suit your needs. While using the kit may seem simple if you have trouble, a helpful 'How to Use' file is included.
The Artifex Forge designed the Felt Craft Stitches Styles kit to provide you with a versatile and easy-to-use set that can enhance any of your designs. Perfect for Christmas, Valentines', arts & crafts, and many other projects you can think of. Included in the set are 32 Felt Layer Styles that work with just a click, stitching effect, repeat patterns and as a bonus, a high-resolution felt texture. With all of this combined, you can create designs that will be sure to stand out and just look amazing.
Tickets, please! With the Vintage Ticket Coupons Bundle from My Creative Land, you can create your very own vintage-looking tickets and coupons for your next event or even just for fun. Included in the bundle are templates to create your very own tickets, fonts descriptions and links for download, graphic symbols as well as scatter and art brushes. Before you know it, you'll be showing people to their seats as an usher after using this bundle.
Created by Unember, the Inksmith Press Effects pack helps you transform your artwork into amazing ink illustrations thanks to their handmade textures. Like an artist's masterpiece made from aged ink and paper, the Inksmith kit will help your work speak for itself. Loaded with more than 20 textures to help your designs stand out. With a 10-page user manual, learning how to use this effect has never been easier and as a nice surprise, you can add color to your designs and ensure an authentic look every time.
With all of the calligraphy fonts and brushes out there, sometimes they can look just plain boring in black, and with the Shimmery Gold Paint Styles Bundle by Creators Couture, you can add a little bling to your work without all the hard work. Designed to function as a 1-click solution, the bundle comes packed with 100 Photoshop layer styles as well as incredible 1-click pattern swatches for Illustrator. These can make your standard calligraphy stand out bringing a whole new perspective to your work.
Designed by Ian Barnard, the POWDR – Black Edition provides you with a way to create incredible typography posters using high-resolution powder photos quickly and easily using unique layered PSD files or more than 60 individual transparent PNGs.
Taken exclusively on black backgrounds, these images will work best on backgrounds with darker colors. A handy instructions guide walks you through every element of the PSD files, including masking so you can start creating wonderful imagery right away.
There is something magical and majestic about old Hollywood movies. Whether its the acting, the stories, or something else, one thing that has always stood out are how movie titles were presented – with class, authenticity, and superb design. Now you can create the same with the Old Movie Titles Collection from Pixel Buddha.
With these vintage text effects, you can recapture the spirit of those old films using one of six effects that are easy to use and fully editable. A help file can help you so you can start recreating the title cards from Tinseltown and recapturing some of the magic!
Adding the Mystical Lights: 200 Photo Overlays set to any of your images can make them pop, as though they are so vibrant and full of action that the screen can't contain their energy. With more than 175 textures, you can add incredible mystical light overlays to all of your work. Included in the set are video tutorials to show you how to install the set as well as how to use the overlays and panel with your artwork.
The 80s brought us a lot of different things and while a lot of it didn't stick around, the effects that we used on text have with the 3D 80s Text Effects Vol.2 from Zeppelin Graphics. The 10 PSD files are extremely easy to use. Simply replace the text quickly via smart object layers. The kit also includes instructions so you can get started bringing back bodacious 80s text right away!
Blueprints have their style that can hard to replicate and if you're working on a project that requires blueprints, it can just make the job tougher. Thanks to The Complete Vector Blueprint Kit from The Artifex Forge, you can get everything you need to create vector blueprint designs including patterns, brushes, graphic styles, textures, and more.
Loaded with 58 different styles that you can choose from along with 37 Illustrator brushes can help you add a touch of authenticity to your work. As a bonus, the robot illustrations have been included as a mini illustration pack that you can edit as you need to.
The look and feel of vintage comics books is something that can add a new level of creativity to your artwork. Created by The Artifex Forge, the Vintage Comic Creator comes with a wide array of layer styles, patterns, and overlays that have been created with ease of use in mind to help you quickly design vintage comic book designs.
To use, simply place your text and use the overlay to apply your desired effect. This look is great cards, invites, vintage fair posters, retro party flyers and so much more.
The literary genre of Steampunk can be a fascinating world of intricate and beautiful Victorian-era decorations as well as fashions and adding that style to your work using the Steam Punk Text Styles from The Artifex Forge.
Great for any circus or Victorian themes work, these styles provide an amazing amount of detail. Included in the set are five Steam Punk Styles, a bonus set of nails, bolts, and screw brushes plus a handy set of instructions to help you create steampunk styles of your own.
While too much smoke can be dangerous, the right amount of smoke can make your photos look incredible. The Realistic Smoke Overlays Photoshop, created by Photo Spirit provides you with 56 overlays that can add a new level of charm, artistry, and emotionality. Perfect for both amateurs and professionals, the overlays look incredible on color and black & white photos and work both in Photoshop and Photoshop Elements.
Before the age of flatscreen and cable television, you would have to adjust an antenna to see your favorite shows and that could result in glitches, pixel errors, phosphor smears, and much more. Now, with the RetroGlitch Photoshop Glitch Pack from Retro Supply Co., you can recreate those errors in your artwork. The set is loaded with more than 50 overlays, 10 Photoshop brushes, and easy-to-follow instruction guide and three video tutorials to help you create great-looking artwork.
Using the 50 Vintage Text Effects Bundle from Zeppelin Graphics has been designed to be one of the easiest effects to use. Simply open the file, open the smart object, change the text, and click save. All done! This effect works on text, vector shapes, and other images as well. The 50 PSD files come well organized and are fully editable so that you can add a vintage flair to your work.
A glitter effect can add a flash of light to an otherwise drab photo and with the Glitter Photo Overlays by MixPixBox, you can use one of the 60 photo overlays to add an ocean of glittering light points in all the colors of the rainbow. Compatible with Photoshop, simply choose the texture that suits you and place it in your software.
You can change the size, rotation, and position as you need to and quickly add a dash of sparkle, shine, and galactic starry moments with texture and high-resolution imagery then you've come to the right place.
The rain has a way of adding a calmness and a sense of power. The Realistic Rain Overlays by NassyArt has collected isolated textures that can help add a realistic rain effect to your photos. Designed to be incredibly simple to use, drag and drop the PNG file into your image, adjust the image by using the opacity and transform options to create the perfect rain effect with one of the 20 different rain overlays available.
Created by Retro Supply Co., the RetroInk – Huge Illustrator Kit is packed full of graphic styles, textures, and also includes the RetroLift effect for Adobe Illustrator. The set includes more than 40 graphic and 3D graphic styles.
With textures included such as a halftone texture, paint can texture, and old ink press texture, you can get a lot of creative ideas out and on your screen making each one look better than the last.
A neon sign can give a business a cool look on the outside of their building or can add a new and interesting look to your artwork. With The Neon Toolbox by MiksKS, you can create your very own neon signs. The process is easy – type your text or place your design and then apply the layer style of your choice and voila! Instant neon sign.
The toolbox is designed to allow easy customization by allowing you to add a variety of different effects to make each creation custom to you.
Deep black halftones that were printed on a single spot of color is for many when print design became amazing. Of course, we're talking about the Atomic Age, and with the Atomic Age Print Pack from Retro Supply Co., you can recreate the look and aesthetic feel of some of the most remarkable print work of the 20th century. Harnessing this era in your work is simple because the Smart PSD file makes it easy to create the effect. Included in the pack are two bonuses – an Atomix Age Refill pack which collects 7 additional textures for you to use and 7 Halftone Brushes that make it even easier to add halftone textures to your work.
Adding stunning effects to your images used to be one of the hardest things that you would have to do but with the Black Feathers Overlays from MixPixBox, you can add a beautiful overlay of black feathers to make your images pop. With 29 different overlays included in the set, each one of them a high-resolution image, you can create incredible works of art.
As part of their commitment to helping designers who are being hurt financially by the coronavirus pandemic, The Artifex Forge is offering the Ink Stamp Layer Styles for free. This set lets you achieve that wet, freshly stamped ink look with the click of a button.
True to life graphics come in different levels of ink density along with 10 different varieties of styles help you get your intended look just right. Perfect for headline text, or logo creation, the Ink Stamp Layer Styles set can transform your simple illustrations, providing them with extra life and realism.
A majestic sky can portray a near-limitless horizon and with the Sky Builder For Photoshop by Feingold, you can drag & drop items from their collection of customizable elements that you can use to create realistic skies in Photoshop. Consisting of five collections of items that can help you create photorealistic skies every time. From sky gradients over sunlight, clouds, moons, rain, star & snow overlays, to even birds and airplanes. These elements were meant to be very customizable and easy to drag and drop into your newest piece of artwork.
Inspired by a certain animated movie, the Frosted & Frozen Creative Kit Combo from Creators Couture is a useful and elegant kit that is great for any winter design you're working on. The collections include Arctic Crystals, Liquid Ice, Shimmering Snow, and more! You can easily apply them in any color using a color overlay. With over 60 seamless and unique wintery patterns, 12 dynamic Photoshop brushes, and a color swatch set, you can create a frozen wonderland of your own.
Are you working on a podcast? Check out this stunning podcast overlay set from Creative Market! The perfect solution for marketing your podcast episodes, this pick comes with fonts, neon box designs, and other digital assets like microphone, cloud, and star designs!
Wood design can give just about anything a homemade feel and with the Woody Photoshop Wooden Design Kit from Graphic Spirit, you can achieve amazing results with their easy-to-use system. Loaded with over 70 layer styles and more than 150 extras included in the kit, you will have more than enough elements to not only design but also add to your work to make it stand out.
The 10 Optical Lens Flares kit from ArtistMef provides you with a kit of PSD files that you can easily drop into your project and create beautiful backgrounds. The set includes Layered PSD files that have a resolution of 4000x4000px, 10 PNG files that are 300 PPI, and much more. The ease of use with this kit allows you to change the color of the lens flare without much effort so your photo can look the best that it possibly can.
Created by Pixel Buddha, the Double Light Photoshop Action kit allows you to give your photos a unique look by using Double Light. Double Light helps to accentuate the fine details of your photos and can add all the accents and emotions that may be lacking from a traditional photo.
Easy to use, the set comes with 72ppi & 320ppi action files for Photoshop plus very helpful instructions as help as a help file in case you get stuck.
For people who read comic books, the effects that artists use on the text in the comic can be as outstanding as an illustration of Superman or Batman. The Vintage Comics Text Effects from Pixel Budda looks to bring back the look of text from retro comics. Consisting of 10 text effects, created from the comics we or our parents read as a kid, can be a great tool for prints, headers, posters, websites & so much more. You can feel the superhero power behind your creations and recapture some of that retro appeal.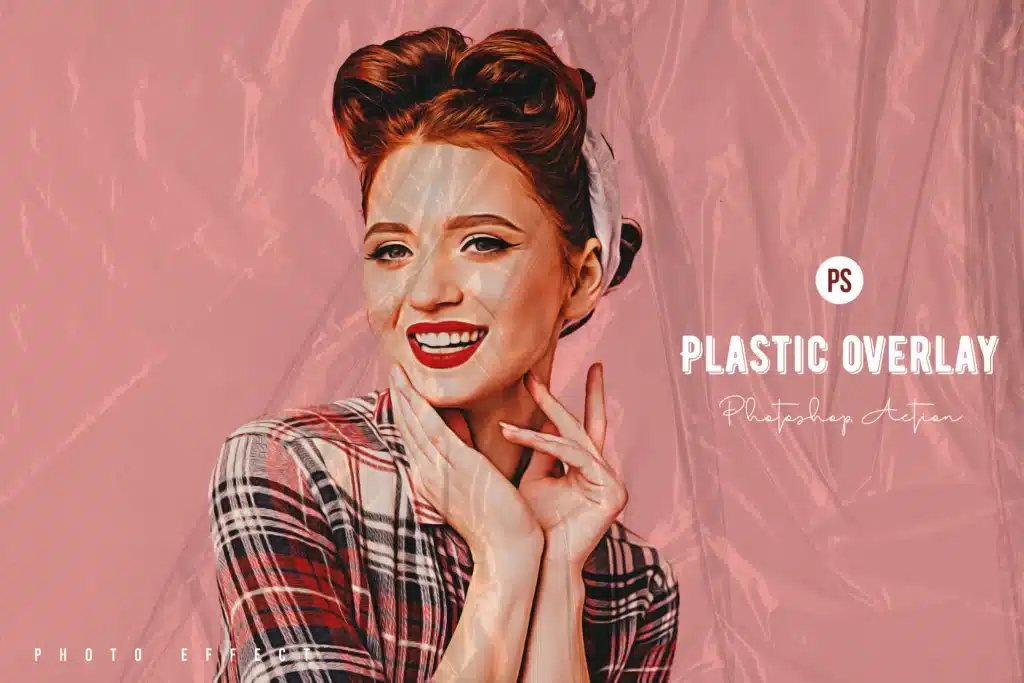 For creatives looking to design artworks that resemble packaged items wrapped around plastic, then this one's for you! Produced to work effectively in Adobe Photoshop, this set is the perfect solution to instantly improving your design aesthetics. Whether you're mimicking a real-life effect or simply adding drama to a photo you're editing, this one Envato gem won't disappoint!
One of our personal favorites is this Envato asset. Seamlessly adding a glass effect to any image, this pack does a swell job in elevating a photo or replicating the look of how something or someone can look like behind patterned glasses. It's clean, easy to use, and comes in 4 options, too, allowing you to achieve the aesthetic that's perfect for your design!
Top Overlays, Effects & Styles for Photoshop and Illustrator
The use of overlays, effects & styles can add an entirely new dimension to your work. With our list of the Top Overlays, Effects & Styles for Photoshop and Illustrator, we hope that we have provided you with a large variety of options that you can use to make your creations stand out from your competition.